5 Essential Hybrid & Remote Work Tips for Hesitant Entrepreneur
If you're new to the world of hybrid and remote work, the thought of managing a team that isn't in a central location can be daunting. Despite the pandemic-fueled popularity of remote work (and many studies showing that remote work benefits employers and employees alike), there are business leaders who are still skeptical about its viability. Unconvinced? Read on for five essential hybrid and remote work tips to help you seamlessly transition.
WHY SHOULD YOUR BUSINESS TRANSITION TO REMOTE WORK?
ECONOMICAL AND TIME-SAVING
Perhaps the most obvious reason to switch to remote work is that it can save your business a lot of money. With a team of remote employees, you can reduce or eliminate the cost of office space rental, utilities, office equipment, and similar expenses.
A remote setup allows you to hire the best person for your open role without breaking the bank. In fact, hiring a virtual assistant or remote professional can save you up to 80% in labor costs.
Working remotely is time-saving for both you and your team. Say goodbye to the long commutes and traffic jams! The time you and your team save from commuting can be spent on personal development, hobbies, and pursuits that make your personal life more fulfilling.
It doesn't matter how many employees you need for your remote team; you'll be able to find them in a deep global pool of remote talent. By hiring remote workers, you're breaking through cultural and geographical borders. You're not limited to the talent market in your city, state, or country. Even if the most qualified person for your job is halfway across the world or unable to work in-office because of reduced mobility, these circumstances won't keep you from hiring them. And because the talent pool for remote work is practically endless, you can easily and quickly build a remote team whether you need admin, creative, or IT support.
Hiring a remote worker (or a team of them) is a smart step towards ensuring business continuity. When equipped with the right tools and training, remote workers can serve as your skeletal workforce in case of emergencies or work interruptions on your side of the world.
Ready to hire a VA? Schedule a free consultation with a 20four7VA Growth Expert to discuss your business needs!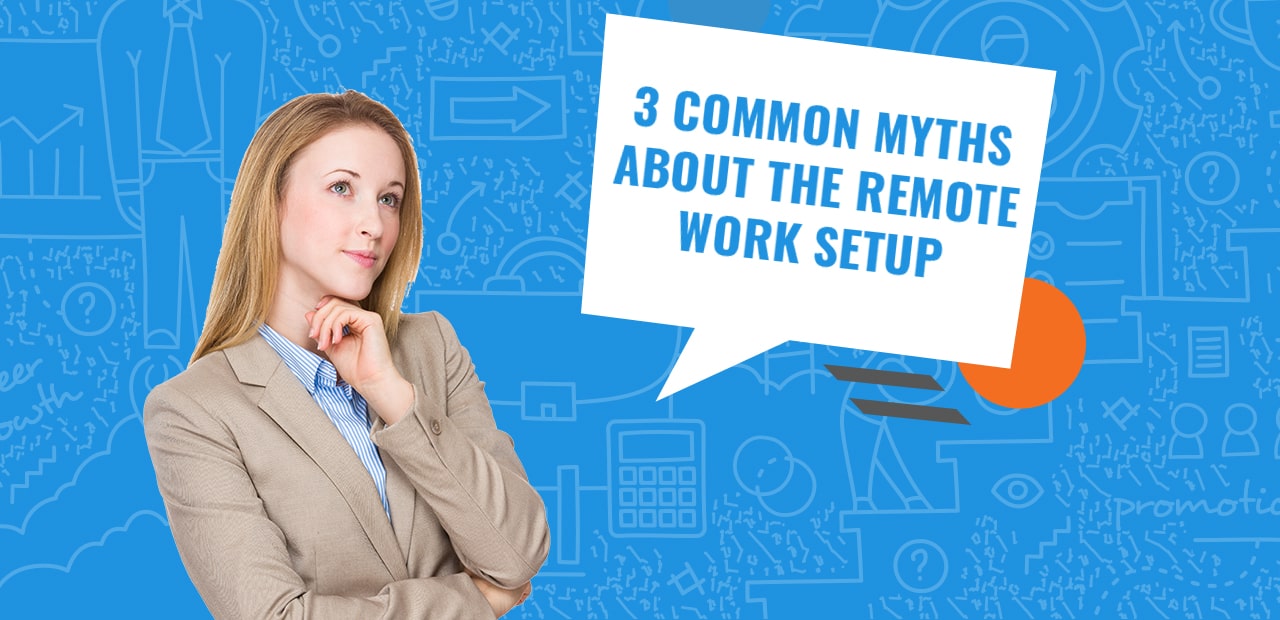 3 COMMON MYTHS ABOUT THE REMOTE WORK SETUP
Not convinced that the remote work life is the right choice for you and your business? Don't let remote work myths keep you from taking advantage of the power of remote staffing. Before we get to the tried-and-tested remote work tips, let's debunk some of these myths.
Most misconceptions about remote work come from these sources:
Those who have not tried remote work and are used to an office setting
Those who have tried remote work but did not set boundaries or ground rules
Professionals whose roles simply cannot be done remotely
1. LESS FACE-TO-FACE SUPERVISION EQUALS LESS PRODUCTIVITY
This myth has been debunked time and time again. For example, big tech companies like Meta have embraced remote work arrangements earlier than other businesses. The company has a widely distributed workforce equipped with the right tools and apps to stay productive and stay connected despite the distance. And if we're using their ranking in the Fortune 500 list as a basis, their adoption of the "work from anywhere" arrangement did not slow them down one bit. In fact, it has resulted in increased flexibility for the company and its workforce.
Most employees who have tried to work remotely have also stated they could stay productive while working from home. This can be attributed to them setting up their home office equipment and work area just how they need it to remain productive and focused. The time and money they save by eliminating their daily commute have allowed them to become more present in their personal life. They can spend more time with family members and friends and even spend meaningful time bettering themselves.
Additionally, those who had a good experience working remotely most likely had employers who helped them with the transition. Their employers undoubtedly have equipped them with the basic ground rules and work-from-home tips that allow them to work remotely without trouble.
2. EMPLOYEE ENGAGEMENT IS DIFFICULT WITH REMOTE WORKERS
This statement can either be true or false. It all boils down to what employee engagement strategies managers and human resources (HR) leads can create to maintain the company culture. Most remote workers may struggle with the lack of human connection when they first transition to a remote work arrangement. This is where a solid employee engagement strategy, video conferencing, and other innovations come in.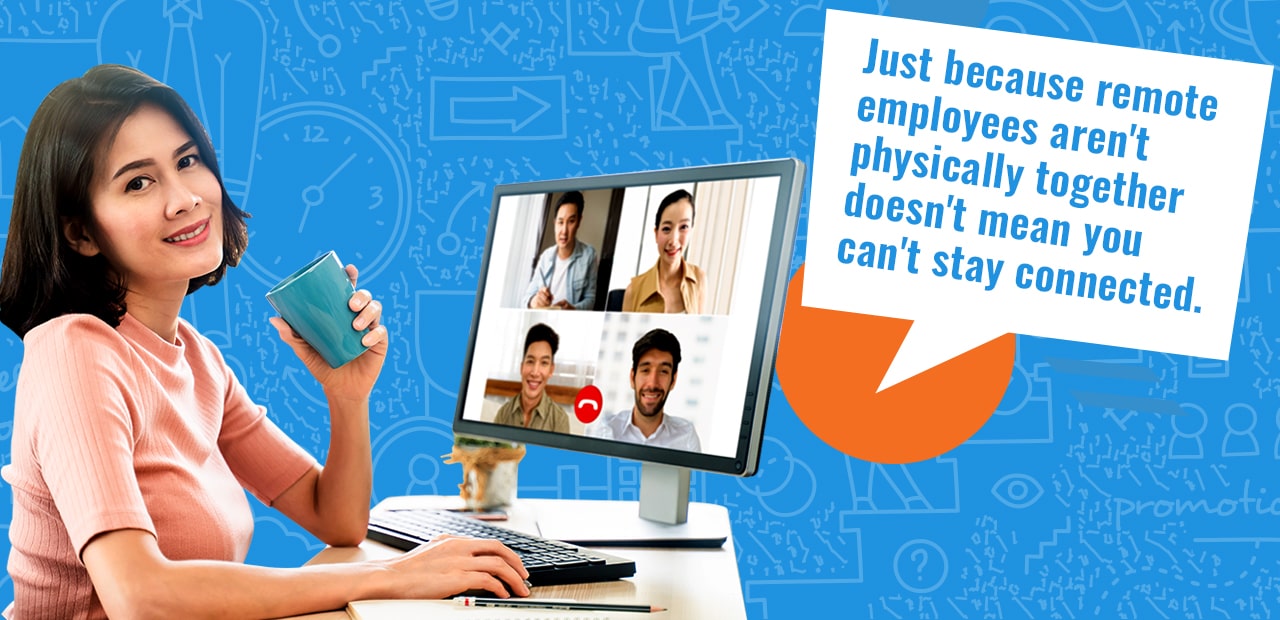 Just because remote employees aren't physically together doesn't mean you can't stay connected. Organizations must take advantage of the available technology to keep company communication alive. HR can arrange regular virtual town halls and hangouts, send out weekly newsletters, or set up online communities catering to various passions and hobbies so employees can connect with other remote workers who share the same interests.
3. WORKING REMOTELY MEANS SAYING GOODBYE TO COMMUNICATION AND COLLABORATION
Thanks to technology, companies and entrepreneurs can easily debunk this myth themselves. Remote companies who know how to equip their remote employees with the right training and tools (e.g., video chat apps, project management tools, cloud storage solutions) won't suffer from a disconnected workforce. Managers also play a big role in maintaining open communication channels and fostering collaboration. This is why companies should also train their leaders to work with remote teams properly and effectively.
Regardless of where these myths or preconceived notions about remote work originated, there are always ways to debunk or work around them.
Do you still have some questions about remote staffing? Schedule a free consultation with us, and let us help you find the right staffing solutions!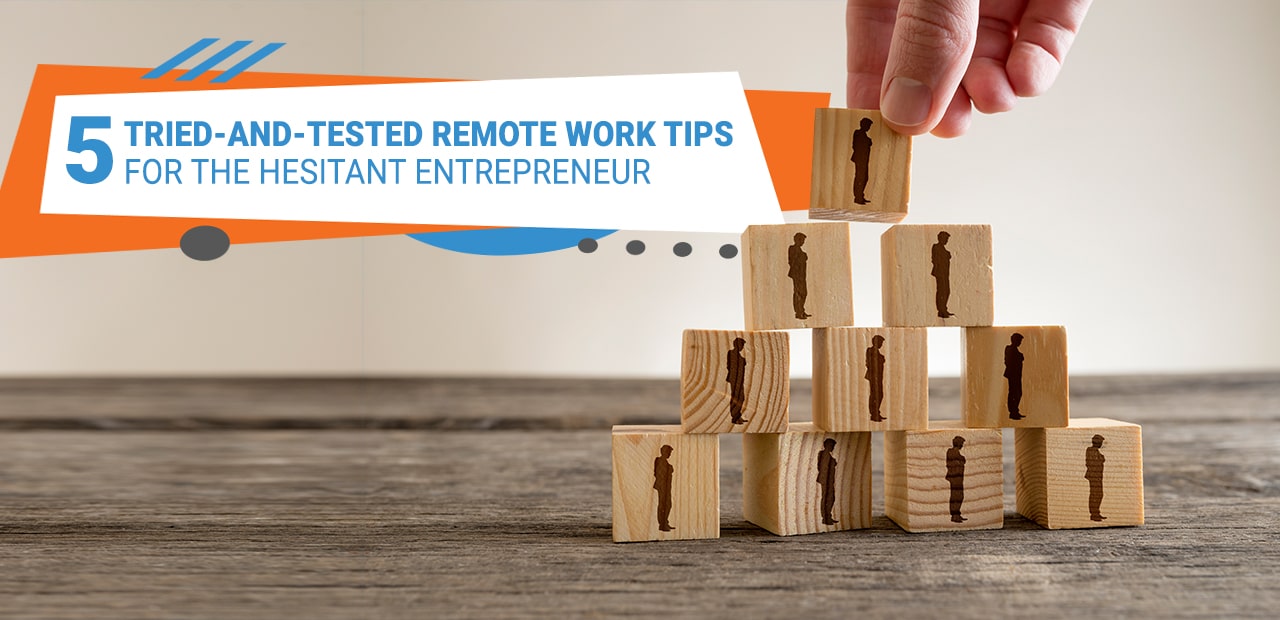 5 TRIED-AND-TESTED REMOTE WORK TIPS FOR THE HESITANT ENTREPRENEUR
1. ESTABLISH STRUCTURE
Creating a structure that everyone can easily understand and follow is essential for any work environment.
CREATE BOUNDARIES
It's important to set ground rules for your team, like requiring them to be online for a certain time for team syncs. You should also set expectations on work output and lead times, especially for an important task. Since you're not physically with the remote employee to oversee their work, you need to create boundaries that will also guide them to separate work from personal life, helping them to maintain a work-life balance. Here are some examples of such boundaries.
Company hours should be spent only doing assignments for your company and not other clients.
Avoid distractions such as making personal phone calls or going on social media platforms on company time.
Create a dedicated workspace or take advantage of co-working spaces to help you focus on the task at hand.
Set boundaries with your family members to let them know when you're work hours begin and end to avoid distraction.
Honor your breaks and paid time off (PTO). Use your lunch break and coffee breaks to take in fresh air or rest your eyes. Just because your computer screen is with you 24/7 doesn't mean you should be in front of it the whole time.
ALIGN ON GOALS AND KEY PERFORMANCE INDICATORS (KPIs)
To help your remote employee stay focused and on the same page as your business, you must align with the company goals early on. This should be done as early as the onboarding phase.
Aligning with your remote worker about their KPIs gives them a north star that will guide them in their work. They'll be able to prioritize tasks better and become more productive while working remotely.
Read our Virtual Staffing 101 article for more information on how to set your remote worker up for success. You can also book a free consultation with our Growth Experts to assess your staffing needs and guide you with your remote work transition.
DISCUSS WORK HOURS
Transitioning to a company that's working remotely means you can hire workers who come from various cultures and backgrounds. This also means you will have workers in a completely different time zone. You can easily manage this challenge by discussing work hours with your distributed team. You can opt for a team that works synchronously, meaning some may need to work later or earlier than their home country's usual office hours. However, if the work they're assigned does not necessarily require real-time updates, you can allow flexible remote working hours. You can just agree on the total number of hours they need to complete weekly. Your team will also need to agree on a specific time in the week or the month when everyone is required to go online for a team sync. Make sure to disclose the required work hours before even hiring a remote worker to ensure you have someone who can commit to the work schedule.
Read our Virtual Staffing 101 article for more tips on how to work effectively with a virtual assistant.
2. COMMUNICATION IS KEY
SCHEDULE WEEKLY TEAM SYNCS
Communication is essential for remote teams. Even when you're not in an office environment, one must be aware of what their other team members are working on. This way, they can step in to help in case one team member is on sick leave or going through an emergency. Scheduling weekly team conference calls can ensure that everyone is up to date with the whole team's project. These conference calls are also a good way for remote team members to get to know each other and foster better teamwork.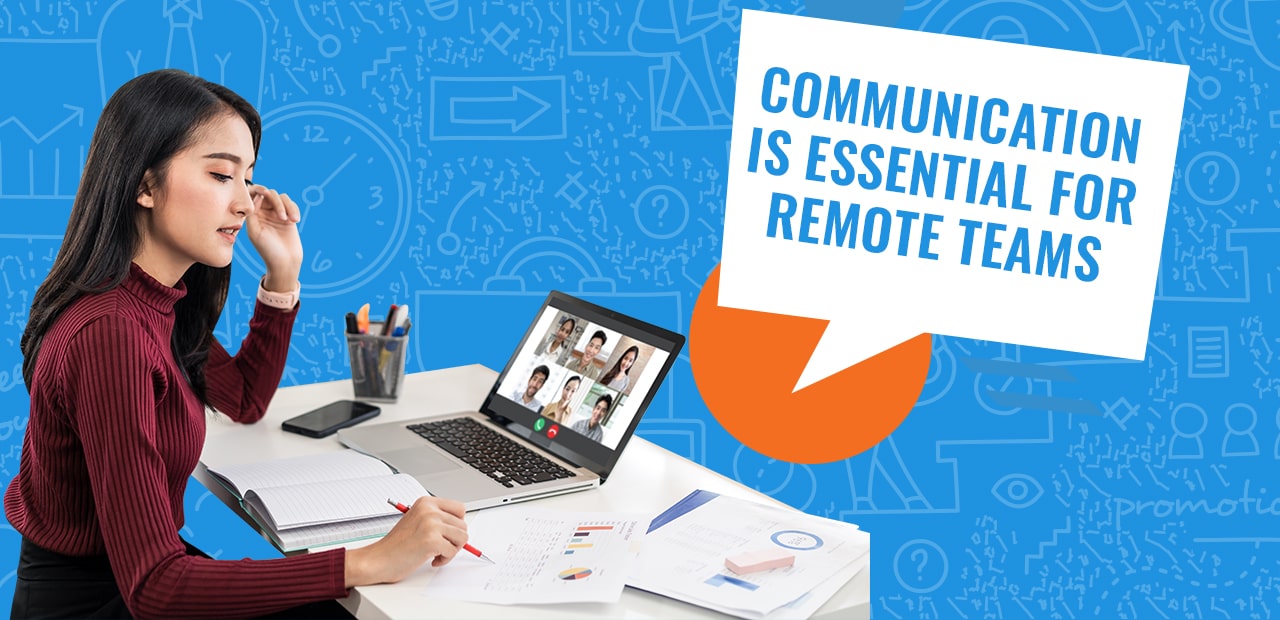 ARRANGE ONE-ON-ONE VIRTUAL CHECK-INS
Some might find working remotely to be isolating. You can help your remote employees combat this feeling by scheduling a video call just to check in with their remote job, challenges, and other concerns they may be unable to share during a team video call. Taking a few minutes out of your work hours can help create a better work environment for your team members.
USE A COMBINATION OF SYNCHRONOUS AND ASYNCHRONOUS COMMUNICATION APPS
Remote companies must anticipate that not all employees work in the same region. Some even have employees who work in various time zones. This is why getting to know your team members' schedules and finding a common time to have virtual meetings is important. And for other non-urgent concerns or simple queries that don't demand real-time feedback, teams can use asynchronous chat apps. Asynchronous chat apps make sure your message gets across despite your team having different working hours.
3. TAKE ADVANTAGE OF TECHNOLOGY
Remote work would surely be a challenge without modern technology. This may be why some businesses, mostly those who have not yet digitized their processes, are hesitant to switch to a hybrid or remote work setup. Of course, being reluctant to move to a remote environment is understandable. But with the right tools and mindset, businesses may even wonder why they didn't transition to remote work earlier.
CLOUD STORAGE AND DOCUMENT SHARING
For businesses handling many documents, it is essential to have an efficient way to store and share these files. This is where cloud storage comes in. Cloud storage services like Google Drive and Dropbox make it easy for businesses to upload, store, and share files with team members who are working remotely. These tools make it easier to collaborate even with a team with members who have various working hours. You can easily finish a project by saving a file in your cloud storage of choice, and team members can edit it in their own time.
PROJECT MANAGEMENT TOOLS
There are various project management tools available that can help businesses with their remote work setup. These tools can help managers assign tasks, track deadlines, and monitor the progress of projects. Some popular project management tools include Asana, Jira, Trello, and Basecamp.
COMMUNICATION APPS
You may have noticed the importance of communication and connection has been highlighted throughout this article. Keeping communication lines open and clear is a huge part of making remote work. This allows you to ensure that employees can be productive and effective in their roles even when working remotely and with minimal supervision. Additionally, keeping clear and open lines of communication boosts team spirit and collaboration. Various communication apps can be used for team video calls and chat. For free, small businesses or teams can use video conferencing apps like Zoom, Microsoft Teams, and Google Hangouts. There are also free asynchronous chat apps like Slack, Telegram, and Skype that you can maximize. You can always choose to upgrade your access as your business, and remote work team inevitably grow.
Want more information on the top tools for remote teams? Read our article on the 10 Must-Have Tools for Managing Virtual Assistants.
4. EXPECT GROWING PAINS
While transitioning to remote work comes with more benefits than potential downsides, one can't deny that managing change is not easy. Even companies that change software providers can experience reluctance and other barriers. So if it's your company's first time trying hybrid or remote work, it's best to manage your expectations; the transition won't be as smooth as you would like it to be. But there are some ways in which you can help your business and your employees manage this change.
REGULARLY SHARE REMOTE WORK TIPS TO MAINTAIN WORK-LIFE BALANCE
Many remote workers struggle with maintaining a work-life balance. You can help them avoid burnout and work disillusionment by sharing tips on working remotely. You can include this as an opener for your regular team video calls or as a hump-day message to your remote team. These tips can cover a wide range of topics, including:
how to create a morning prep routine
self-care tips from meditation to at-home R&R
recommended home equipment like an ergonomic office chair or your favorite noise-canceling headphones
tips on how to create a daily schedule and not have your work life creep into your personal time (and vice-versa)
easy and relaxing hobbies to try
SOLICIT FEEDBACK ON HOW TO IMPROVE
The remote work landscape is still evolving, so you're bound to witness trends and make adjustments along the way. You can get feedback from people management experts on how to improve your remote work setup. There are many online resources that you can
You can also ask your employees directly for their suggestions on what's working and what needs to be changed. It may be difficult for them to volunteer this information themselves, so it's best to approach them first to get valuable feedback.
Read our article with tips for working remotely straight from CEOs and business owners themselves!
5. WORK WITH A FULL-SERVICE REMOTE OUTSOURCING AGENCY
Sourcing, screening, and recruiting the right remote talent can take up a lot of your time and effort. Whether you're a business that's new to hybrid or remote work arrangements or one that's been doing it for a while, it's best to work with a remote staffing agency.
A company like 20four7VA can help make your transition to remote work smoother and worry-free. 20four7VA is an Inc. 5000 company that's also WBENC-certified, so you know you're in good, capable hands. Partnering with 20four7VA means you have access to:
Cost-effective staffing solutions
A wide pool of thoroughly-vetted virtual assistants (VAs)
IT Services
HR Support: Onboarding, Training, VA Management, and Payroll Processing
Dedicated Client Services team
If you're ready to take your business to the next level, it's time to transition to a remote work arrangement. And if you want a more hassle-free and cost-effective transition, contact 20four7VA today! We can help you find the right remote assistant for you and even share our best practices or tips for working remotely.