20four7VA is Now a Certified Women's Business Enterprise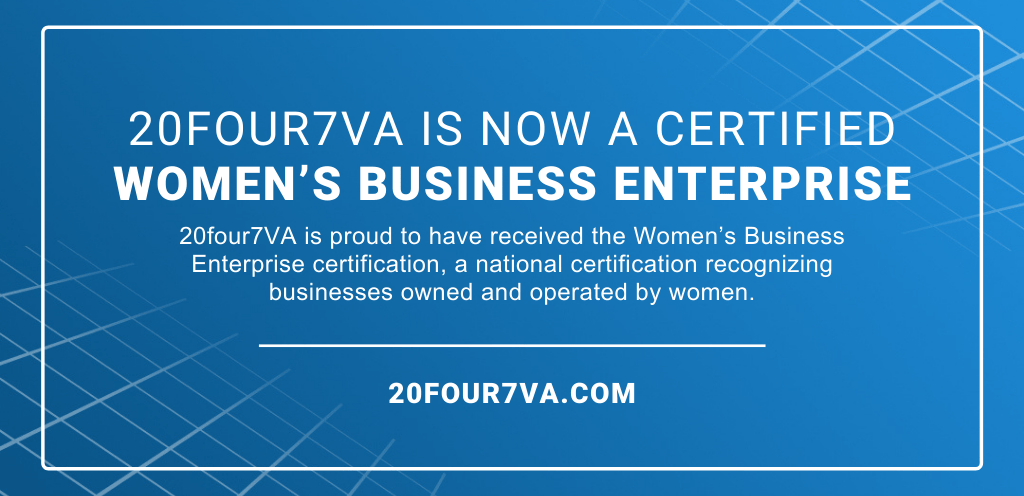 In what can be described as a fitting way for 20four7VA to celebrate Women's History Month, the company recently received national certification as a Women's Business Enterprise (WBE) from the Women's Business Enterprise National Council (WBENC).
The WBE certification is considered the gold standard for women-owned business certification in the United States. WBENC is a known advocate for women-owned businesses and is the leading third-party certifier of women-owned and operated companies in the United States.
As a certified WBE, the WBENC confirms that 20four7VA has gone through a rigorous vetting process to confirm that the company is at least 51% owned, operated, and controlled by a woman a group of women.
Catherine vanVonno, President & CEO of 20four7VA, considers this a significant milestone. "Becoming WBENC certified gives us greater opportunities to partner with other businesses committed to supplier diversity. We're looking forward to working with new clients as we continue to grow our business," vanVonno said.
20four7VA is proud to receive a certification that is a testament to the company's continuous efforts to embrace diversity and inclusivity in the virtual workspace. The company is looking forward to working with other companies that embrace supplier diversity and other opportunities that the WBE certification opens up.