How to Manage Virtual Assistants and Set Them Up for Success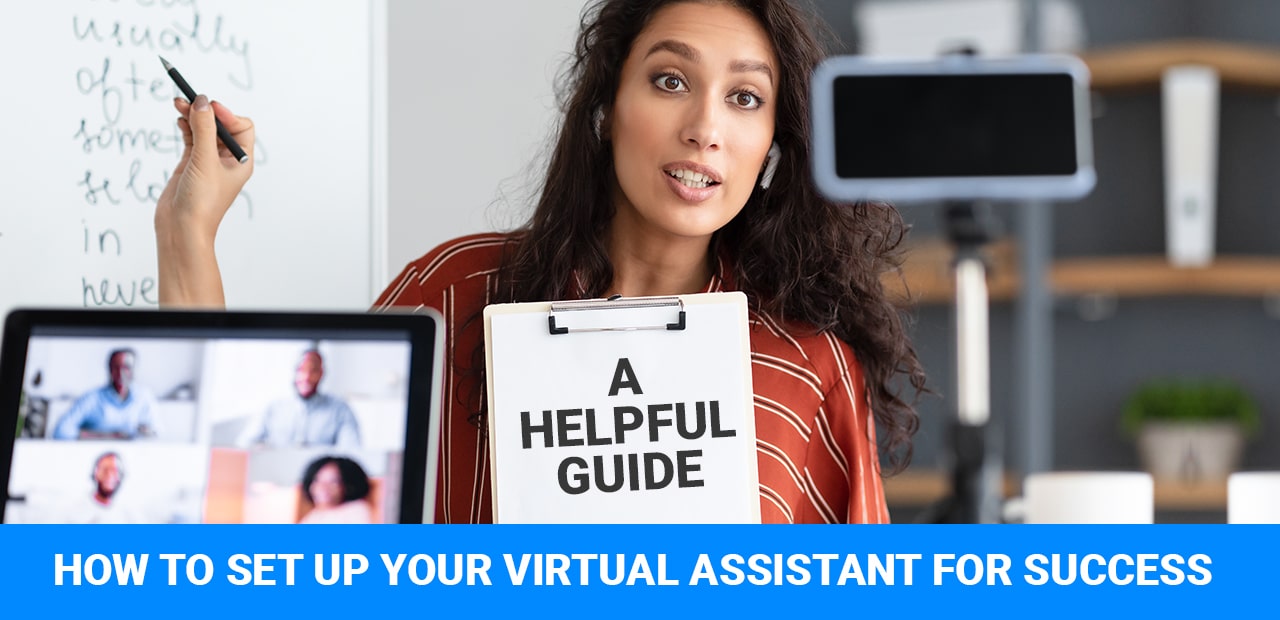 Hiring virtual assistants is a cost-effective staffing solution that can save a business owner's time and increase their productivity. However, it still requires effort from the business owner or manager to ensure that every team member is on the same page, even if they're not working in the same location. In this article, we'll walk you through the different steps of how to manage virtual assistants or VAs.
Learn more about the benefits of hiring a virtual assistant for your business.
HOW TO HIRE VIRTUAL ASSISTANTS
Before managing virtual assistants, you will need to start at the beginning: looking for a VA (or remote assistant). Even at the start of the process, you must keep in mind that the VA you'll hire for your business should be equipped with the right information to succeed in their future role. This begins with having thorough sourcing, recruitment, and hiring processes.
SOURCING: WHERE TO LOOK FOR VIRTUAL ASSISTANTS
The most common places to look for virtual assistants are online staffing platforms, job portals, and social networking sites. Whichever sourcing channel you choose to look in, make sure that your job alert includes the following important details:
IMPORTANT PARTS OF A JOB AD
A quick introduction to your business, including your products and services
The list of activities you will delegate – Whether they're basic administrative tasks or other tasks that need special skills, it's important to include them in the ad so job seekers can assess if they possess the needed skills.
Required work hours – Specify if you need a full-time or part-time virtual assistant. Additionally, you should also indicate whether the hours are flexible or fixed, as this is something most remote workers consider when applying for a role.
Salary and benefits – Job seekers will want to know how much money and other benefits they'll be getting for the work they're expected to accomplish.
A comprehensive job posting is a good way to begin setting up your virtual assistant for success, even when they're still in the career-seeking phase. They'll have clearer expectations of the type of task they'll be working on and how much time the job seeker needs to allocate for this role before applying. If you need templates or guidelines in crafting your posting, there are many online resources about creating job posts that you can refer to.
Still unsure how to start finding remote workers? Schedule a free consultation call with our Growth Experts to discuss your staffing needs.
RECRUITMENT: HIRE FOR ATTITUDE, TRAIN FOR SKILLS
It's always important to remember that you are looking for someone who will be a good fit for your company's work culture and values. You will need to screen the various applications from different career websites to find shortlisted candidates. It's best to schedule an interview with the shortlisted virtual assistant candidates. Interviews are essential in the recruitment process.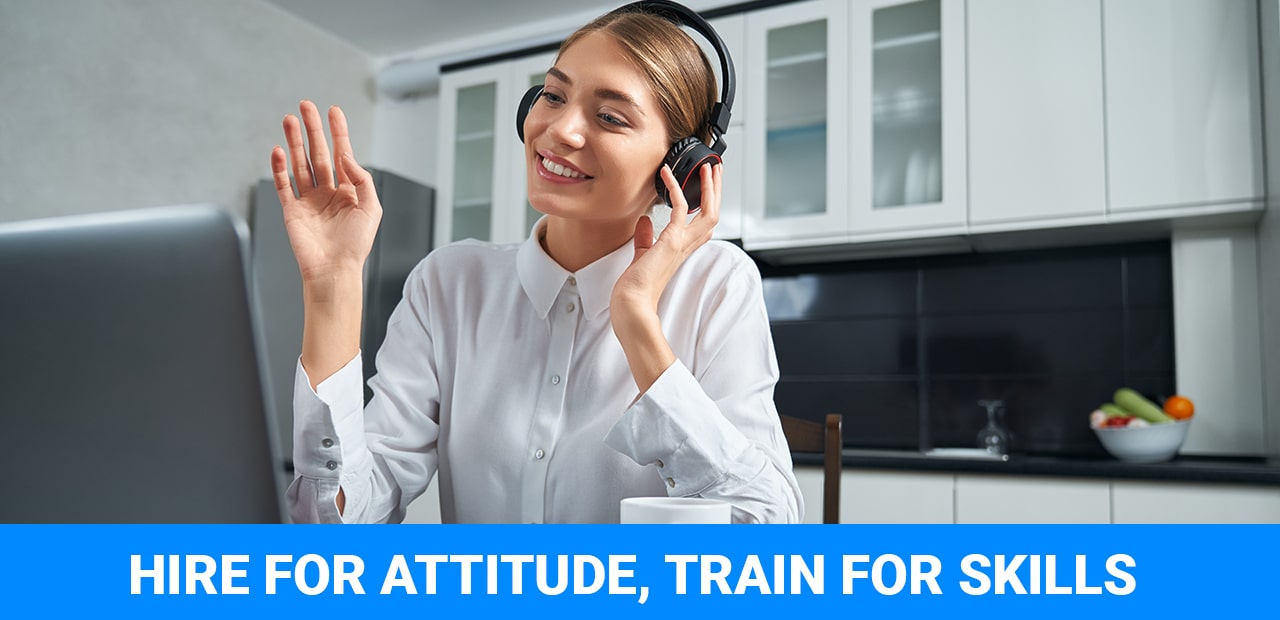 IMPORTANCE OF INTERVIEWING CANDIDATES
Verify what you've seen on paper or their resume. A candidate may look good on paper, but there are some unfortunate occasions wherein the person being described on the resume does not match the one you're interviewing.
Gain a better sense of their personality, work attitude, and whether or not the virtual assistant can fit your company culture. Remember: You may not find the remote assistant that fits the bill perfectly. However, you can try and find someone with the basic skills and the right attitude to slowly but surely fit the mold through actual work experience, coaching, and training.
Measure their understanding of the virtual assistant role they're applying for. Sometimes, there may be a mismatch between what candidates think they're applying for and the actual role. During the interview phase, the client and remote assistant candidate must have a mutual understanding of the expectations to see if both parties would want to move forward with the hiring process.
Get to know their expectations for the role, and if they have any clarifications, you can address them immediately. You can find out a lot about how candidates think through their demeanor and even the type of questions they ask.
If you are looking for remote assistants or VAs with certain specializations or skills, you can also assign test tasks such as editing short videos or writing test articles. Make sure that all candidates have the same type of test and time frame to finish it to help you review and compare their work more objectively.
Check out these tips on questions to ask VA candidates during interviews.
HIRING: EXTENDING A JOB OFFER TO THE RIGHT ASSISTANT
Once you've decided, it's time to hire your new virtual assistant! Create an offer that contains the compensation package, work hours, and description of the role. Once the offer has been accepted, you may begin working on a binding contract stating the type of services your selected remote assistant will do.
Read this article to learn more tips and tricks for finding the right virtual assistant.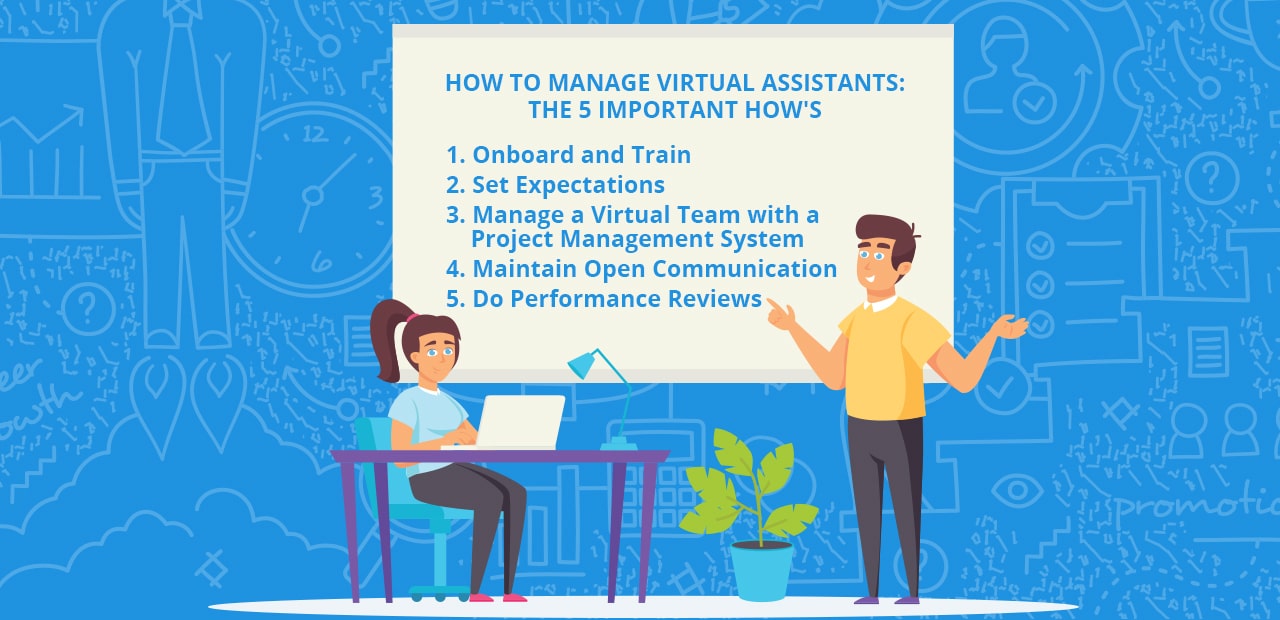 HOW TO MANAGE VIRTUAL ASSISTANTS: THE 5 IMPORTANT HOW'S
Now that you've finally selected and hired a virtual assistant, it's time to learn how to manage a virtual assistant or a group of VAs.
HOW TO ONBOARD AND TRAIN VIRTUAL ASSISTANTS
Before you start delegating tasks, make sure that you take the time to onboard and train your new virtual assistant. Doing so will help your new VA or VAs perform better in their roles and positively contribute to your business.
INTRODUCTIONS
Introduce your new VA to the rest of the team. You can also set aside a time for one-on-one introductions to see how they're doing and what they expect from this opportunity. They should be introduced to the people they will deal with during their tenure.
HR OVERVIEW
While virtual assistants are not part of the in-office workforce, they still need to know the HR policies of your business. They should know about attendance, time-off requests, and other company procedures.
TRAINING ON HOW TO USE RELEVANT PROGRAMS
All new VAs must be trained on how to access and operate relevant programs and the specific ways of working for your business. While some activities may be common, you or your business might have certain ways or workflows that the remote assistant should familiarize themselves with.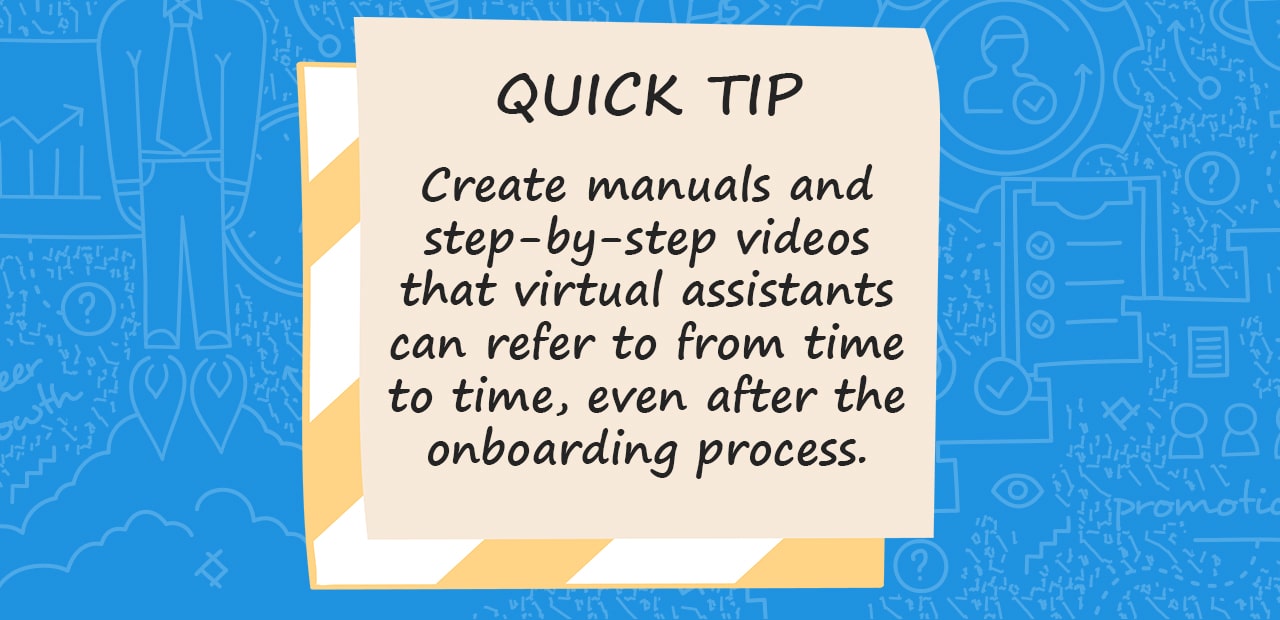 A time-saving tip is to create manuals that they can refer to from time to time, even after the onboarding process. Step-by-step videos can easily be captured using free screen video recording tools. Taking the time to create a short video will save you more time and effort in the long run.
HOW TO SET EXPECTATIONS EARLY WITH YOUR VIRTUAL ASSISTANTS
For a productive working relationship and business success, it's important to set expectations with your new virtual assistant or assistants and to set them early in the game. Not sure where to start? Here are some tips on how to set expectations with your remote assistant or VA team:
PREPARE A LIST OF TASKS
The importance of a comprehensive list of tasks cannot be stressed enough. Even at the beginning of the remote assistant's journey with you, you must be prepared with the list of tasks they are expected to do. While this list will evolve along the way, it's important to have one at the onset and amend it in case additional tasks are added, or old tasks are removed from the VA's to-do list.
CLEAR INSTRUCTIONS
For every assigned task, the client or immediate superior must provide clear directions like where to access the required file or the exact format needed. Doing so will help virtual assistants complete tasks effectively. When you communicate the expectations on a certain assignment, you save more time for yourself and your remote assistant.
EXPECTED TIME SPENT PER TASK
Because a virtual assistant will most likely be doing more than one task, they must know how to prioritize. To help virtual assistants prioritize, clients must set lead times or establish the expected number of hours per task. Whether it's a task requiring longer hours like video editing or admin activities (for example, answering emails or data entry), virtual assistants can practice better time management when you align your expectations with them.
STANDARDIZED EXPECTATIONS
This can be in the form of a Standard Operating Procedure (SOP) or manual. If needed, you can even screen record the complete procedure, so the new VA has resources on which they can look back to see if their work is up to the client's standards.
HOW TO MANAGE A VIRTUAL TEAM WITH A PROJECT MANAGEMENT SYSTEM
Aside from time-tracking tools which simply record the time spent by the remote assistant on various tasks, there are also project management apps that help track project status with a more detailed approach. With project management tools, you can:
Assign a task or a series of tasks per project to a certain VA or team member. Whether these are recurring tasks like scheduling meetings or more specific ones such as creating a social media plan or editing a video, you should include these tasks in your project management system.
Ensure your team is aware of the project's schedule by including the deadline per task.
Manage tasks by tracking progress: Make sure that each team member, including virtual assistants, updates the status of their task (example: in-progress or needs review)
Measure productivity: You can measure this based on the assigned task, how much time it took to complete it, and the quality of work.
Review the team's performance on the tasks and revisit the schedules. For example, if certain tasks take longer for the remote assistant to complete, you may need to extend the lead time for those tasks moving forward. You can also see the disparity in the workload of the team members and decide to delegate or reassign tasks to other members.
HOW TO MANAGE REMOTE TEAMS VIRTUALLY AND MAINTAIN OPEN COMMUNICATION
Open and clear communication is needed in every work setting. Effective communication between teams and individuals will save everyone time by avoiding the constant back-and-forth for clarifications and ensuring everyone is aligned on the end goal. When you delegate tasks, ensure that expectations on the tasks, such as required task output point persons and deadlines, are properly communicated.
Schedule meetings regularly to foster collaboration and encourage fruitful discussion. Team or one-on-one meetings can help build better working relationships between business owners and remote workers. It's a good venue to not only discuss business updates and tasks but also engage in the usual catch-up sessions usually done in the traditional office set-up.
Make sure you use technology to your and your virtual assistants' advantage. Nowadays, there are multiple synchronous and asynchronous communication applications that you can choose from to make sure that everyone is aligned on the different projects. Additionally, these tools allow teams with a distributed workforce to coordinate properly no matter where they are in the world as long as they have access to a device and mobile internet.
Technological advancements are here to make everyone's work-life much easier, so maximize them.
Check out our picks on the must-have tools for virtual assistant project management: from time-tracking to online meeting apps.
HOW TO DO PERFORMANCE REVIEWS WITH YOUR VIRTUAL ASSISTANT
Part of how to manage virtual assistants the right way is to review their performance. It's important to give feedback, both positive and constructive. Complete work is not just the only indicator of good performance. The number of assigned tasks or projects and the amount of time needed to finish each task is a good way to determine the productivity of your virtual assistant.
While the quality of work is more subjective, you or the virtual assistant's team lead should check each finished task and point out things that were done well, what needs improvement, and what should be avoided. Providing valuable feedback can make the virtual assistant more aware of management expectations and work towards meeting or exceeding them. At the same time, regular performance reviews can help management identify which virtual assistants will need to receive more coaching or training and who just needs a few check-ins and work tips here and there.
Performance reviews are not just for the improvement of the virtual assistants but the business's overall success. Higher output quality on tasks and increased productivity from virtual assistants mean better results for the management.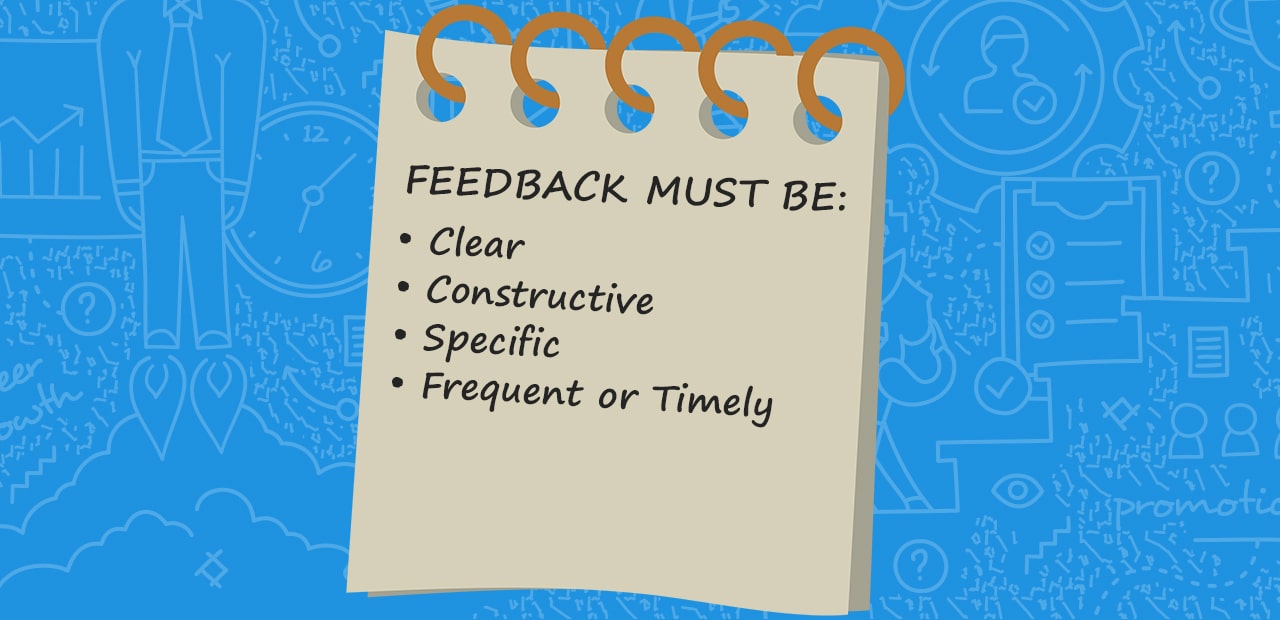 When giving feedback, always aim to be:
Clear – Avoid using unclear terms or jargon. Make good use of your time and be straightforward while maintaining a positive and professional tone.
Constructive – Instead of providing feedback as failures, try to frame them encouragingly as opportunities to improve the quality of work and increase productivity. This way, you're pointing out things that need improvement without undermining your VA's confidence.
Specific – Feedback can be very effective when it is specific and actionable. This way, the remote assistant knows what needs improvement and where they should focus their attention.
Frequent or Timely – Give feedback as soon as the task is completed to ensure that the VA remembers the context and applies the feedback as soon as possible.
To ensure that your feedback is well-received and put into action, avoid common mistakes such as: making assumptions, being too vague, or sugarcoating. Communicating in a straightforward but professional manner is key not just for performance reviews but for creating a good working relationship with your virtual assistant or VAs.
Know more about how to manage virtual teams or virtual assistants right here.
NEED MORE HELP FINDING AND MANAGING VIRTUAL ASSISTANTS?
Managing, let alone finding the right virtual assistant for the role, can be tedious. You will need to dedicate some of your already stretched hours to finding the right talent. But working with a trusted remote staffing company like 20four7VA can make things easier and more convenient for you! You don't even have to learn about how to manage virtual assistants yourself because we do it all for you.
20four7VA is a virtual staffing company that offers the following:
Cost-effective staffing solutions that will help you grow your business while saving money on labor costs
VA recruitment and screening assistance
Dedicated customer support
HR services like remote assistant management, payroll processing, and in-house training
Access to a global pool of remote talent
Setting up your VA for success starts with working with an experienced and trusted virtual staffing business that can connect businesses with the best fit remote talent. Additionally, 20four7VA's service does not stop when you find and hire your chosen remote assistant. We will be with you every step to ensure that your VA is on the right track, even providing access to in-house training to upskill or provide new knowledge on the latest digital practices.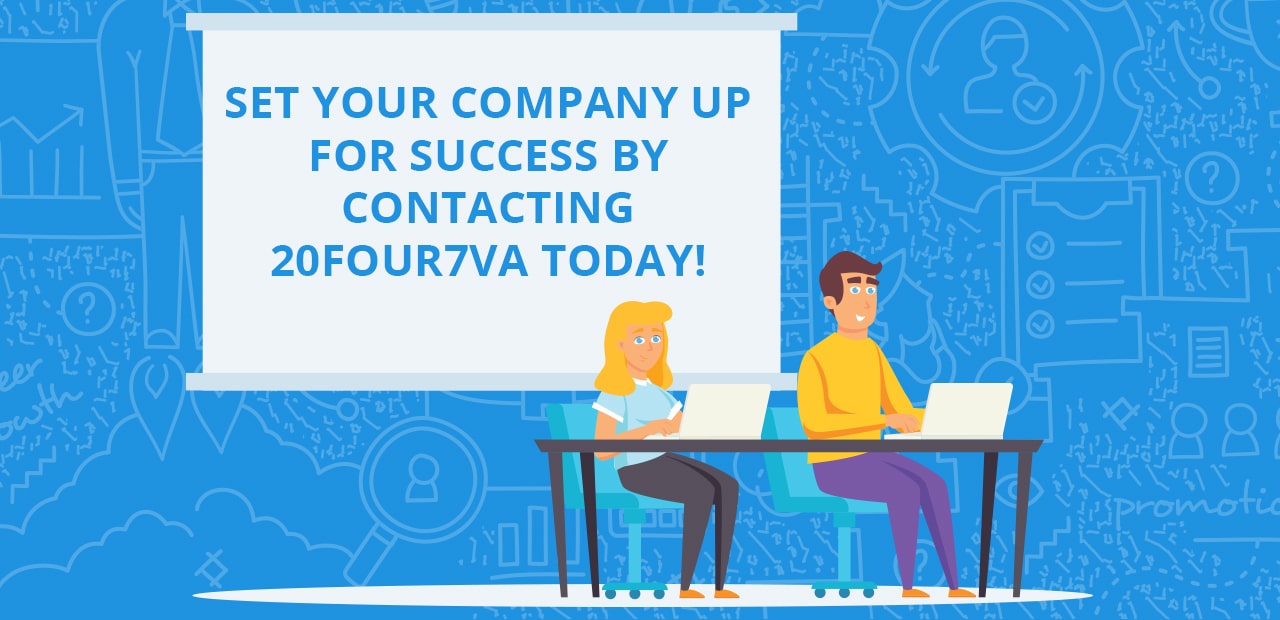 Schedule a free consultation with our Business Growth experts by clicking this link if you need more virtual staffing tips or information on 20four7VA's end-to-end remote staffing services.