Top Virtual Assistant Tools: Part 1 – Communication Tools

Table of Contents
---
Communication is an essential life skill that we use every day. It is a two-way street that involves an exchange of messages between a sender and a recipient. Talking is one of the most common ways of communicating, but communication can also be conveyed non-verbally, in writing, and through behavior.
However, there are challenges when it comes to online communication. It lacks the social signals like facial expression, posture, and vocal intonation that is normally present in in-person communication that clues us in on a person's disposition. These issues can get complicated from a business standpoint and especially when it comes to dealing with a remote staff of virtual assistants.
Why is Communication Important in Business?
Communication is used for a variety of reasons. In business, it is key to the growth of an organization and reaching its goals. There are many ways that communication can be utilized to its full potential, so using it to give instructions is not enough. Apart from metrics and key performance indicators, you should also take care of the human side of the business; the employees who are the lifeblood of any organization in the modern workplace.
The human experience is so complex that poor communication can lead to misunderstandings and conflicts. Its consequences can cause a negative emotional impact on anyone and it can cause low morale, mistrust, and frustration among employees in the (virtual) workplace. That is why it is more important than ever to invest in tools that improve employee engagement, foster company culture, and boost the team's communication.
Top Virtual Team Communication Tools for Business
Internal Communication Tools and Software
Internal communications is the key to ensuring that all team members including those in remote teams are kept abreast of the goals, updates, company news, and upcoming events of an organization. Using the right communication tool together with collaboration software will improve employee communication and increase business success among team members including the remote workforce.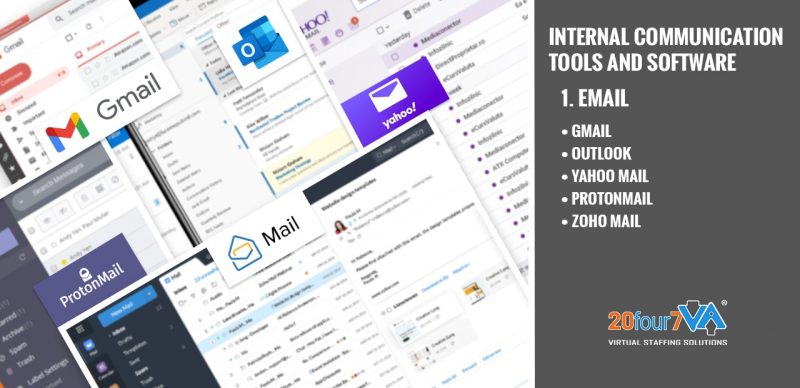 1. Email (Gmail, Outlook, Yahoo Mail, ProtonMail, Zoho Mail)
Email is one of the most common business communication tools in the workplace and rightfully so. Email is an accessible, cheap, and fast way to transmit information electronically to the entire organization. It is delivered in real-time and can be accessed from any device that is connected to the internet. Some of the most popular email services are free with limited but great features.
a. Gmail – This is Google's email service and for the most part, it is free. There are plans you can avail of to get more storage, access to applications and third-party programs, and support.
b. Outlook –  Microsoft Outlook email is free and comes with the Calendar as well as access to Office applications like PowerPoint, Word, and Excel. The paid version has all the benefits of the free one, and is ad-free, has larger mailbox storage, and enhanced email security.
c. Yahoo Mail – In its heyday, Ymail used to be the most popular email service when the internet was new. Anyone can make a free account with limited storage but as of January 1, 2021, you can no longer forward emails. However, the paid Yahoo Mail Pro will give that feature back and other benefits including customer support, ad-free interface, and better overall performance.
d. ProtonMail – Its most standout feature is end-to-end encryption for email and data security but only for the paid versions. The free version only has limited storage and support, but you are free to upgrade anytime.
e. Zoho Mail – Its free plan supports multiple users, so it's great for personal and business and includes free mobile apps and email hosting for one domain. The paid plans allow you to fully utilize its built-in collaboration tools that anyone in the organization can see and share.
f. Onlyoffice – This is an email service that integrates collaboration tools into one suite. It has a free version for up to 5 users and 2GB of storage.
g. Mailbird – There are two types of accounts you can avail of, free or premium. The only difference is the support and adding domains for your business.
h. Fastmail – If you prefer email hosting services over software-based ones, Fastmail is the answer. They only offer paid accounts which starts at $10/month for 10GB of storage and support.
i. Mozilla Thunderbird – This free email client is fully compatible with most web-based email providers like Gmail, AOL Mail, Outlook.com, and Yahoo Mail. You can also synchronize your messages across different devices like Android smartphones and Windows PCs. It has a built-in junk filter to ensure spam is never an issue along with 500MB of cloud storage for emails.
j. AOL Mail – AOL Mail is free to use but you are limited to 1GB of storage. While that might seem minuscule, it's great for small businesses with 10 employees or less. Plus, they don't have ads so you can save on bandwidth too!
k. Sendinblue – This is a business communication tool that you can use for free to send newsletters and transactional emails to your clients. It also has an email automation feature that makes it easy for you to build lead generation campaigns and boost conversions!
l. Mailup – This communication system works like Sendinblue but it's ideal for larger teams and has better messaging tools for communication. The difference is that they offer free trials instead of free plans like Sendinblue.
m. Mailjet – If you want an internal communications tool that combines the best features of high-end task management tool systems into a single platform, then Mailjet is the answer. It has built-in marketing automation for lead generation and tons of chat tools for communication.
n. Nylas Mail – This communication system is an open-source mail client that has tons of business communication tools built in. It also supports various standards like IMAP, Exchange, and email.
o. Edison Mail – If Gmail is your go-to business communication tool because you like its features but don't want to use Google's interface, then Edison Mail might be the answer. This communication system is compatible with Gmail and Google Inbox and it has tons of communication software tools like email tracking, read receipts, and smart filters.
p. Mailboxer – This business communication system was originally created for educational institutions but it's perfect for teams who want to schedule communications ahead of time! It works by letting users build a list of communication topics and schedule when they should be sent out.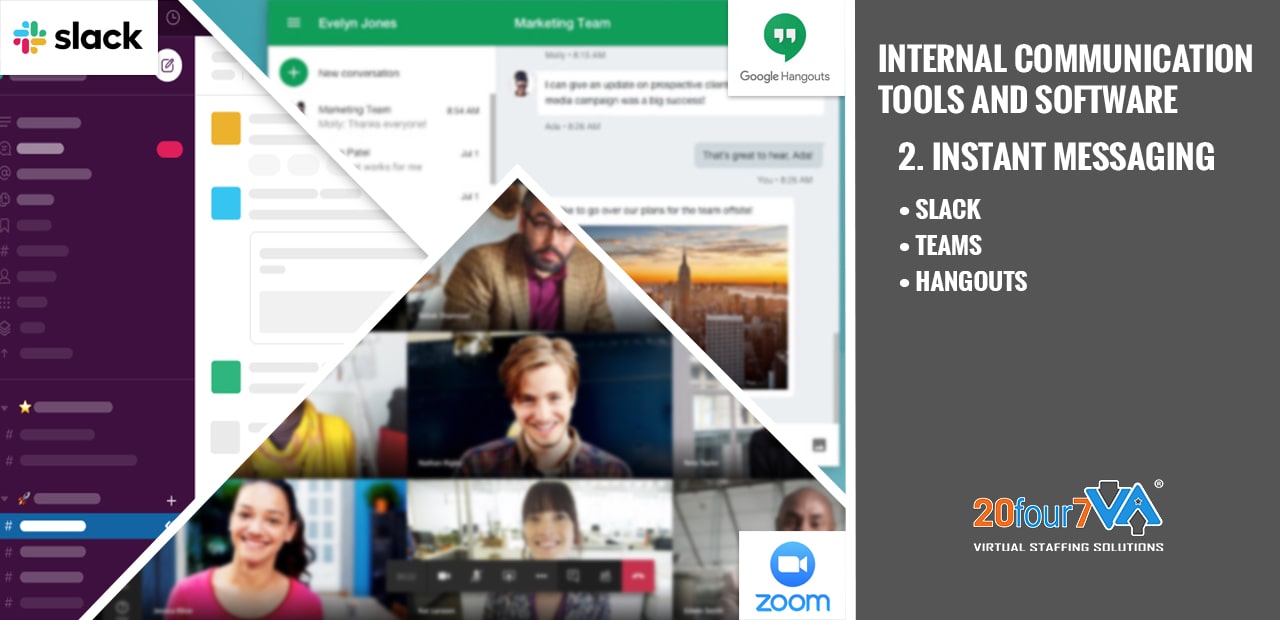 2. Instant Messaging (Slack, Microsoft Teams, Google Hangouts)
An instant messaging software or app for business allows you to quickly convey urgent information to individuals and teams. This type of office communication promotes efficiency and improved collaboration because conversations happen in real-time.
a. Slack – Slack is a secure team communication and collaboration platform where organization employees can chat with one another for work. You can create channels for various projects and one-on-one and group chats for employee discussions. It can integrate workplace tools and apps, do file and media sharing, and can even do voice and video calls. Slack is free but with limited use.
b. Teams – Teams is like Slack but it has native integration for Microsoft's Office 365. It is more convenient for an organization that uses these tools. You can get Teams for free with unlimited chat messages, audio and video calling for up to an hour, and file storage per person. If you want more, you can get the Microsoft 365 plan to unlock features including enterprise-level security, rich file collaboration, and additional storage.
c. Hangouts – This is a built-in channel for Google users and is capable of instant messaging, voice and video calls, group conferencing, and screen sharing. Anyone with a Gmail account can freely use Hangouts which is convenient.
d. Skype – This group messaging tool is the most popular group communication software for businesses. It allows you to make business phone calls, video meetings, conference call with up to 250 people, do file sharing, screen share, and more.
e. IMessage – This communication and mobile app is exclusive only to macOS users but it does instant messaging for free! The cool thing about this group messaging tool is that it supports SMS messaging, so you can text message iOS and Android users for free!
f. Discord – Discord is one of the most well-known gaming communication tools originally among gamers but it has also become popular with businesses. The great thing about Discord is that you can do text messaging, voice and video conferences, host meetings, images and file sharing, group chats, web conferencing, knowledge sharing, invite link generation (similar to Slack), screen sharing support (with no time limits), bots for moderation purposes, and many more!
g. Telegram – This communication platform is free but you can use it for group chats, create channels, do one-on-one communication, send pictures and videos, send GIFs, share your location, start video calls, and more!
h. Signal – The main thing that makes this instant messaging tool nice is its security protocol. It is end-to-end encrypted and allows you to do group and private communication. It has a "disappearing messages" feature so things don't stay on your chat box forever.
i. Brosix – This business communication tool is not only a communication channel but it also a communication service. You can use Brosix to communicate effectively using its basic communication tools including voice and video call, chat messaging, group chat, file transfer, live meetings (online or in-person), currency conversion for international communication with colleagues abroad, and more!
j. Tox – A business communication app with privacy features. It does communication goals like one-on-one communication, group communication, P2P communication, and more! Tox also has a built-in pairing service so you can talk to friends from other communication apps.
k. Flock – A communication tool for businesses to collaborate with colleagues all around the world. It has team communication tools like chat messaging, file sharing, one-on-one communication, live meetings (online or in-person), and more!
l. Mattermost – A robust tool for businesses to collaborate. It works like an internal communications platform by centralizing project management features across various communication channels, apps, and third-party systems (like Slack).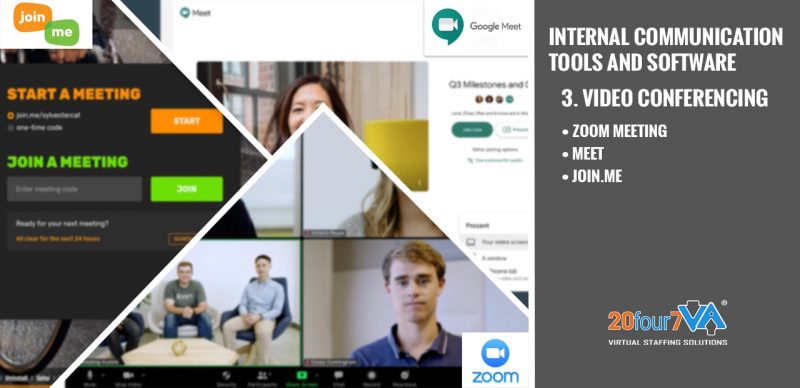 3. Video Conferencing (Zoom Meeting, Google Meet, Join.me)
Video conferencing allows you to have remote but face-to-face communication with colleagues. It is a useful business communication tool for virtual teams that consist of remote workers from different parts of the world. It helps saves time, money, and effort as it reduces the need to commute for meetings. Plus, it improves meeting attendance since most apps work on computers or any mobile device that can connect to the internet.
a. Zoom Meeting – The free version of this tool allows group meetings up to 40 minutes and hosts around 100 participants, so it is great for small businesses with a tight budget. There are multiple tiers of paid versions and each has its respective features to boost internal communication and business performance for medium to large-scale enterprise companies.
b. Meet – Formerly known as Hangouts, Meet is always free for personal use. The free version is capable of an unlimited number of meetings with participants up to a hundred. The paid versions of Google Meet accommodate more than that, plus other features like premium online support, meeting recording, attendance reports, and more.
c. Join.me – Anyone with an account can join meetings using the platform. There are three pricing tiers, and you can choose which plan to use depending on how many people will use it. With paid versions, you can unlock features such as user management, unlimited calls, toll-free numbers, recording, and more.
d. Jabber – This communication tool is an open-source communication platform. It can do communication goals like chat messaging, audio and video calls, group chats, file transfer, and more!
e. Microsoft Teams – All you need is your email address to get this communication tool. It can do communication goals like file sharing, chat messaging, audio and video calls, group chats, one-on-one communication, live meetings (online or in-person), and more!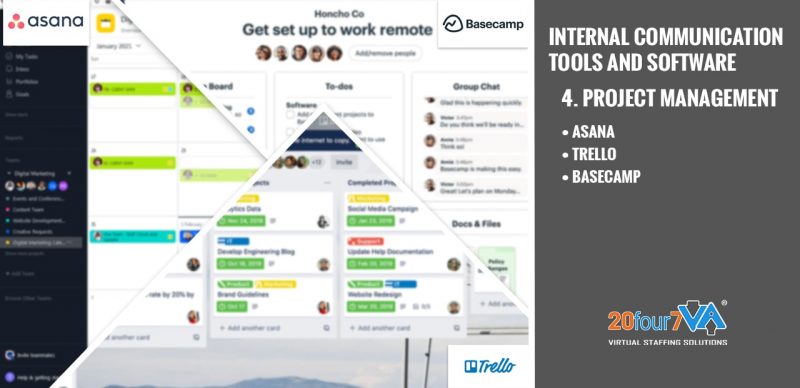 4. Project Management Tools (Asana, Trello, Basecamp)
Project management tools help plan, organize, and manage an organization's tasks to align them with the business' directions and goals. These project management tools are effective for online collaboration for teams that are working in the office or from home.
a. Asana – One of the most popular team collaboration tools, Asana has plenty of useful features and advanced tools that make managing projects a breeze. Its interface is well-organized and user-friendly that you can use it right away without getting lost navigating it. It has document collaboration tools where project managers can assign tasks and tag team members.
b. Trello – As a visual collaboration tool, you can use Trello to organize and manage tasks and projects in a tactile way. Users can use their respective workspaces for better task overseer or create a list of tasks. It can also provide access to several plug-ins and third-party tools.
c. Basecamp – As a collaborative communication tool, Basecamp allows you and your team to effortlessly keep track of projects. Its easy-to-use features including message boards, to-do lists, and file storage on top of the native group chat ensure that it has everything you need in one place.
d. Zoho Projects – Like the other business communication tools listed here, Zoho Projects lets you create to-do lists, collaborate on shared documents and tasks, assign responsibilities to team members, and provides access to business communication tools. It is free for up to 3 active projects with collaborators that are less than 10.
e. Monday.com – The communication tool that aligns work and life. It's an online collaboration platform that lets you create a timeline of your daily tasks, monitor them under different projects, and prioritize based on what needs to be done first.
f. Airtable – A communication tool with a unique function as it lets you make your own custom apps. You can use this task management tool to track and monitor everything from routine meetings to more complicated projects.
g. ClickUp – This communication tool is based on three key features: communication, organization, and automation. It lets you create lists of tasks so you can organize your work well. It also has business communication tools that let you chat with other users or bring in external apps like Slack or Trello.
External Communication Tools and Software
In business, external communication is the transmission of a brand's message, products, or services to the public including customers, suppliers, partners, and stakeholders. Most organizations use internal communications to align employees on the same page and they use external communications to share company news for publicity and to boost sales.
Businesses may use both traditional and digital avenues of communication to inform an audience. Communication channels may include print media like newspapers and flyers, radio, television commercials, and through electronic communication such as websites and social media platforms.
BONUS: Grammar and Spell Check Tools
Correct spelling and good grammar skills are essential in business communications because it helps you convey the message concisely, thereby eliminating any chance of misunderstanding or confusion.
Obvious grammar and spelling errors can be off-putting to clients, partners, and even employees. Not everyone in the organization needs to be as articulate as a seasoned wordsmith, but you can use tools to check basic grammar and spelling before you send an email, document, or even an instant message.
There are plenty of free spellcheck and grammar tools online. Some of these tools have browser extensions or mobile versions for convenience. Grammarly, Ginger, and Hemingway are some of the most popular apps used online and in businesses.
Why are Communication Tools Important?
Business communication tools are designed to convey and receive information efficiently. They are important in the workplace because organizations are made up of a few people up to a hundred teams. Working collaboratively with others is what makes businesses prosper and these tools make it possible.
What are the business communication tools that your business is using? Do you use it with other popular business tools too? Share your thoughts in the comments below.
This is Part 1 of our Top Virtual Assistant Tools 101 Series. Click here for Part 2: Scheduling and Appointment Apps. If you want to be notified of the next installment, enter your email below to subscribe to our Virtual Staffing 101 blog series.
Ready to have access to incredible people with incredible skills in the most cost-effective way? Give us a call at our toll-free number 1 (443) 856-4882 today!