Tired of being stuck in your 9-5 cubicle job? Exhausted from commuting to and from the office? Want to spend more time with your family? We've got you covered.
20four7VA is a virtual staffing company that helps freelancers and virtual assistants find their perfect work-from-home job. We have a pool of clients from all over the world who are all looking for talented virtual assistants. At 20four7VA, you get to:
Work from the comfort of your home
Have a competitive and steady income
Achieve work-life balance
Learn new skills for free
Work with a dedicated team who can provide you with HR, payroll, IT, and training assistance 24/7!
What is a Virtual Assistant?
A Virtual Assistant (VA) is a remote contractor who provides administrative, technical, and creative assistance to their clients. Although many people think that virtual assistants can only perform admin jobs, that's really not the case! At 20four7VA, our virtual assistants can handle a wide range of tasks for our clients. Our VAs can do anything, from booking appointments and responding to emails all the way to managing social media and creating a website. To be a successful virtual assistant, you must:
Have good communication skills
Be energetic and enthusiastic while dealing with a client
Be capable of creating new ideas coming out of the box
Be adaptable in every environment
Have efficient organizational skills
Be able to work independently
Have great time management skills and show a "take charge" attitude
Be open to continuous learning
Be flexible and a team player
Who are Our Virtual Assistants
We have VAs from all over the world, including the Philippines and the rest of Southeast Asia, Eastern Europe, Jamaica, India, and South Africa.
Our VA pool is composed of highly dedicated people armed with the right set of skills clients are looking for in a virtual assistant. We hire VAs of varying work experience and skill levels, and we help our VAs improve their skills so that they can get the jobs and clients they want.
20four7VA accepts VAs in a variety of niches. Currently, our VAs belong to one or more of the following groups: Administrative VAs, eCommerce VAs, Specialist VAs, Podcast VAs, Construction VAs, and Telehealth VAs.
Ready to join the team? Click the 'APPLY NOW' button below to get started!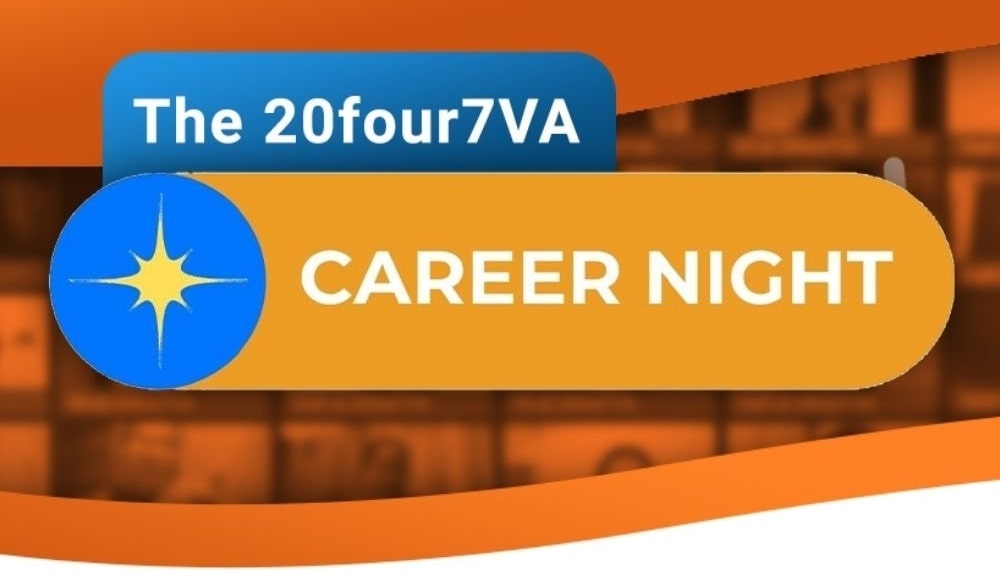 Join the 20four7VA Career Night!
Hang out with us and learn all about life as a virtual assistant and the perks of working with 20four7VA. You'll also get your questions about virtual assistant life answered by the pros! Register to join our next monthly career night now!
System Specifications

Processor is at least Intel Core i3 or equivalent (for both primary and backup computers).


RAM is at least 4GB (for both primary and backup computers).


Operating System is at least Windows 10 (64 Bit), MAC OS/X, Ubuntu 19.10


Primary Internet Connection should be a 'WIRED' connection.


Both Primary and Backup Internet download speed must be 5MBPS or higher.


USB Headset with Noise Cancellation Feature


For desktop users, a backup power supply (e.g. UPS) is required.


An active Skype account (all internal communication and application updates will be sent via Skype)
Not sure if you're ready to make the jump to working from home?
What Are You Awesome At?
20four7VA accepts VAs in a variety of niches. We have many clients who are looking for VAs with different types of expertise and varying levels of work experience, so we're always looking to find new VAs with amazing skills. From general admin VAs to website developer VAs, there's a place for you here at 20four7VA. Here are the current skills that our VAs offer. If you can't find your skill here, don't hesitate to reach out! We'd love to find someone who's in need of your service.
Administrative VA
Administrative VAs function like virtual personal assistants and they help entrepreneurs with the routine tasks of running a business. Here are some tasks that our Admin VAs often do:
ECOMMERCE VA
eCommerce VAs specialize in doing a variety of tasks related to running and managing an online store or an online marketplace account. Here are some tasks that our eCommerce VAs often do:
SPECIALIST VA
Specialist VAs usually belong in the digital marketing, content production, design, and development fields. Here are some services that our Specialist VAs usually offer:
PODCAST VA
Podcast VAs assist podcasters with the various admin, content development, and technical tasks involved in any successful podcast. Here are some tasks that our Podcast VAs often do:
Research Potential Guests
Prequalify Guests
Manage Email Lists
Transcribe Audio
Schedule Management
Track Online Promos
Research Trending Topics
Competitor Research
Email Management
File Management
Advertiser Communication
Guest Communication
Comment Moderation
Scriptwriting
Social Media Posting
Follower Engagement
Create Infographics
Podcast Promotion
Podcast Content Repurposing
Copywriting
Create Audio Clips
Show Notes Writing
Blog Writing
Podcast Distribution
Podcast Artwork
Create Quote Cards
Audio Editing
Create Audiograms
Create Intros and Outros
Video Editing
Upload Podcast Episodes
Hosting Account Setup
Podcast Player Submission
Website Development
Website Maintenance
Add Subtitles
ID3 Tagging
Meta Tagging
Keyword Research
CONSTRUCTION VA
Construction VAs do admin, business, finance, marketing, and IT support tasks for construction businesses. Here are some tasks that our eCommerce VAs often do:
TELEHEALTH VA
Telehealth VAs provide admin, customer support, creative, and technical assistance to healthcare practices and facilities. Here are some services that our Telehealth VAs usually offer:
Digitizing Health History Forms
File Management
Patient Appointment Scheduling
Insurance Verification
Medical Authorizations
Eligibility Processing
Medical Billing
Online Receptionist Duties
Email Support
Phone Support
Text Support
Online Chat Support
Answering General Patient Questions
Processing Prescription Refill Requests
Digital Marketing
Content Writing
Social Media Management
Customer Engagement
Website Development
IT Support
Medical Software Setup
The VA Application Process
VA APPLICATION FORM

After submitting your application, a Recruitment Specialist will review your resume.

INITIAL INTERVIEW

If you pass, we'll book you for an Initial Interview. The Recruitment Team will send the interview schedule via Skype and email.

SKILLS ASSESSMENTS

After the interview, you'll have a 1-on-1 assessment with a Subject Matter Expert based on the position you are applying for. If you pass the assessment, we will decide your tier rating.

FINAL INTERVIEW

You will be asked to submit some Application Requirements to help us get you the right client. You will then have your Final Interview with our Operations Manager.

CLIENT ENDORSEMENT

If you're successful in the final interview, we will forward your profile to the Client Endorsement Team.