How To Manage a Virtual Assistant: 11 Success Secrets From Top CEOs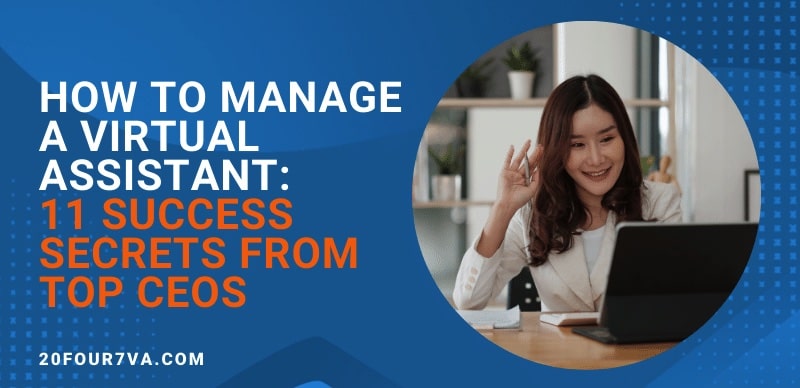 To some business owners, hiring and managing a virtual assistant (VA) may seem challenging. But when done well, the effect can be game-changing. Virtual assistants help a business with all the tasks that can be done online and on a computer or laptop. Those who've already hired a VA even consider their VA as an indispensable part of their team and see them as key contributors to business success—actual proof that hiring a virtual assistant can be a rewarding, cost-effective staffing solution for any business.
Discover what top entrepreneurs are saying about hiring a virtual assistant.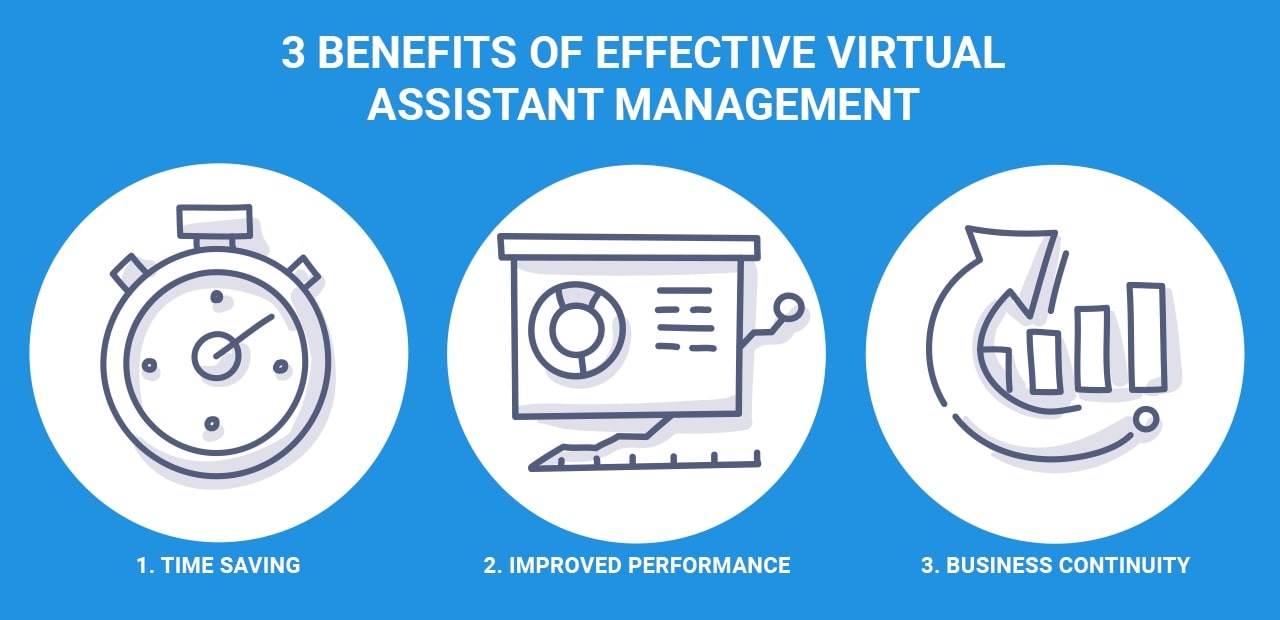 3 BENEFITS OF EFFECTIVE VIRTUAL ASSISTANT MANAGEMENT
Knowing how to effectively manage your VA is key to creating a productive working relationship between client and VA, allowing for better results for your business. Virtual assistants can work on various tasks depending on your business needs and the industry you're in, including social media management, eCommerce, call center services, content creation, and more. Talented professionals can be sourced through proper recruitment, but the more crucial part is what comes after the hiring process. Here are three ways effective VA management benefits your business.
1. TIME-SAVING
Effectively managing your virtual assistant can save you time and effort. When you and your VA are on the same page and have a good working relationship, they'll be less likely to leave you hanging. This means that you don't have to spend time recruiting and training a new VA.
A once-over will do with an experienced VA, especially for administrative tasks. Having a VA that has worked for a considerable amount of time with your team can mean that you don't always have to explain how they should deal with tasks that you delegate to them. You also don't have to spend too many hours double or triple-checking their output because you're assured that they've done these recurring tasks enough to know what would meet your standards. The free hours you will gain with a well-trained VA can be spent on other tasks like reaching out to clients, attending strategic planning meetings, or maybe even personal engagements.
2. IMPROVED VIRTUAL ASSISTANT PERFORMANCE OVER TIME
It may take some time to notice, but having a well-managed virtual assistant that has been working for you for a long time can improve their productivity. Here are some actual examples of how a well-managed VA can help your business:
Familiarity with processes and programs will help them complete work faster.
When they receive clear instructions on tasks, they can work on them with minimal supervision.
They'll gain more knowledge about your business that can only be obtained by learning on the job.
You will be assured that they can complete tasks in a way that is up to your standards.
Because their familiarity and experience have expanded, you will feel secure assigning additional tasks to your VA.
You will have a stronger client-VA working relationship, which allows for clear communication and better overall performance.
3. BUSINESS CONTINUITY
When you hire a virtual assistant that's there for the long run, you'll have someone you can rely on that's familiar with how you want tasks done and can manage to complete these tasks with minimal supervision or revisions. You'll be more at ease with delegating tasks to a VA that's more familiar with your business.
Whenever a VA, or any employee for that matter, leaves the company, it can disrupt business operations. First, it will mean that your recruitment team will start from square one with finding the right assistant, and second, you will need to onboard or train the new hire. While the new assistant may have relevant work experience, their initial output may not compare to someone who has been on your team for a longer time. You should still expect a learning curve and lower productivity at the beginning.
Click here for more virtual staffing tips or schedule a free consultation to know more about how hiring a VA can help your business!
THE DOS & DON'TS OF MANAGING VIRTUAL ASSISTANTS
Keep good talent with these tips from CEOs and business leaders who are working or have worked with virtual assistants from across the globe.
DO MAINTAIN CONSTANT COMMUNICATION
"The important thing to keep in mind is communication," says Rameez Usmani, Director of eCommerce & Retail at an eCommerce company called Selkirk. "Maintain constant touch with your VA to determine which areas require the most attention. As a result, any issues that arise early on can be resolved quickly rather than becoming a huge problem later on."
Maintaining clear communication channels is important for any company, especially one with virtual assistants. So make sure that you and your VAs have the right tools for asynchronous and synchronous communication.
DO ALIGN EXPECTATIONS WITH YOUR VIRTUAL ASSISTANT
Aligning expectations with your VA at the onset is a good foundation for a harmonious client-VA working relationship. "Working with a virtual assistant can be a great experience if you are well organized and have clear expectations," says VIVIPINS CEO Robin Brown. He adds, "It is important to remember that your virtual assistant is not a mind reader, so you will need to communicate your needs and expectations clearly."
Agreeing on KPIs and lead times is important when working with virtual assistants. You can also use KPI agreements when doing quarterly or yearly performance reviews.
DO TRY TO BUILD A CONNECTION
For Bram Jansen, Chief Editor of vpnAlert, it's important to "remember that your remote assistant is a team member and treating him or her as such will result in a more amicable connection."
Because VAs are remote workers, it may be challenging for some bosses to treat them the same as they would employees who work in the same office. However, it's important to remember that while they are in their own virtual office, virtual assistants are real humans. Making an effort to forge a genuine connection with them can help improve your working relationship. You can consider scheduling regular team meetings and one-on-ones to get to know your virtual assistants and talk about their experience on the job so far.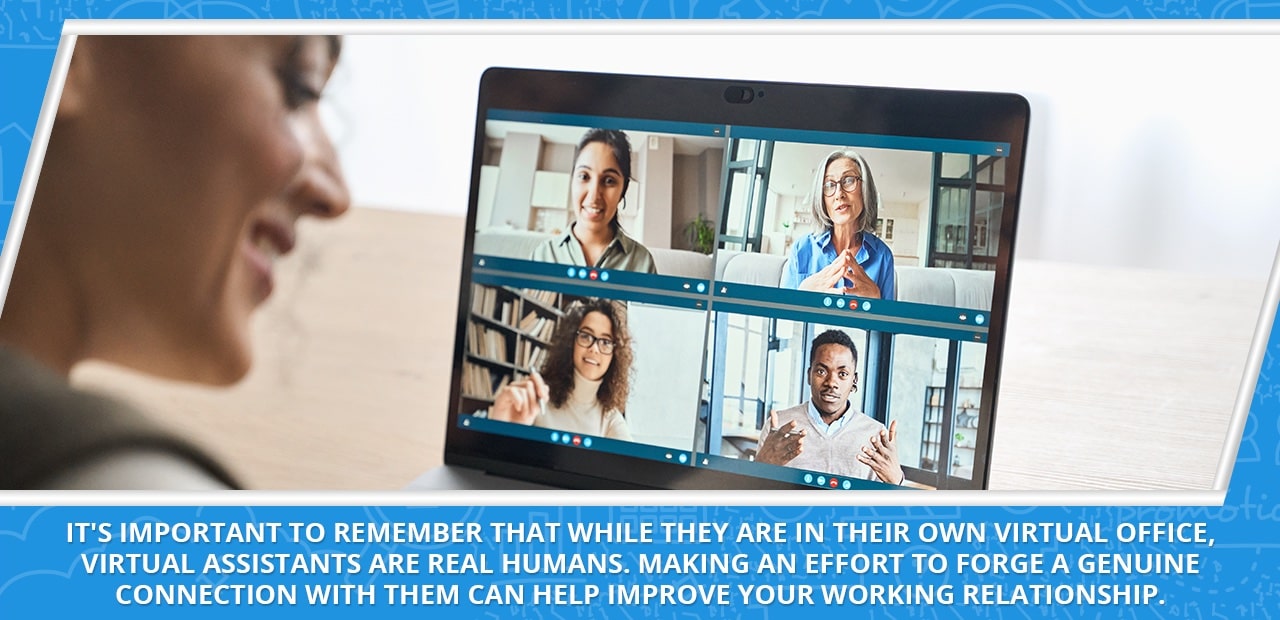 DO SHOW APPRECIATION AND REWARD GOOD PERFORMANCE
Virtual assistants should be rewarded for good performance. Remember the tip about aligned expectations? That should be the main reference when measuring VA performance. Recognition and incentives are great ways to show your appreciation to virtual assistants. Schedule regular performance reviews to address performance issues or other concerns your VA may have about the job.
"Don't forget to show appreciation. A little recognition goes a long way in motivating your virtual assistant to continue doing their best work for you." reminds Susan Carin, Marketing Manager of DrSono.com
DON'T SKIP ONBOARDING AND TRAINING YOUR VIRTUAL ASSISTANT
Don't make the mistake of skipping onboarding and training. You cannot just hire virtual assistants and expect them to do the tasks you need from them without proper onboarding and training. The onboarding process is a good opportunity to get to know your new VA, align on expectations, and show exactly how you want the work to be done.
If you're planning on working with multiple VAs, Aimvein CEO Austin Dowsey suggests, "Have a process for onboarding new VAs. If you plan on working with multiple VAs or hiring VAs on a regular basis, it's important to have a system in place for onboarding them. This will help ensure that everyone is clear on expectations and that the transition is as smooth as possible."
DON'T START OFF WITH A LARGE PROJECT OR COMPLEX TASK
"Start modest – Never assign difficult work to your virtual assistant as a first assignment. During the course of the project, unexpected stumbling blocks may arise that are tough for him or her to fully appreciate or solve," advises Sina Will, Co-Founder of Foxbackdrop.
Try to start with small tasks to measure how virtual assistants retain information and how well they follow instructions. Starting small allows you to correct any possible issues or mistakes by providing feedback or training. Building the foundation of the correct ways of working is important before you start assigning more complex tasks.
DON'T FORGET TO BE STRAIGHTFORWARD BUT STILL COURTEOUS
Working with remote workers will require you to be clear with your expectations and feedback. However, it's important to remember that while you can only talk to them via chat or videos, virtual assistants are real humans with emotions. Just like in a face-to-face business setting, you need to communicate courteously and professionally. Giving feedback in a rude manner can derail progress instead of inspiring the VA to improve.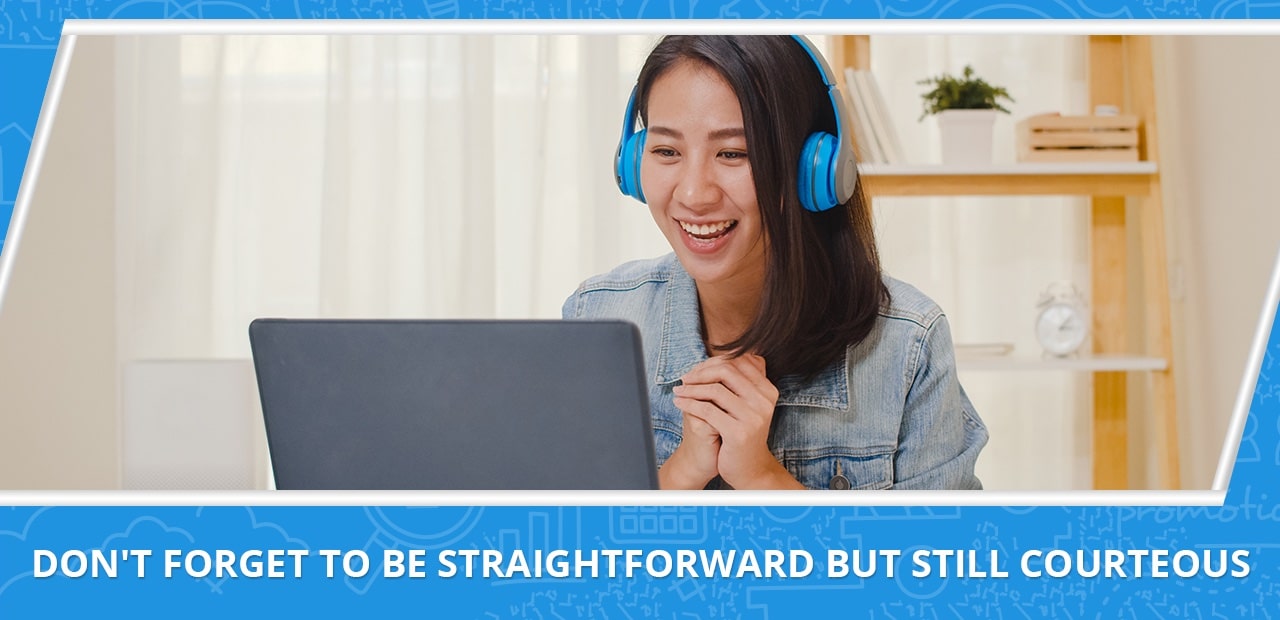 The advice of Daniel Foley of Scooter.guide is simple enough: "It is important for a manager to have excellent tact, as it is appropriate to discuss failures in a manner that is both professional and respectful. When addressing issues pertaining to a project, behaving in a crude manner might be unproductive to the employer-employee relationship, ultimately delaying the completion of the task at hand." It's important to maintain your professionalism for a harmonious working environment.
To know more about successful VA management, book a FREE Discovery Call with 20four7VA today!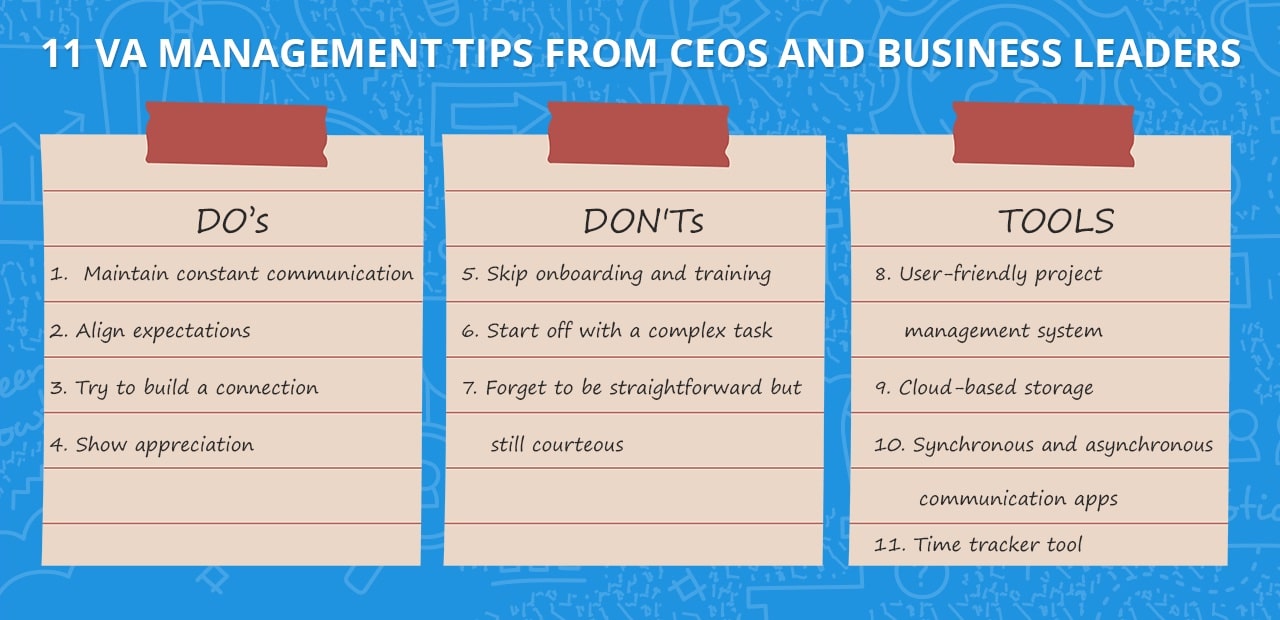 TOP TOOLS FOR MANAGING VIRTUAL ASSISTANTS
Here are some of the tools you should equip yourself with upon hiring a virtual assistant.
1. A USER-FRIENDLY PROJECT MANAGEMENT SYSTEM
You can manage tasks more conveniently and effectively thanks to remote project management tools. Business leaders like David Mason of The Knobs Company appreciate the importance of tracking tools and how they can help you "keep track of deadlines, assigned tasks, and progress being made."
HOW TO MANAGE A VIRTUAL ASSISTANT IN ASANA OR OTHER PROJECT MANAGEMENT APPS
Properly label projects.
Add sub-tasks per project.
Input a due date per task and sub-task.
Assign, mention, or @ a team member or virtual assistant per task.
Track the progress of a project or task in the format you're most comfortable with (examples: list, board, calendar, etc.).
Encourage the team to update the app whether it's still in progress or needs review.
Mark tasks as complete to check them off the team's to-do list.
Evaluate the team's productivity and capability to meet deadlines so you can adjust accordingly.
For project management apps to be effective, you must ensure that everyone in the team, including your virtual assistants, is on board with using them. In this way, you are properly aligned with the assigned tasks and deadlines. Making sure that everyone regularly updates the project management app allows you to track the progress of the whole team.
2. CLOUD-BASED STORAGE
Cloud-based storage is a cost-effective file storage system that allows you to store and access files from anywhere as long as you have an internet connection. The cloud is something that even companies with traditional office set-ups have adopted to increase collaboration since storing shared files in the cloud allows different team members to work on the same file simultaneously, with updates being done in real-time.
CEOs like Robert Welch of Projector1 recognize the importance of cloud-based storage when working with a distributed workforce. He recommends "keeping the mutual documents in cloud storage for hassle-free accessibility." Your virtual assistant won't need to wait for your email or chat reply to access a file they need to finish their task.
3. COMMUNICATION PLATFORMS
VA management requires both synchronous and asynchronous communication apps. A distributed workforce means that you and your members may not be working or even awake at the same time. This means an asynchronous communication app should be at your disposal. And for important meetings or huddles, you will need reliable synchronous applications. For Drsono.com Marketing Manager Susan Carin, "Communication tools like Slack or Zoom can help with messaging and video conferencing, making it easy to stay in touch with your team no matter where they are."
Of course, there are other communication platforms in the market that you can use depending on different factors like the size of your team, your preference, app availability, etc.
4. TIME TRACKER
A time tracking app shows how much time a VA has logged during their shift. For Kristin Stump, Marketing Manager of MyEnamelPins, "[Time tracking] is important for billing purposes and to make sure your VA is staying on task." A functional time tracker can also help measure your VA's productivity or how much time they take on specific tasks. It can help you decide on possible next steps like retraining or adding new virtual assistants to your team. If you can observe that there are tasks they take too much time on, try getting their feedback.
If you're planning to hire virtual assistants but don't have the capacity or extra time to handle the whole recruitment process, you should work with a remote staffing agency like 20four7VA. We're a full-service remote staffing company that can help you find and manage the right VA for your business needs.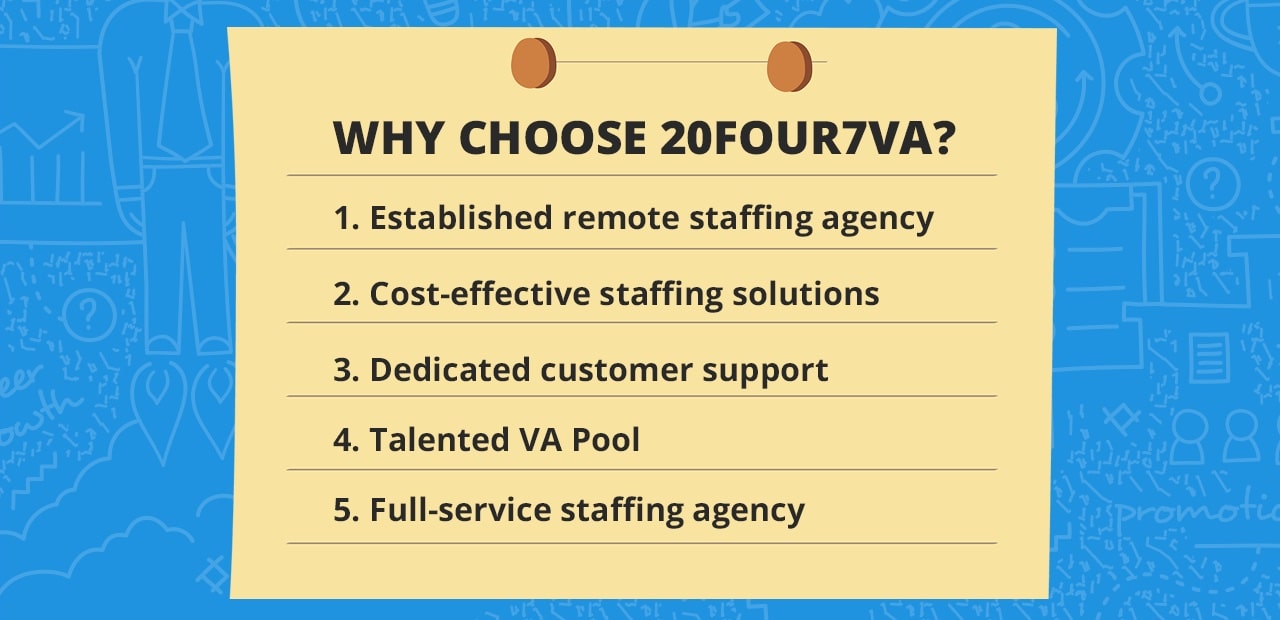 5 REASONS YOU SHOULD CHOOSE 20FOUR7VA
1. ESTABLISHED REMOTE STAFFING AGENCY
We have a decade of experience finding the right virtual assistants for our diverse client base and take pride in embodying our company values in all client and VA interactions. We are one of BBB's prestigious Torch Awards for Ethics finalists. BBB is short for Better Business Bureau (BBB), a non-profit organization that is "focused on advancing marketplace trust." Additionally, we received a Women's Business Enterprise (WBE) certification from the Women's Business Enterprise National Council (WBENC), which shows our commitment to inclusivity.
Click here to know what our clients are saying about their 20four7VA experience.
2. COST-EFFECTIVE STAFFING SOLUTIONS
For businesses wishing to work with a VA or VA team, 20four7VA offers cost-effective solutions (up to 80% savings on staffing costs). 20four7VA does not require upfront payments for clients. Instead, customers will pay only when the virtual assistants they have chosen have begun working with them.
3. DEDICATED CUSTOMER SUPPORT
We pride ourselves on delivering excellent customer service to our clients. Each 20four7VA client will be assigned an account manager responsible for providing timely client support. This way, clients won't be left waiting too long to get feedback on their questions or concerns.
4. TALENTED VA POOL
If you're looking for skilled virtual assistants, working with 20four7VA is the right choice. We have VAs from more than 50 countries which means you have a deep pool of highly skilled VAs or specialists. If you have very specific requirements, you can discuss them during your free consultation with our Business Growth Experts.
5. FULL-SERVICE STAFFING AGENCY
To help you save time and effort, 20four7VA offers assistance in candidate recruitment and screening. We'll also help you schedule interviews and test tasks with shortlisted candidates. Aside from the recruitment process, we can also offer help with onboarding, training, VA management, and payroll processing. It's like getting a full team's worth of service for the price of one!
Claim your no-strings-attached consultation with our Business Growth Experts today to know more about how virtual staffing solutions can help your business!