Tips: Steps on Effective Virtual Assistant Training Program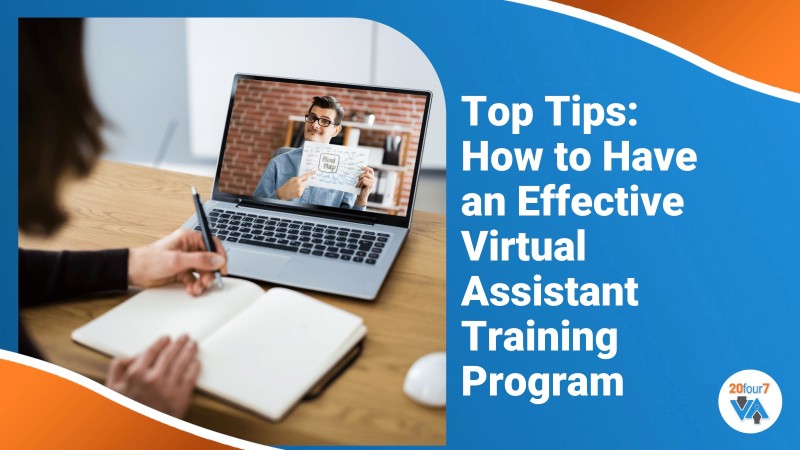 An effective virtual assistant training program is required to ensure that your newly hired virtual assistant (VA) can perform their job well. A good training program will teach the VA the specific skills and knowledge required for their job and help them understand your company's culture and values.
Aside from setting up new virtual assistants for success, your current VA team can benefit from training courses, too. Virtual assistant courses can help VAs keep their skills up-to-date and ensure that they provide the best possible service to your company.
Want to know more about how to build your own VA team? Visit our website or schedule a free consultation with our Growth Experts today!
WHAT IS A VIRTUAL ASSISTANT?
A virtual assistant is a general term for someone who remotely provides professional services to a client. VAs come from various countries across Asia and Latin America. Whatever a client needs support with, they will indeed find a virtual assistant that fits the bill wherever they may be. Here are some of the most common areas of a business that a virtual assistant can provide support:
Project Management
Creatives
Customer Service Support
And many more!
Businesses hire virtual assistants for various reasons, including:
Cost-effective staffing = Getting the job done without overshooting labor costs
Access to a global remote talent pool = Finding the right talent with the right skills without geographical limitations
Scalable and customizable staffing solutions = Can scale up or down based on business needs
Please read our article on how hiring a virtual assistant can help your business combat inflation. For more information on how to get the right virtual staffing solutions for you, schedule a free consultation with 20four7VA today!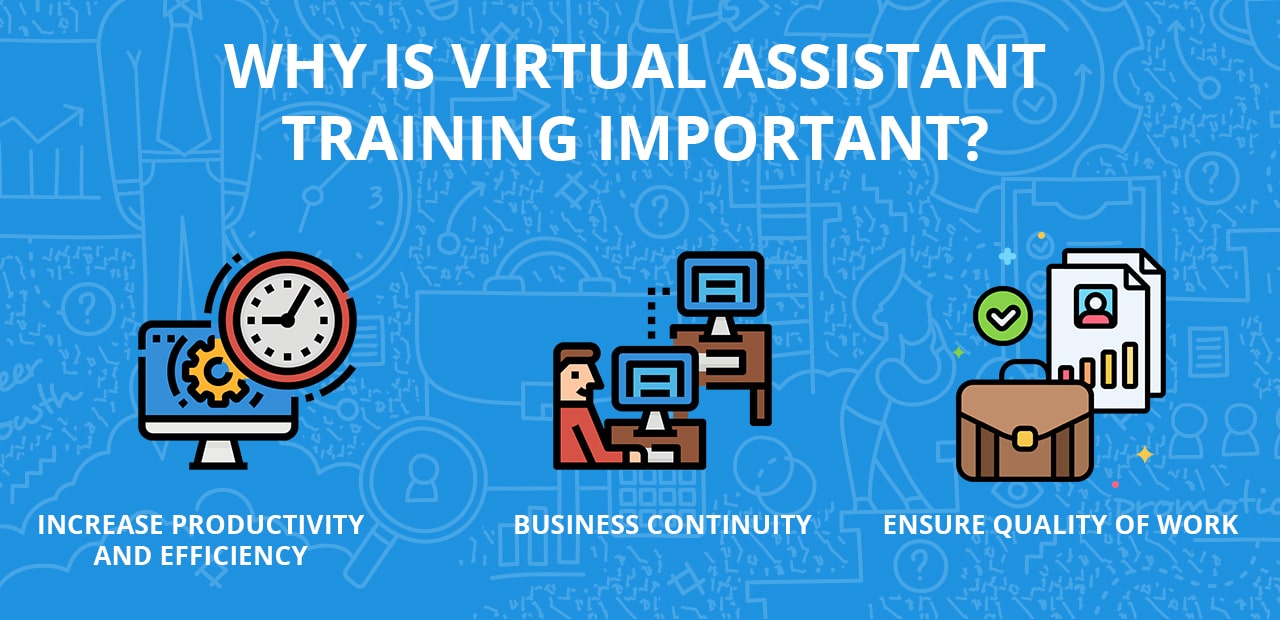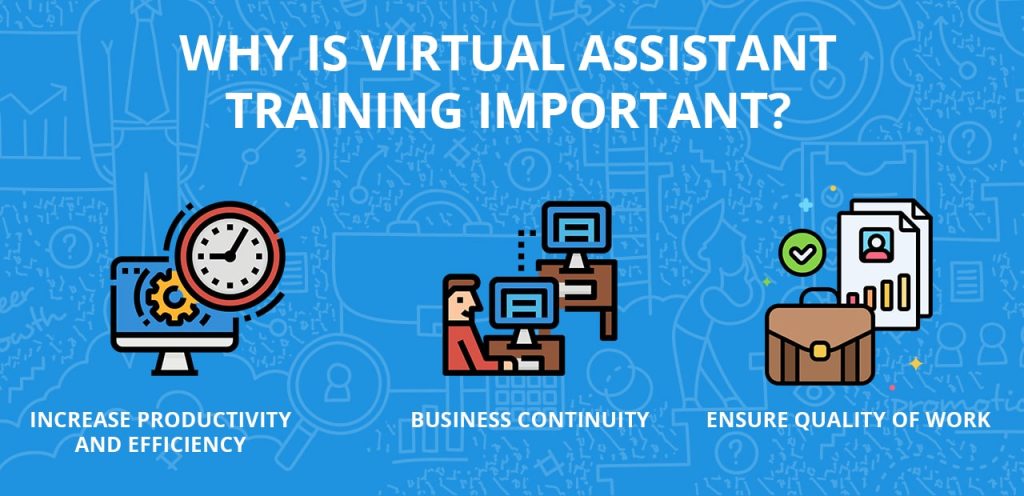 WHY IS VIRTUAL ASSISTANT TRAINING IMPORTANT?
ENSURE QUALITY OF WORK
Training your virtual assistant or VA team is essential in ensuring they have the best and most updated services. Training programs with a clear objective allow VAs, trainers, and business owners to have a shared vision of the expected standards for each task. An effective training program helps set your VA up for success and allows them to become a virtual assistant who can contribute independently and at a high level.
INCREASE PRODUCTIVITY & EFFICIENCY
A well-trained virtual assistant team will be able to work more efficiently and thus increase your company's productivity. They will know how to use the latest tools and virtual assistant software, as well as have a better understanding of your company's processes and procedures. Additionally, having a VA without the right level of skills you need can lead to repeated revisions and job mismatch, both can be barriers to success.
BUSINESS CONTINUITY AND SUCCESSION PLANNING
Even if your VA can already do the tasks they have flawlessly doesn't mean there's no need for training. You can start training VAs to help them upskill and prepare them for future job opportunities or more advanced roles in your organization. Training sessions can help you identify which VAs have the right skills and attitude to become better contributors to your business' success. You can start early and mold them to be part of your business's next batch of leaders.
Training is vital in helping set your virtual assistants up for success. Visit our website or schedule a free consultation with us for more information on VA staffing solutions.
WHAT ARE THE TYPES OF VIRTUAL ASSISTANT TRAINING?
SYNCHRONOUS VIRTUAL ASSISTANT TRAINING
Even as you and your virtual assistants are in different locations, you can still have a synchronous virtual assistant training session. Synchronous virtual assistant courses are done in a virtual classroom where everyone goes through the training simultaneously. Examples of synchronous learning are as follows:
lectures
workshops
seminars
virtual classrooms
ASYNCHRONOUS VIRTUAL ASSISTANT TRAINING COURSES
Asynchronous virtual assistant courses are a type of learning method that VAs can accomplish at their own pace or within a given period. They don't have to be in a virtual classroom or seminar with our assistants taking the VA course. Participants of asynchronous virtual assistant training courses can access the various modules in their own time. They can consult with the training lead should they have any clarifications about the virtual assistant course. This virtual assistant course is best for VAs who are self-dependent and diligent in improving their virtual assistant skills. Asynchronous training programs are also great for a distributed team with flexible hours.


COMMON VIRTUAL ASSISTANT TRAINING MISTAKES
NO CLEAR RULES OR EXPECTATIONS
A lack of direction and clear objectives will negatively impact how your virtual assistant will retain or even value the information they receive during the VA training.
INFORMATION OVERLOAD
Whether it's an online virtual training about graphic design or a social media marketing course, you must ensure that the information you're teaching matches your VA training hours. If not, you'll not only be wasting your and the virtual assistant's time but also valuable resources.
NO FOLLOW-UPS
Your training program doesn't end once the virtual assistant course module is finished. You need to follow up with your virtual assistant to see how well they've retained the information or if there is anything that they're struggling with. Without any follow-ups, a struggling virtual assistant might suffer on their own and turn in work that's not up to your standards.
USING THE SAME METHODS AS FACE-TO-FACE TRAINING
Applying classroom methods to virtual assistant training sessions might not work. You will most likely not get the same results, so you need to find different ways (not just one) to help your virtual assistants acquire new skills or upgrade their current ones. You need to equip yourself with the correct information either by consulting with virtual training leads and learning about the best virtual assistant training methods or align with the different members of your team to find what are the common barriers to learning remotely.
DOING IT ALL ON YOUR OWN
Virtual training may seem easy. You think all you have to set up a video conference and flash a few slides. But it can be pretty challenging, especially when you can't always see the virtual assistant on the other side of the screen. They might be experiencing technical difficulties or distractions that will keep them from making the most out of the virtual assistant training.


BEST VIRTUAL ASSISTANT TRAINING PRACTICES

START STRONG WITH AN EFFECTIVE VIRTUAL ASSISTANT ONBOARDING PROGRAM
Help your VA with becoming a virtual assistant that's capable and able to contribute at a high level by onboarding them correctly. Whether they'll be doing social media support, email marketing, project management, or other more technical functions, a new virtual assistant will surely appreciate being shown the ropes during their first few days on the job. Here are the essential elements of an onboarding program:
Pre-boarding – fill up necessary digital forms, create a user profile for the systems they'll be using, etc.
Discussing the onboarding schedule
A 1:1 welcome with their immediate superior
A virtual welcome from their teammates
Company Introduction
Overview of rules and regulations (include turnover of handbook)
Walkthrough of the relevant processes
Training on how to navigate needed programs
Setting of expectations or how virtual assistants will be measured
Assignment of a minor task to measure the retention of information
Review of functions and immediate feedback from the supervisor
Provide access to relevant sources and folders
SET VIRTUAL ASSISTANT TRAINING EXPECTATIONS
Every virtual assistant course should answer the following questions:
What is this course all about? What topics will be covered?
Who is this VA course for? What types of VAs will benefit from it the most?
Where will the VA training be conducted? (Via an online virtual assistant classroom or e-learning platform, etc.)
When should we complete these virtual assistant courses?
Why should the virtual assistant take this course? What skills or knowledge should they acquire at the end of the course?
How will the effectiveness of the virtual assistant training course be measured?
Answering these questions can help virtual assistants understand why they are taking a specific virtual assistant training course and what is expected of them at the end of the training.
BREAK UP TOPICS INTO SMALLER SESSIONS
Virtual assistant training programs can be broken into smaller sessions, mainly when the course covers a wide range of topics like social media management, real estate, project management, and content marketing, to name a few. You can opt to spread s virtual assistant course across a few days of synchronous online training sessions or create modules for asynchronous e-learning.
EXAMPLE OF HOW YOU CAN BREAK DOWN VIRTUAL ASSISTANT TRAINING COURSES INTO SMALLER SESSIONS
MAIN TOPIC: SOCIAL MEDIA MANAGEMENT

SUB-TOPICS:
Introduction to Social Media

What are the Various Social Media Platforms

Best Content Type for Each Platform

How to Create Images and Videos

Crafting Blog Posts

Scheduling Posts

Best Social Media Management Practices

Setting Goals and Measuring Campaign Performance
CHECK-IN REGULARLY WITH VIRTUAL ASSISTANTS
Everyone's learning curve is different. The same is true for virtual assistants. Some virtual assistants may have no problem retaining and applying what they've learned in a VA training session, but that doesn't mean you shouldn't check in on them. Regular check-ins with virtual assistants can help managers measure whether the training sessions were effective or not. They'll be able to get valuable feedback on how they can improve their training program and help their VA become a successful virtual assistant.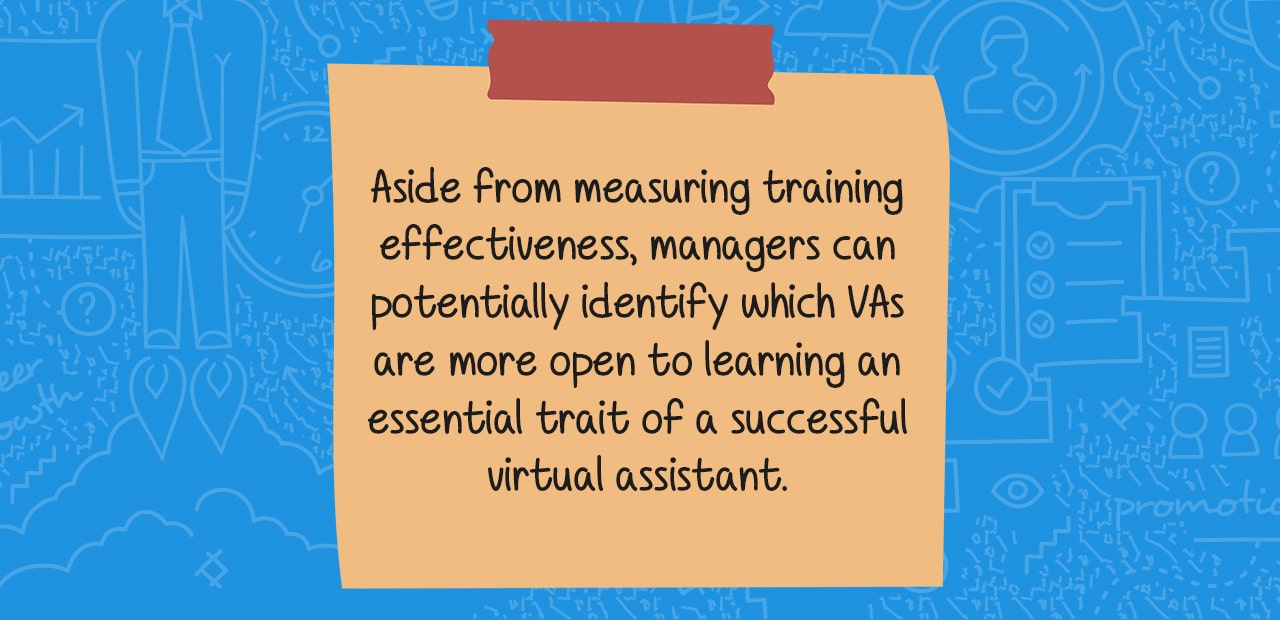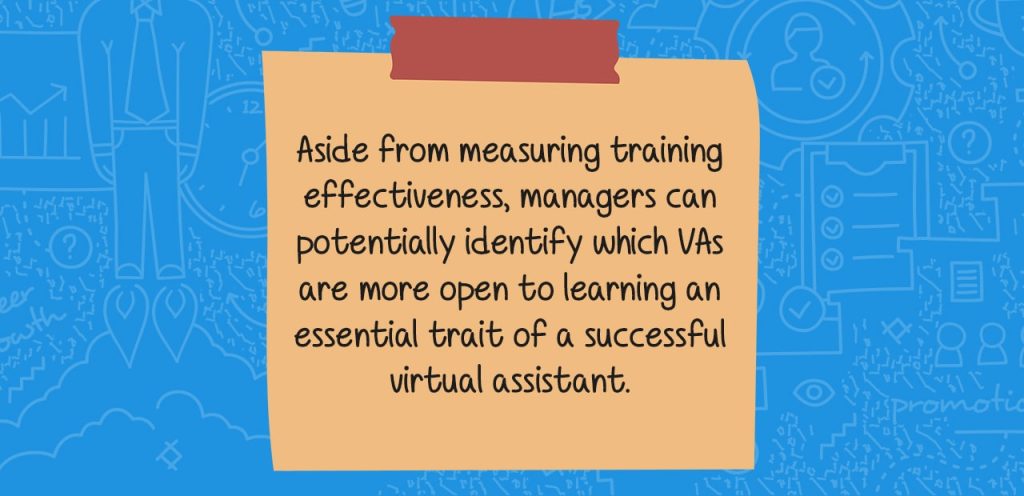 Aside from measuring training effectiveness, managers can potentially identify which VAs are more open to learning—an essential trait of a successful virtual assistant.
Through regular check-ins, employers can also identify underperforming or struggling VAs and craft a more specific training program. This way, they can arrest the decline in performance and confidence. Check-ins can allow employers to provide a struggling VA with the help and suitable VA courses they need to improve.
Want more VA staffing tips? Visit the 20four7VA website or contact us to book a free consultation!
UTILIZE DIFFERENT METHODS AND TYPES OF TRAINING
Everyone has different ways of learning. Some respond better to recorded videos, and some prefer written-down step-by-step tasks (like an SOP). It's essential to know your audience and your topic to know which type of training is more suitable for the VA courses or training you want the virtual assistants to undertake.
ASYNCHRONOUS TRAINING
Some courses cover fundamental, easily understandable topics without too much intervention from the trainer, such as time management skills or VA foundations courses. For this type of VA course, you can opt to use e-learning modules that can be accessed by the virtual assistant and accomplished at their own pace. Make sure to set a completion deadline for virtual assistant trainees to ensure they finish it within the preferred timeline. And don't forget to add skills or knowledge checkpoints across the training modules to ensure course takers are really listening and absorbing the details and not clicking "next" just to finish the course.
SYNCHRONOUS TRAINING
When you're planning on training a virtual assistant or your VA team about very detailed topics or ones that require navigating a system, you should consider having synchronous training. This way, you can share your screen and walk them through the actual process of navigating a program. You can even record the training session so the virtual assistant can have a visual reference when they get stuck while doing the task. Synchronous training is also great for introducing new updates or ways of working, as these topics can raise many concerns or clarifications among your team. A virtual town hall or session where they can clarify in real time will help them understand the subject better. You or your trainer can also collate the raised questions that can be used to create an FAQs (Frequently Asked Questions) document that you can virtually distribute after the synchronous session.
Synchronous virtual assistant courses are also great platforms for clients to engage with their virtual assistant team in real-time instead of relying on chats and emails. They can also observe visual cues, check whether a virtual assistant is having trouble grasping the training topic, and open the floor for clarification.
GROUP VIRTUAL ASSISTANT TRAINING SESSIONS
When you have more than one virtual assistant, it might be easier and more convenient for you to train them as a group. This can also help build a great working relationship and allow the VAs to learn from each other. Group training sessions are particularly helpful when your VA team is located in different parts of the world as it can be challenging to schedule a training session that would be convenient for everyone. You can also have separate groups for each type of training you want to conduct—new hire group training, product update group training, and so on.
There are many benefits to group virtual assistant training sessions. One is that it saves time for the trainer and avoids repetitive sessions. Another is the uniformity of the information each virtual assistant receives. They'll also have access to insight that their co-VAs may have about the topic. Additionally, virtual assistant attendees can take note of the questions raised and addressed during the group session. Not only will they have access to what's in the training module, but they will also have consolidated, valuable inputs from the attendees.
ONE-ON-ONE VIRTUAL ASSISTANT TRAINING
There are situations wherein one-on-one session with a virtual assistant is better than group lessons. One example is when you're trying to fast-track a virtual assistant's skill upgrade or onboard them quickly. A one-on-one skills assessment and training session are valuable tools to fill staffing requirements speedily but effectively.
Want to learn more about how one-on-one VA assessments and training can help your business? Visit the 20four7VA page today!
FREE VIRTUAL ASSISTANT TRAINING COURSES
Not all employers or managers have the time to handle all virtual assistant training sessions themselves. Suppose the topic is generic, like project management skills, VA foundations, Facebook group management, or email marketing. In that case, business owners can maximize the availability of free virtual assistant training courses. You can supplement a free training or foundational course by providing your virtual assistant with company-specific references or step-by-step guides.
We've compiled some of the most popular and free VA course platforms on our 20four7VA blog. Make sure to check that out or contact us for more information!
MAKE LEARNING MATERIALS ACCESSIBLE
To help your virtual assistant retain the information they received during their skills training, ensure you provide access to the available resources that the VAs can look back on well after the training. Not everyone's learning curves are the same; some may need more time to absorb details than others. Access to suitable modules gives those struggling students a chance to catch up on the training.


CONSULT WITH A VA TRAINING PROFESSIONAL
A VA training professional can help unload the burden of training virtual assistants from business owners or managers who are already busy with their daily operations and leadership responsibilities. An end-to-end virtual assistant business will have a team of training experts that can help VAs in various fields. These include human resources, customer service, technical support, telemarketing, etc. When you work with a reliable VA agency like 20four7VA, you get the full benefits of having a skilled VA without spending too much time and money on training and VA management.
Ready to get help with VA management and virtual assistant training? Schedule a free consultation today!