23 of the Best Business Podcasts to Listen to in 2023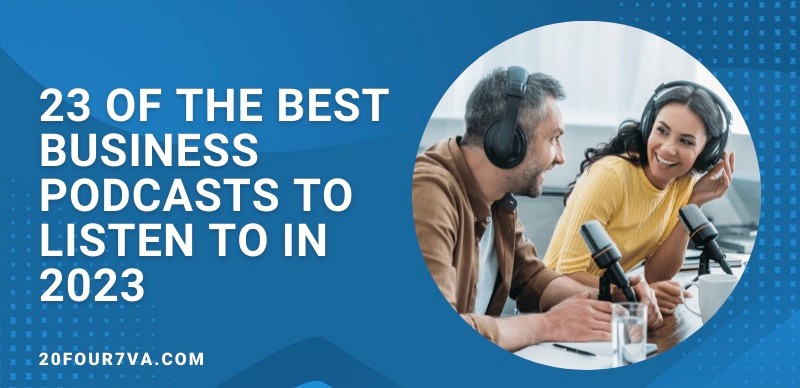 The number of podcast series is growing and is bound to get bigger, which is excellent for those looking for entertainment, information, and even new career options. Whether you're an established business owner or someone who's trying to get their business up and running, listening to business podcasts can be beneficial for you. But with the number of podcast options online and so little time, you may be asking yourself, "Which ones are worth a listen?" This article can help you answer that question by giving you what we think are 23 of the best business podcasts.

WHEN DO PEOPLE LISTEN TO PODCASTS?
According to a Discoverpods study, almost two-thirds of modern consumers prefer listening to podcasts over watching television. And while the listening hours per person vary, here are the top three times or periods when consumers listen to podcasts:
During their drive or commute
While doing housework
During their free time
This article might not be able to provide business leaders and owners with as much free time as they would prefer. But it can, however, give several reasons to listen to business podcasts and a list of twenty-three podcasts to try.

WHY LISTEN TO THE BEST PODCASTS FOR BUSINESS?
PODCASTS ARE ENTERTAINING AND EDUCATIONAL
If you're looking for a way to be entertained and learn something new, business podcasts can offer that. You can listen to them while driving or working around the house. And unlike audiobooks, most business podcasts are free.
Podcasts also provide an excellent way to gain new perspectives on various topics, including business. Most podcasts invite guests or thought leaders every week, giving you various insights on everything under the business umbrella. The main topic can be digital marketing one week; the next might be success stories from small business owners.
YOU CAN GET BUSINESS INSIGHTS ON-THE-GO
Surviving in the world of business may mean not having as much free time as one would prefer, especially when you're just starting out. While you can clear up a lot of back-office hours by hiring a virtual assistant, you will most likely have other business-related matters to attend to. This makes listening to podcasts the go-to source of business insights for you. You'll have access to the success stories of top business leaders and business advice from subject matter experts, be it digital marketing, building your personal brand, leadership, etc.
LISTENING IS ESSENTIALLY FREE!
If you've got a mobile device or a laptop, there are many podcasts you can access at no cost! All you need is an internet connection and your podcast app of choice. Of course, not all businesses are built the same, but getting a behind-the-scenes look (or listen) at what it takes to run some of the world's best-known companies won't hurt. Listening to podcasts is like having a conversation over coffee with people who've had considerable experience in the world of business and won't mind sharing what they've learned along the way. Perhaps the only difference is that you don't actually have to pay for coffee, and you can pause, repeat, or fast-forward the conversation when needed.
Thinking of starting your own podcast? Hire a Podcast Virtual Assistant to help you set up and run your podcast series. Contact us or book a free consultation with our Growth Experts to learn more!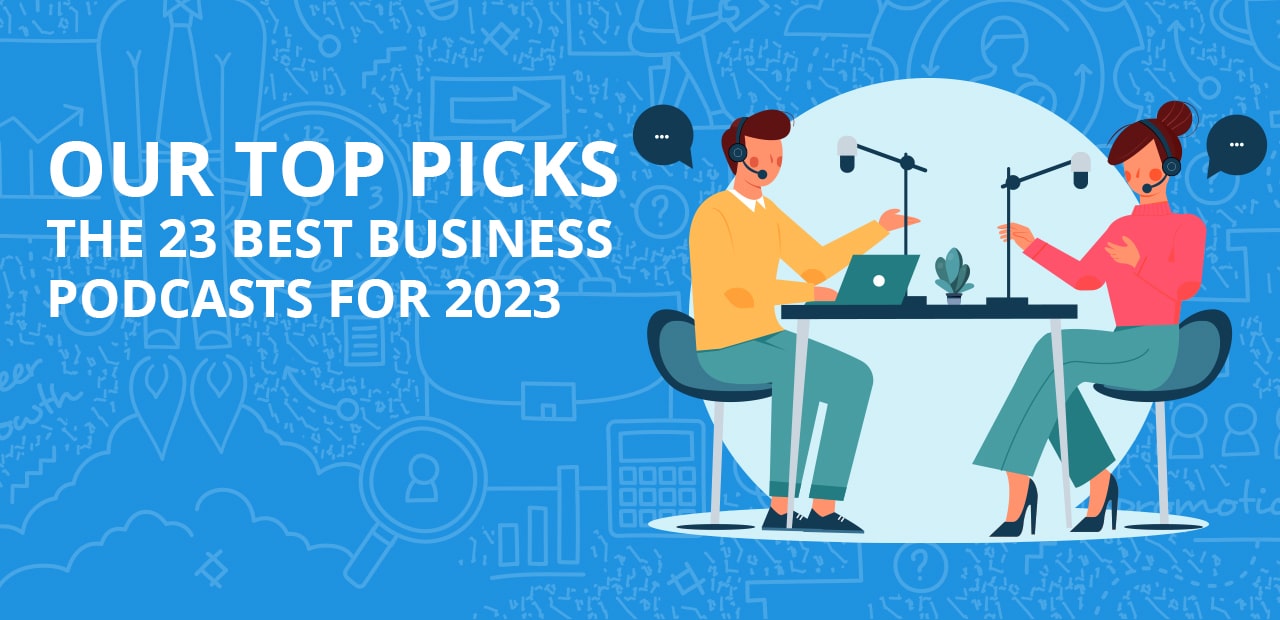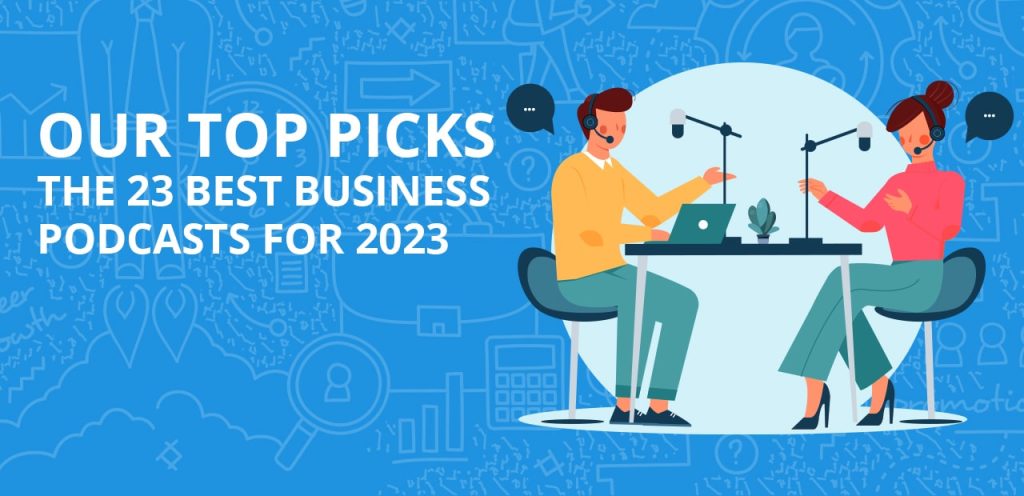 OUR TOP PICKS: THE 23 BEST BUSINESS PODCASTS FOR 2023
Just a simple browse on the business section of your podcast platform of choice will show an overwhelming amount of business podcasts to choose from. You can take a listen to each one and see which one you like, or you can simply carry on reading to see our picks for the best business podcasts that are definitely worth a listen.
BUSINESS PODCASTS FOR START-UPS
Not all business podcast listeners are the same. Some have been in the business for years, while some are trying to get their business up and running. If you're a part of the latter group or a start-up owner, then this first business podcast category is for you.
1. HOW I BUILT THIS HOSTED BY GUY RAZ
Let's start with the podcast host, Guy Raz. He's an award-winning reporter, podcast host, and creator. He's earned high praise from one of the most well-known publications around the world, The New York Times. How I Built This (HIBT) is a podcast that features some of the most successful entrepreneurs. Each episode contains the story of the trials and challenges these entrepreneurs have experienced and their stories of triumph. HIBT is an excellent business podcast for all kinds of business leaders but more so for start-up owners. It showcases the creativity, innovation, and persistence it takes to navigate the challenge of building something from the ground up.
2. START-UP STORIES – MIXERGY HOSTED BY ANDREW WARNER
The title of this business podcast says it all: Start-up Stories. This free podcast is hosted by Andrew Warner, who has considerable experience working with start-ups himself. He invites what he describes as "proven entrepreneurs" to ask them the important questions other start-up entrepreneurs might need advice on. If you want honest and meaningful insights from successful start-up business owners, then Startup Stories is a podcast that's definitely worth a listen. You'll gain meaningful insights into what it takes to build a successful start-up and make sense of some of the challenges you might currently be dealing with as an entrepreneur.
3. RESTAURANT UNSTOPPABLE HOSTED BY ERIC CACCIATORE
If you're in the hospitality industry, then this business podcast should be at the top of your must-listen-to list. Every week, Eric Cacciatore releases two podcast episodes geared toward helping restaurateurs succeed in the highly competitive hospitality industry. Restaurant Unstoppable is one of the top business podcasts for those who are either already in the restaurant business or about to dip into it. Each episode features a chef, restaurant owner, or industry leader.
4. START-UPS FOR THE REST OF US WITH ROB WALLING
According to the podcast's online profile, Start-ups for the Rest of Us is meant for bootstrapped start-ups. But we think all start-up business owners can listen to this business podcast and find nuggets of wisdom or valuable and actionable advice. Host Rob Walling has almost two decades of start-up experience (from growing to advising start-ups), so you could say he certainly knows what he's talking about when it comes to this podcast's topic. Start-ups for the Rest of Us has more than 600 episodes packed with stories from business leaders who have been in your shoes and have been through the failures, struggles, and fulfillment of becoming a company founder.

BEST SMALL BUSINESS PODCASTS
Small business owners have the added challenge of staying competitive with a relatively smaller budget and workforce. Nevertheless, they still make things work and find success in their own way. The next three podcasts provide valuable insights that are geared more towards small businesses with topics that cover everything a small business owner might need, from making digital marketing work for you to the staffing solutions you could consider to stay competitive (or ahead).
5. THE ROUND TABLE TALK SHOW WITH SHARIFAH HARDIE
Instead of having one guest per episode, the round table talk show invites up to nine thought leaders and business owners to discuss a wide range of topics, including business news, best business practices, and recent events. The format of the podcast, hosted by Sharifah Hardie, allows for a more dynamic discussion that's worth a listen. The episodes are filled with beautiful exchanges of ideas from business leaders who are generous with sharing their own business stories and listening to others as well.
Our very own President and CEO Catherine vanVonno has appeared on an episode of this podcast to talk about 20four7VA's impact hiring initiative. She also chatted with the all-female panel about their various experiences that business owners will surely find helpful in their own business journeys.
If you want to know more about 20four7VA's impact hiring initiatives and business solutions, feel free to contact us or book a free consultation!
6. ENTREPRENEURS ON FIRE WITH JOHN LEE DUMAS OF EOFIRE
Entrepreneurs on Fire is an award-winning, world-class podcast that attracts over a million listens per month. Host John Lee Dumas (JLD) has interviewed successful entrepreneurs and leaders of the business world like Tony Robbins, Seth Godin, Barbara Corcoran, and Tim Ferriss. This podcast has 3000+ episodes that can keep you company during your daily commute or downtime. JLD's goal for this podcast is to help listeners become successful entrepreneurs by interviewing entrepreneurs who are, as the title says, "ON FIRE."
7. DEEPHIRE PODCAST
Do you need business advice on becoming an effective recruiter? Do you want to know how to make your recruitment process more efficient? If you answered yes to either or both of these questions, then the DeepHire podcast is worth a listen. Deephire invites recruitment experts that talk about various ways to up your recruitment game. The podcast doesn't just explore traditional staffing options (i.e., in-office workforce). It also provides different solutions for any small to medium business to make the most of its overhead budget.
Listen to 20four7VA President and CEO Catherine vanVonno discuss how 20four7VA helps clients find the right virtual staffing solutions.

BUSINESS PODCASTS FOR WOMEN ENTREPRENEURS
The number of women entrepreneurs has been steadily increasing worldwide. However, male entrepreneurs still outnumber women, and because of the deeper problems relating to gender, women face more challenges in business. And while podcasts are not the only way to support women in business, female-driven podcasts provide valuable insights that can help women become the successful entrepreneurs they can be.
8. BEING BOSS WITH EMILY THOMPSON
Whether you're an entrepreneur or a freelancer, this podcast will show you how to be the boss that you're meant to be, regardless of your business model. Being Boss is one of the best business podcasts that can help inspire listeners to become take control and become their own definition of what "boss" means. This business podcast has more than 300 episodes that cover topics ranging from technical topics like how to make a digital marketing plan to life hacks like tips on maintaining work-life balance as a business boss.
9. WOMEN TAKING THE LEAD WITH JODI FLYNN
Women Taking the Lead is a podcast hosted by Jodie Flynn, an executive leadership coach. The podcast is an excellent resource for women in leadership positions or aspiring to become leaders. It provides inspiration and encouragement to women in business. Aside from inspirational stories, the podcast also dedicates episodes to actionable advice specific to the female experience in the business world. Additionally, Jodi Flynn invites guests who are making their own mark in business and are generous in providing a behind-the-scenes look into their business' story.
10. THE GOAL DIGGER PODCAST WITH JENNA KUTCHER
The Goal Digger is one of the top business podcasts for every entrepreneur on any phase of their business journey. The podcast hosted by Jenna Kutcher has 600+ episodes and counting. Jenna doesn't skimp on practical tips for entrepreneurs. She covers a wide range of topics, from social media strategies to productivity tips. If you're feeling stuck or need some motivation, this business podcast will surely give you a push in the right direction.
11. THE BIZCHIX PODCAST HOSTED BY NATALIE ECKDAHL
Natalie Eckdahl, MBA, hosts this award-winning podcast. She's a business coach and professional business strategist. She has been very vocal about the primary goal of the podcast: help women entrepreneurs earn more profit and build impactful businesses. And her 500+ podcast episodes follow through with that goal. She provides leadership advice and practical business tips like how to refine marketing strategies. Give The BizChix Podcast a listen, and you'll see why it's named one of the top business podcasts to listen to by reputable publications such as Entrepreneur and Inc. Magazine.
Did you know? 20four7VA is a certified Women's Business Enterprise. Visit our website to learn more about our initiatives, or book a free consultation for more info!
BEST BUSINESS PODCASTS ABOUT MARKETING
It doesn't matter which industry you're in (real estate, construction, IT, etc.); you need marketing. The belief that "the product sells itself" is outdated and ineffective, especially if you're competing in a highly-saturated market. You'll need a solid marketing strategy and expert advice on how to execute it effectively. But not every business owner is a marketing expert. Listening to a marketing podcast can help you make sense of the marketing world and learn about the best business marketing strategies out there.
12. MARKETING MADE SIMPLE WITH HOST DR. JJ PETERSON
If you're looking for a fuss-free marketing podcast that gets straight to the point, look no further than Marketing Made Simple. The business world can sometimes be overwhelming, but these weekly podcast episodes with Dr. JJ Peterson can help you streamline your marketing efforts and make your brand's storytelling clearer (but not boring!). If SEO, content marketing, and copywriting are foreign concepts to you, let Dr. JJ Peterson and his guests break these topics down in their weekly episodes. Listening to this podcast can help make seemingly complex topics easier to digest and apply to your real-life strategies.
13. HIDDEN BRAIN WITH HOST SHANKAR VEDANTAM
The hidden brain is more of a science podcast than a marketing podcast, but hear us out. This podcast provides valuable insights about the human brain and behavior that entrepreneurs can integrate into how they do their business, from how they design their merchandising materials to the words they use in their marketing copies. While it's not a straightforward marketing or business podcast, it does provide different perspectives to marketing practitioners and entrepreneurs, allowing them to think out of the box and tap into the "hidden brain." Our favorite episodes include The Mind Of The Village: Understanding Our Implicit Biases and A Social Prescription.
14. DIGRESS WITH HOST TROY SANDIDGE
This Webby-nominated podcast aims to help you build the best business possible. It covers a wide range of topics to help listeners devise their own business strategies that will allow them to grow and scale faster. The topics may seem complex, but host Troy Sandidge, an award-winning growth strategist, breaks them down into more digestible nuggets of valuable and actionable information. iDigress is a top business podcast to listen to if you want to broaden your business horizons and take your company to the next level.
15. MARKETING OVER COFFEE WITH JOHN WALL AND CHRISTOPHER PENN
Think of this podcast as a meet-up with friends to discuss marketing plans over coffee. This marketing podcast publishes weekly episodes that entrepreneurs and businesspeople can enjoy with their cup of morning (or evening) coffee. Each episode is approximately twenty minutes long, and the hosts not only share their own marketing experience but also invite thought leaders to share their advice. Expect to get insights on everything, from content and social media to above-the-line marketing campaigns.
16. DUCT TAPE MARKETING WITH HOST JOHN JANTSCH
Duct Tape Marketing started over a decade ago, and it's still one of the best business or marketing podcasts out there. This podcast is hosted by John Jantsch, an author and marketing consultant focusing on helping small businesses with their marketing efforts. As a small business marketing expert, John Jantsch helps entrepreneurs by sharing marketing tips and tactics that they can integrate into their own marketing plans. New episodes are around twenty to thirty minutes long — just long enough for your morning breakfast or commute.

BEST PODCASTS FOR LEADERS ON THE GO
If you are an entrepreneur or owner of any business, you'll soon recognize that you'll need to acquire a myriad of skills or hire the right people with these skills if you want your business to succeed. Not everyone has the time to sit down and read all the New York Times best sellers about building a successful business. But listening to a podcast is a great alternative. Listening to one can help you get your dose of leadership and business development while on the go.
17. THE COURAGE TO LEAD HOSTED BY COACH HARLAN
Entrepreneurs may have a great business plan they can execute to near perfection, but not all entrepreneurs are prepared to lead a team. The Courage to Lead podcast is an excellent resource for those hesitant leaders. Host Coach Harlan invites leaders in their own right to share knowledge and encouragement to help you lead with confidence and resolve.
President and CEO Catherine vanVonno joined the podcast to talk about 20four7VA and how she leads a fully remote team. She also discusses how 20four7VA provides virtual staffing solutions so clients can focus on growing their businesses.
18. UP FIRST FROM NPR
NPR's Up First is a current events podcast, but we believe this podcast should be on your daily rotation. Businesses should be updated with what's happening in the world, not just the world of business. Up First is a great podcast for business people who want their news delivered quickly and straight to the point. It provides daily episodes, with each one covering the three main stories of the day. You need to stay updated with the world news, and we know entrepreneurs like you don't have that much time, so Up First is an excellent podcast choice for you.
19. THE INDICATOR FROM PLANET MONEY
The Indicator is another great podcast for busy businesspeople who want information on the go. Each podcast episode is around 10 minutes but is packed with insightful information to help you make sense of what's going on around the world today. Business people must stay on top of current events as even some seemingly trivial news can create a domino effect across industries.
20. HBR IDEACAST WITH ALISON BEARD AND KURT NICKISCH
HBR Ideacast is hosted by Alison Beard and Kurt Nickisch, both Harvard Business Review senior editors. If you've got half an hour (or less!) to spare, we recommend tuning into this podcast that covers everything about business and leadership. The quality and approach of this podcast are not unlike what you would expect from Harvard Business Review editors. It's straightforward, informative, and provides actionable advice that business leaders can apply in their endeavors.
Do you have your own leadership stories and business insights you want to share? Are you planning to start your own podcast? Hire a Podcast Virtual Assistant to help get your own podcast series up and running! Book a free consultation with our Growth Experts to know more!

BUSINESS PODCASTS FOR A SUSTAINABLE BUSINESS
It's not breaking news, but the world has been experiencing climate change. This undeniable fact is both a wake-up call and a challenge for business professionals. Sustainable business and eco-conscious are not just buzzwords you see on social media. To help entrepreneurs walk the talk, here are some podcasts centered around sustainability and eco-friendly efforts.
21. GREENBIZ 350 CO-HOSTED BY JOEL MAKOWER AND HEATHER CLANCY
The Greenbiz 350 podcast is hosted by two leading voices championing climate action, Joel Makower and Heather Clancy. Makower is an entrepreneur and award-winning journalist. Clancy is also an award-winning journalist whose writing about transformative tech and corporate climate action has been published in well-known papers like the International Herald Tribune and The New York Times. If you want actionable insights about sustainable business and the latest clean technologies, we suggest you give Greenbiz 350 a listen.
22. THE SUSTAINABLE BUSINESS PODCAST WITH HOST LAURA MARIE EDINGER-SCHONS
The title of this podcast is relatively straightforward. The series empowers businesses and business students by discussing topics centered around sustainability transformation. Host Laura Marie Edinger-Schons is a Sustainable Business professor at the University of Mannheim. She invites subject matter experts, social entrepreneurs, and other thought leaders to her podcast for fruitful discussions on sustainability topics such as ESG (Environmental, Social, and Governance) practices and how to measure sustainability in companies.
23. A SUSTAINABLE MIND WITH HOST MARJORIE ALEXANDER
Marjorie Alexander serves as the Education & Engagement Manager at Green Building United. This organization promotes the development of sustainable, resilient, and cost-effective buildings through education and communication with communities and leaders. Her podcast, A Sustainable Mind, is aligned with her role at Green Building United. Each episode empowers listeners to adopt earth-conscious initiatives in both their daily lives and business. Alexander also invites environmental changemakers to give listeners a greener perspective and leave them with actionable advice that business professionals and individuals can immediately put to good use.
Listening to podcasts is a great way to learn new things and gain insights while commuting, working out, or doing chores. These business podcasts provide listeners with the latest news, expert opinions, and actionable advice across a wide range of industries. Whether you're an entrepreneur, a business student, or just looking to stay up-to-date with the business world, we hope you found this list helpful.
Starting a podcast is also a great content marketing tool for your business. If you're interested in starting your own business podcast, contact 20four7VA today. We'll help you find the right Podcast VAs to provide the excellent admin, marketing, and technical support you need to run a successful podcast.
There are lots of great podcasts about business out there. These are just some of the best ones we think are worth a listen. What other podcasts do you think entrepreneurs should try out?