Remote Working Essentials: Wellness in a Virtual Workplace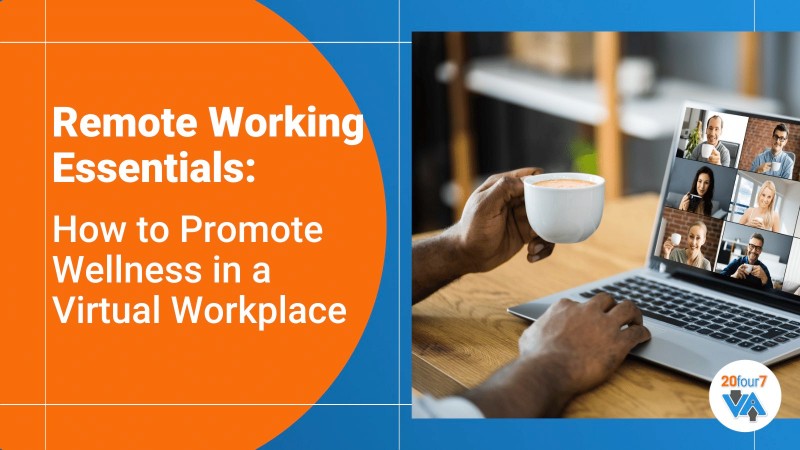 When you think of what makes a good working environment for a remote worker, these remote work essentials may come to mind: stable internet and a home office setup complete with a laptop, a good ergonomic chair, an ergonomic keyboard, and a wireless mouse. But one of the remote working essentials you may be overlooking is the remote worker's overall well-being.
It's safe to say that remote work is here to stay. Companies are increasingly adopting alternative work arrangements, from fully remote, hybrid, and other variations. This is most likely because of a global "forced experiment" where many industries had no choice but to go remote. It turns out the myths most business leaders have heard about the negative correlation between remote working and productivity are just that—myths.
Now that majority of the working population prefers flexible working arrangements, employers are faced with new questions:
Is providing the right tools (cloud storage, access to virtual meetings, communication apps) enough for a productive and sustainable remote work setup?
Should employers or clients promote wellness even in a virtual work environment?
How do you promote virtual workplace well-being?
The short answers are no, yes, and there are lots of ways. But we'll elaborate more throughout this article. We'll share more detailed answers to these questions, plus some real-life insights and tips from business leaders.
WHY REMOTE WORKING IS HERE TO STAY
There are many benefits of transitioning to a remote work arrangement. The main ones are that employers observe increased productivity and lower operational costs with a remote work arrangement.
Tim Absalikov, co-founder and CEO of an NYC digital marketing agency called Lasting Trend, summarizes it simply:
"Hiring remote staff saves you a lot of money. You can save on the purchase of office equipment and furniture. You will not need to rent a large office if most of your employees work remotely. Another benefit is work flexibility. Remote employees can choose the most productive work hours for themselves on the condition that they fulfill their work assignments."
Additionally, employers appreciate the fact that they can hire the right remote staff regardless of where they are in the world. Employers can access a bigger, more diverse talent pool with a remote work arrangement.
"[Remote work] allows you to access talent and diversity from anywhere and operate in a highly flexible and efficient way as a team." -Pia Lee, Squadify CEO
Thinking of hiring remote employees? Check out our article on A Definitive Guide to Hiring and Managing a Virtual Assistant (VA), or schedule a free consultation with our Growth Experts today!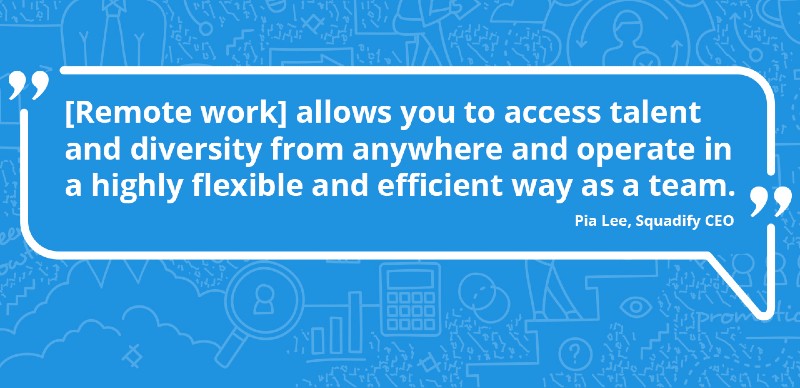 THE IMPACT OF A REMOTE WORK SETUP ON INDIVIDUALS
Before we dive into the whys and hows of virtual workplace well-being, it's important to recognize the pros and cons of remote work. The impact of working remotely can vary depending on a worker's demographics, home situation, and other factors. But here are the most common positive and negative effects of remote work.
BENEFITS OF REMOTE WORK
Working remotely means saying goodbye to one's daily office commute. The office commute of an average worker in the U.S. takes almost 30 minutes one way. It may not seem like a lot, but that wasted hour daily can go a long way. Workers can use that time for:
morning and evening meditations to boost mental health
regular exercise or a morning walk for some fresh air
catching up on their favorite show
starting a new book
family time or childcare
preparing a hearty and healthy meal
some meaningful personal time
Many office workers might be able to relate to this: You're on your way home from the office, and you see a large "SALE" sign and decide to do some "window shopping." Next thing you know, you're going home with a heavy shopping bag and a lighter wallet.
When one works remotely, one might be able to save themselves from non-essential impulse purchases such as this. Additionally, many remote workers will also find that they can save on other things such as:
Clothing – Of course, remote workers are not encouraged to wear their pajamas while working. They still have to maintain a smart look. But they also don't have to worry too much about updating their wardrobes due to wear and tear.
Food – Those who work remotely can save much more on food than office workers. Remember the time remote employees by eliminating the need for daily commutes? Employees can use that to prepare their food at home instead of eating out or buying takeout. Spending money on takeout may seem harmless, but when the costs add up, it can be a bit heavy on your monthly budget.
Gas and transportation costs – The costs of daily goods are increasing, including petrol or gasoline. This affects both car owners and commuters alike. Luckily, remote workers won't have to stress over spending too much on this front since their home offices are only a few meters or even a few steps away.
Rent – Remote working allows professionals to do their jobs away from central business districts where rent is historically higher. Some have even considered moving back to their hometowns with their family members. Some also choose to live in rural areas with lower rental costs for various reasons, whether it's to maintain a healthy work-life balance, enjoy fresh air, or more.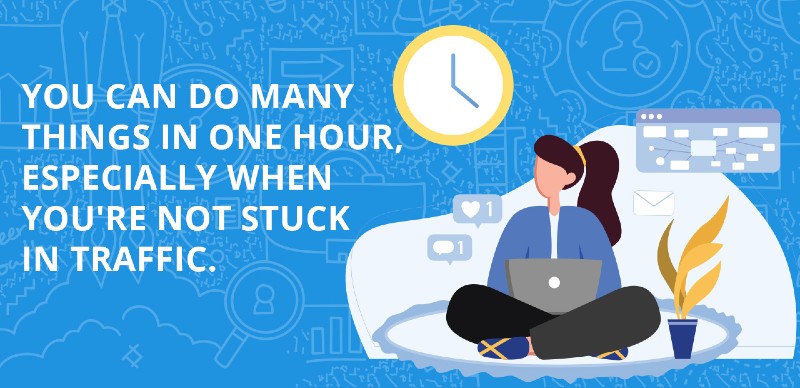 According to a survey by Mckinsey & Company, 87% of workers take employers up on the offer when given the option to work remotely. While the study does not state that the 9-to-5 office is completely dead, it shows that there is both a willingness and demand for flexibility among the working population. Professionals don't have just one path (traditional office life) to build the career they want.
MORE (AND BETTER!) CAREER OPPORTUNITIES
Employers that embrace remote working enjoy the benefit of getting the best, most-skilled person for the job wherever they may be. And for job seekers, that means they have access to rewarding career opportunities that may not be available in their current location.
CHALLENGES FACED BY REMOTE WORKERS
DIFFICULT TO COLLABORATE AND STAY CONNECTED
Maintaining open communication lines can be challenging for those who have just transitioned to a fully remote setup. When working onsite, all one needs to do is turn their office chair to the side to ask a question or request assistance from a coworker. Alternatively, they can easily call for sudden meetings to brainstorm ideas or work together on an urgent project. But with remote work, workers will need more patience and know-how on which communication tool to use when collaborating with their remote coworkers. Some employees may find using communication apps more difficult than face-to-face chats. But with training and some getting used to, workers can easily overcome this challenge.
LACK OF SOCIAL CONNECTION
Depending on one's situation at home and personality, remote working can make some individuals feel isolated. Feeling lonely is natural when transitioning from the traditional office life to a remote work setup. Some remote workers may experience days where they work eight hours straight without talking to another person, face-to-face or via zoom meetings. Some employers do a good job of keeping the company culture alive, even with a distributed workforce. However, some have trouble engaging employees or don't have the initiative to address this concern.
BLURRING OF LINES BETWEEN HOME LIFE AND WORK LIFE
Even with a proper office setup at home, remote workers might still feel like they're treading a fine line between work and home life. This line is one that can easily be blurred when you're not careful. There have been studies that show that employees tend to log longer hours when working remotely. And according to a study done by B2B software search website Capterra Australia, "employees with children commonly ranked 'emotional challenges' (stress, anxiety) and 'too many distractions' (both 58% of respondents) as problems faced while working from home, though 81% of survey respondents said that they found it positive to spend more time with their children." While the outcome can vary per type of employee, there are clearly still situations wherein one's work and home life can overlap when working remotely.
FEELING OF NOT BEING VISIBLE
A work-from-home setup can be a dream for many individuals. But if an employee is gunning for a promotion or incentives, they may find the remote work setup disadvantageous for their goals. A company may not have the right productivity tool or evaluation system to measure a remote worker's performance. This can lead to a remote worker not feeling visible and unmotivated to do well.
Need help with managing your VA team? Read our VS101 article on the 10 Must-Have Tools For Managing Virtual Assistants.
A stable internet connection, a computer, and noise-canceling headphones are essentials for working remotely. Any technical problem encountered with these tools can put an assignment off-track. It's important to know basic troubleshooting skills and have a backup for these remote work office essentials to ensure business continuity. Doing so will help you get back "in the zone."
All these challenges and unhealthy habits can negatively impact a remote worker's performance and overall well-being. Employers need to understand the different concerns that their distributed or remote team faces and help get the business results they need while safeguarding the team's health.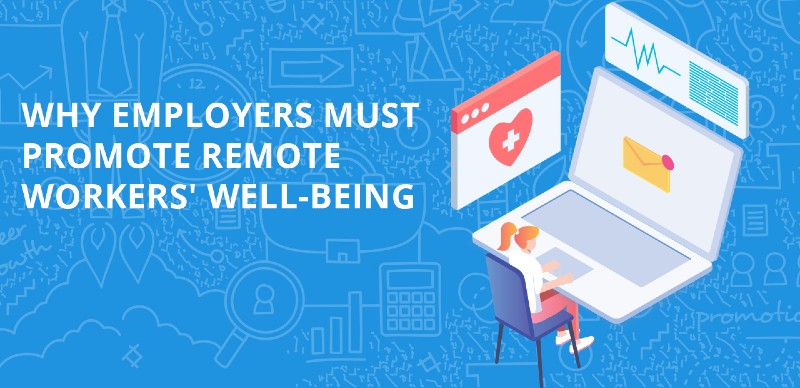 WHY EMPLOYERS MUST PROMOTE REMOTE WORKERS' WELL-BEING
Undoubtedly, technology has provided companies and employees with tools to do things faster and better. It has also empowered teams to work from wherever they are in the world as long as they have an internet connection. However, without any initiative from employers to help workers navigate this relatively new and efficient way of working, the cons might outweigh the pros.
5 REASONS WHY EMPLOYEE WELL-BEING SHOULD BE PART OF YOUR REMOTE WORKING ESSENTIALS
1. SHOW APPRECIATION
Working adults spend the majority of their waking hours doing their job. And while workers are being compensated for their work, it's still important for employers to show their appreciation for the employees' efforts, especially those with above-average performance. Showing appreciation can come in recognition, incentives, and genuine care for the workers' well-being. Wellness initiatives by employers show employees that their output is much appreciated and that their health is also a priority for the company.
2. INCREASE EMPLOYEE ENGAGEMENT
Employee engagement in the virtual workspace can be challenging but not impossible. Efforts to maintain that connection employees feel towards their work, team, and organization are crucial. Showing genuine care for your remote team's well-being can make all the difference.
3. LOWER EMPLOYEE TURNOVER
Improving employee engagement can directly lead to lower employee turnover. Highly engaged workers are more likely to stay with their company. Companies know how costly it can be to find and train a replacement employee, so it's important to find ways and implement programs to keep employee turnover rates low. This includes ensuring workers are both happy and healthy.
4. ATTRACT MORE TALENT
Having a good employer brand is important in attracting talent. And a good way to solidify employer branding is to take care of the current workforce. Jobseekers are more discerning about where they would like to work. They do their research on potential employers, including looking up employee reviews. And glowing reviews from current employees will surely encourage more talents to apply.
Remote work is observed to be an environmentally-friendly work arrangement. Technology has made it possible to work remotely and allows companies to lower their carbon footprint and greenhouse gas emissions. But to make remote work work, employers must also take care of their most important resource: their employees. Promoting virtual workplace wellness can lead to healthy and happy employees. This improves productivity, lowers turnover rates, attracts more talent, and creates a positive company culture. Promoting workplace wellness means maintaining or improving company performance without sacrificing employees' well-being.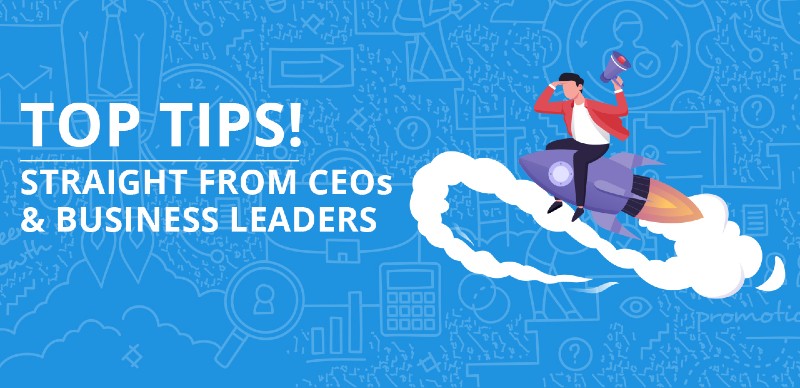 STRAIGHT FROM CEOs AND BUSINESS LEADERS:
WHY PROMOTING WORKERS' WELL-BEING IS AN ESSENTIAL PIECE OF THE LEADERSHIP PUZZLE
Here are some real-world insights about promoting workers' well-being from company CEOs:
"Having happy and healthy employees will benefit businesses because it will enhance employee productivity." -Rojie Tadros, CEO/Founder of Payday Deals

"Healthy and happy employees are more effective and efficient at their work, are pleasurable to work alongside, bolster a positive work culture that encourages other employees to raise the bar, and leads to innovative thinking and problem-solving." -Joshua Uebergang, CEO of Digital Darts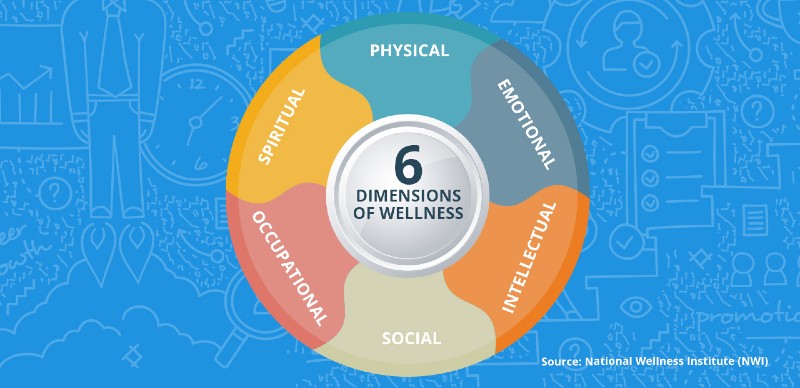 THE DIFFERENT DIMENSIONS OF WELLNESS
According to the National Wellness Institute (NWI), there are six dimensions of wellness. These dimensions are interconnected, and each one is essential for holistic, healthy living.
When most people think of health, the physical aspect is likely the first to come to mind. Physical health does not pertain to one's outer appearance. Looking a certain way or fitting a certain mold does not equate to being physically healthy. The development of physical health involves a combination of different things, including regular physical activity and good eating habits. Taking care of one's physical health also means being responsible and in tune with the body's warning signs. A person can take care of minor illnesses alone, but they should also know when to seek medical attention. During one's journey to physical health, one will recognize the correlation between nutrition, physical activity, and how one's body performs.
Emotional health requires awareness and acceptance of one's feelings rather than denying them. Moreover, emotionally stable people can manage their feelings as well as the corresponding behavior or response these feelings may produce. People in tune with their emotional dimension are better equipped to cope effectively with stress and conflict.
Developing intellectual wellness includes seeking out new learnings and challenging one's mind. The intellectual dimension also includes creative pursuits. Those who work on their intellectual well-being recognize the importance of challenging their minds and are better equipped to identify and solve potential problems.
Humans are social beings, and whether they realize it or not, humans contribute to their environment and community. The term community also includes the workplace. Working towards social wellness means improving one's awareness of their impact on the multiple social spheres one belongs to and initiating better communication with others who also participate in those spheres.
Working towards occupational wellness involves choosing a career that is both rewarding and consistent with one's personal values and interests. It also means developing transferable skills by seizing opportunities rather than being inactive or uninvolved.
The spiritual dimension is not tied to religion specifically but rather an individual's search for meaning and purpose. It also refers to one's beliefs and values. Spiritually well people are those whose actions are consistent with their beliefs and values. They are also more tolerant of the beliefs of others and are not close-minded.
These dimensions of wellness are interconnected, and employers can play a huge role in ensuring that their employees are healthy based on these different facets. Employers can have a direct impact by improving the virtual workplace culture and implementing more employee-friendly systems. They can also have an indirect impact by providing resources that inform and empower employees so they can work on their wellness in their own time and at a pace where they are comfortable.
THE HOWS: WELLNESS INITIATIVES FOR THE DISTRIBUTED WORKFORCE
Even when each team member works in their home office or co-working space, it's no reason to stop your wellness initiatives. In fact, promoting workers' overall well-being is all the more important with a distributed workforce. Here are some initiatives you can try to promote employee wellness, whether your team members work from home, at their local coffee shop, or in a remote co-working space.
1. SEND OUT REGULAR WELLNESS NEWSLETTERS
Consistent communication is not just important in brand building or consumer awareness. It's also important in solidifying your employer branding. If you want your employees to see you as a business that values its team's welfare, then you should also be consistent with communicating with your workforce. A good way to do this is through regular newsletters that include tips and resources that help employees take care of the different dimensions of their wellness. Here are some ideas on what you can feature in your wellness newsletter:
Desk Exercises to Avoid Back and Wrist Pain
Essential Ergonomic Home Office Tools (standing desk, wireless keyboard, etc.)
Effective Stress Management Techniques
Easy to Prepare Healthy Meals
And many more!
2. ADMINISTER VIRTUAL GROUP ACTIVITIES
Virtual workers usually stay put in their selected remote workspace for a long period. This means they might feel like they're missing out on the social aspect of an in-office setup. Even being in co-working spaces may not be enough for some since they don't get to interact with their coworkers. Employers can help bridge a distributed workforce virtually by planning group activities that can be done online. These activities can help target the social dimension of wellness and other dimensions like physical and mental well-being. Here are some examples of engaging group wellness activities:
Guided meditation
Group Yoga
Mental Health Talk by a Medical Expert
Remote Cooking Classes
And more
3. START WELLNESS CHALLENGES
Challenges are a fun way to introduce simple practices that help promote wellness and increase productivity. Make sure you have a platform like Facebook workplace or other online apps where virtual workers can share their entries to help maximize interaction among coworkers. Need some ideas on what type of challenges to start?
Home Office 5S Challenge
Meal Prep Challenge
Green Thumb Month
Art Attack Challenge
And other challenges that can pique your team's interest.
4. BUILD VIRTUAL COMMUNITIES BASED ON HOBBIES OR PASSION POINTS
This is a great way for employees to connect and learn new things. Virtual workers can also de-stress by talking to their coworkers about things they're commonly passionate about. Here are some examples of communities you can start within your virtual workforce:
Book Club
Film Buff Community
Toy Enthusiasts Group
League of Gamers
Virtual Master Chefs
5. SCHEDULE TEAM AND ONE-ON-ONE VIDEO CALLS
Business owners should be able to train their team leads or managers on how to lead a team effectively. This does not only mean achieving KPIs but ensuring that employees feel like their work and they themselves are appreciated. Scheduling team syncs allow virtual teams to catch up with each other and share personal achievements or updates they feel comfortable sharing. The team sync is also a great platform to celebrate small wins and recognize individuals with exceptional performance.
On the other hand, one-on-one calls are a great way for leaders to get to know each team member on a deeper level. They can discuss the worker's current workload, things they need help with, and their performance metrics. It's also a good platform for coaching, mentoring, and discussing career advancement.
Managing your remote assistants also means helping them take care of their well-being. If you need assistance finding and managing the right talent, schedule a free consultation with 20four7VA today!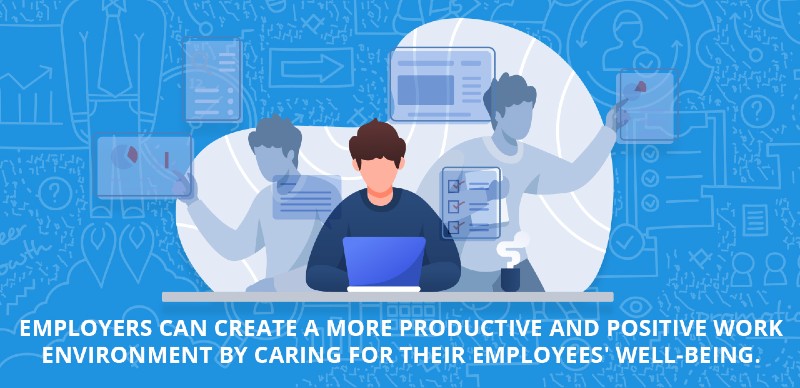 STRAIGHT FROM CEOs AND BUSINESS LEADERS
Here are some tried-and-tested wellness initiatives that employees will absolutely love and appreciate.
WELLNESS INITIATIVES DURING ONBOARDING
"I send new employees a welcome package with some of the best books in the self-development, productivity, and well-being niche, along with some other little goodies." Joshua Uebergang, CEO of Digital Darts
COACHING PROGRAMS
"We offer coaching programs to help promote the well-being of our employees. This is great for the emotional and mental support of our employees. Businesses that have happy and healthy employees can see that they have a more dedicated and loyal working staff." Loren Howard, Founder Of Prime Plus Mortgages
WELLNESS BONUS
"I offer a $500 wellness bonus each year to spend as one wishes on anything to aid in wellness and getting out of the house, including gym membership, ergonomic equipment, monthly massages, and more." Joshua Uebergang, CEO of Digital Darts
FLEXIBLE WORKING HOURS
"We do not require our remote employees at our company to work for a set number of hours. If they fulfill the deadlines and the target, we allow them to work whenever it is convenient for them." Rojie Tadros, CEO/Founder of Payday Deals
CELEBRATING WINS REGULARLY
"We also do monthly meetings purely to celebrate our wins for the month. We share one personal and one professional highlight from that month." Joshua Uebergang, CEO of Digital Darts
There's no doubt that promoting wellness in the workplace is beneficial for both employees and employers. Employers can create a more productive and positive work environment by caring for their employees' well-being. In turn, employees will be more likely to stick around, be less stressed, and take fewer days off. So if you're looking to improve your business, ensure you don't overlook the importance of promoting wellness, especially in a virtual workplace.
Want more tips on how to hire and effectively lead a team of virtual assistants or remote workers? Visit our website or schedule a free consultation with 20four7VA's growth experts today!