A No-Nonsense Guide: How To Become a Virtual Assistant With No Experience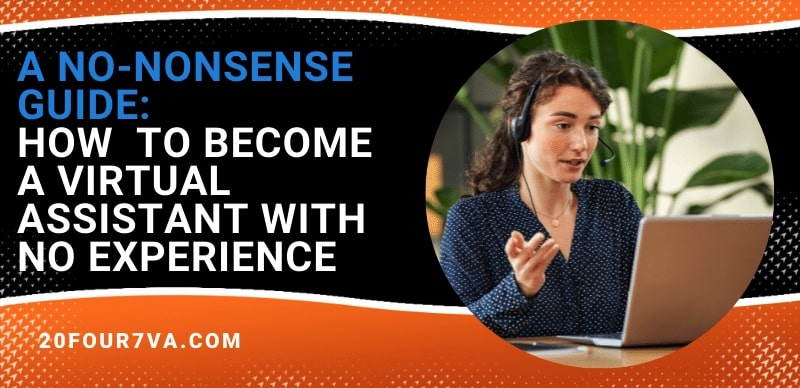 With the current work trends further intensified by the pandemic (see: The Great Resignation) and technology conveniently connecting everyone across the world with ease, it's no surprise that being a virtual assistant (VA) is becoming an even more attractive career for most people. If you're one of those individuals, but you're hesitant because you don't have prior experience in VA work, then keep reading! We'll show you how you can be a successful virtual assistant even with no related experience.
What Is a Virtual Assistant?
A virtual assistant is a professional who provides administrative, creative, or technical support to clients from a remote, often offshore, location. Virtual assistants typically work from home as independent contractors. Some VAs work directly with clients while some find clients through an agency. There are many different types of virtual assistants with various skills and experiences.
WHAT DO VIRTUAL ASSISTANTS DO?
VA work consists of various tasks that clients want to delegate so they can work on their core roles as business owners or managers. Below are some examples of such tasks:
Data entry
Administrative tasks like taking phone calls and file management
Calendar management
Lead generation
Email marketing
Social media management
Bookkeeping
Creative design
and many more!
WHO HIRES VIRTUAL ASSISTANTS?
Anyone can benefit from hiring a virtual assistant, from small business owners who are just starting out to growing companies, multinationals, and more.
4 REASONS WHY BUSINESSES HIRE VIRTUAL ASSISTANTS
1. COST-SAVING WORKFORCE SOLUTION
As a company's workforce grows, so do its overhead expenses. These expenses cover office rent if they need to move to a bigger space or work tools like laptops and company phones. These are just some of the expenses that companies that opt to work with virtual assistants instead of in-office employees can expect as part of their savings.
2. DELEGATION OF ROUTINE TASKS
There are only so many hours in a day, and business owners often find themselves bogged down with time-consuming routine tasks that could be easily delegated to someone else. This is where virtual assistants come in! VAs can take care of tasks that business owners or managers can choose to delegate, allowing management to focus on their most essential function and own career development.
3. ASSISTANCE FROM SKILLED SPECIALISTS AROUND THE GLOBE
When they choose to hire a virtual assistant, businesses can select from a global pool of talented VAs with varying skills and experience. Businesses can find VAs to help with general admin tasks, customer service assistance, and website management. The sheer amount and level of VA talent are overflowing!
4. MAXIMIZE PRODUCTIVITY
Hiring virtual assistants will help productivity without hurting a company's bottom line. When businesses onboard and train their virtual assistant the right way, they can expect to see better outputs and higher productivity. Check out these testimonials from business owners whose organizations flourished with the help of a virtual assistant.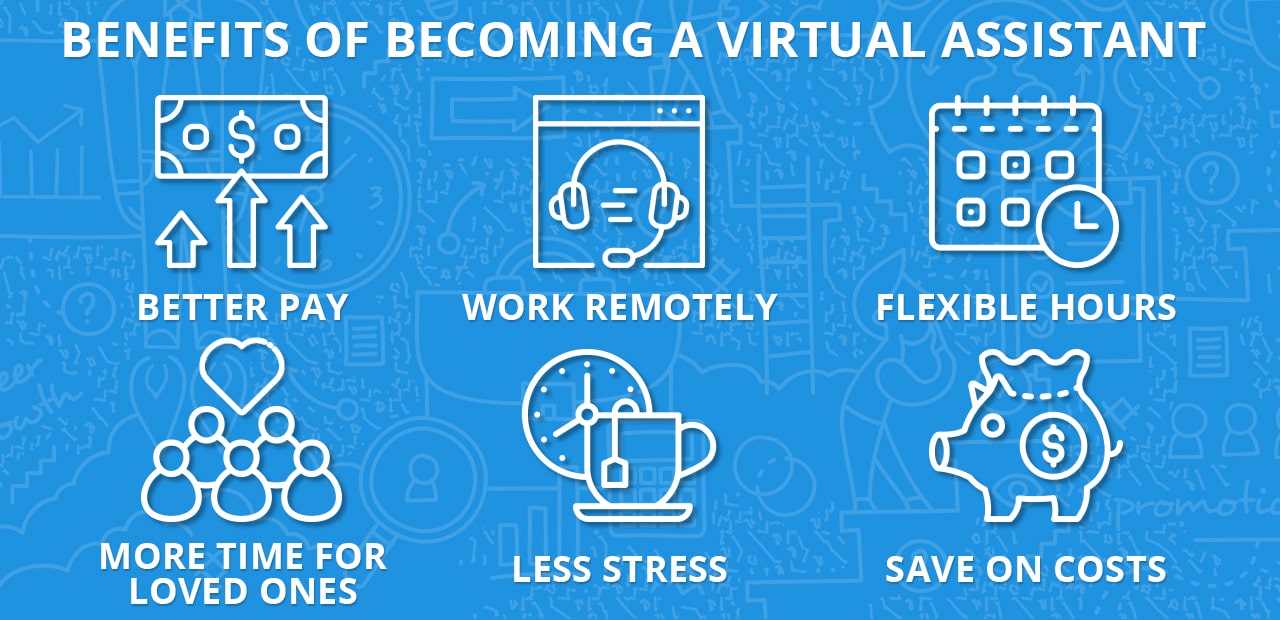 6 BENEFITS OF BECOMING A VIRTUAL ASSISTANT
1. BETTER-PAYING JOBS
When you look up VA jobs online, you'll find that there are clients from almost every corner of the globe. This means that you have a bigger pool of potential clients and a higher chance of getting a better-paying job. Workers do not have to be confined within the salary range of their country, especially if they are in an economically-disadvantaged area. Instead, they can find clients from across the globe who can provide better rates and opportunities for career growth.
2. WORK REMOTELY
There are various benefits for both workers and business owners when it comes to working from a remote location. Workers don't have to subject themselves to the daily commute. Instead, they get to work in an environment where they're comfortable and can be more productive. Meanwhile, business owners can save on costs like rent, utilities, office supplies, and even security expenses.
3. FLEXIBLE WORK HOURS
When you're a virtual assistant, you get to decide your own schedule. You can apply for work that fits your desired work hours. You don't have to maintain a 9 to 5 schedule like in-office employees. And you have the flexibility to either take on a full-time job as a virtual assistant or take multiple part-time roles for more clients.
4. MORE TIME FOR FAMILY AND LOVED ONES
With a flexible working schedule that fits your preferred lifestyle, you have more time to spend with your family. For some, choosing to be a VA is necessary given their family or living situation. For example, virtual assistant work is perfect for stay-at-home moms taking care of small children and needing additional income.
There are also virtual assistants who embrace the flexibility that the VA life offers simply because there aren't many flexible jobs that allow them to spend time on the things and people that matter.
5. LESS STRESS
Multiple studies indicate that those who have tried remote and flexible work experienced an improvement in their mental health. This improvement can be attributed to multiple factors, one of which is that remote work helps eliminate office-related stress. Workplace stress can come from work interruptions, the difficulty of the daily commute, and interpersonal conflicts.
Those who have remote jobs also have more time to focus on destressing and fitness activities like traveling, sports, arts and crafts, etc. When you become a virtual assistant, make sure to maintain a balance between your work, family, social obligations, and personal time to minimize stress.
6. SAVE ON COSTS
When you're working in the comfort of your own home, you save money. You don't have to invest in a car or pay for your daily commute to a brick-and-mortar office. If you're currently located away from the city or your country's central business district, you don't need to spend money to move closer to work since your work is already within the confines of your home.
When you're a virtual assistant, you also get to save on other incidental costs, like the occasional coffee run or impulse buy on your way home from work. You're not as exposed to material things or tempting foods, especially when you're stressed and have limited buying self-control. It's an "out of sight, out of mind" type of situation.
CAN YOU BE A VIRTUAL ASSISTANT WITHOUT ANY EXPERIENCE?
The short answer is yes.
You can become a virtual assistant even if you do not have prior VA experience. You just need to plan ahead and make sure that you have the necessary skills and traits that can help you become a good virtual assistant.
WHAT YOU NEED
3 HOME WORKSPACE ESSENTIALS
A well-lit, quiet place that is conducive to work
A work desk that is suited to your height and can hold all your work tools
A good office chair that will keep you comfortable as you work on your virtual assistant tasks
Get more tips on how to set up your own functional workspace at home.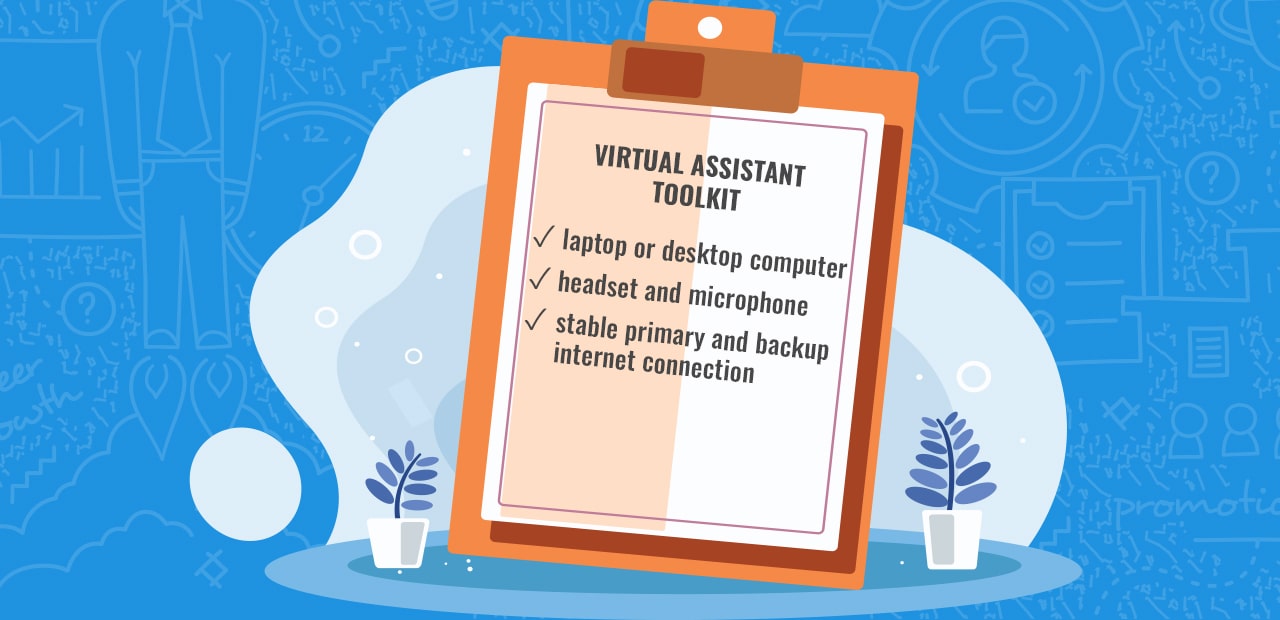 VIRTUAL ASSISTANT TOOLKIT
If you want to be a virtual assistant, you'll need to equip yourself with the right tools. But don't worry! You don't need to get top-of-the-line electronics. All you need are the basic tools to help you accomplish your VA work efficiently and effectively.
LAPTOP OR DESKTOP COMPUTER
You need to have a laptop or desktop computer that will enable you to carry out your VA tasks. As a virtual assistant, you will be using applications that may not be compatible with mobile devices, so a mobile phone or tablet will not suffice. Most virtual assistant services or freelance virtual assistants recommend that your laptop or desktop computer meet the following specifications:
Operating system: at least Windows 10 (64-bit), macOS, or Ubuntu 19.10
Processor: at least Intel Core i3 or equivalent (for both primary and backup computers)
RAM: at least 4 GB (for both primary and backup computers)
HEADSET AND MICROPHONE
While your laptop or desktop computer has a built-in microphone and speakers, we recommend using a USB headset with a noise cancellation feature. Some virtual assistant roles may require online meetings or calls, so you want a no-fail headset to keep communication clear.
INTERNET CONNECTION
As a virtual assistant, you can consider your internet connection as the electricity on which your virtual assistant work runs. Ensure that you are always connected during your shift to avoid operational issues and backlogs.
A primary and backup internet connection from different providers
Download speed: 5 Mbps or higher
SKILLS
In order to know how to market yourself as a potential virtual assistant, you need to be able to identify your marketable skills.
8 BASIC SKILLS EVERY VIRTUAL ASSISTANT SHOULD POSSESS
These are the skills that are more or less non-negotiable for potential clients looking for virtual assistants.
1. Being tech-savvy
This doesn't mean that you have to have a degree in computer science or a related field. It does, however, mean that you need to know your way around computers. You should be able to handle basic troubleshooting and be comfortable with learning how to use various apps and devices. Being tech-savvy is important when working remotely because unless you work with an agency like 20four7VA, you won't always have a teammate or an IT specialist who can provide solutions.
2. Knowledgeable in Microsoft Office and Google Workspace
As a virtual assistant, you should know how to use basic MS Excel or Google Sheets functions and create MS Word documents and PowerPoint slides (or their Google Workspace counterparts) when needed.
3. Good written and verbal communication skills
Being a virtual assistant means communicating with your teammates and clients will be 100% online. Whether asynchronous or synchronous communication, you should be able to get your message across effectively and, in turn, be able to understand messages or instructions coming from the other side of the screen.
4. Time management skills
You only have so many hours during your workday, so you need to make sure that you are using them efficiently. Depending on the nature of the task, you may need to summon your time management skills to be able to deliver great output.
5. Organizational skills
Whether your tasks involve data entry or social media management, having solid organizational skills is a must for a virtual assistant. This skill goes hand-in-hand with time management since you will probably be assigned different tasks throughout your workweek, so you must be able to prioritize and budget your time wisely.
To make project monitoring and task organization easier, some clients opt to use project management tools. This can also benefit you as a virtual assistant, as you, the team, and the client will have shared visibility on the different tasks or projects.
6. Proactive self-starter
Being a proactive self-starter means that you need to be disciplined enough to start and finish tasks on your own. Because you will be working with very minimal supervision, you should take work on your own initiative. And when there are concerns, you should either be able to troubleshoot or know how to escalate.
7. Coachability
Whether you are a virtual assistant with absolutely no experience or a seasoned veteran, you are not expected to know everything and do all tasks flawlessly. There will always be room for improvement. You must be able to take constructive feedback to continue learning about the business and mastering your tasks.
8. Flexibility
Being able to quickly adapt to changes is an important skill for a virtual assistant. Because technology upgrades or changes quickly, your tasks as a virtual assistant may evolve because of this or other factors. You must be flexible enough to keep up with the changing times or the demands of your virtual assistant role.
Make sure that you have these skills under your belt. If not, you can always look for online courses (free or paid) to brush up on your skills in order to take on your first client!
SPECIALIZED SKILLS
While the basic skills are important for all virtual assistants, some potential clients look for virtual assistants with a special set of skills. Here is a list of specialist skills that clients look for:
IT Development

Creative Design

Content Development

Digital Marketing

Telehealth Support

Finance Support
To know what type of VA work you can apply for, visit this 20four7VA page.
If you're looking to acquire new skills or improve on your current ones, you can always search online for free or paid training or classes.
Check out these 5 popular (and FREE) courses for virtual assistants.
PREPARE YOUR DOCUMENTS
Just as how one usually applies for a traditional office job, make sure to have the following on file as these are the main references that the client will have when they review your application.
Resume or Curriculum Vitae (CV)
When preparing your resume or CV, focus on your skills and highlight any previous experience that may be relevant to the virtual assistant role you are applying for.
If you have no prior experience as a VA, don't fret! You can highlight relevant hard and soft skills that you think can help your potential client see that you fit the role they're trying to fill. If you have a previous traditional or in-office job, include those as well but highlight actual tasks and results to show that while you do not have VA experience, you can still be a valuable addition to the team.
When writing your cover letter, make sure to introduce yourself and explain why you want to be a virtual assistant. A cover letter can be even more valuable if you don't have prior VA experience. You can elaborate on the skills and work ethics you have that can help you excel in the role.
When closing a cover letter, make sure to include a call to action for the potential client. Encourage them to review your resume and portfolio, if available. Don't forget to thank them for their time and include your contact details.
If you're applying for a VA role specializing in creative content, you can put together a portfolio. This can include graphics, links to websites you designed, or published articles. You don't have to make an extensive portfolio with a lot of samples since not all clients will take the time to go through each page. Instead, focus on adding samples that are aligned with your potential client's branding and activities.
The quality of your resume and cover letter can make or break your application. Take your time to work on these before diving into the application process.
APPLYING TO BECOME A VIRTUAL ASSISTANT
Now that you've prepared your toolkit and prepped your virtual assistant skills, it's time to find your first client!
THE IDEAL PATH TO GETTING YOUR FIRST CLIENT
Decide on the type of VA work that you want to do.

When you've found a job posting that you like, submit an application.

Be interviewed by the client.

Get a job offer.

Accept the job offer, and voila! You are now a virtual assistant.
Just five steps—it can't be that difficult, right?
But, of course, this is only the ideal path to your first virtual assistant role. Like any job-hunting process, there can be some bumps and challenges along the way, so continue reading for more tips.
WHERE TO FIND VIRTUAL ASSISTANT JOBS
Ready to bag your first client? You can find virtual assistant job openings in various channels. You can find prospective clients on social media platforms, freelance working sites, or remote job boards.
However, these channels are often home to bogus employers or scam artists taking advantage of people looking for virtual assistant jobs. Some may invite you to do a test task and not get back to you after you've submitted the assignment, essentially making you work for free. There are also shady individuals who pose as clients to take jobseeker's personal details, compromising your privacy.
THINGS TO LOOK OUT FOR (HOW TO AVOID GETTING TAKEN ADVANTAGE OF)
There are a lot of legitimate virtual assistant jobs and clients online. However, there are still those who take advantage of people looking for an honest living.
Here are common virtual assistant scams and how you can avoid them.
IDENTITY THEFT / PERSONAL INFORMATION SCAMS
This is a common scam in any online space, not just the virtual assistant industry. This is done by individuals, or, to put it plainly, criminals, who will attempt to use stolen identities to commit fraud or steal resources.
The best way to avoid these scams is to never give out your personal information unless you are certain that the person or company is legitimate. If you're unsure, you can look them up online or ask for references. If their website is not working or if they do not show up in any reputable online sources, disengage and look for a VA job elsewhere.
DISAPPEARING ACTS
There are some "clients" who suddenly disappear and leave their virtual assistants hanging and unpaid for their finished tasks. Disappearing acts can also happen when an applicant has already submitted their test task, for example, a blog article, without any update or feedback on the status of their application.
Before submitting an application, do your due diligence to protect yourself. Look at online reviews of that client or company to see if any red flags pop up. But if you're communicating with a client and they suddenly go MIA, the best thing to do is to try and reach out to them again. If you don't hear back after a few attempts, then it's probably best to move on and look for other virtual assistant jobs.
VIRTUAL ASSISTANT PLACEMENT FEES
Be wary of individuals or any virtual assistant business that asks you to pay a fee outright, even when you haven't even been interviewed by a client. These suspicious characters will most likely take your money and leave you hanging.
Protect yourself by not being afraid to ask questions that matter—especially those about payment. Shelling out money when you are looking for a job to earn an income is usually a red flag. And again, the internet is a convenient resource, not just for finding virtual assistant jobs, but to conduct background checks on VA businesses with questionable practices.
CHEAP OFFERS
Some clients take advantage of applicants who don't have prior experience or who are in economically-disadvantaged areas by offering rates that are lower than the market average. Sadly, there are virtual assistants who accept these low rates either out of necessity or misinformation.
To protect yourself, you should know what your skills are worth. You can easily compare rates online. Consider working with a virtual assistant business to make sure that you are dealing with reputable clients who will pay you the agreed and fair amount.
GOING SOLO OR WORKING WITH A VIRTUAL ASSISTANT STAFFING COMPANY
Going solo or looking for a client on your own is certainly an option for anyone. However, it may be more challenging to find clients if you are just starting out as a freelance virtual assistant with no relevant experience. Trying to find virtual assistant jobs on your own means investing more time in training, getting certified, building your profile, applying for jobs, getting interviewed, and negotiating with multiple individuals or business owners.
The dark side of looking for a virtual assistant job is that you can be a target of scam artists or clients who offer unfair compensation. Make sure that you are well-informed and secure from such activities. It's best to apply through an established virtual assistant business or remote staffing company like 20four7VA, especially when you are on the hunt for your first virtual assistant job.
WHY WORK WITH 20FOUR7VA? HERE ARE 5 REASONS
1. HIGH SATISFACTION RATE
20four7VA is committed to providing the best service to both clients and VAs. The company boasts of a 98% VA retention rate and a 4.3/5 satisfaction rating among its VAs.
2. TRAINING PROGRAMS
As a 20four7VA virtual assistant, you gain access to FREE courses and training programs to help you gain new skills and upgrade current ones.
3. COMPETITIVE RATES & WEEKLY PAYOUTS
Each virtual assistant is interviewed and assessed to determine their skill level. 20four7VA offers competitive hourly rates and weekly payouts. Additionally, when you're working with a VA staffing agency, you don't have to worry about billing and payroll processing, as the agency's accounting team will handle all of that for you.
4. SUPPORTIVE TEAM
One of the challenges of working remotely is the feeling of isolation. But the 20four7VA team maintains a tight-knit virtual community by continuously engaging with the VAs through activities like creating interest groups where VAs with similar hobbies can interact and share ideas. Additionally, as a 20four7VA assistant, you have access to agency staff and co-VAs that are there to provide their full support.
5. VARIED JOB OPENINGS
Because of 20four7VA's diverse client base, there's a constant stream of open roles that you can apply for through the company's internal job board. There are roles available for various VA specializations, including eCommerce, lead generation, podcasting, real estate, telehealth, IT support, web development, digital marketing, social media, content creation, voice or chat support, and more.
STORIES FROM 20four7VA VIRTUAL ASSISTANTS
We've made a case for getting a virtual assistant job even without prior experience. We've also given you tips and tricks on how to get your first virtual assistant job and why 20four7VA should be your VA staffing partner of choice.
But we've also got info from what we think is the best source—actual 20four7VA virtual assistants!
Jen, Chan, and Lara are some of 20four7VA's outstanding virtual assistants who were featured in the company's VA Spotlight articles.
Q1: HOW LONG HAVE YOU BEEN WITH 20FOUR7VA?
Jen: I provide administrative services to a client I have been working with since 2019.
Chan: I have been working as a Virtual Administrative Assistant since 2020.
Lara: I am a Customer Service virtual assistant. I've been with 20four7VA for more than five years.
Q2: WHAT MADE YOU DECIDE TO BECOME A VA?
Jen: Being a VA where you're working at home is the most convenient job, especially with the current pandemic. There's no hassle, no traffic, and no exposure to COVID.
Chan: The main reason is that my parents are not getting any younger. I want to spend my time working and being closer to my family.
Lara: Becoming a VA is advantageous for me as a stay-at-home mom. I can work while taking care of my kids.
Q3: WHY DID YOU CHOOSE 20FOUR7VA?
Jen: I saw a job post from 20four7VA while browsing Facebook. I became interested in the company, so I sent in my application. On the same day, I was contacted by 20four7VA, then eventually got hired by my first client.
Chan: I first came across 20four7VA on Facebook. After that, I visited their website and checked everything, especially the mission, vision, and values. Those helped me decide to work with 20four7VA.
Lara: I chose 20four7VA because we get our pay on a weekly basis, so we always have a budget every week. The people of 20four7VA are very helpful and accommodating.
You also learn a lot when working with 20four7VA since they have a variety of clients and also provide training.
Q4: WHAT QUALITIES OR SKILLS DO YOU THINK EVERY VIRTUAL ASSISTANT SHOULD HAVE?
Jen:
Always work with integrity.
Be efficient and effective.
Learn to explore things and always leave room for self-improvement.
Chan:
Be proactive: Since we have less supervision and physical monitoring, being proactive is a big thing.
Time management skills: There's a common misconception that you can take breaks as much as you want and work anytime you want when working from home. But you still have to respect the time of your teammates and clients.
Note: VA answers have been edited or paraphrased for length and clarity.
Follow our Official Facebook page to get the latest news, updates, and tips on how you can start your own virtual assistant journey with 20four7VA!