How to Find The Best Free Online Courses for VAs?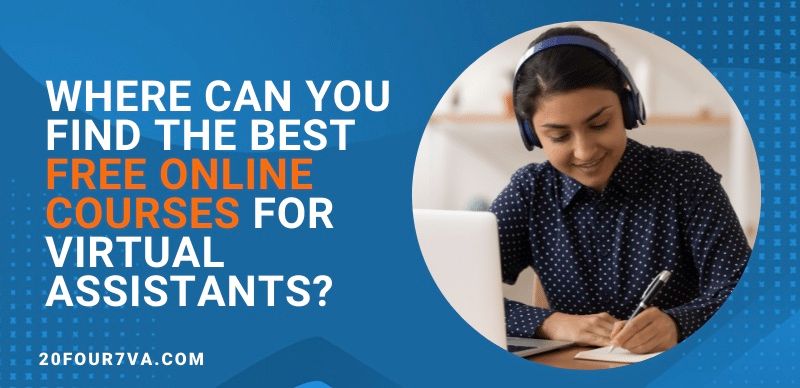 Do you want to work from home? Are you looking for a flexible career that allows you to be your own boss? If so, becoming a virtual assistant (VA) may be the perfect choice! Virtual assistants provide business support to clients who need it but don't have the time or resources to do everything themselves. And the great news is that there are many free courses online that can help you get started in this exciting career field.
Whether you're new to virtual assistance or have been in the industry for years, constant learning will always be a big part of the job. When you continually develop new skills and improve the ones you have, you'll have a much better chance of being successful as a virtual assistant.
Is Certification Required to be a VA?
No. Certification is not required to be a virtual assistant, but there are some courses and certificates that can help you stand out in the industry.
Virtual assistants come from a variety of backgrounds, so it's not necessary to have any formal certification. However, if you're interested in taking a course or want to receive formal recognition for your skills, there are several reputable programs out there that can help you do just that.
Fortunately, there are plenty of virtual assistant courses available online, many of which are free. Here are some of our favorite free virtual assistant courses to help you get started.
Related: Why Taking Online Courses is Better Than Getting Virtual Assistant Certification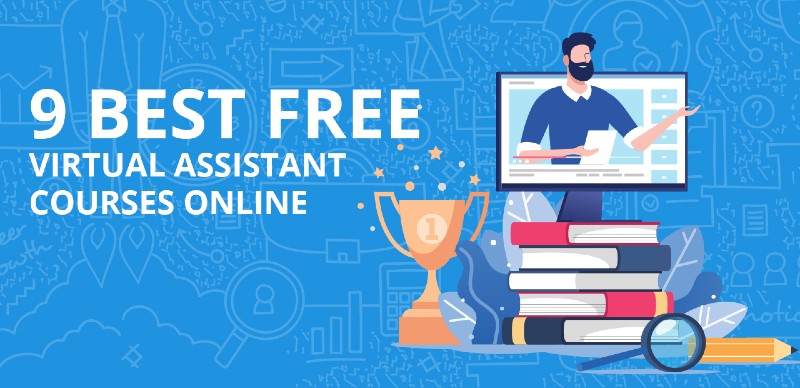 9 Best Free Virtual Assistant Courses Online
Are you looking for a way to improve and expand your current skill set? Consider taking one of the many free virtual assistant courses online. These courses can help you learn new skills and teach you new techniques and how to use the latest business software. They can also allow you to acquire new methods for managing your time, delegating tasks, communicating with clients, and more. Plus, they're typically delivered in a flexible online format that works with your busy schedule.
Hubspot Academy is home to dozens of free online certification courses that can be extremely helpful for many virtual assistants. They offer an array of materials, including both tools and videos. This will allow you to expand the skills you can offer potential clients, thus increasing your clientele pool.
Some really good courses for VAs are Email Marketing, Content Marketing, Hubspot Design, and Marketing Software training. Creating your free Hubspot Academy account allows you to take these courses and more.
Copyblogger has been providing copywriters with excellent content and valuable resources since 2006, and they have taken this one step further by offering a streamlined collection of eBooks that tackle everything from the basics of copywriting (Copywriting 101: How to Craft Compelling Copy) to online marketing tactics and strategies (10 Rock Solid Elements of Effective Online Marketing).
On top of that, you can also enroll in their 20-part course on online marketing — sent directly to your inbox. All these and more are free of charge!
Design School by Canva is an excellent resource for virtual assistants who want to brush up on their design skills or learn new ones. Web design is one of the most in-demand skills among virtual assistants, and Canva is one of the best platforms for learning design basics.
Canva offers a range of courses on graphic design, web design, and more. Plus, their course materials are all delivered in a format that is easy to understand and follow. Design School by Canva also provides general design tips and tricks to help you sharpen your eye for better, more engaging designs.
Whether you're looking to improve your web design skills or learn how to create professional-looking graphics, Design School by Canva has a course for you. And the best part is that all of their courses are free!
Many advertising and marketing efforts focus on digital platforms, so it's not surprising to see online marketing as another skill that's high in demand. Google's Online Marketing Challenge can help virtual assistants take on the rapidly evolving digital marketing landscape.
To take on the challenge, you're encouraged to take their Digital Marketing Course, which covers many relevant topics, including digital marketing basics, Google Ads fundamentals, different forms of digital advertising, Analytics, Google My Business, and various tools and best practices.
After completing the course, you can apply your knowledge and skills by participating in their simulated online marketing challenge. This is a great way to get real-world experience and learn from the best in the field. Plus, it's free to join!
Codeacademy offers courses to bolster your coding skills and prepare you for web development jobs. You can learn various languages, tools, and APIs through their platform. Their curriculum includes JavaScript, jQuery, HTML & CSS, Python, GitHub, Ruby on Rails, and more.
Coding is a highly sought-after skill for virtual assistants. By taking Codeacademy's courses, you can make yourself more attractive to potential clients looking for web development services.
Hootsuite is one of the most popular social media management solutions, and virtual assistants who want to specialize in social media management can learn how to utilize it for free. The Hootsuite Platform Certification Course covers topics such as creating and scheduling content, understanding analytics, and using Hootsuite's features and tools.
You will need to pay a one-time fee for the certification exam. Upon completing the course, you'll be certified by Hootsuite and will have a valuable credential to add to your CV. Plus, you'll be able to use the knowledge and skills you learned to better manage social media accounts for your clients. It's a great way to familiarize yourself with Hootsuite if you're not already using it.
CreativeLive is an excellent online source for courses on topics like photography, design, and video editing. They offer both free and paid courses, but many of their courses are available for free with the option to pay for a certificate of completion.
Their courses are taught by industry professionals and cover a wide range of topics, so you're sure to find something that interests you. If you're interested in developing your creative talents, CreativeLive is definitely worth considering.
As a virtual assistant, you'll likely be asked to help your clients with their social media marketing efforts. This free LinkedIn Learning course can help you get started with the basics of social media marketing. The course covers topics such as creating content, managing communities, and understanding analytics.
By taking this course, you'll better understand how social media marketing works and be able to provide valuable assistance to your clients. And the best part? LinkedIn makes the course available at zero cost! Just log in to your LinkedIn profile to start taking the course. Or sign up if you don't have a LinkedIn account yet.
If you're looking to start a virtual assistant career as an editor or proofreader, then Proofread Anywhere is a great resource. They offer a free webinar that covers the basics of proofreading, such as what it entails, how to get started, and where to find clients.
Related: 35+ Free Online Business Courses Worth Taking in 2021
When trying to learn a new skill, being patient with yourself is important. In some cases, you'll find that a particular skill set might not be suited for you. Don't lose hope. If you find that you're not cut out for web development or graphic design, there are still plenty of other skills that you can build on. Who knows? You might be an excellent copywriter or the next top digital marketing expert.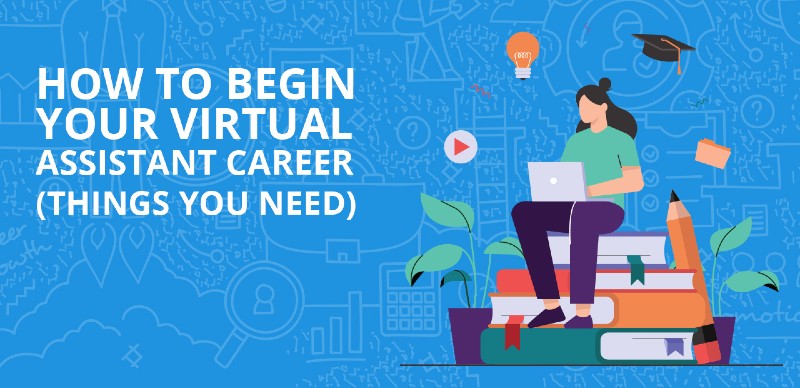 How to Begin Your Virtual Assistant Career (Things You Need)
Now that you know where to find free online courses, it's time to take the next steps to begin your virtual assistant career. Here are a few must-haves when kickstarting your journey as a VA:
1. A computer with a stable internet connection
You'll need a computer and a reliable internet connection to be able to work as a virtual assistant. A laptop is often the best option as it allows you to work from anywhere, but a desktop computer can also work well. Make sure your computer is powerful enough to handle the tasks you'll be working on and that your internet connection is fast and reliable. Having a backup computer and a backup internet provider is also a good practice, as these will allow you to keep working even if something goes wrong with your main computer or internet connection.
2. A quiet, distraction-free workspace
You'll need a dedicated workspace to focus on your work and get tasks done efficiently. This can be a home office, a corner of your living room, or a bedroom that you can clear out for work. If you don't have a lot of space, try to make the most of what you have by decluttering and organizing your workspace, so it's as functional as possible.
3. Basic office supplies
You'll need some basic office supplies to work as a virtual assistant. This includes a printer, paper, pens, pencils, sticky notes, and other items you might need for general office work. You may also want to invest in items like a noise-canceling headset or an ergonomic mouse to make working more comfortable.
4. Virtual assistant software
There are various software programs available that can help virtual assistants with their work. These programs can help you manage client information, schedule appointments, track deadlines, and log your hours. Some popular virtual assistant software programs include FreshBooks, Asana, and Hubstaff.
5. Social media accounts
If you're going to be working as a social media virtual assistant, you'll need active social media accounts on the platforms you will be working with. This could include Facebook, Twitter, Instagram, Snapchat, Pinterest, and others. Make sure your accounts are up-to-date and active before you start applying for jobs.
6. A professional email address
You should create a professional email address to use when applying for jobs and communicating with clients as a virtual assistant. This email address should include your name or initials so that clients can easily identify you.
7. A strong portfolio
It's always helpful to have a strong portfolio when applying for jobs as a virtual assistant. Your portfolio should showcase your skills and highlight previous experience in the field. If you don't have any experience working as a virtual assistant, consider including samples of similar work that you've done in the past (such as administrative tasks, customer service tasks, etc.).
Other Things to Consider as a New VA or VA with No Experience
In addition to the skills and equipment you need to get hired as a virtual assistant, there are also some things to keep in mind as you head down this career path.
1. Don't be afraid to start small
You don't need to land a big client right away to be successful as a virtual assistant. It can often be helpful to start small and build your experience and qualifications gradually. This will give you time to perfect your processes and systems and help you build a strong reputation within the virtual assistant community.
Don't give up if you don't land your dream client right away. Just keep putting yourself out there and marketing your services; eventually, the right opportunities will come your way.
2. Develop a robust skill set
Develop skills in at least one area of expertise, such as online marketing, social media management, or project management. This will make you more attractive to potential clients and help you stand out from the competition.
Consider taking online courses or virtual assistant training programs to help you develop a strong skill set. Aside from online courses, there are many great resources available that can teach you the ins and outs of being a virtual assistant in your preferred niche. By developing a solid skill set, you'll be able to offer a higher level of service to your clients and even command higher rates for your services.
3. Research the industry and learn about different niches
One of the best things you can do as a new virtual assistant is research the industry and learn about various virtual assistant services. This will help you better understand how the industry works and what clients are looking for.
There are many different types of virtual assistant services, so it's crucial to find one that fits your skills and interests. For example, if you have experience in social media, you could apply for virtual assistant roles in social media management. By learning about different virtual assistant services, you'll be able to find one that's the perfect fit for you.
4. Start networking with other professionals in your industry
Another great way to start as a virtual assistant is to begin networking with other professionals in your industry. This can help you learn about different opportunities and connect with potential clients.
There are many great ways to network with other virtual assistants, such as joining virtual assistant groups on social media or attending virtual assistant events. You'll be able to expand your network and discover new possibilities by interacting with other virtual assistants.
5. Stay up to date on current trends and technologies in the virtual assistant industry
To be successful as a virtual assistant, you need to stay up to date on current trends and technologies in the virtual assistant industry. This will help you keep up with the latest changes and ensure that you provide the best possible service to your clients.
One great way to stay up to date on current trends is to read virtual assistant blogs and forums. This is a great way to learn about new products, services, and technologies that can help you in your business.
Related: Top Virtual Assistant Skills to Look for in 2022 and Beyond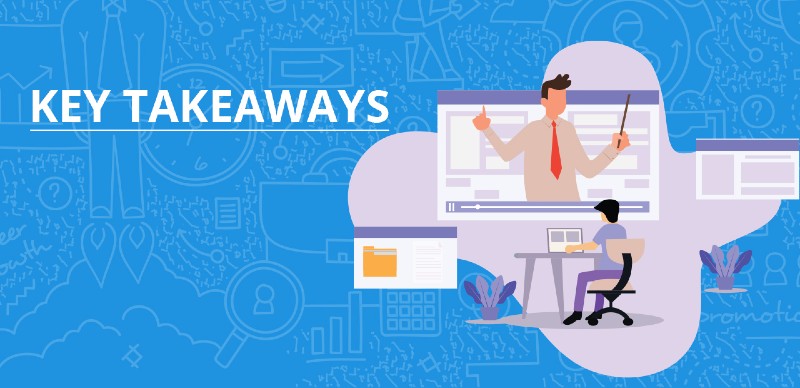 Key Takeaways
Becoming a virtual assistant is a great way to earn a living and advance your career while working from home.
To be successful as a virtual assistant, you need to develop strong skills in at least one area of expertise.
It's essential to stay updated on current trends and technologies in the virtual assistant industry.
Related: How to Start Your New Work From Home Career as a Virtual Assistant
Becoming a VA is an excellent way to work from home, set your own hours, and make a good income. It can also be a great way to start in the world of online business. Although certification is optional, it may help you find clients more quickly. There are many free courses available online that will teach you the basics of being a VA.
In addition, as you begin your VA career, there are other things to consider, such as what services to offer and how to market yourself. We hope this article has been helpful and wish you a successful journey into the exciting world of virtual assistance!
Ready to start your virtual assistant career with no worries and all the support you'll ever need? Join the 20four7VA team today!