56 Freelance Blogs You Need to Bookmark In 2020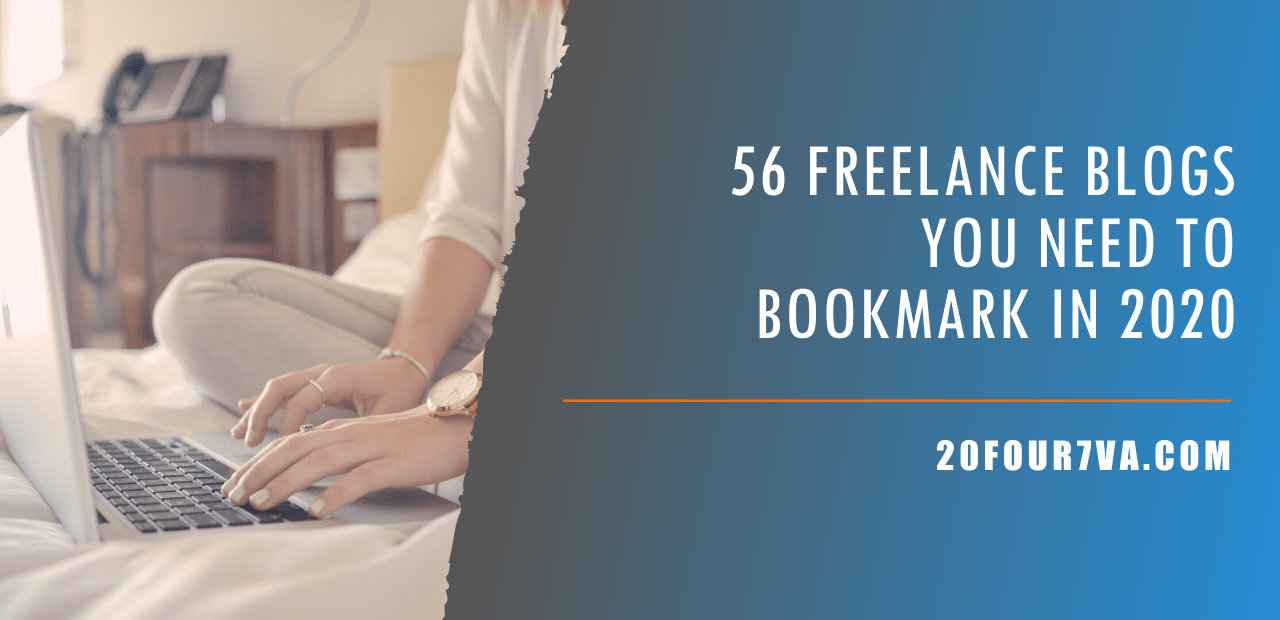 The freelance economy is booming, and it's showing no signs of slowing down. In fact, in the US alone, 36% of the workforce is composed of freelancers. Together, freelancers have an annual economic contribution of $1.4 trillion. These staggering numbers mean that there is now a stiffer competition for good freelance jobs.
Whether you are a sole proprietor, freelancer, or independent contractor, you need the best resources to get ahead in this thriving but competitive industry. One of the best ways to keep abreast is to follow freelance blogs that will keep your skills, knowledge, and industry awareness in check.
Understanding the Freelance Economy
Before looking at different blogs to follow, it's advisable to look at the history and current developments of the freelance movement first. Knowing how freelancing came about and developed into the industry that it is now will help you understand it better. This will put you in a better position to develop your craft and boost your freelancing strategy.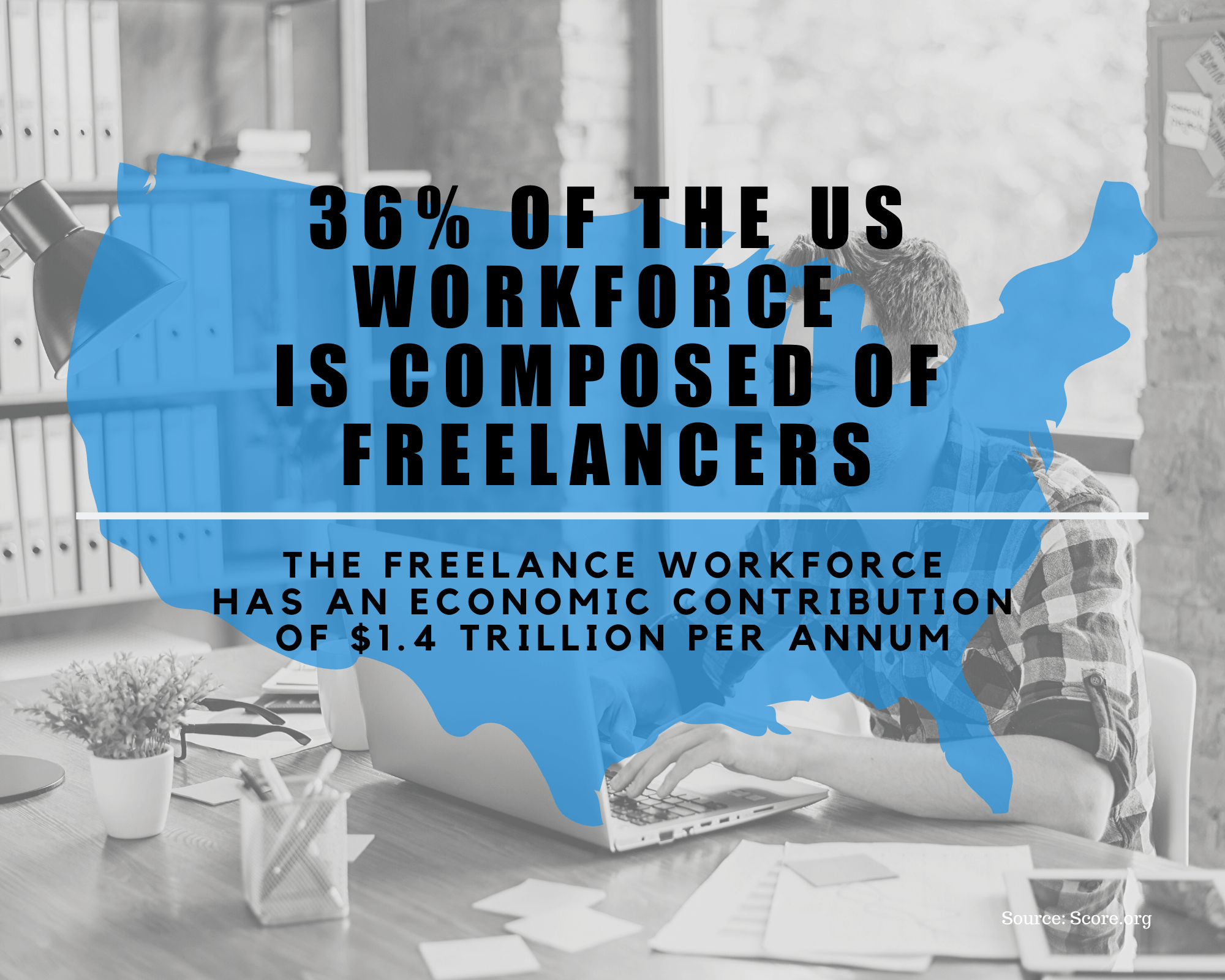 The freelance economy boomed when the global financial crisis hit the world hard in 2007 which left scores of people unemployed. In 2009, the number of misplaced jobs ballooned to 8.4 million, which threw many people into freelance work.
When the economy got better, many of these workers did not go back to the 9 to 5 grind. Today, 61% of workers claim that they favor freelance work over traditional employment. (Forbes)
According to a study by Edelman Intelligence, the number of people shifting to freelance work is steadily rising.
In 2014, freelance workers only comprised 17% of the workforce. This number swelled to 29% in 2017. The study predicts that the majority of the US workforce will have shifted to freelance within a decade.
For many people, freelancing is more than just a means to put food on the table – it's a lifestyle. According to a study in 2018, 51% of respondents refuse to give up freelancing for a traditional job regardless of the salary offered.
Job opportunities and availability
The Balance of Careers reported that 25% of workers claim they can find gigs or projects within 24 hours. A separate report by Upwork also confirmed that 71% of workers were able to find more work in 2019 compared to the previous year. Opportunities for freelance work surged in 2019 with 42% of small businesses preferring to hire freelancers over in-house employees.
The freelance movement is composed of workers with different specialties and industries. The industry is composed of 33% creatives, 21% consulting services, 17% content curators, and 15% developers. This is according to data put together by And Co. Writers in 2018.
As more and more businesses shift into virtual employment, the demand for different skills also expanded. In fact, 61% of freelancers have 2-3 specializations. Freelancing Hacks reported that brand strategy and Instagram marketing are among the most sought-after skills to date.
Apart from the trillions of contributions to the economy, the freelance movement is making more and more people financially independent. In fact, a third of the workforce make $75k upwards every year (Forbes).
This economic benefit is also shared by employers. For instance, companies that have moved to a work-from-home arrangement saw a $2,000 annual profit increase per worker. Working from home also increases productivity by 13% according to a study by Stanford Graduate School of Business.
Best Blogs for Freelancers to Bookmark
If its current situation is any indication, the freelance economy might be on its way to becoming the future of workforce. If you want to be a good freelancer, you need dedication, credibility, a drive for excellence, and resourcefulness to get ahead of the game.
To deal with the latter, here are the 56 best freelance blogs to bookmark in the coming year:
For general freelancing tips and tricks: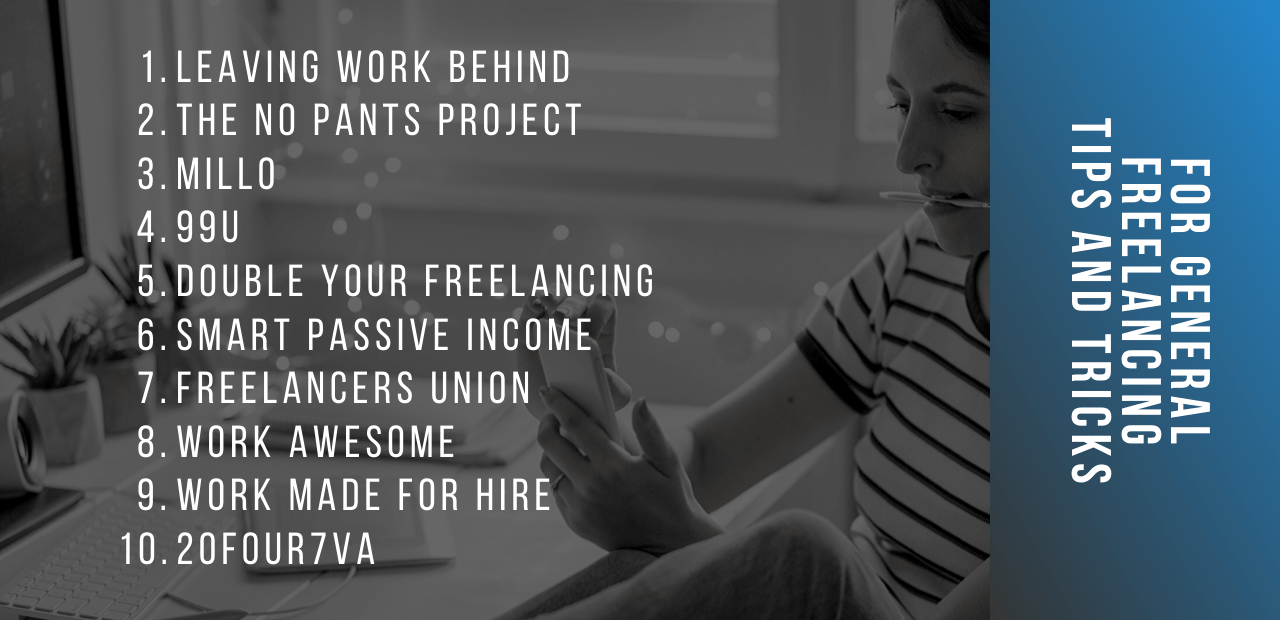 Leaving Work Behind is devoted to helping people transition from conventional jobs to self-employment. Are you planning to build a clientele who will pay for your professional services? Do you have a winning business idea in mind? This website provides several resources that can help you take the leap and start getting paid for what you're good at or passionate about.
Want to earn good money while working from home in your old favorite t-shirt? The No Pants Project can help make your vision come true.
Believing that freelancers should pursue the things they enjoy with people they like, The No Pants Project offers strategic approaches to achieving that. Apart from blog posts, readers can also find free training and browse case studies to enhance their skills.
Finding clients and getting paid reasonable rates are essential to successful self-employment, but these are also the things that people struggle with the most. Millo is dedicated to helping people overcome these struggles and turning their situation around.
From blogging guides to support groups, Millo offers a repertoire for both aspiring and current freelancers alike. The community also has a Facebook group where entrepreneurs and contractors can meet and chat.
Are you looking for inspiration to supercharge your work? Do you want to meet and partner with fellow innovators? 99U can be the key to turning your vision into reality.
Powered by Adobe, this resource offers the best career insights, strategic guides, and networking opportunities. Apart from useful articles, 99U also hosts annual conferences featuring industry leaders to educate and empower people into following their dreams.
Finding a lucrative source of income through freelance work is no longer a pipe dream. That's how it is for a third of Americans. If you're gearing up to be a part of this statistic, Double Your Freelancing can help.
A resource that aims to help people multiply their earnings, Double Your Freelancing is teeming with posts and guides about a myriad of topics. From writing proposals to pricing your services, it can help you tweak your practices for higher returns.
The platform also shares success stories to inspire readers. No time to read? No problem! You can still take advantage of this resource through the Double Your Freelancing podcast.
It's been said that the key to financial freedom is to let money work for you, instead of you working for the money. Having a passive income is one way to let money work for you. Smart Passive Income can help you find ways to do that.
Whether you are just starting a business or already enjoying steady stream of customers, Smart Passive Income can help you in your journey. They have blog posts, online courses, and a podcast for all types of freelancers.
Learning opportunities aren't limited to white paper and blog posts. Sometimes, the best lessons are shared in support groups and communities. Freelancers Union will expand your learning beyond digital media.
Apart from producing blog articles, the platform organizes weekly meetings across the USA for people to bolster their network or develop their ideas.
Find jobs, contribute to the community, or simply advertise. You can do all these and more at Work Awesome. The blog is a wealth of resources when it comes to helping people get better at their craft.
From starting a project to branching out to new ventures, you can do different things and generate exceptional results with the help of Work Awesome.
Work Made for Hire
Contract negotiation, legal advice and services, the technical aspect of publishing — some of the most important parts of your work can be the hardest to tackle. Luckily, Work Made for Hire can help you navigate your way into the tricky parts of business.
To make it as a freelancer, you need to go beyond skill-focused exercises and be more business savvy. Work Made for Hire provides credible legal services, produces business advice for creative people, and offers classes and workshops for contract negotiation and business protection.
20four7VA is a hub for both business owners and independent workers alike. For business proprietors, the blog has a myriad of articles ranging from finding business financing to brand management. For independent contractors, 20four7VA offers guides on how to be more productive as well as opportunities to find clients.
Make massive improvements with  your virtual assistant career or fast-track your business. Regardless of your position in the freelancing movement, you can find helpful and up-to-date resources from 20four7VA.
For writing and creative work: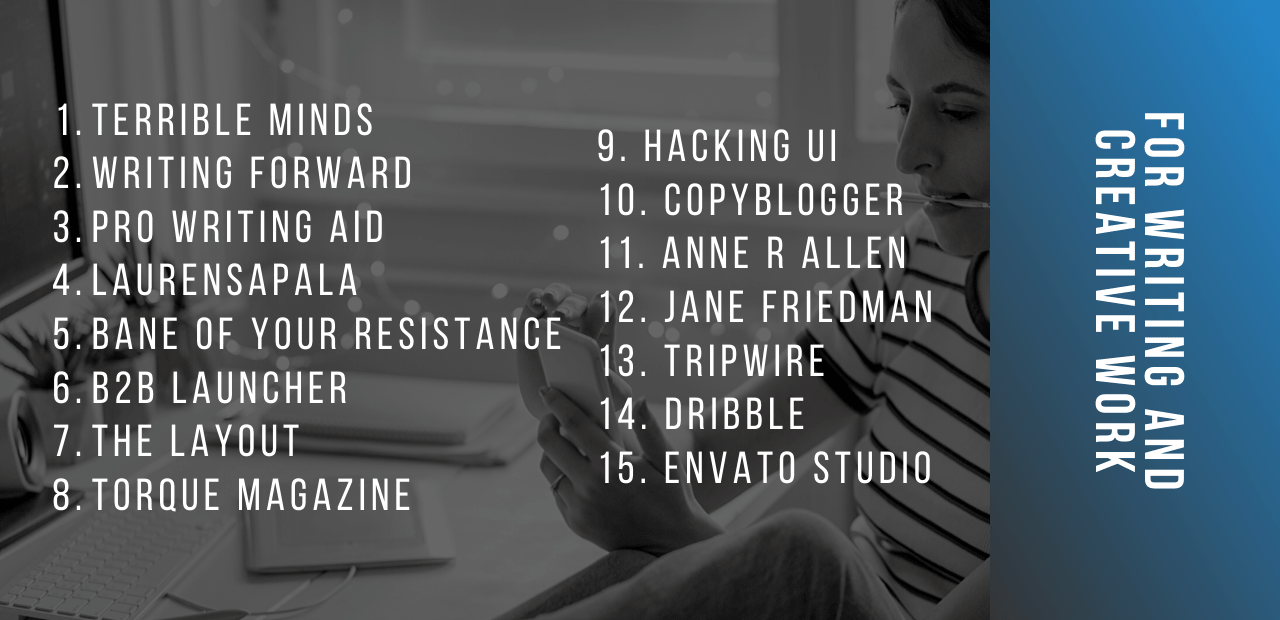 Authored by New York Times bestselling author Chuck Wendi, Terrible Minds provides meaty articles on creative work and content production in a fun read. Author and screenwriter Wendi offers a refreshing take on the art of writing while pushing readers to challenge norms and be innovators in their field.
At the age where simple, innocent mistakes can snowball into viral fiascos, reckless advertising can equate to thousands of losses for a brand. Your output needs to be clean, structured and inspired.
Writing Forward produces highly useful grammar instructions, writing prompts, and storytelling guides. Readers can browse through blog articles, save eBooks, and even get coaching for writing and content creation.
Learn to write better with the help of Pro Writing Aid, a blog that writers, marketers, and brand owners can find useful. It can help you improve your storytelling skills so you can captivate more readers and convey ideas better. Pro Writing Aid also offers coaching, a free grammar checker, and writing hacks.
Laurensapala.com isn't your average site for writing improvement. For one thing, even non-writers can find useful information here for sparking creativity. For another, the platform also offers personal coaching and video tutorials for a more comprehensive learning.
The methods that bestselling writer Lauren Sapala share have worked for many people as evidenced in the several reviews readers can peruse on the website.
Are you easily distracted? Does your perfectionism keep you from creating the project you envision? Get past internal and external interference and let your creativity flow with some help from Bane of Your Resistance. The website aims to help people overcome creative blocks and develop habits that boost productivity and work satisfaction.
Turning passion into profit can be a tough challenge for many creatives. B2B Launcher will help you think from a business perspective so you can finally monetize your skills and inherent strengths. B2B Launcher empowers, inspires, and guides people to create their own brand.
Powered by Flywheel, The Layout helps people create online platforms that they can build as a portfolio or offload to clients.
The Layout was established in 2012 and has since helped many web developers and designers make a name and a living by building WordPress sites.
Specially aimed at WordPress users, Torque magazine offers a wealth of tools, eBooks, videos, and blog articles for design and content creation. Here, both novice and expert brand owners, designers, and marketers can find answers and solutions to their concerns about building and maintaining a website.
Get practical tips and creative inspiration from Hacking UI. Apart from being a community for designers, entrepreneurs, and web developers, the platform also offers support through newsletters, podcasts, and blog posts.
Content continues to be a lucrative commodity in business today. If you are looking to create powerful content, the Copy Blogger site is for you. Users can get training and learn from study guides for content writing, copywriting, and marketing through this insightful blog.
Anne R Allen is the brainchild of writers Anne R. Allen and Ruth Harris. The blog helps users find creative inspiration, overcome self-doubt, and enjoy the creative process. The platform is teeming with fun, quirky, and useful advice on writing and social media etiquette.
Apart from publishing tips and guides, author of The Business of Being a Writer Jane Friedman shares her insightful take on marketing in her blog. The Jane Friedman site also offers online classes, downloadable speaking kits, and newsletters for further learning.
Tripwire magazine is a haven for web designers and design professionals. Get tutorials for graphics, web design, and typography to get better with your craft.
The site shares design and development tools, practical business guides on eCommerce, marketing, and social media, and inspiration for visual aesthetics.
Get tips for improving your craft while sharing your work at the same time. Dribble aims to help creatives build their portfolio and get paid doing what they do best. It produces podcast and blog posts, creates community, shares success stories, and provides meetup opportunities for business.
Covering a wide range of topics from marketing and web design to business and video production, Envato Studio is a must-follow for creatives and entrepreneurs. Envato Studio provides digital products like tutorials and courses while helping businesses connect with freelancers for hire.
For marketing, SEO, and eCommerce: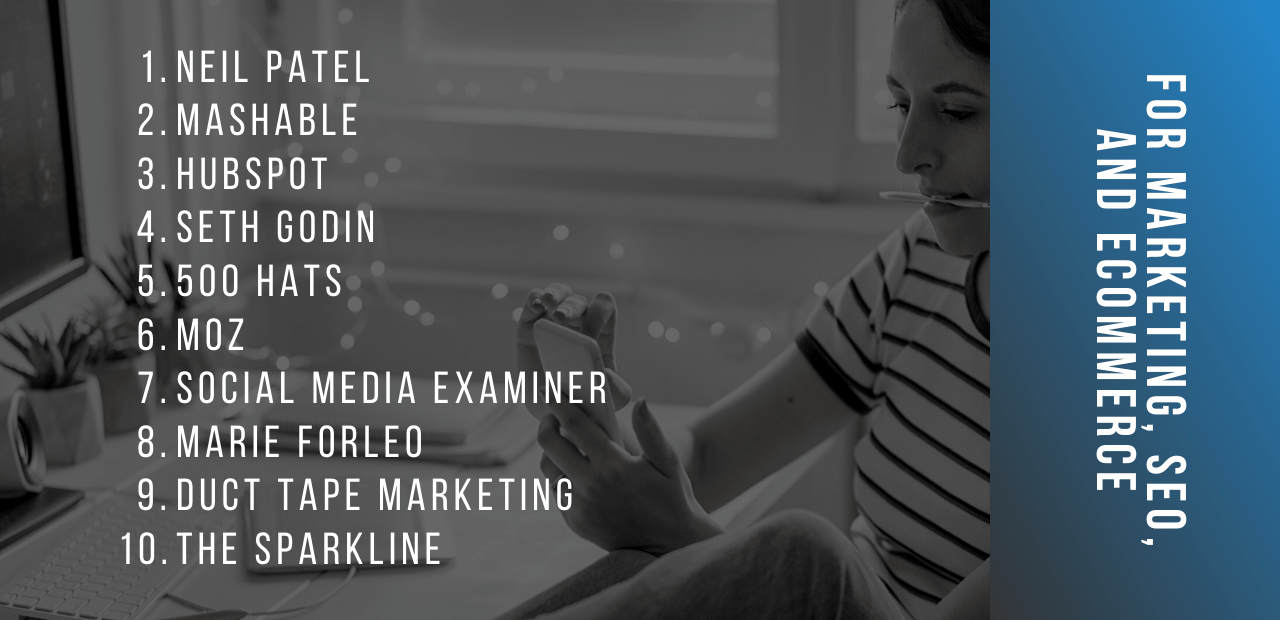 Digital marketing expert Neil Patel shares comprehensive tutorials and tips on how to impress both search engines and people. The marketing specialist's blog is a wealth of video tutorials and articles on how to make it big in the age of digital advertising. He's practically an institution in the digital marketing field and definitely a must-follow blog.
Find jobs, promote your brand, and find partners all in one blog. The Mashable draws the global community closer. Used by millions of active readers, Mashable educates its readers about technology and culture and helps creatives and entrepreneurs find their branding style.
To keep up with your market's demands, you must keep up with marketing trends. One of the best places to stay in the loop of things is the HubSpot blog. The website regularly posts advertising techniques and industry trends for boosting sales and improving marketing tactics.
Author and marketing specialist Seth Godin shares perceptive and innovative marketing techniques and creativity hacks. Through online courses, blog posts, and free eBooks, Seth Godin's blog educates and inspires at the same time.
Modern day marketing isn't complete without a nod to pop culture. The 500 Hats blog would help you strike a balance between branding and keeping up with trends. Get tips on how to stay true to your niche while relating to your audience better with 500 Hats articles, tutorials, and memes.
In the SEO industry, Moz is famed for its expert advice and highly comprehensive resources for marketing and branding. Find tutorials put together by industry leaders and receive email updates to help you with link-building, analytics, and local marketing.
The Social Media Examiner is more than just a place for reading articles and newsletters. Here, people can also listen to podcasts and sign up for events. The blog garners thousands of followers with its how-to articles, expert interviews, and free SEO and marketing tools.
Entrepreneur and content expert Marie Forleo shares her fun and inspirational take on business and advertising through her blog. Listen to Forleo's talks, watch interviews with industry experts, and take online exercises to improve your craft.
Don't get overwhelmed with the constantly changing marketing tides. Build a solid, effective action plan with help from Duct Tape Marketing. The website helps people grow their business, find more clients, and build a foolproof marketing system.
Powered by Fizzle, The Sparkline helps people clarify who their target audience is and find effective ways to zero in on them. With thorough guides, useful tools, and regularly updated articles, The Sparkline is a blog for finding motivation and support at the same time.
For discovering inspiration: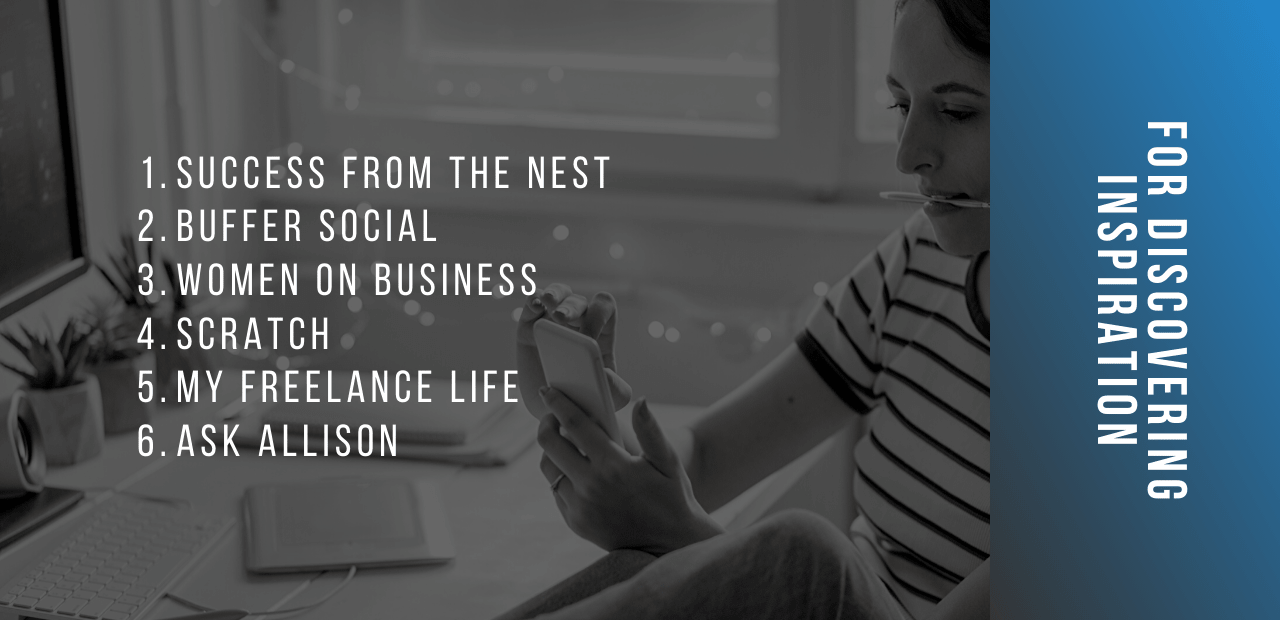 Don't get in the way of your own success! Know that the best blogs for freelancers to follow should also include sources of inspiration and productivity. Success from the Nest helps people overcome procrastination, so they can finally work on worthwhile, profitable pursuits.
Find out how the latest technology can boost, rather than impede, your productivity. The Buffer Social is a blog to help you leverage social platforms and the digital lifestyle. Through crash courses, articles, and webinars, the Buffer blog can help you find better engagement and build a stronger clientele without getting burned out.
Sometimes, the best way to stay motivated is to immerse in success stories and learn from people who have taken similar journeys as you. Women on Business is a blog by successful women who talk about their past challenges and how to overcome them. It's a site for all types of freelancers from all walks of life.
Learn from other people's stories of challenge and triumph, so you can create your own! The Scratch website is a wealth of work guidance, productivity secrets, and fun insightful interviews to help you stay motivated with your craft.
Being your own boss can be fulfilling – and gut-wrenching at the same time. Conquer self-doubt and thwart overwhelming responsibilities that come with being self-employed through My Freelance Life. Learn techniques to get you back on track through practical articles that you can find in this must-bookmark blog.
Are you in a creative slump? Don't know where to start with your career? For any doubts and questions you have on the freelance life, you can turn to Ask Allison for help. The blog is both a communication platform and learning site to help readers build confidence while building their business at the same time.
For web development and design: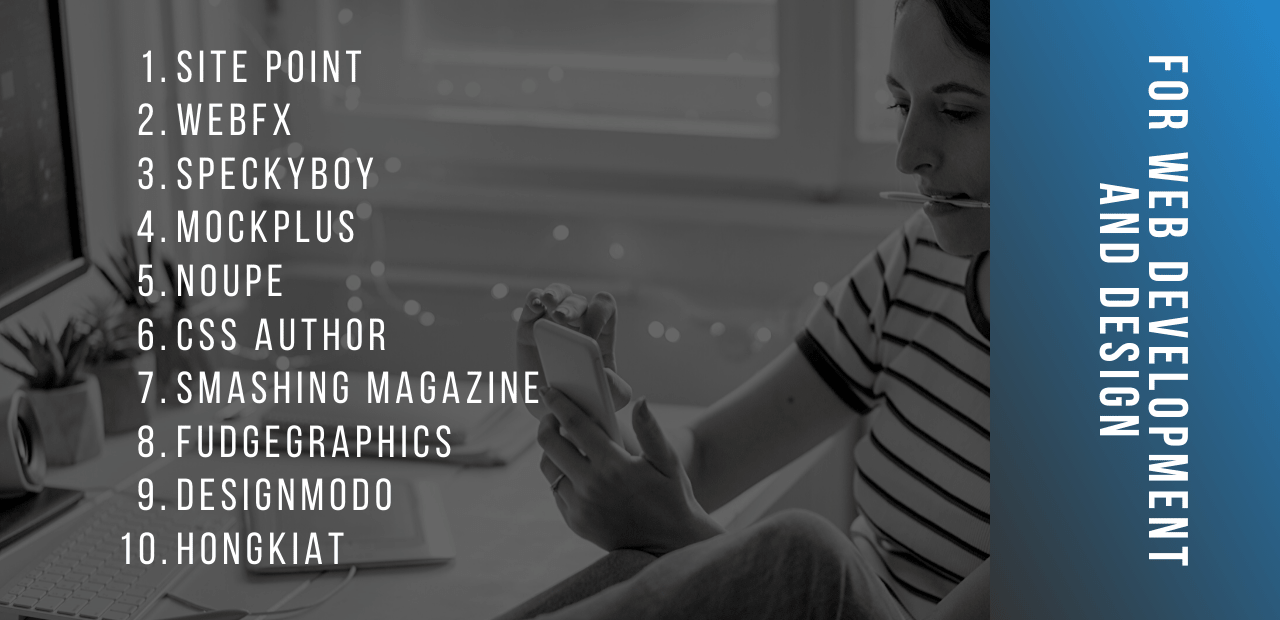 Learn the basics of web development and find business opportunities at the same time. The Site Point blog is the perfect place if you are looking to do both. Offering help and tutorials on JavaScript, Advanced CSS, Bootstrap and a whole lot more, the blog is for novice and expert web developers.
Established in 1996, WebFX, previously Webpagefx, has helped thousands of web designers, marketers, and web developers launch and grow their business. Compiling expert-made tutorials and tools, the WeFX blog produces professional and easy-to-read content.
Speckyboy isn't your run-of-the-mill blog on web design and development. Apart from tutorials and guides, it also touches on the psychological relationship between readers and web design.
Produce better output and find ways to make work easier and more satisfying. Mockplus is just the blog to help you achieve this. This platform provides wide-ranging tools and resources for prototyping, creative design systems, and web templates.
Get updates on the web development industry news while boosting your skills at the same time. Noupe helps readers develop on different aspects of web development including graphics, JavaScript, and advertising.
Build better output without breaking the bank. CSS Author teems with free templates, icons, and wallpapers to help you create outstanding work. The blog also publishes articles for design inspiration and tutorials for web improvement.
Looking for ways to easily understand and master web development can be tricky. Smashing Magazine would help you get down with the basics. The blog offers a wealth of resources for different web design and development aspects like HTML, CSS, and typography.
As a freelancer, you need all the help that you can get with producing quality output using affordable tools. Fudgegraphics as powered by DeviantArt provides free vectors, textures, and brushes to help designers turn their vision into reality.
A blog for both beginners and advanced designers, Designmodo publishes tutorials and articles for coding, design, and WordPress. Users can find support and tips on how to build responsive websites through the Designmodo blog.
Need photoshop lessons? Looking for design inspiration? Get web design and development help through inclusive tools from Hongkiat. Put together by experts, the how-to articles and tutorials in Hongkiat are work essentials for designers, developers, and bloggers.
For networking and support: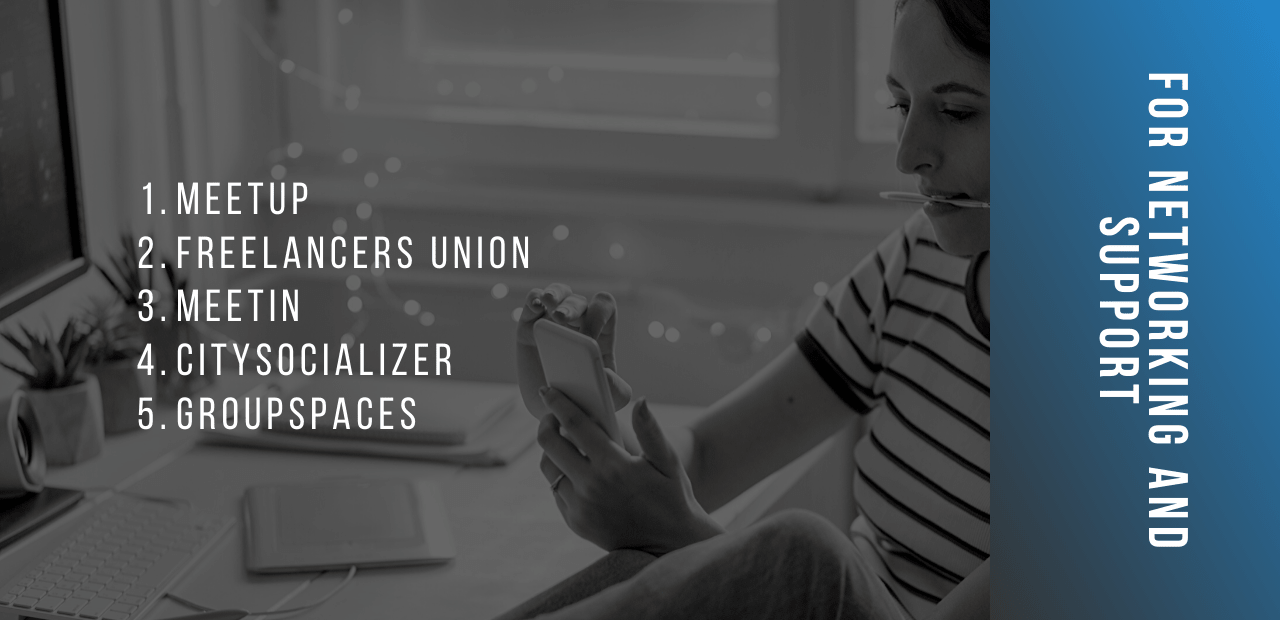 Find the best community for your line of work and take classes at the same time! Meetup is a place for learning and networking. The blog helps people break isolation that can come with virtual work through trustworthy communities.
Discuss, collaborate, or just vent – the Freelancers Union helps freelancers find the best connections for their needs. Apart from community, the blog also offers job opportunities and business collaborations.
Aiming to bring people from different industries together, MEETin is a blog to find collaboration, encouragement, and learning. Through the blog, users can sign up for events and meet people with similar interests and struggles. Unlike similar platforms, MEETin does not charge fees for signing up.
 Attend cool gigs while improving your craft at the same time. CitySocializer is a social app available for both Apple and Android users. The platform helps users meet people from the same industry for collab opportunities or just plain hanging out.
Group Spaces is a platform for helping people build communities or organize events. Other features of the platform include creating email lists and archiving data from online meetings.
Learn, stay inspired, and find support. Make the most of the freelance lifestyle when you bookmark these top freelance blogs this coming year!
If you want to have the flexibility of freelance work and the stability of regular employment, you might also want to look into becoming a virtual assistant. Click here to apply as a virtual assistant on 20four7VA!
Recommended Reading: Top 8 Outsourcing Platforms of 2020