How to Become a Part-Time Virtual Assistant

In today's fast-paced world, idle time is a thing of the past. When people are not working on their full-time jobs, they try to spend their time traveling, hanging out with friends, enjoying family time, volunteering, cultivating their hobbies, and so on. For some, a few hours of extra time gives them an opportunity to increase their income.
If you want to spend your spare time increasing your cash flow, applying for a part-time job is an excellent idea. However, whether you want to work part-time on top of your full-time job or to add to your family income if you're a stay-at-home mom or dad, it can be difficult to find a job that will allow you freedom and flexibility. Good thing it's now an option to work from home as a part-time virtual assistant.
Whatever your reasons are for wanting to become a part-time virtual assistant, you need to ask yourself a few questions first to determine whether working as a VA is actually the right career decision for you.
Questions to ask yourself before becoming a virtual assistant
Did you know that 97% of freelancers are reportedly happier than regular employees? This encouraging statistic has many office employees raring to go freelance and work from the comfort of their homes. However, it's also important to realize that working from home as a freelancer or as a provider of virtual assistant services isn't all fun and games.
There are certain types of people who really aren't cut out for the virtual assistance industry whether it's because they don't have the equipment and work environment needed to work from home or simply because they don't have the right personality to succeed as a VA.
If you want to become a virtual assistant, whether for part-time or full-time work, you need to ask yourself the following questions first: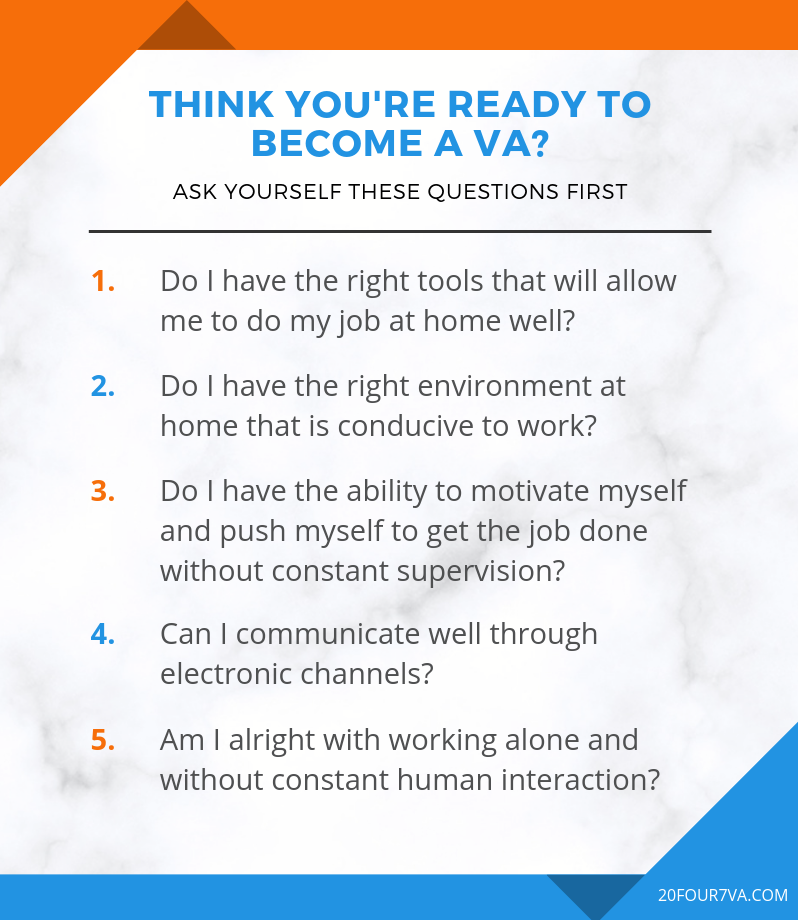 Do I have the right tools that will allow me to do my job at home well?

Do I have the right environment at home that is conducive to work?

Do I have the ability to motivate myself and push myself to get the job done without constant supervision?

Can I communicate well through electronic channels?

Am I alright with working alone and without constant human interaction?
If you said yes to all these questions, then you're off to a good start. If you said no to at least one of them, you might want to reevaluate your decision about working from home as a virtual assistant.
Virtual assistants need to have the right tools (computer, high speed internet connection, etc) and environment (quiet with minimal distractions) in order to be productive as they work remotely. They also need to be able to work with minimal supervision, manage their time well, and motivate themselves to get the job done on their own.
Home-based workers also need to be comfortable working alone for long stretches of time. This means that they need to be able to communicate well and keep in touch using electronic means such as chat, emails, and calls.
Preparing to apply as a virtual assistant
If you're fully decided to work as a virtual assistant (VA), finding a part-time job is a great way to start. This will allow you to test the waters and truly see whether you want to keep working in the virtual assistant business. Eventually, you can decide to provide VA services full time or keep it as a supplement to your other sources of income.
Here are some things you need to do before you start looking for work as a part-time VA: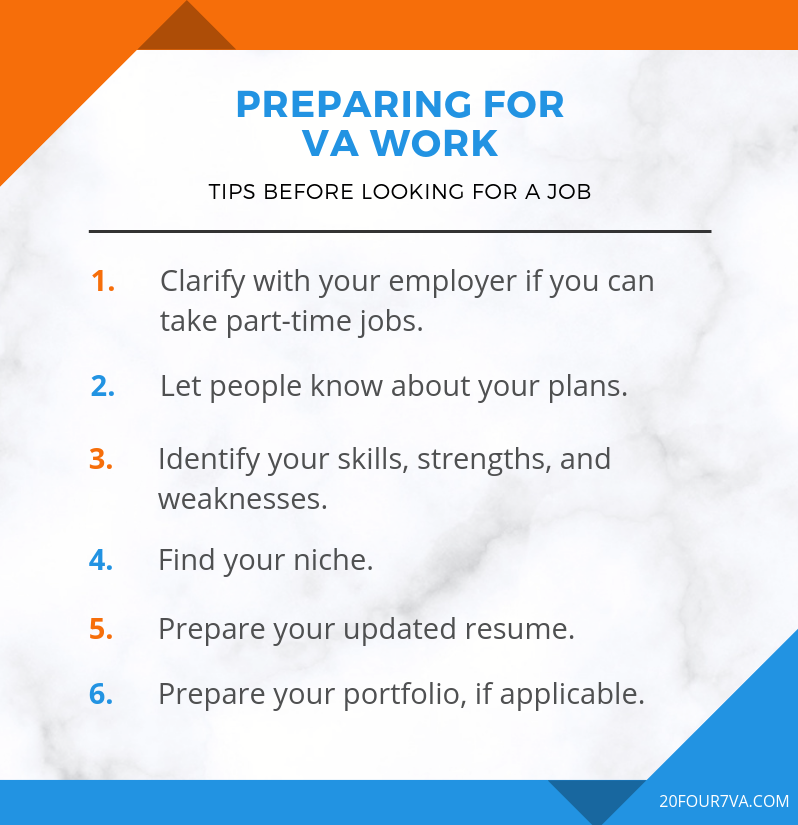 If you're employed, clarify with your employer if you're allowed to take on part-time jobs.
You don't want to lose your regular or full-time job, so you have to make sure that it's alright with them if you take on a part-time job. Most companies are fine with their employees working part-time as long as it's not for their direct competitors or as long as it doesn't present a conflict of interest.
If you're unemployed but have other responsibilities that take up your time, let the relevant people in your life know that you will be devoting some of your time on working as a part-time VA.
Even if you'll only be working for 10 or 20 hours a week, it will still cut into the time you're currently spending on other things, so make sure everyone involved is informed about your decision. It will also help them keep from disrupting you during your work hours.
Identify your skills, strengths, and weaknesses.
Knowing where your professional strengths lie is essential when it comes to filtering out jobs that you can do and jobs that you don't need to waste your time on at all. Make a list of your skills, strengths, and weaknesses to help you during your job hunting process.
After listing down your skills, it's time for you to find your niche next. Are you skilled at social media management or are you better at providing customer service for an online business? Maybe you're great at doing administrative tasks such as making travel arrangements or doing transcriptions. Use your skills and work experience to find the perfect niche for your VA business.
Recruiters and small business owners who are looking to hire virtual assistants usually have very little time to read resumes. Make sure to stick to your most recent/important achievements and most relevant work experience only. You may even consider creating different variants of your resume depending on what part of your work experience or skills are needed for the job you're applying for.
Not all types of virtual assistant jobs will require a portfolio, but if you're applying in fields like content writing, graphic design, web or software development, and other specialist fields, having a well-curated and impressive portfolio definitely helps.
Finding part-time virtual assistant jobs
There are many ways and approaches when it comes to finding clients who are looking for part-time virtual assistants.

The most common way is to sign up for freelancer job boards or online job boards and start searching for potential clients there. The one downside to this is that online job boards are usually saturated with VAs already. This leads to an uncontrolled marketplace where you either have to really reduce your asking price in order to get jobs or stick to a competitive rate and watch as others with much lower asking rates get the jobs you want.
Another way of finding part-time virtual assistant jobs is through forums and social media groups. Some clients post potential jobs here, and rates are usually reasonable. The downside is that these platforms don't provide a guarantee or insurance when it comes to jobs posted on their site. This results in many VAs getting clients that don't pay after the VA submits their work or clients who try to reduce the agreed-upon price when it's time to pay the VA.
Your third option is to apply at a virtual staffing company. Trusted virtual staffing companies typically have a stricter screening process, but once you become part of their VA pool, you can be endorsed to various clients. They can also take care of HR, admin, and payroll stuff, so you don't have to worry about anything else except from doing the work that your client gives you. Some really good virtual staffing companies like 20Four7VA even provide free upskilling classes and training to their VAs!
Balancing your time as a part-time virtual assistant
Found the perfect client for you? It's time to negotiate! For part-time virtual assistants, negotiating a schedule that works for both you and your client is incredibly important.
You have to be upfront with your client and tell them that you have other responsibilities, such as your full-time job, volunteer work, or responsibilities at home. This means that you can't be available for them 24/7. However, you also need to assure them that when you're clocking hours for them, you're 100% focused on doing the tasks they assign to you. You just need to work out a system that works.
On your part, you have to work hard to always be present when you say you will. Making a great impression on your first clients will really help you out, especially if you want to keep working as a part-time VA or if you want to transition into full-time VA work eventually.
Ready to become a part-time VA? Let us help you out — click here to apply. Good luck!