Top 8 Outsourcing Platforms of 2020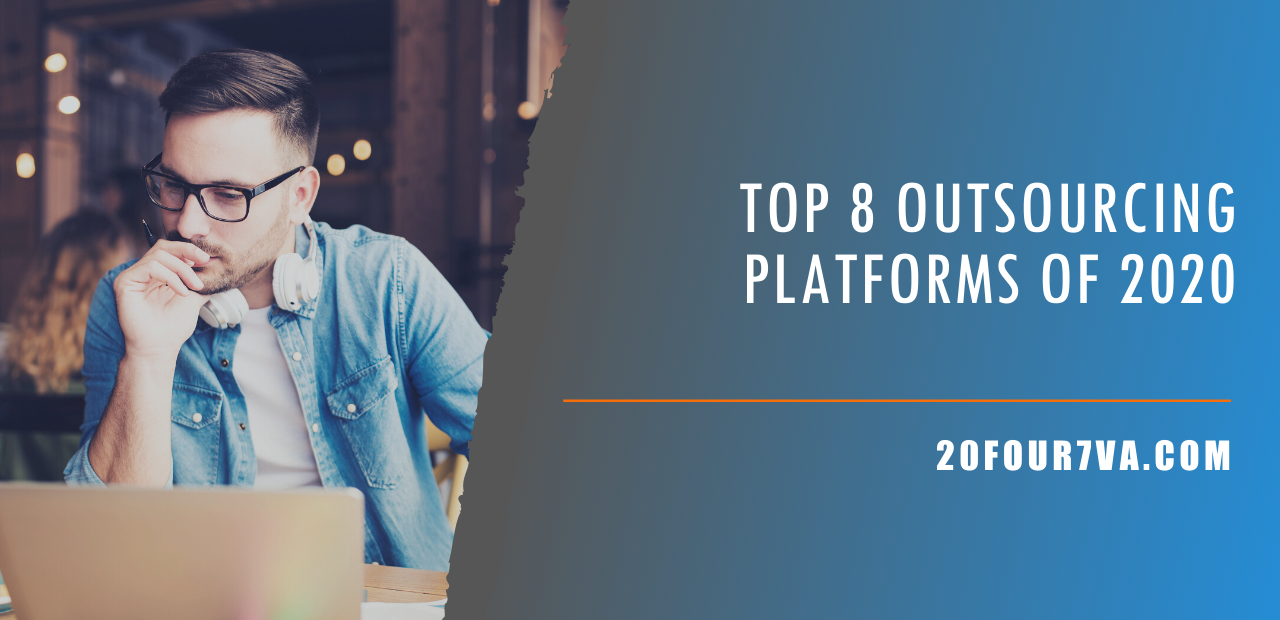 One of the many benefits of running a business today is the easy availability of virtual assistance. By hiring a virtual assistant, you no longer have to do every single important task that comes with running your business nor do you have to spend a lot on hiring full-time local staff. However, effective virtual assistance isn't always guaranteed. Remember, finding the best virtual assistant for the job starts with finding the best outsourcing platforms.
Things to Consider When Choosing Where to Outsource From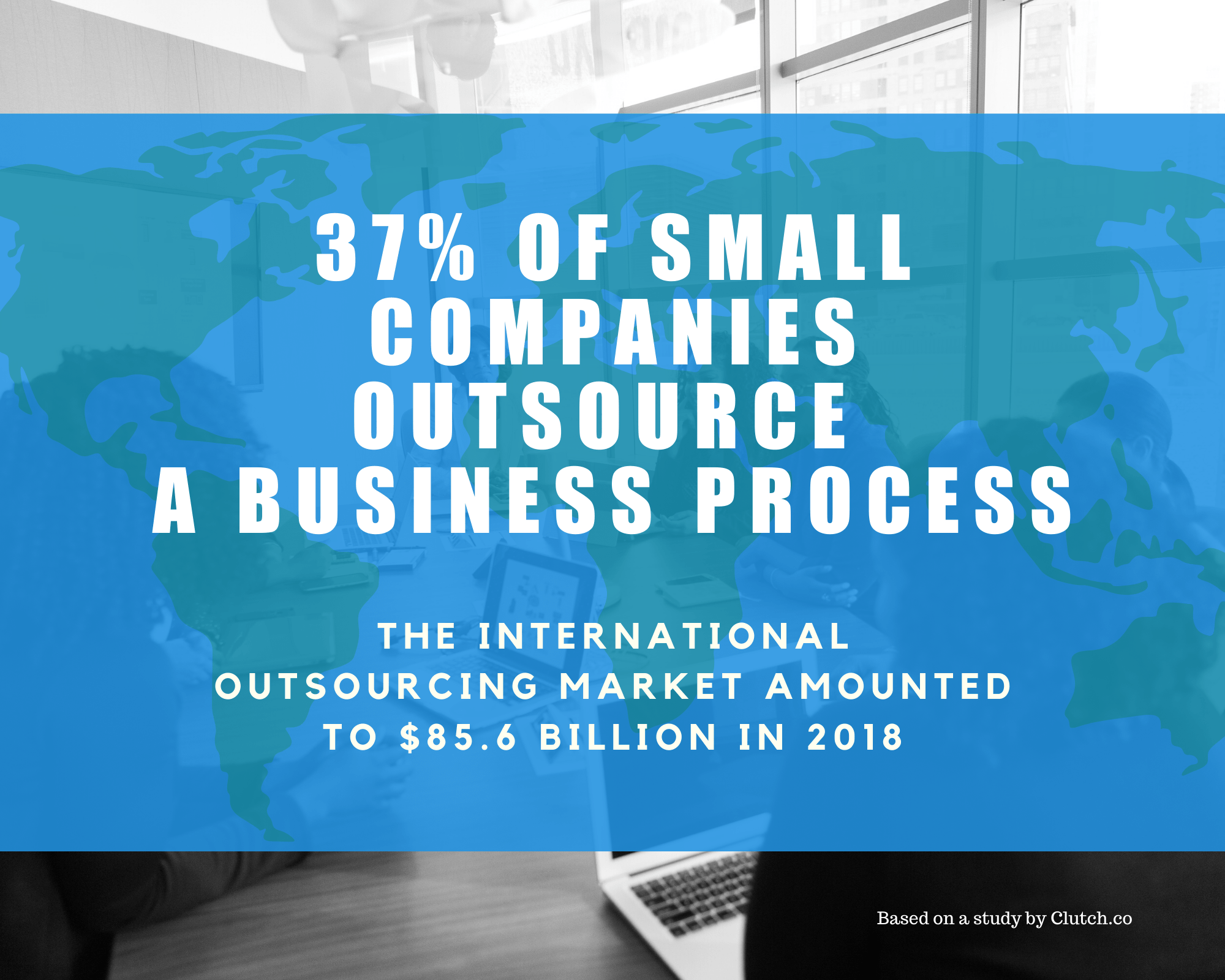 The sheer number of outsourcing resources available today can be overwhelming, especially for businesses without previous experience with virtual staffing. And with over a third of small businesses looking into outsourcing to solve their business problems, knowing how to outsource properly has become extremely important.
Before you delve into the world of virtual assistance, you need to establish your reasons for outsourcing and your expectations from hiring a VA first. Having a proper understanding of why you need a VA for your small business is key to a good start in your virtual work relations.
Different companies have different reasons for hiring a VA, but it still pays to know what factors to look for in an outsourcing firm. For one thing, this will help you determine the credibility and qualifications of your prospect VAs. For another, this is a good way to gauge the kind of support you can expect from the outsourcing company.
3 qualities of a good outsourcing firm
Comprehensive Hiring Support. Pooling the most qualified candidates, making sure each one has relevant skills or experiences, evaluating task-specific competences – these are all necessities when hiring employees. These responsibilities take up a huge chunk of time and professional guidance to be done properly. It's best to find an outsourcing platform that offers extensive hiring support so you can get off to a good start.
Commitment to Training and Employee Development. You know an outsourcing online platform is worth the investment when it helps beyond the hiring and recruitment process. Make sure to choose one that offers relevant and up-to-date training and overall employee improvement appraisals. This is how you make sure that you work with a VA who is abreast with your industry while being committed to their profession.
Credible and Solid Transition Process. If it's your first time outsourcing, the whole procedure can easily get confusing and convoluted. What does employee management mean for you? How do you ensure your processes are followed, your company culture is upheld, and philosophy accomplished? Your outsourcing firm should help ease you into the process. Its transition procedure must be proven and solid enough that outsourcing business processes will prove to be a breath of fresh air for you, rather than a tangled mess.
Top Outsourcing Platforms of 2020
Now that you know the important factors to consider when looking for a partner outsourcing firm, it's time to find out the different performing companies today.
Here are the top 8 outsourcing platforms to choose from this 2020:
20Four7VA
Upwork
Freelancer
Guru
Fiverr
People Per Hour
Toptal
99 Designs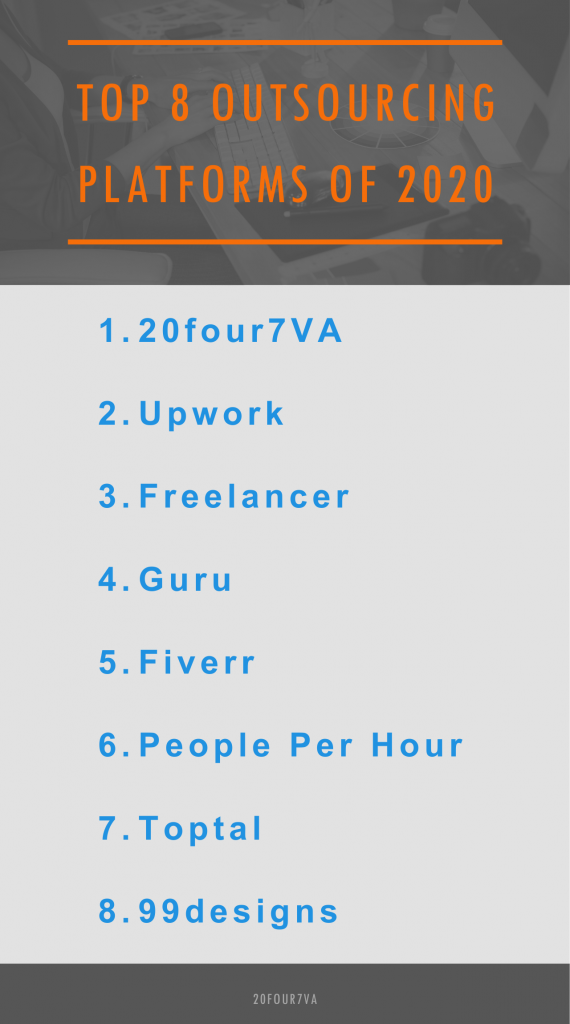 If you want to work with a company that truly understands what your business needs, 20four7VA is the way to go. The company has been on both sides of the virtual staffing fence: it started out as a company needing cost-effective but highly efficient human resources and developed into a company that supplies them.
This journey enabled 20four7VA to know the ins and outs of remote staffing and truly understand what companies are looking for in a virtual assistant. A champion of diversity, it now serves 199 clients spanning across 6 continents.
Why choose 20four7VA:
20four7VA lists 12 reasons that make them the best partner outsourcing firm. Here are some of them:
Fast Turnaround.

20four7VA can match business owners with a VA just 48-72 hours after the job description has been authorized.

Hassle-free Payment.

The company makes easy payment available to clients. With zero upfront fees or long-term commitments, clients can just pay for weekly services through PayPal.

Expert Work.

With an 8-step hiring process for VAs, companies have the privilege to choose from a pool of vetted specialists. The company is a hub of VAs specializing in SEO, content, design, and web development.
Even big companies can need virtual assistance. Upwork has both pools both individuals and agencies to help cater to larger business sizes. To help cater to all sorts of business sizes, they offer two types of subscriptions – self-service and enterprise. Upwork also gathers talent from four different English-speaking nations – USA, UK, Canada and Australia – and you can choose from one of these specific countries for a better cultural or time zone fit to your market.
Why choose Upwork:
Flexible Payment Types.

You can choose to hire a team hourly or fixed-price via escrow for work you want them to do.

Access to Individuals and Agencies.

Big needs sometimes take time to fill, but Upwork's access to talent agencies as well as individuals helps them cater to larger scale requests.

Ease of Use.

Upwork generates a shortlist of qualified professionals quickly, and their team helps you throughout onboarding and engagement.
If you prefer posting your job in a marketplace instead of having an agency match you with prospects, Freelancer offers a secure forum for you. You can browse portfolios, set your budget, and chat with freelancers to help you choose the right one for you. This option is best if you want to be more involved with the selection process, but can take more time and effort than going through an agency.
Why choose Freelancer:
Self-service.

If you have the time and would prefer to browse for professionals yourself, Freelancer lets you look through portfolios on your own.

Bidding System.

Write your job specifications and just wait for different professionals to bid on your job. This way, pricing is strictly agreed upon before work begins.

Pay Upon Completion.

Only pay once the job's done, and when you are 100% satisfied with the work done.
Guru has a network of offshore freelancers you can choose from. Like Freelancer, it has a bidding system in place, which can give you an edge when you don't know the market price for the jobs you want to be done.  Just post a job, wait for quotes, and choose the best freelancer for you.
Why choose Guru:
Flexible Pricing Terms.

Choose between fixed, hourly, task-based or recurring, depending on your business needs

Pay Per Milestone.

For long-term projects, you can choose specific project milestones and pay when those are reached. This way you still get a fixed price while remaining fair to freelancers.

Credible Talent.

Guru publishes feedback scores of their freelancers to help you choose reliable, tested professionals.
[grwebform url="https://app.getresponse.com/view_webform_v2.js?u=wGNEh&webforms_id=24944503″ css="on" center="off" center_margin="200″/]
Not sure yet exactly what you want, and not yet ready to take the step to call an agency to help you identify your needs? Fiverr lets you easily browse available professionals on their platform for all kinds of jobs. Just search for the different jobs you're thinking of getting, and see if what the different freelancers offer to fit what you're looking for.
Why choose Fiverr:
Browse Through Available Professionals.

Type in the job you want to be done and browse through available portfolios and profiles.

Upfront Pricing.

Always know exactly how much you will pay once the job is complete. Freelancers directly quote a price.

Payment Protection.

Fiverr only releases your payment to the freelancer once you approve that you're satisfied with the job they've done.
Need something done fast? People per hour offers a straightforward and prompt virtual service.
The company consists of a community of specialists that you can work within minutes. Whether you need SEO help, video production, or translators, People Per Hour helps you find the right person for the job.
Why choose People Per Hour:
Speedy Assistance.

The ability to hire people on short notice makes People Per Hour more and more popular.

Fixed Service Rates.

No need to spend time working out a program. You can find fixed rates for specific jobs in People Per Hour.

Easy Collaboration.

Clients using People Per Hour has access to a structured checklist and communication threads to make remote working stress-free.
Toptal offers "top talent" via a rigorous screening process for their freelancers. They have a pre-vetted pool of freelancers you can hire as quickly as within 48 hours, depending on your needs. Toptal can help you hire elite independent contractors quickly and effectively.
Why choose Toptal:
Pre-screened Candidates.

Toptal screens talent before they introduce freelancers to you, so you can expect your candidates to be good quality.

Specialized Future-Driven Work.

Toptal's talent pool includes freelancers with highly specialized tech skills like blockchain and AI.

No Recruitment Fee.

No need to pay per hire, unlike some other agencies.
99designs is a Melbourne, Australia based company that specializes in providing excellent design talent to prospective businesses. Their niche focus guarantees that you work with only top-notch designers, so you don't have to worry about receiving subpar results. Whether you need branding, packaging design, or app design, you can find all that in 99designs.
Why choose 99designs:
Specialized Talent.

As its name suggests, 99designs specializes in providing just designers – so they can focus on providing high-quality designers for your needs.

All Kinds of Design.

They have all sorts of designers – from bottle labels to web design, you can be sure to find an excellent freelancer.

Quick Turnaround.

Because the freelancers are very versed in their speciality, they are quick to understand requirements and simple tasks are completed quickly.
Each of these platforms has its own specialities and considerations. Need a quick comparison? Here's a quick look at what they offer:
| | | | | | |
| --- | --- | --- | --- | --- | --- |
| | Multidisciplinary | Recruitment/ Service Fee | Platform Fee | 24/7 Customer Support | Candidate Matching |
| 20four7VA | ✔ | | | ✔ | ✔ |
| Upwork | ✔ | | ✔ | ✔ | ✔ |
| Freelancer | ✔ | | ✔ | | |
| Guru | ✔ | ✔ (for basic tier only) | ✔ (for all other tiers) | | |
| Fiverr | ✔ | ✔ | | ✔ | |
| People Per Hour | ✔ | ✔ | | | ✔ |
| Toptal | ✔ | | | ✔ | ✔ |
| 99designs | | | | | ✔ |
Ready to bring your business to the next level? Use this resource to help you handpick the best outsourcing platforms and virtual assistant providers for your company.
Recommended Reading: 60 Tasks You Can Outsource to a Virtual Assistant Team to Grow Your Business