Top 15+ Outsourcing Platforms 2023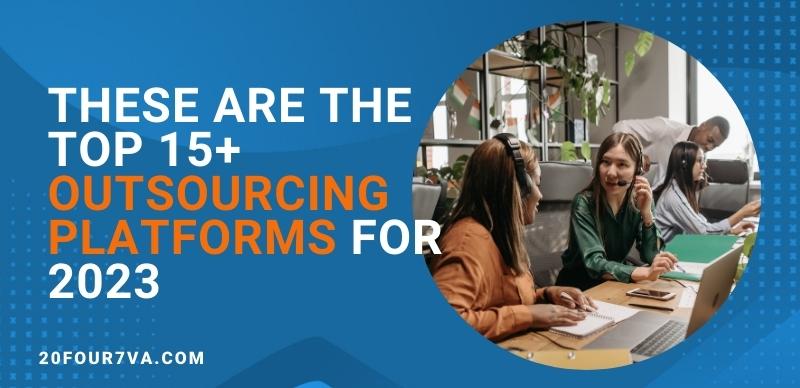 Outsourcing is a process by which companies outsource their internal needs for goods or services. This can mean anything from customer relationship management, infrastructure maintenance, and data entry to manufacturing – all without changing the core business that makes them who they are. Today, outsourcing is an integral part of many successful businesses because it allows them to save money and increase productivity while maintaining quality control over everything happening within the company.
Outsourcing has been evolving quickly in recent years because many businesses, including small businesses, are now turning to online outsourcing to expand their operations and gain a competitive edge. Many businesses continue to outsource processes that don't directly contribute to the core of their business. In fact, US companies outsource more than 300,000 jobs every year.
One of the many benefits of running a business in 2023 is the easy availability of professional freelancers and virtual assistance providers. By hiring a virtual assistant (VA), you no longer have to do every single important task that comes with running your business, nor do you have to spend a lot on hiring full-time employees. However, hiring freelance talent doesn't always mean results are guaranteed. Remember, finding the best virtual assistant or virtual team for the job starts with finding the best outsourcing platforms.
Top outsourcing providers continue to rise because many businesses are becoming more aware of the benefits of outsourcing. It is anticipated that many companies will continue to hire freelancers from outsourcing websites to continue finding smart solutions for business problems and enhancing their overall operations.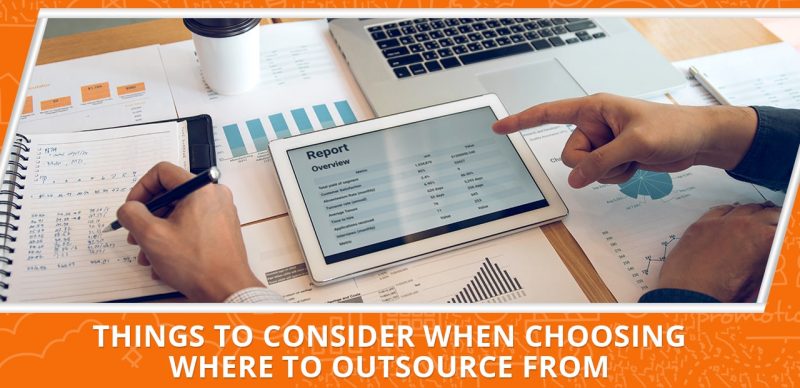 Things to Consider When Choosing Where to Outsource From
Before looking for an outsourcing services platform, business owners need to be aware that it is important to fully assess their business first. It will help determine the potential benefits and risks of outsourcing for your business. Here are some of the factors you need to consider during the assessment process:
Cost-efficiency of outsourcing – While outsourcing yields cost savings in labor, it also involves additional upfront expenses.
Knowledge transfer – Outsourcing may pose the risk of hindering knowledge transfer within your company, which can result in loss of intellectual property.
Business continuity and change management issues – Outsourcing carries both pros and cons; therefore, businesses should plan the best way to move their business forward. They should also prepare for future change management and business continuity issues.
Risks involved – Outsourcing carries a few risks, such as information security or cross-cultural disputes. While an outsourcing company can give you access to a pool of talent, it may not always guarantee the best results. Businesses should carefully assess these risks and figure out ways to mitigate them before outsourcing.
Qualities of a Good Outsourcing Company
The online outsourcing industry is highly competitive. Therefore, outsourcing service providers should have the best services and top-notch support to set themselves apart. An outsourcing online platform needs to be able to provide excellent customer service and timely updates to clients as well. Online outsourcing companies should also be able to ensure the confidentiality of the information shared by their clients. They can guarantee this by ensuring strict standards of confidentiality and addressing outsourcing needs promptly. Here are more qualities to look for when choosing an outsourcing agency.
Comprehensive Hiring Support
Pooling the most qualified candidates, ensuring that each one has relevant skills or experiences, and evaluating task-specific competencies – all are necessary when hiring freelancers. Unfortunately, these responsibilities take up a huge chunk of time and recruitment knowledge. It's best to work with outsourcing websites that offer extensive hiring support so you can get off to a good start.
Commitment to Training and Employee Development
You know that an online outsourcing company is worth the investment if they help beyond the hiring and recruitment process. Make sure to choose one that offers relevant and up-to-date training programs and employee improvement appraisals. This is how you make sure that you work with a VA who keeps their skills updated and is committed to providing an excellent service.
Credible and Solid Transition Process
If it's your first time outsourcing, the whole process can easily get confusing and convoluted. What does employee management entail? How do you ensure your processes are followed, your company culture is upheld, and your philosophy accomplished? How do you find freelancers with previous experience to be a part of a large project or work under project managers?
Your outsourcing firm should help ease you into the process. Its transition procedure must be proven and solid enough that outsourcing business processes will prove to be a breath of fresh air for you rather than a tangled mess.
Now that you know the important factors to consider when looking for a partner outsourcing firm or the best outsourcing websites, it's time to learn which websites to hire freelancers from.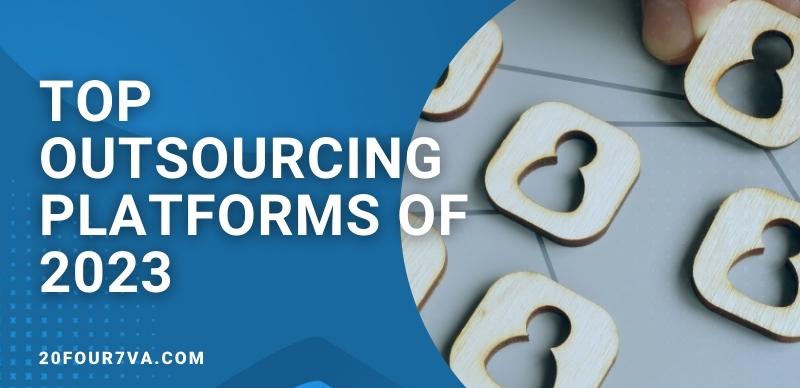 HERE ARE THE TOP 15 OUTSOURCING PLATFORMS TO CHOOSE FROM THIS 2023:
20Four7VA

Upwork

Freelancer

Guru

Fiverr

People Per Hour

Toptal

99 Designs

Gigster

Airfleet

Outsourcely

Writer Access

Workhopper

YouCo

DesignHill
If you want to work with a company that truly understands what your business needs, 20four7VA is the way to go. The company has been on both sides of the virtual staffing fence: it started as a company needing cost-effective but highly efficient human resources and developed into a company that supplies them.
This journey enabled 20four7VA to know the ins and outs of remote staffing and truly understand what companies are looking for in a virtual assistant. A champion of diversity, it now serves 199 clients spanning 6 continents.
Why choose 20four7VA:
20four7VA lists 12 reasons that make them the best partner outsourcing firm. Here are some of them:
Free pairing service.

20four7VA match business owners with up to three screened and vetted VA candidates for free. You only need to pay once your VA starts working for you! 

Hassle-free Payment.

The company makes easy payment available to clients. With zero upfront fees and no long-term commitments, clients can just pay for weekly services conveniently through PayPal.

Expert Work.

With an 8-step hiring process for VAs, companies have the privilege to choose from a pool of vetted specialists. The company is a hub of VAs with admin VAs, eCommerce VAs, telehealth VAs, and VAs with specialist skills, including SEO, content writing, graphic design, and web development.
Even big companies need virtual assistance. Upwork has pools for both individuals and agencies to help cater to larger business sizes. To help cater to all sorts of business sizes, they offer two types of subscriptions – self-service and enterprise. Upwork also gathers talent from four different English-speaking nations – the USA, UK, Canada, and Australia – You can choose from one of these specific countries for a better cultural or time zone fit to your market.
Why choose Upwork:
Flexible Payment Types.

You can choose to hire an entire team hourly or fixed price via escrow for a particular task or work you want them to do.

Access to Individuals and Agencies.

Big needs sometimes take time to fill, but Upwork's access to talent agencies as well as freelancers helps them cater to larger scale requests.

Ease of Use.

Upwork generates a shortlist of qualified professionals quickly, and their team helps you throughout onboarding and engagement.
If you prefer posting jobs in a marketplace or job sites instead of having an agency match you with prospects, Freelancer offers a secure forum for you. You can browse portfolios, set your budget, and chat with freelancers to help you choose the right one that matches your needs. This option is best if you want to be more involved with the selection process, but it can take more time and effort than going through an agency.
Why choose Freelancer:
Self-service.

If you have the time and would prefer to browse for freelancers yourself, Freelancer lets you look through portfolios on your own.

Bidding System.

Write your job specifications and just wait for different freelancers to bid on your job. This way, pricing is strictly agreed upon before work begins.

Pay Upon Completion.

Only pay once the job's done and when you are 100% satisfied with the work done.
Guru has a network of offshore freelancers you can choose from. Like Freelancer, it has a bidding system in place, which can give you an edge when you don't know the job market price for tasks you want done. Just post a job, invite freelancers, wait for quotes, and choose the best one for you.
Why choose Guru:
Flexible Pricing Terms.

Choose between fixed, hourly, task-based, or recurring, depending on your business needs.

Pay Per Milestone.

For long-term projects, you can choose specific project milestones and pay when those are reached. This way, you still get a fixed price while remaining fair to freelancers.

Credible Talent.

Guru publishes feedback scores of their freelancers to help you choose reliable, tested professionals.
Not sure yet exactly what you want and not yet ready to take the step to call an agency to help you identify your needs? Fiverr lets you easily browse available professionals on their platform for all kinds of jobs. Just search for the different jobs you're thinking of getting, and see if what the different freelancers offer to fit what you're looking for.
Why choose Fiverr:
Browse Through Available Professionals.

Type in the job you want to be done and browse through available portfolios and profiles.

Upfront Pricing.

Always know exactly how much you will pay once the job is complete. Freelancers directly quote a fixed price or even hourly rates should you ask for it.

Payment Protection.

Fiverr only releases your payment to the freelancer once you approve that you're satisfied with the job they've done.
Need something done fast? People per hour offers a straightforward and prompt virtual service.
The company consists of a community of specialists that you can work with within minutes. Whether you need SEO help, data entry, video production, or translators with a tight turnaround time, People Per Hour helps you find the right person for the job.
Why choose People Per Hour:
Speedy Assistance.

The ability to hire freelancers on short notice makes People Per Hour more and more popular.

Fixed Service Rates.

No need to spend time working out a program. You can find fixed rates for specific jobs in People Per Hour.

Easy Collaboration.

Clients using People Per Hour have access to a structured checklist and communication threads to make remote working stress-free.
Toptal offers "top talent" via a rigorous screening process for their freelancers. Depending on your needs, they have a pre-vetted pool of freelancers you can hire as quickly as 48 hours. Toptal can help you hire elite independent contractors quickly and effectively.
Why choose Toptal:
Pre-screened Candidates.

Toptal screens talent before introducing freelancers to you, so you can expect your candidates to be of good quality.

Specialized Future-Driven Work.

Toptal's talent pool includes the best freelancers with highly specialized tech skills like blockchain and AI.

No Recruitment Fee.

No need to pay per hire, unlike some other agencies.
99designs is a Melbourne, Australia-based company that specializes in providing excellent design talent to prospective businesses. Their niche focus guarantees that you work with top-notch designers, so you don't have to worry about receiving subpar results. Whether you need branding, packaging design, or app design, you can find all those at 99designs.
Why choose 99designs:
Specialized Talent.

As its name suggests, 99designs specializes in providing designers, so they can focus on providing high-quality freelancers for your design project needs.

All Kinds of Design.

Their designers can handle all sorts of design tasks – from bottle labels to web design, you can be sure to find an excellent freelancer for the job.

Quick Turnaround.

Because the freelancers are well-versed in their specialty, they are quick to understand project requirements, and simple tasks are completed quickly.
Gigster is a virtual outsourcing platform that focuses on building top-notch software. It has a team of over 800 skilled engineers who will help you with full development cycles, from idea to post-launch maintenance.
Why choose Gigster:
Sophisticated Software.

Efficient outsourcing for your software development work, from mobile apps to enterprise applications.

Easy Process.

All you need to do is choose an appropriate plan and take a short survey about your requirements. Gigster's staff will do the rest, such as choosing the right team and discussing project specifics.

Large Pool of Talents.

Gigster has talent from over 92 countries, so you can work with talented people from all over the world.
Airfleet uses a chat-based user interface to make outsourcing simple and easy. You can call virtual assistants to handle a wide range of tasks such as customer support, email replies, managing social media accounts, or even simple data entry work – all for a low monthly subscription fee.
Why choose Airfleet:
Templates for Common Tasks.

You don't need to worry about writing out what you want – Airfleet comes with standard templates for common business tasks such as customer feedback collection and targeted email outreach.

24/7 Support.

As a business owner, it's common to receive calls and messages outside of normal business hours. Luckily, Airfleet is open 24 hours a day, 7 days a week.

Customized Workflows.

You can create workflows for your teams and projects that will make outsourcing even easier, like setting up rules to prioritize certain tasks or forward messages automatically.
Whether you want to outsource for social media marketing – or even help with building a digital agency – Outsourcely freelancers can help you get the job done.
Why choose Outsourcely:
Variety of Services Offered.

Outsourcely has a wide range of outsourcing freelancers ready to do the outsourcing work for you.

Global Reach

. Outsourcely has outsourcing talent in over 180 countries, so finding someone who fits your needs is easy.

Quality of Work.

All outsourcing professionals on Outsourcely have been through a vetting process where their work history is thoroughly checked, so you can be sure that the outsourced work will be top-notch in quality.
Writer Access is a premium outsourcing platform, so you're not going to get the lowest outsourcing rates. But, if you're outsourcing for blog posts or website content, you can be sure that readers will see the difference between quality content from an experienced writer and your own outsourcing efforts.
Why choose Writer Access:
Experienced Professionals.

Writer Access freelancers are experienced in varied categories from blog writing, copywriting, to SEO.

Diverse B2B Outsourcing Market.

With over 1,000 outsourcing professionals on the platform making up a global outsourcing community, it's easy to find outsourcing talent that fits your needs.

24/7 Access to Writers

. Writer Access offers 24/7 access to their professional writers, so you can easily outsource website content at any time of the day.
Workhoppers is a marketing outsourcing platform that specializes in web design, graphic design, and blogging. It's a premium outsourcing site, so you can be sure of outsourced work that will stand out to your online audience. You can directly start outsourcing from Workhoppers if you need freelancers to do jobs right away.
Why choose Workhoppers:
On-Demand Content.

All you need to do is specify the project details that you want, then send tasks to freelancers or set up a schedule. You can even edit and review the work before you approve it.

Meticulous Quality Control.

Every single piece of work goes through strict quality control processes before it's sent to you, so you can expect carefully crafted pieces every time.

End-to-end Outsourcing.

You can manage your outsourcing team across multiple platforms on top of your inbox – so you can use the best tools to achieve top results.
Founded in 2004, YouCo is a top platform that aims to assist businesses with their customer relations and marketing needs. YouCo offers top-quality services and supports over seven languages, all while providing top-notch security throughout the process. This outsourcing website provides social media management, web research, data enrichment, text creation, and other services.
Why choose YouCo:
Variety of Outsourcing Talent.

With freelancers available on YouCo for web design, blogging, social media marketing, and more, outsourcing will be a breeze with the right talent on YouCo.

Outsourcing Rates that Suit Your Budget.

You can hire people for how many hours you want on YouCo. Whether you want to start outsourcing jobs at an hourly or fixed price arrangement, YouCo has freelancers at rates that suit your budget. 

Outsource Blog Posts, Brochures, Social Media Marketing, Logos, and so much more.

No matter what kind of outsourcing services you're looking for, YouCo has the best outsourcing professionals available to meet your needs!
For a wide range of outsourcing services in various categories, DesignHill is the perfect outsourcing platform for you! This platform offers project management services, logo design, and brochure creation in addition to blog posts, graphics, and social media marketing for companies looking to find freelancers at reasonable rates.
Why choose DesignHill:
Unlimited Accessibility

. With DesignHill, you'll gain access to top outsourcing professionals from anywhere at any time. Whether you're looking to outsource from top outsourcing countries such as the Philippines, India, Indonesia, and more – or top outsourcing professionals who speak various languages – DesignHill has all the bases covered.

Unlimited Choices

. You can post a job for services from a wide range of categories – including blog posts, graphics, social media marketing, logos, brochures, and so much more.

Unparalleled Security

. Since your data is encrypted with a secure connection, you don't have to worry about hackers stealing your information and ruining your business!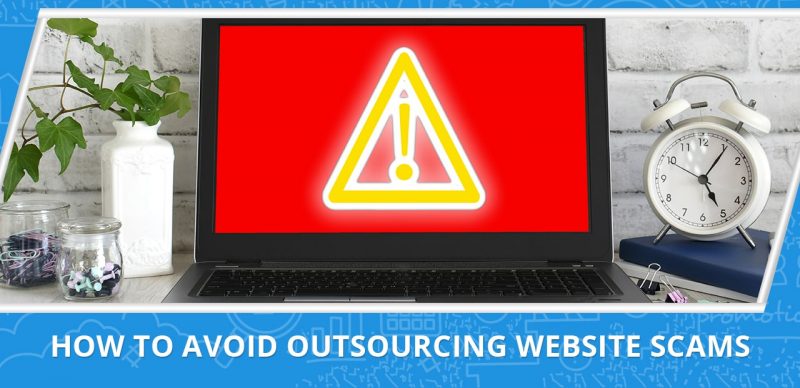 How to Avoid Outsourcing Website Scams
You've finally decided that outsourcing is the best way to go for your business, but how can you be sure that the outsourcing platform or agency you're talking to will not turn out to be a scam? This is a common problem among entrepreneurs and business executives looking to save costs by outsourcing. Here's what you need to know about outsourcing scams and how to avoid them.
Only work with outsourcing agencies that have been around for a long time. This is because outsourcing companies that aren't established yet can disappear overnight, and you might be left without your money or with faulty products. Stay away from other outsourcing companies that offer ridiculously low prices too, as this could be another sign of a scam.
In general, online outsourcing services will be cheaper than local rates; however, if the rates are too cheap to be true, then they probably are. Make sure you have a solid contract in place with your agency that leaves no room for misunderstandings or disputes regarding the products and services provided.
One of the best outsourcing tips we can offer is to communicate clearly and often. Top outsourcing websites often assign a team or representative who should be regularly in contact with you and should update you on the progress of your product or service.
When outsourcing online, you're trusting freelancers and virtual assistants not just with a particular product or service, but with your brand. As such, it's important that the agency you outsource from believes in and respects your individual branding choices. Maintaining a clear line of communication will help prevent misunderstandings.
You'll know that an outsourcing agency is of high quality when they let you make all of the major decisions regarding what direction to take with your project. If outsourcing platforms try to force their own personal ideas onto you or change your company's focus, then move on and find a different agency.
One of the best outsourcing tips is to trust your gut! If an outsourcing website gives you a 'bad feeling', such as if they are too pushy, give vague answers about outsourcing services, or try to change the direction of your outsourcing project, then don't work with them.
Another great outsourcing tip is to stay up-to-date on outsourcing trends. Keep an eye out for new outsourcing websites that open in your area, as you never know if one might be exactly what you're looking for! Good luck.
Now that you know some of the best outsourcing websites you can work with this 2021, are you ready to bring your business to the next level with 20four7VA? Get in touch for a FREE Business Growth Session and get a quote today.
Read Next: Virtual Assistant Resume: Top Skills Every Client Looks For