Virtual Assistant Resume: Top Skills Every Client Looks For

Aside from task proficiency and work experience, what do clients want to see when they look at a virtual assistant resume?
As more companies realize the growth-boosting benefits of virtual staffing, the competition for virtual assistant jobs also becomes tougher. Whether you are a business looking to build your virtual team or a virtual assistant (VA) searching for remote work opportunities, it pays to know the essential skills that set top VAs apart.
Virtual assistance has expanded to include many specializations. Still, there are core qualities clients look for in a virtual assistant resume.
8 Essential Skills To Make Your Virtual Assistant Resume Stand Out
The number of virtual assistants looking for remote roles grows by the day, with previously office-based workers joining the ranks because of the pandemic. To keep ahead of the pack, it is important to highlight your specific abilities and specializations, whether that's order fulfillment, data entry, or video editing. Clients also look for fundamental "soft" skills to help them determine if a VA is a good fit for their team.
Here are the top 8 essential skills to include in your virtual assistant resume: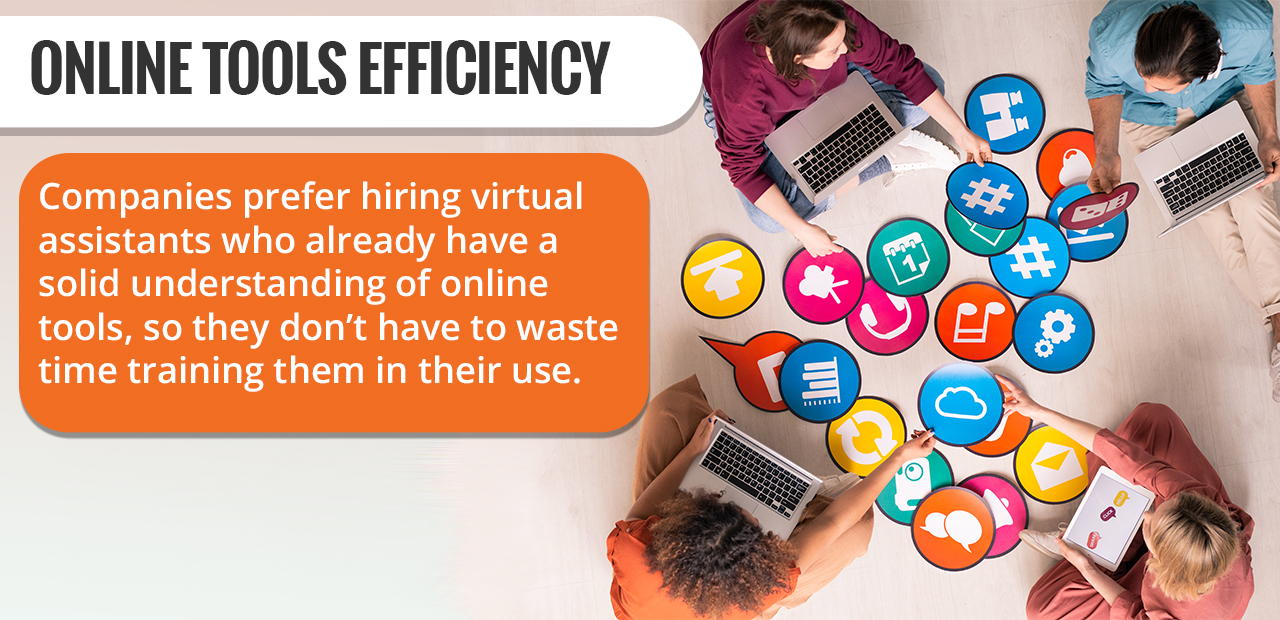 1. Online Tools Efficiency
Regardless of the job you're applying for, an ideal virtual assistant resume must show efficiency in online tools. Microsoft Office, Google Workspace, communication apps, and project management software are just some of the tools you will use daily as a remote worker. As these are fundamental to virtual work, your resume must show that you have sufficient knowledge of and experience with these apps.
Companies prefer hiring virtual assistants who already have a solid understanding of online tools, so they don't have to waste time training them in their use.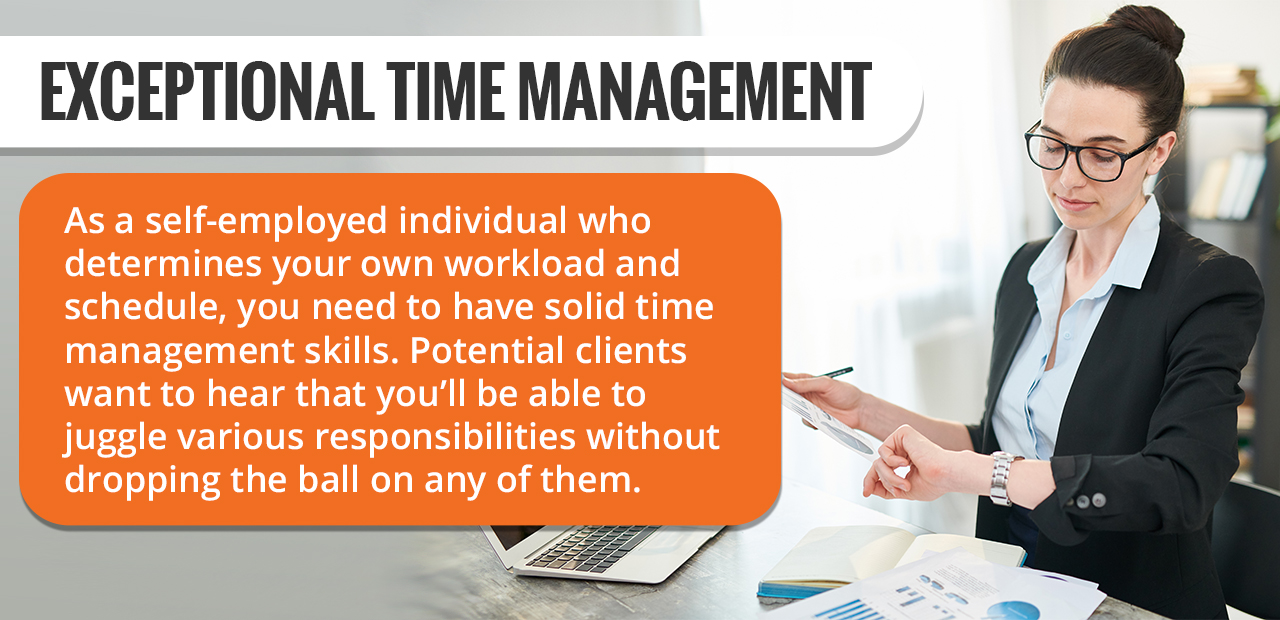 2. Exceptional Time Management
As a self-employed individual who determines your own workload and schedule, you need to have solid time management skills. This means having the ability to set and meet deadlines for tasks and deliverables, separating work time from personal time, and prioritizing tasks based on urgency and importance. Potential clients want to hear that you'll be able to juggle various responsibilities without dropping the ball on any of them.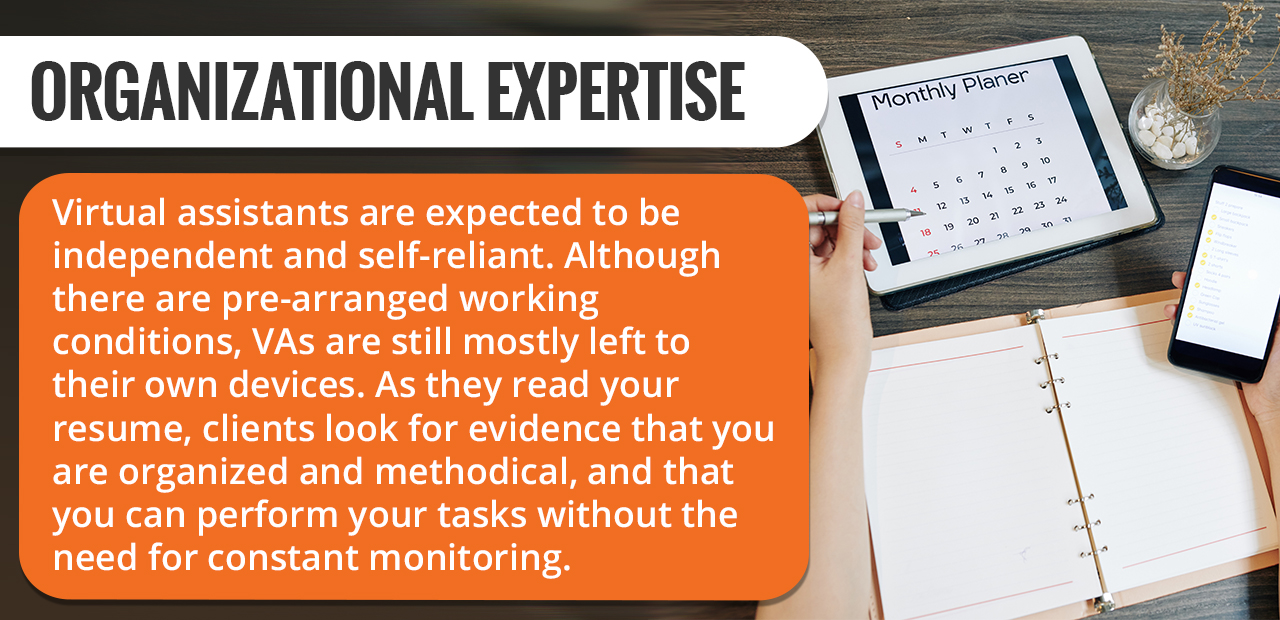 3. Organizational Expertise
Virtual assistants are expected to be independent and self-reliant. Although there are pre-arranged working conditions, VAs are still mostly left to their own devices. As they read your resume, clients look for evidence that you are organized and methodical and that you can perform your tasks without the need for constant monitoring.
To show this, create a virtual assistant resume sample that highlights your organizational skills. Then make sure it answers the following:
How do you ensure your day-to-day tasks are accomplished?
How will you establish your workflow when you work on your own schedule?
If applying to be an executive assistant or administrative VA, what organizational methods can you bring to the table?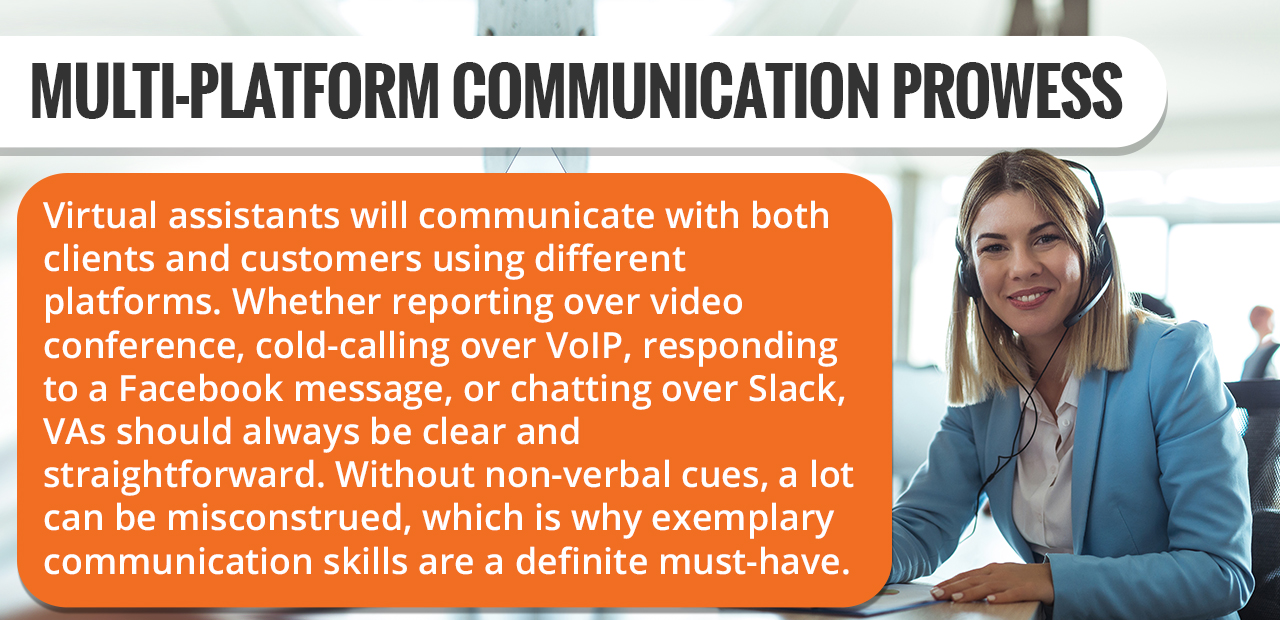 4. Multi-Platform Communication Prowess
Virtual assistants will communicate with both clients and customers using different platforms. Whether reporting over video conference, cold-calling over VoIP, responding to a Facebook message, or chatting over Slack, VAs should always be clear and straightforward. Without non-verbal cues, a lot can be misconstrued, which is why exemplary communication skills are a definite must-have.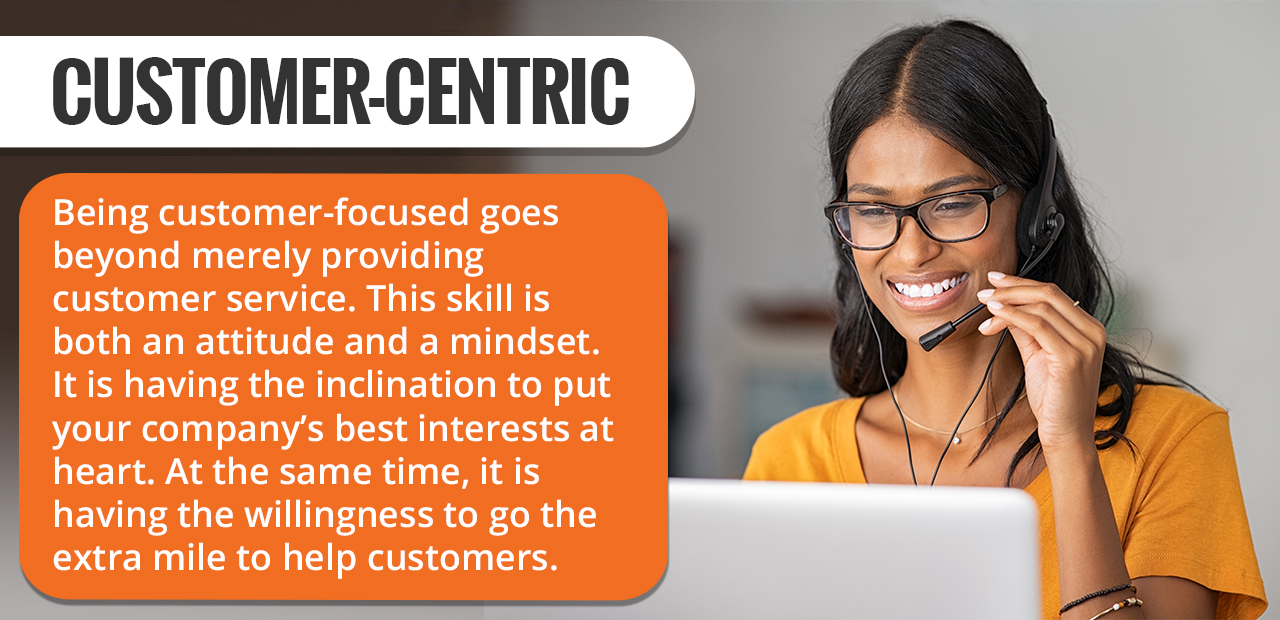 5. Customer-centric
Being customer-focused goes beyond merely providing customer service. This skill is both an attitude and a mindset. It is having the inclination to put your company's best interests at heart. At the same time, it is having the willingness to go the extra mile to help customers.
Being customer-centric does not come in spurts of action. Instead, it is a steadfast approach towards working with clients and employers. When creating a resume, don't forget to highlight your customer-centric mindset.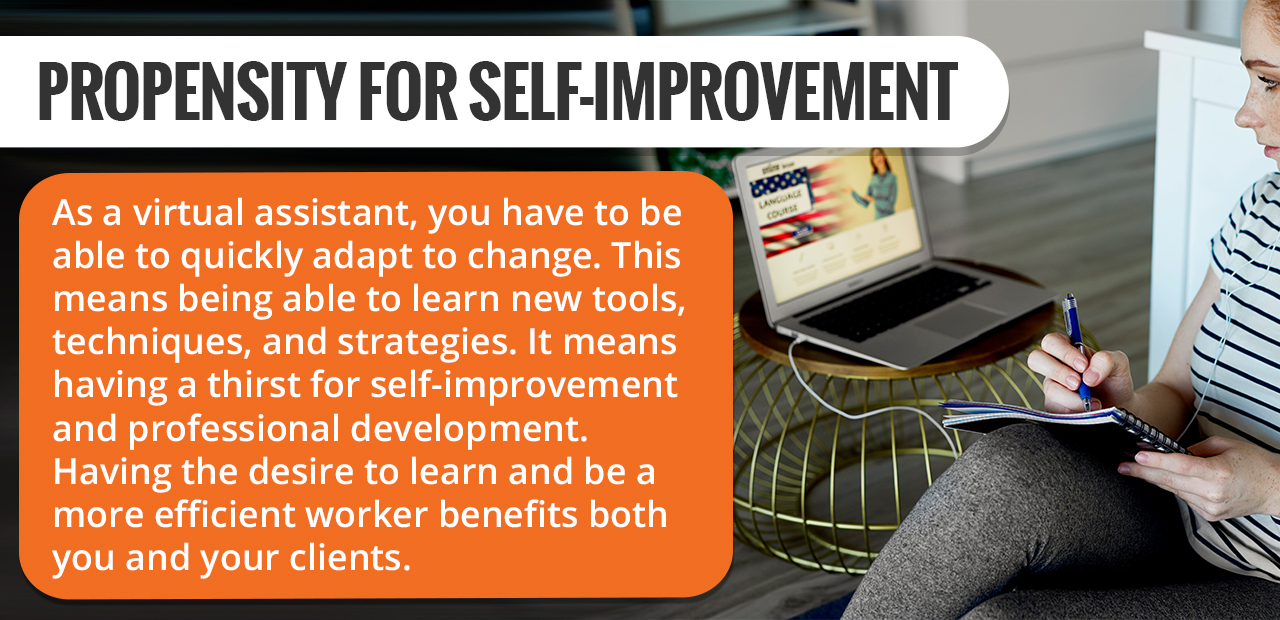 6. Propensity for Self-Improvement
Tools for workflow management, project tracking, and communication are constantly being developed. Meanwhile, businesses have to continually adapt to stay relevant and to stay on top of the game. As a virtual assistant, you have to be able to adapt to change quickly.
This means being able to learn new tools, techniques, and strategies. It means having a thirst for self-improvement and professional development. Having the desire to learn and be a more efficient worker benefits both you and your clients.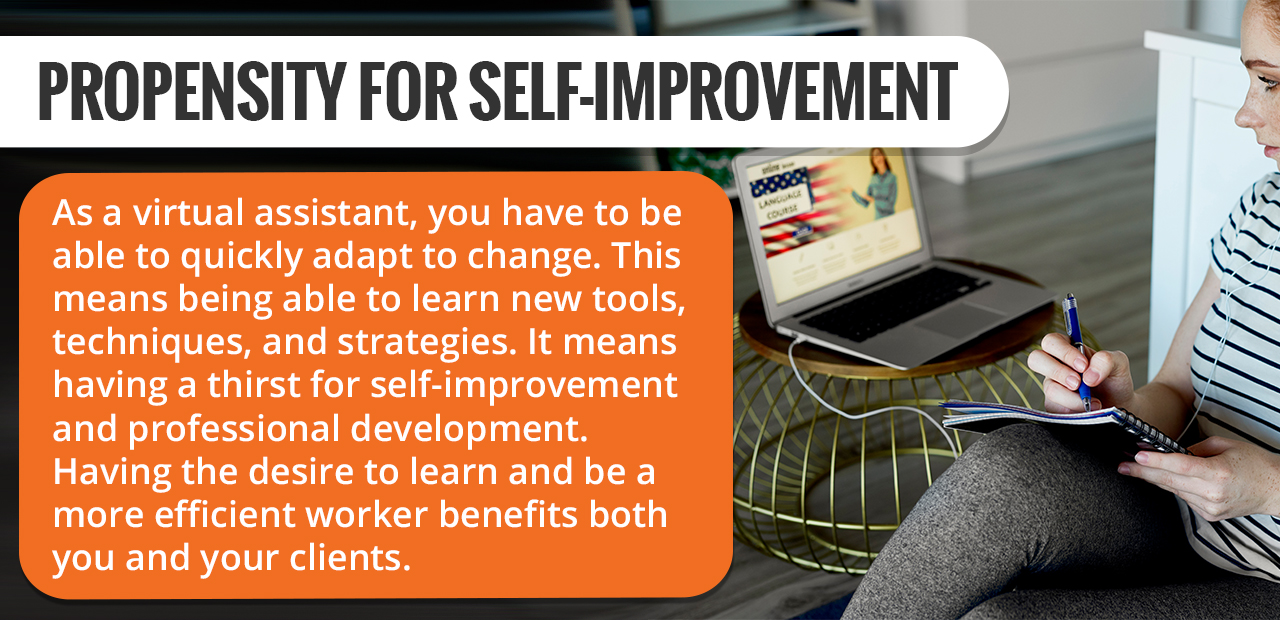 7. Proven Self-Sufficiency
Self-sufficiency doesn't always appear first on the list in conventional resumes. However, you need to go beyond the conventional if you want to stand out. Self-sufficiency is one way to achieve such a feat.
As a VA, you will inevitably be assigned tasks you have no prior experience in. It's also likely you will be asked to use tools and methods that you're not familiar with. Therefore, you must have the ability to research and learn things on your own. When you are self-sufficient, you're able to provide quality output with minimal supervision.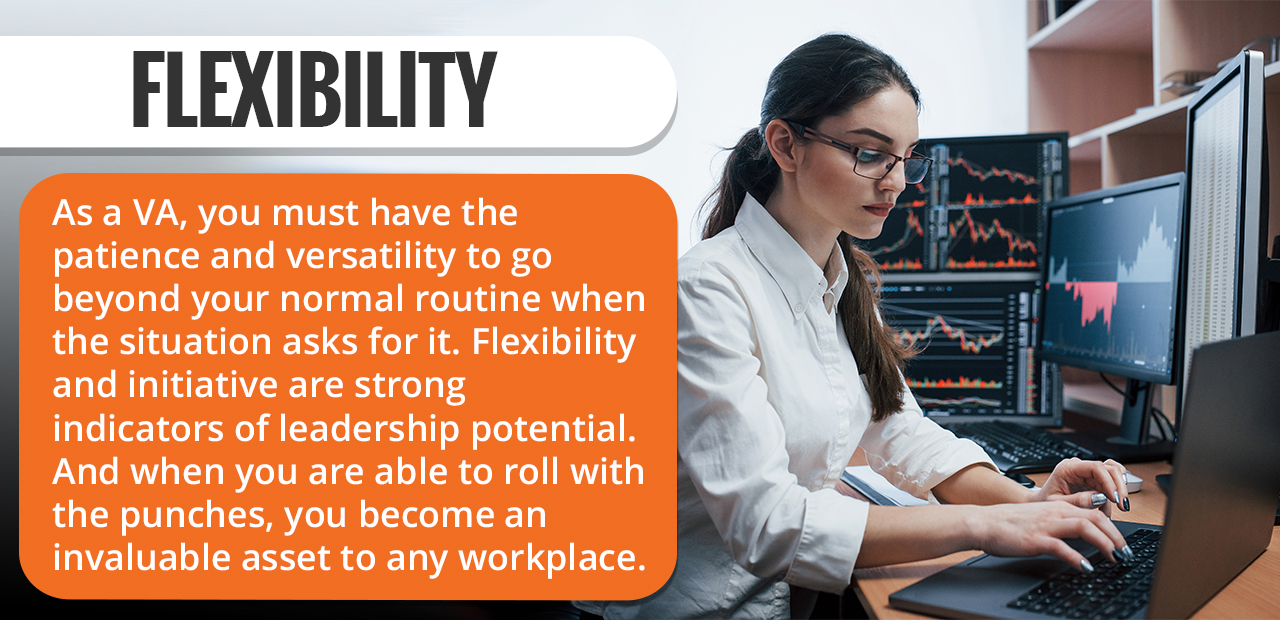 8. Flexibility
Virtual assistance allows businesses to grow or scale back at their convenience. For instance, a company may hire short-term VAs when preparing for seasonal sales. In the same way, they may reduce hours during leaner months. An indirect consequence of this is having the VA put on many hats. For example, a social media VA may help with customer service tasks during busier months. Or a content writer may take on graphic design tasks before a company can hire an in-house graphic designer.
As a VA, you must have the patience and versatility to go beyond your normal routine when the situation asks for it. Flexibility and initiative are strong indicators of leadership potential. When you can roll with the punches, you become an invaluable asset to any workplace.
Final Thoughts
There are a plethora of virtual assistant resume examples online. However, becoming a VA sought after by clients takes more than just having an organized record of your educational and work history.
Make sure your virtual assistant resume stands out by including the top skills above. Highlight relevant experiences where you were able to demonstrate these skills. You'll find that doing so also makes it easier to talk about yourself and pitch your services to clients.
You can learn and develop these essential virtual assistant skills on your own. Better yet, you can work with a team that will give you comprehensive training and free resources so you can develop the skills needed to become a successful virtual assistant. Fast-track your career growth by partnering with a full-service staffing agency like 20four7VA.