15 Misconceptions About Virtual Assistant Services
Imagine this: you had a great business idea that will undoubtedly help a lot of people. So, you launched your brand new business excited to turn your vision into a reality. But on the way to realizing your goal, you got derailed by hundreds of emails, marketing tasks, sales calls, and so many other small but time-consuming business tasks. If micro distractions and routine tasks keep your business from really taking off, It's time for you to take advantage of virtual assistant services.

3 Signs That You Need Virtual Assistant Services
Spending most of your day doing tasks that don't fall within your area of expertise is an obvious sign that you need to delegate. After all, delegation is an important skill among leaders. You might be surprised how many kinks in your day-to-day operations can be smoothed out if you outsource. Here are 3 important signs that you need virtual assistant services:
1. Your ROI is at the minimum.
There may be many reasons why your ROI is at rock bottom, not the least of which is substandard work. Marketing, project management, and accounting are significant facets of business. If you let non-experts handle them, or if you do them yourself, you might end up doing your business more harm than good.
2. Your stress level is through the roof.
Highly effective people know how to manage time wisely. However, a growing business often means more work than any single person is capable of. Also, managing time wisely means knowing what tasks you need to do personally and what tasks to assign to others. If you insist on doing everything yourself, you'll end up stressing over your business instead of enjoying it. If you often find that your business is running your life instead of the other way around, then it's high time to delegate.
3. Your funds are dwindling.
According to a report, 35% of small business owners have resorted to using personal funds to keep their business alive during the pandemic. The great thing about virtual assistant services is that you can cut your expenses by lowering overheads and keep your business running at the same time.
Virtual assistance has become increasingly popular, and the number of VA users is only expected to increase in the coming years. So, why aren't more business owners taking advantage of this convenient and popular work setup?
The answer: virtual assistance is still held back by many misconceptions.
15 Misconceptions About Virtual Assistant Services — Debunked
Despite its increasing influence in various industries, virtual assistance has remained a mysterious concept to many business owners. Here are 15 misconceptions about virtual assistant services debunked: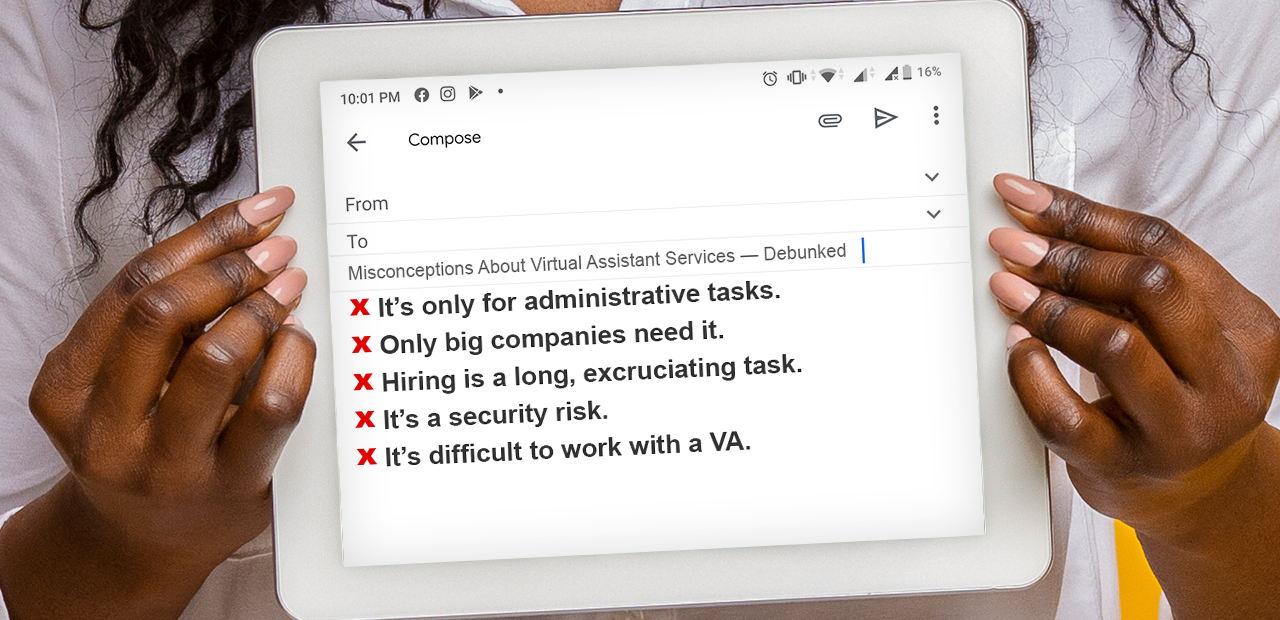 1. It's only for administrative tasks.
One common myth about virtual assistance is that it is focused only on administrative and routine tasks. Although it is a must to outsource administrative responsibilities, don't think that it's the only thing virtual assistants (VAs) can do. Many VAs have different fields of specialties. Because their craft is their business, VAs go out of their way to learn more and train themselves on specific fields like marketing, web design, and business management.
Also, as more and more people appreciate the convenience of working from home, even skilled and experienced employees in various fields are pivoting towards being their own bosses by becoming full-time virtual assistants. This means businesses can now work with people who have years of training and experience in a specific field.
2. Only big companies need it.
Companies with a high volume of customers and dealings that span across different parts of the globe can obviously benefit from remote workers. However, what some people don't realize is that startups, home-based businesses, and solopreneurs can also cash in on the many benefits of virtual assistance. Remember, you don't need to hire an entire team of remote workers, you can work with one and scale as your business grows. In fact, outsourcing some of your business processes to a VA may be one of the best investments you can make. You'll have more time for your executive duties and have a better headspace if you're not overworked. Here's what it's like to have your own personal virtual assistant.
3. Hiring is a long, excruciating task.
Every time you think about hiring a VA, you imagine scouring through Upwork looking for qualified candidates. You think about filtering applications, scheduling interviews, and all the other long grueling tasks that come with hiring and recruitment. Fortunately, this isn't the only way you can work with a VA. For one thing, there are tons of other Upwork alternatives for business owners with simpler and faster hiring processes. For another, you can work with a staffing agency and forget about the groundwork that comes with recruitment. 20four7VA is a remote staffing company that specializes in providing businesses with virtual assistance. Part of the company's virtual assistant services package is to lay the groundwork for remote recruitment and onboarding.
4. It's a security risk.
Sharing high-value and sensitive information online is inevitable with remote collaboration. It's perfectly reasonable to be concerned about security when working with a VA. Fortunately, you can take certain measures to protect your business. You can work with a staffing agency that pre-screens candidates before hiring and actively monitors VA activity. You can also have your VA sign nondisclosure and non-compete agreements to ensure your intellectual properties are protected during and after employment.
5. It's difficult to work with a VA.
It's easy to see how virtual assistance can be challenging. Communication may not be as fast and convenient and collaboration may be trickier. The good news is that there are now many tools and processes especially built for remote collaboration. What's more, there have been many studies that prove freelancers are happier and more productive working from home. This only suggests that they are more inclined to perform and put in their best efforts. Know how to make virtual working relationships farewell. Check out these top 3 remote team challenges and ways to overcome them.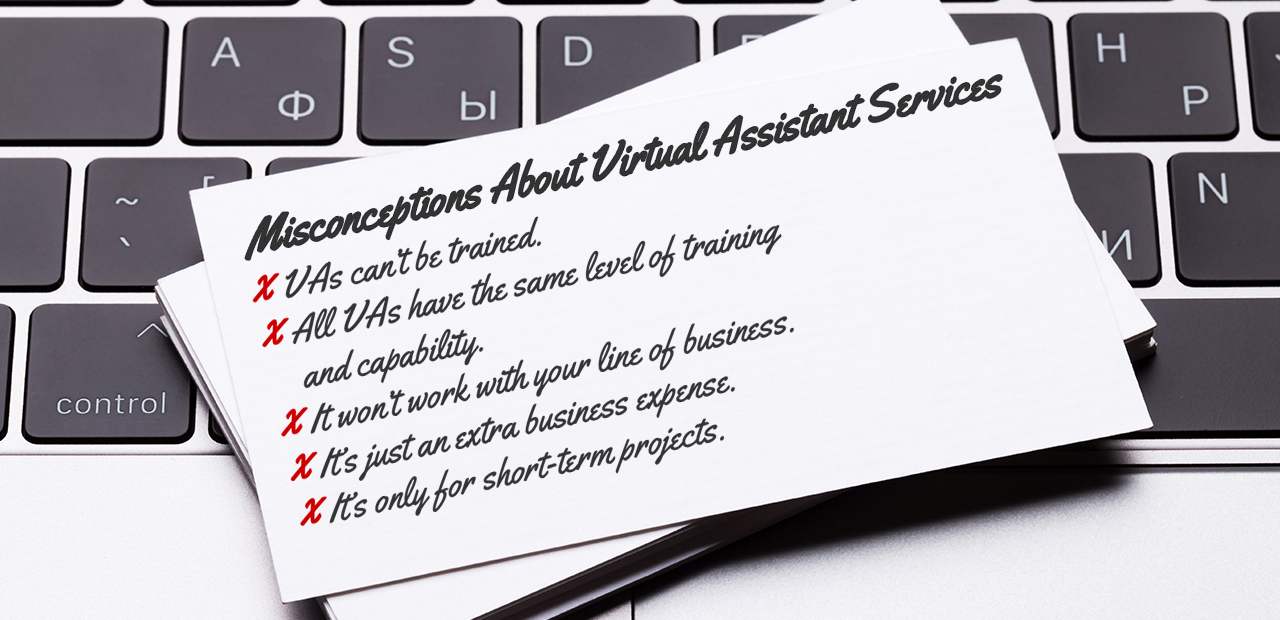 6. VAs can't be trained.
While it is true that many virtual assistants have years and fields of expertise, it doesn't automatically mean they won't need a hand to be effective at work. VAs may already have the skills and the background for certain tasks, but they still need instruction, debriefing, and upskill training. Some of the tasks you want to delegate may be unique to your processes and line of business. It's important to thoroughly train your VA on your processes so they can be more effective and productive. Many staffing agencies also provide basic and upskill training for VAs, which is another advantage to consider working with one.
7. All VAs have the same level of training and capability.
Some VAs have zero to basic working experience, while some are experts at what they do. If you're looking for a highly skilled person to do a certain job, don't think that you won't find one remotely. 20four7VA, for instance, has top virtual assistant services that cover important business aspects such as digital marketing, IT and content development, and creative design.
8. It won't work with your line of business.
This misconception is closely related to the myth that VAs can only handle menial tasks. You already know that there are VAs with specific fields of expertise. You may be surprised to find out that more and more industries now have virtual assistant services unique to them. There's a Construction VA, Podcast VA, and Telehealth VA to name a few. Most VAs are naturally quick e-learners. This means that virtually training them for tasks unique to your company or industry won't be as challenging as you might think.
9. It's just an extra business expense.
Although working with a VA has obvious benefits, hiring one would just be an extra expense, right? Wrong. On the contrary, you might actually cut some business expenses if you choose to work with a VA. For starters, if you work with a staffing agency, you won't have to worry about payroll anymore. Here are 5 other business expenses you can reduce by hiring a virtual assistant.
10. It's only for short-term projects.
The upsurge of virtual assistance bore the phrase gig economy. Although the phrase is closely related to remote working, it implies that virtual assistance is just for short-term projects or gigs. This couldn't be farther from the truth. Many VAs are independent contractors and there is often no agreement that binds them to a certain client. However, this doesn't mean they're not in it for the long haul. In fact, most would prefer a long-term working relationship.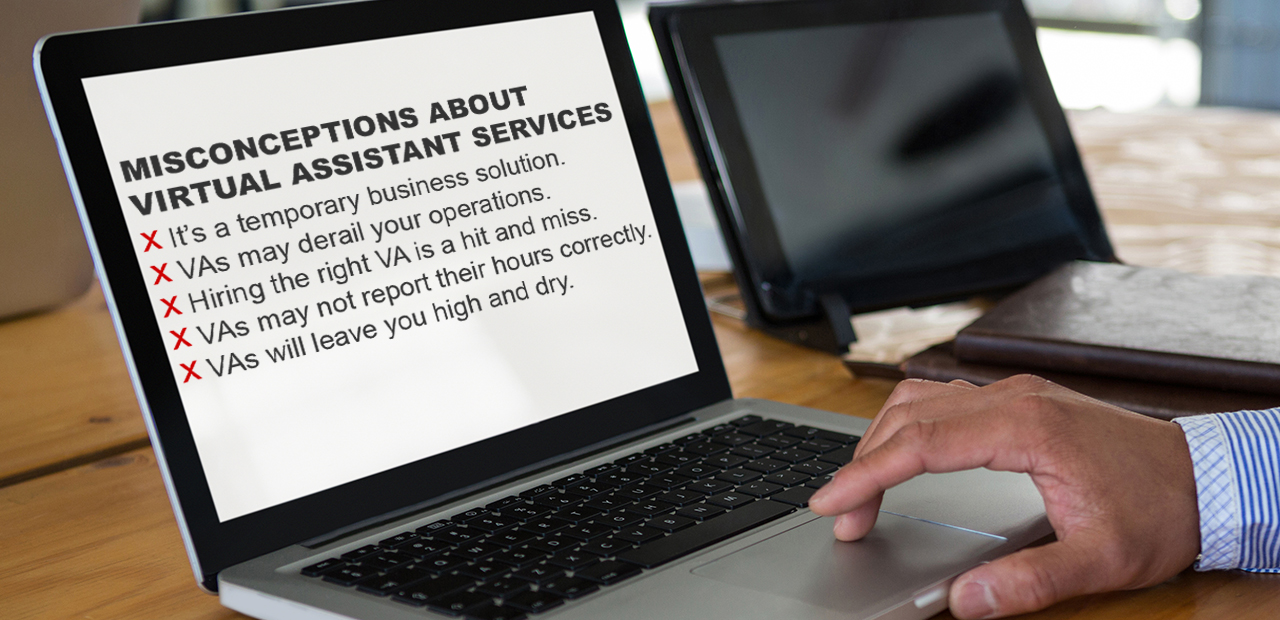 11. It's a temporary business solution.
This misconception might also be related to the wrong idea that VAs are only good for short-range or menial tasks. If its increasing business influence is any indication, virtual assistance is here to stay. As the pandemic has forced many businesses to shift to online operations, the relevance and need for virtual assistance is further highlighted.
12. VAs may derail your operations.
Another false impression about VAs is that they're incapable of meeting deadlines and completing tasks. However, there's a good number of surveys revealing how part-time and full-time VAs are more productive working from home. When people work within the comforts of their own space and schedule, they are in better form to perform. Besides, many VAs understand the demand of online work and are therefore well-equipped to meet deadlines and remote work challenges.
13. Hiring the right VA is a hit and miss.
Both traditional and virtual employment have the risk of not hiring the right person for the job. One advantage of hiring a VA, however, is that you can partner with a staffing firm that would prescreen and train the candidate even before you meet them. Some staffing agencies also offer a service trial period where clients can select another VA if their first choice wasn't as appropriate.
14. VAs may not report their hours correctly.
Having reservations about appropriate billable hours is understandable when working with someone remotely. Fortunately, there are many ways to ensure transparency with virtual assistance. You can request for character references prior to recruitment, use tools like ScreenMeter, Time Doctor, RescueTime, SnapLogger, and TimeSnapper to monitor the activity and track the hours of your VA, and work with a full-service staffing firm who can offer extra managerial services for you.
15. VAs will leave you high and dry.
You wouldn't want to be left without assistance when you're up to your eyes with the workload. However, employee turnover isn't as costly or as frequent with VAs. Remote workers understand the demand of finding a client and mostly prefer a long-term work relationship. Clients can also draw up a contract to determine minimum employment duration and avoid abrupt resignation or leave of absence.
It's easier to find the best virtual assistant services for your business now that you've debunked these misconceptions. Hire a VA with the right expectations and you are more likely to leverage from this working setup.
Recommended Reading: 20 eCommerce KPIs to Track in 2020