It may be hard to imagine now, but just a few years ago, entrepreneurs used to wait for their business to have real traction before they can hire associates. They need to have a steady stream of clients and income every month to prove that their business is stable enough for them to get more employees. As a result, entrepreneurs wore different hats to run their business. They became their own marketing specialist, product developer, and bookkeeper all rolled into one. While this helps hone entrepreneurial skills, jumping from one role to another often results in burnout and poor output – consequences that you cannot afford at the critical phase of building a company.
Thanks to technology that eventually led to the possibility of remote staffing, your business can have a better story.
Remote staffing made it possible for entrepreneurs to have all the help that they need – from marketing assistance to administrative support – even at the earliest stages of business.
If you have doubts about the efficiency of remote staffing (Will people be as productive when they work from home? Is hiring a virtual assistant (VA) just a passing trend?) these figures showing the steady rise of VAs prove their worth in business and indispensability in the future of commerce: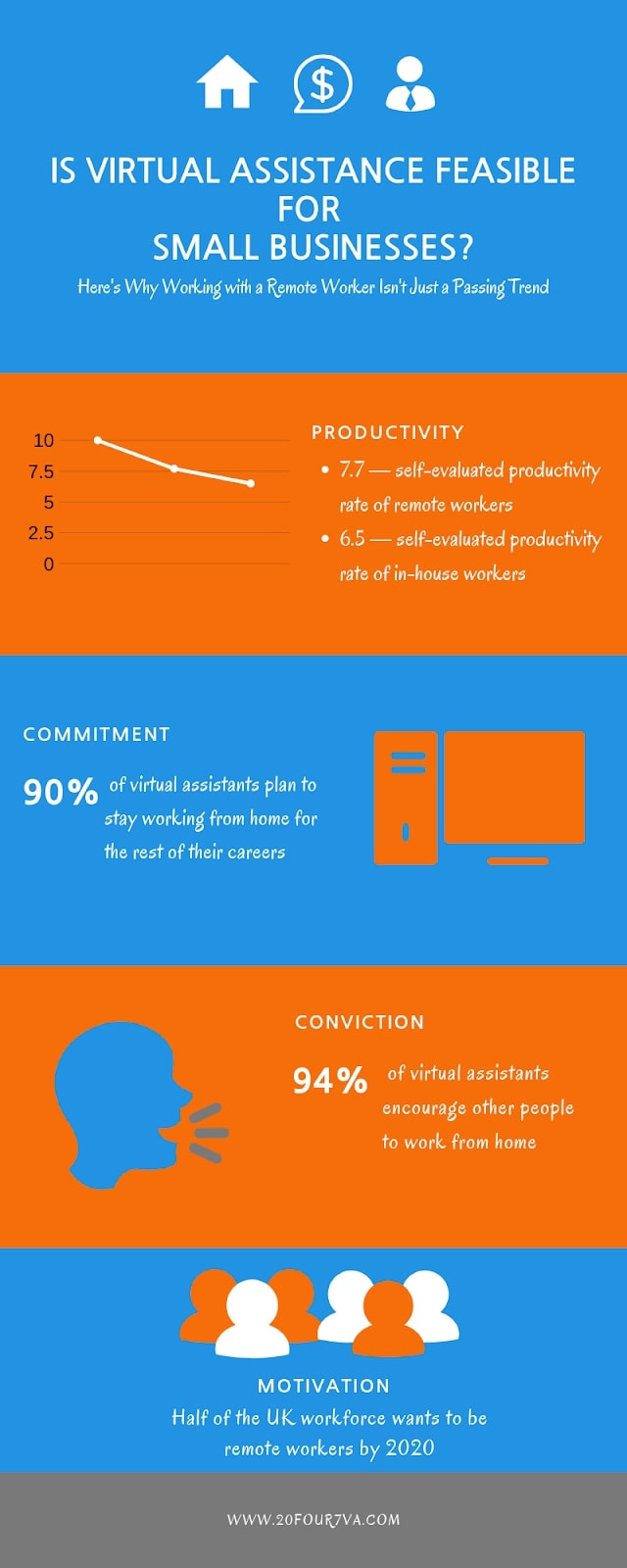 On a scale of 1-10 with 10 being the highest, VAs evaluate their efficiency at a 7.7 rate, whereas in-house employees only claim to be 6.5 efficient. (Autotime)
90% of VAs plan to make money from home for the rest of their working years. (Buffer)
94% of VAs promote working from home to peers. (Buffer)
50% of UK workers want to work from home by the year 2020. (Intuit)
What You Need to Know Before Hiring a Virtual Assistant
These numbers are enough to prompt entrepreneurs to jump the gun in hiring a VA. After all, working with a VA is significantly more affordable than hiring office associates. If people claim to be more productive and committed when they work from home, it's only wise to explore the ways a virtual assistant can help your business.
Before you do, however, understand that remote working also comes with its own set of challenges. The more people you welcome onboard, the worse these challenges get.
It's only fitting to know what you are up against so you can also make the proper precautions.
Here are the top 3 virtual team challenges and what you can do about them:
Challenge #1: Team Incompatibility
Suppose a content writer VA works with a small business that sells homemade pastries. To market the brand, the writer talks about the company's use of homegrown ingredients. According to the writer, this gives the company possible collaborations with local suppliers while highlighting the homey vibe of the products. However, the marketing specialist deems this concept to be too domesticated – even limiting. Focusing on the local aspect of the company may keep it from expanding in the future. According to the marketer, emphasizing the locality of the brand may prevent prospective customers from relating to it.  
Different ideas and opinions are normal among coworkers. In truth, however, this stems from opposing vision and personalities. When you recruit people from across the globe, diverse cultural backgrounds would create a wider, more significant gap.
Before you know it, what appeared to be mere differences turn into incompatibility that puts a wedge between associates. When people don't see eye to eye, cohesive output and teamwork couldn't possibly exist.
What you can do about it:
Remember that talent and work background aren't enough basis to hire people – at least not if you want harmony in your team. Instead, hire people based on their compatibility and fit your company values, vision, and culture. Of course, this is easier if you already establish the kind of work culture your company represents.
Here are 3 examples of work culture with hiring prompts to ensure you hire the most suitable people:
Collaborative

–

in a collaborative environment, teamwork precedes autonomy. To spot a team player during the recruitment process, ask about the working style and mentality of applicants. Inquire about a specific situation wherein they need to work with a group. What role did they play? What challenges did they face? What benefits and drawbacks do they think come from working as a group?

Transformative

–

this work culture best describes companies in a transition period. You need people who can handle a fast-paced environment. To hire people best suited to a transformative culture, focus on their mindsets and attitude towards change. How do they adapt to change personally and professionally? How do they deal with stress?

Independent

–

solo entrepreneurs need associates who have the initiative to make important decisions and work with little supervision. When hiring people for independent work culture, ask about a specific scenario that challenged or called for their self-sufficiency. How did they accomplish tasks and manage time? How did they balance independence and teamwork?
Challenge #2: Communication
Picture this: you are working on a product launch. Your team has already laid out the copy, created the corresponding opt-in page design and graphics, and mapped out an advertising timeline. While reviewing their output, you noted that some of the ideas you outlined were not executed properly. There are details that you need to be clarified and tweaks that you want to be made. Is it okay to message your associates when they are offline? How do you ensure they understand your instructions and concepts better?
While emails and instant messaging apps have made remote staffing possible, virtual communication still comes with unique drawbacks that go beyond technical issues and connection glitches. You can no longer benefit from physical clues such as gestures and facial expressions to get a message across. You can't send for associates or drop by their working area to ask questions or deliver quick instructions.
Chats over coffee and team outings that bond coworkers and form an amicable working atmosphere are no longer possible. And because virtual teams are often a mix of different nationalities, using slang and colloquialisms can lead to misinterpretation or ambiguity.
What you can do about it:
Establish communication guidelines from the start. For instance, discourage the use of slang or jargon to ensure that everyone in the team is on the same page. To make meetings as productive as possible, set expectations, outline the agenda, and choose a date and time that is most convenient for everyone.  
Encourage a warm and open virtual communication. Asking people how they are and sharing interesting or humorous articles or memes can go a long way in creating a positive work atmosphere.
In addition, run regular internet speed and system checkups to ensure people are using the equipment and connection up to par with their responsibilities.
Just as vital is ensuring that your team uses the most suitable tools for remote work. Here are some awesome tools for virtual teams:
Slack, Skype, Google Hangouts

– when you need to send quick messages or chat with peers

Zoom, Google Meet, Skype, Cisco Webex –

when you need reliable and user-friendly video conference platforms for team meetings and one-on-one coaching

Trello, Asana, Basecamp

– when you need to map out, perform, and track projects

Doodle, Google Calendar, Calendly –

for scheduling meetings, appointments, and activities
Challenge #3: Trust
Outsourcing important tasks to people you only see virtually seems an outlandish idea – if you don't trust them. As cost-saving as working with a VA is, trust is the currency that makes it succeed.
Just imagine if you doubt the productivity or skills of your VA. You check up on them every so often, question the ideas that they pitch, and scrutinize their output. In the same way, VAs who don't believe in the vision and work of their company would have half-hearted input, low productivity or motivation, and would keep looking for other clients.
What you can do about it:
Avoid discrepancies in productivity by using tools such as Clockify, TimeCamp, and ScreenMeter. It also helps to establish your company mission as well as long-term and short-term goals to make people see how they fit in the picture. VAs would have a deeper sense of ownership and accountability when individual and company goals are clearly set. Attending business conferences and reading books or watching videos for leadership can also help you enhance your managerial skills.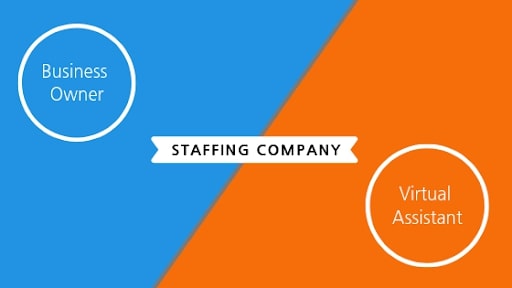 Choose to partner with a highly trusted staffing company to quell your doubts or misgivings about working with a remote assistant. Staffing companies are responsible for the recruitment, training, and supervision of online workers. They pre-screen and monitor people for skills and work ethics to ensure you work with a VA who is as proficient and productive as they are trustworthy. Having this kind of e-commerce support removes distrust, so you can focus on your projects without micromanaging your associates.
Remote teams are effective – there's no doubt about that. But equally true are the challenges of working with one. Now that you know what you are up against, you can unlock the ways a virtual assistant can help your business.