The Smart Choice: Hire A Dedicated Virtual Assistant or a Team of VAs?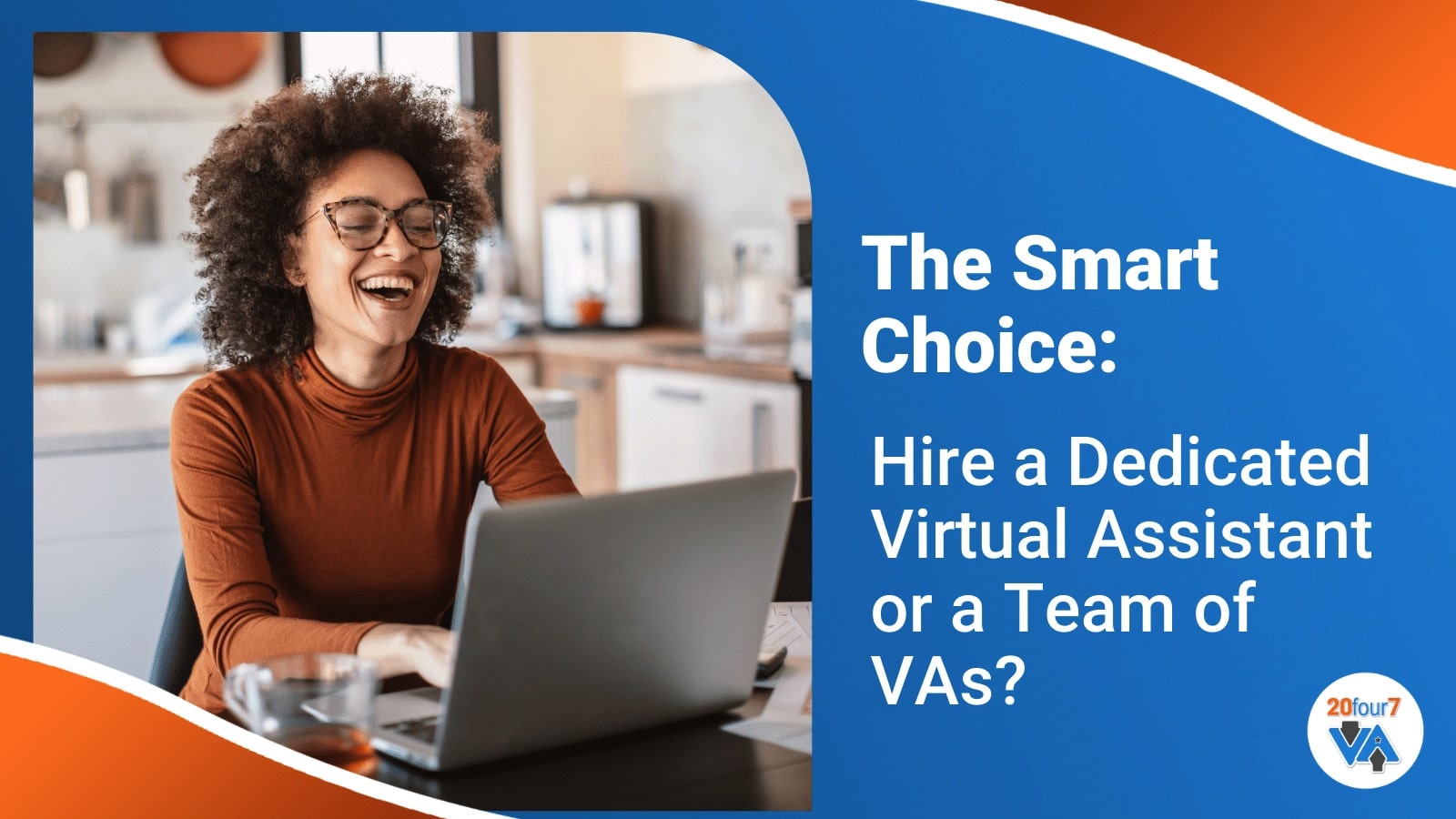 After you've decided to hire a virtual assistant (VA) to boost productivity, the next question is whether to hire a dedicated VA or a VA team. Both offer great benefits for your business, so how do you decide which is the best option for you? Today, we'll take a look at these two virtual staffing models and help you choose which one is the best for your business needs.
Before we go into the difference between a dedicated VA and a VA team, let's start with the basics: what is a virtual assistant, and why should you hire one?
What Is A Virtual Assistant?
In a nutshell, virtual assistants are professionals who offer their services remotely, through the internet. A virtual assistant is similar to a freelancer in the sense that they both provide outsourced services and are location-independent. The main difference is that VAs usually work with an agency that vets, trains, and manages them, while freelancers are independent entities.
Virtual assistants can support businesses with a wide range of tasks, depending on their skills and area of expertise. These tasks include:
Administrative tasks like data entry and file management
Travel arrangements
Customer service support
Marketing and social media management
Logistics coordination
Website development
Bookkeeping and accounting
Content writing
And many more!
To know more about how virtual assistants can help you grow your business, book a free consultation with 20four7VA now!
Why Do Businesses Work With Virtual Assistants?
Thanks largely to the increased internet accessibility worldwide, hiring remote workers is now easier and more convenient than ever. But enhanced internet connectivity is not the only reason businesses choose to work with virtual assistants. Here are some of the top reasons:
Cost-Effective
Hiring a VA is often more cost-effective than hiring an in-house employee. VAs work from home, which means there are no additional overhead costs like rent, office equipment, supplies, etc. Working with a virtual staffing services company like 20four7VA can help you grow your business while saving up to 80% on labor costs.
Time-Saving
When businesses hire a VA, they're getting access to a professional who can help them save time by taking tasks off of their to-do lists. Business owners and managers can delegate tasks to these remote workers so they can focus on their core business activities and strategic planning. With a virtual assistant, you can get back hours that you can then spend with your family, on your health, or on personal projects that enrich your life.
Varied Expertise And Skillset
Most VAs have years of experience and training in the tasks they accomplish for clients. This means that businesses can outsource specific tasks to a VA and be confident that they will be done well and on time. Hiring a VA is also a great option for business owners who want specialized tasks done but are not particularly well-versed in those tasks.
Because the work is done remotely, companies have access to a global pool of talented virtual assistants, which would be difficult and costly to do for on-site hiring.
Scalability
Hiring a VA is a great way to scale your business. When a business is ready to grow, it can simply add more VAs to its team without the hassle of expanding its office space or investing in new tools. Hiring VAs allows you to stay competitive, grow your team, and increase capacity without inflating costs.
Productivity Boost
Working with virtual assistants helps businesses increase productivity. When you are freed up from time-consuming tasks, you will be able to focus on your core functions and produce better results. Furthermore, virtual assistants are diligent self-starters who work in an environment with minimal distractions—that's a great combination for productive work!
Now that you know what virtual assistants are and why you should consider hiring virtual staff, it's time to look into your two main virtual staffing options: a dedicated virtual assistant or a VA team.
What Is A Dedicated Virtual Assistant?
A dedicated virtual assistant is a single VA assigned to work with one client only. This type of VA works exclusively for that client and is responsible for all the delegated tasks. A dedicated VA is a great option for businesses who want a personal assistant who they can build a close working relationship with.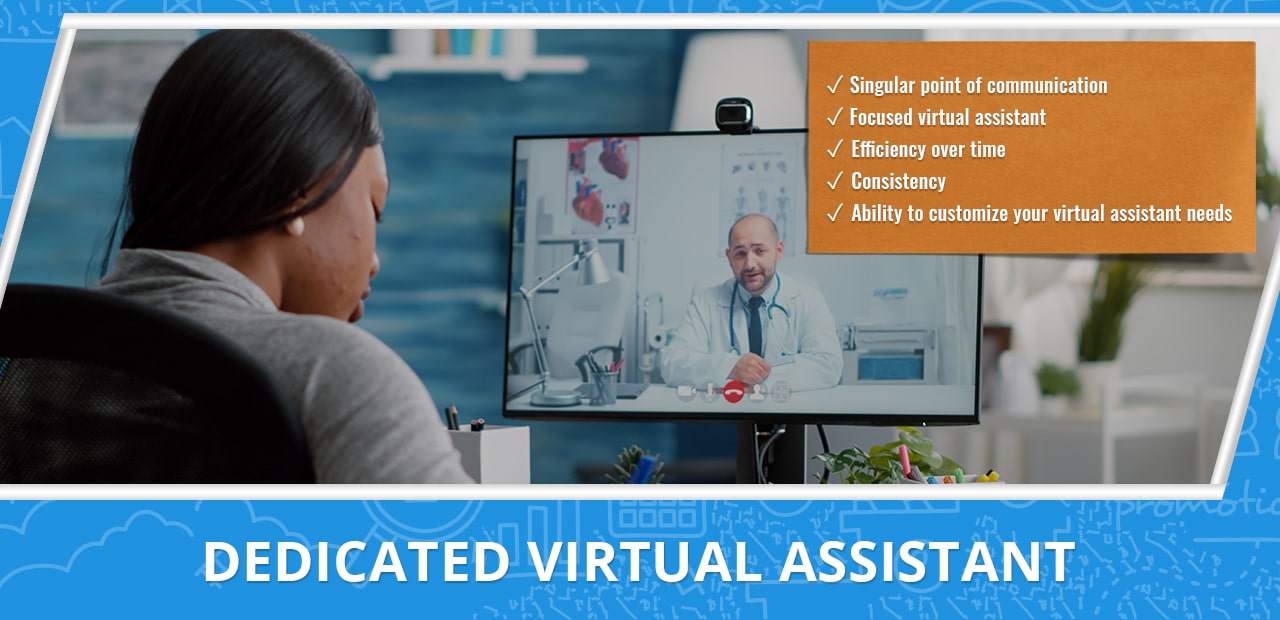 Benefits Of Having A Dedicated Virtual Assistant
Singular Point Of Communication
As the only client of a dedicated VA, you can focus your communications and assignments on one person, who will have sole responsibility for the tasks assigned. Having a dedicated VA allows for a streamlined communication process and accountability on the project.
Focused Virtual Assistant
Since a dedicated VA is assigned to one client, they can focus exclusively on the tasks that you have assigned to them. Having the time to focus on a task is essential, especially when doing work that requires meticulousness.
Additionally, you can also focus your training and monitoring on one key person, which benefits managers who prefer one-on-one training and coaching.
Efficiency Over Time
As your dedicated VA becomes more familiar with the tasks you've delegated to them, they will be able to produce outputs faster and with better quality. They will become more familiar with your business processes and your ways of working. This familiarity cannot be taught during onboarding but can only be developed when the VA has been immersed in the work.
Consistency
Aligning expectations means you can count on consistent output from your dedicated assistant. At the beginning of the assignment, you can discuss work hours and expectations with the VA. In time, you can expect consistent submission and consistent quality of work.
Ability To Customize Your Virtual Assistant Needs
Make sure that you are getting the best dedicated VA that can fulfill your requirements. When you work with a virtual assistant company like 20four7VA, you can find a dedicated virtual assistant that will be such a good fit for your business needs that you'd think they were tailor-made.
Schedule a free consultation now for more information on how a dedicated VA can help your business!
What Is A VA Team?
A VA team is a group of VAs who are assigned to work together for one client. This type of VA team is great for businesses that need help with various related tasks that require different skill sets or the same tasks but in large volumes.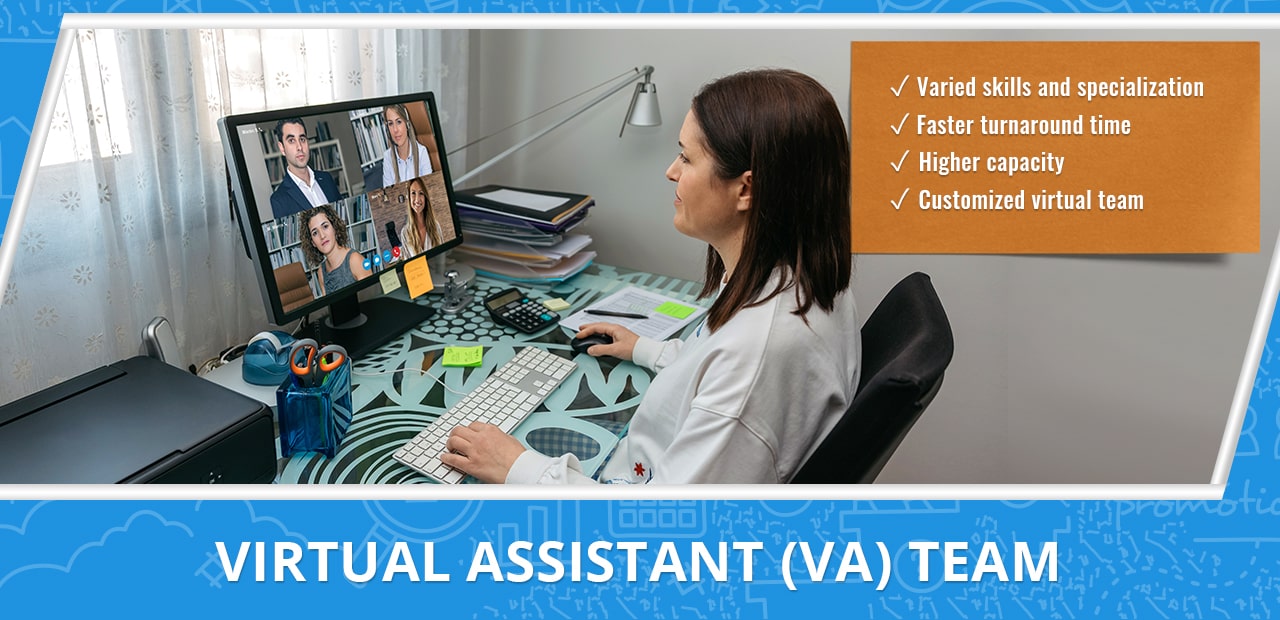 Benefits Of Having A Team Of Virtual Assistants
Varied Skills And Specialization
Your virtual assistant team can have members with varied skills to work on different tasks that will complete your project. This is a great benefit when you have a project that requires different specializations. An example of such a project is an integrated digital marketing strategy that may need the expert skills of content writers, web designers, and digital marketing specialists. You can expect a team of skilled assistants to work best in situations like the one described above.
Faster Turnaround Time
Having a virtual assistant team is much like an all-hands-on-deck type of set-up. With more people working, tasks can be completed more quickly. Additionally, because VA teams offer a variety of skills and specializations, businesses can outsource different tasks to different members of the team and get the most specialized help possible.
Higher Capacity
Since multiple heads are working, you can expect that your support team of virtual assistants will provide more output given a specific period of time. This ability to produce output at a higher rate is essential when you need to complete a high volume of tasks in a short amount of time.
Customized Virtual Team
You can customize the type of VAs for your team depending on the tasks that need to be done. For example, if your tasks are heavy on data entry and schedule management, you will need a virtual team of administrative VAs. But if you run a podcast or a telehealth service and need help with varied tasks, you should hire VAs with different specializations.
When working with a remote service staffing company, you can handpick the team members who fit the specific skills and specializations that you need for your project. This way, you will get the help you need and more!
20four7VA has a roster of skilled virtual assistants with specializations, from administrative services to web design and IT. Still not sure which types of VAs you need for your virtual team? Schedule a free consultation with 20four7VA today to learn more!
What Type Of Virtual Assistant Service Do You Need?
The answer is: it depends on what your business needs. To make it easier for you, here are the main things to consider when deciding whether you should hire a dedicated virtual assistant or a VA Team.
Type Of Tasks You Will Delegate
It is important to identify the tasks that need to be done to make a more informed decision. Usually, if a task is something that can be grouped and done by one person, then it may be best to hire a dedicated VA.
For example, a business owner needs help with calendar and email management, both administrative tasks. Not considering the volume of work, the business owner can hire one admin VA instead of hiring separate virtual assistants to handle both.
Volume Of Tasks
To choose the right type of VA solution for your business, you should also know the volume of tasks you need help with. Consulting with a virtual staffing company like 20four7VA can help you manage your expectations in terms of job output per VA. They can discuss your business needs with you and assess whether the volume of work requires you to hire a dedicated VA or build a VA team.
Time Sensitivity
Knowing whether the tasks should be done within a short period of time or can be completed regularly by one virtual assistant is another key component in selecting your VA solution. Knowing your time frame for certain tasks is important when trying to determine if you can complete a project with one VA or hire a team to save time.
Virtual Staffing Budget
Of course, with any business decision, the cost is always a factor. While hiring remote workers is significantly more affordable than in-house workers, you still need to determine your virtual staffing budget. Doing so can help you better assess how to appropriate your financial resources better.
If you're using systems requiring special access to virtual assistants, you may also need to consider whether adding new users to specific programs incurs costs.
Training And Supervision
Regardless of the type of VA solution you choose, training is needed to ensure that virtual assistants understand your business and its operation. Training may require longer hours depending on the number of VAs and scope of work.
In terms of supervision of work, virtual assistants are generally self-sufficient and can work independently. Supervision is mostly required to check the VA's output and give feedback to maintain a high quality of work. While this is the same for virtual assistants working in VA teams, it might also be helpful to have a manager who can help with supervising the team, either through regular online communication or a project management tool.
Company Culture
Another important aspect to consider is company culture fit. Do you have a flat organization with most members working as individual contributors? Or do you value teamwork and constant communication to get the job done?
While virtual assistants will not be working physically in your office, company culture also covers your distributed workforce. It can be helpful to see how they can fit in with your current company dynamics, as this can affect how they are trained and how their work is monitored.
The above factors should help you decide which VA staffing model will work for you. Clear requirements and expectations allow for better decision-making. Knowing the scope of work and your resources will help you make an informed decision when choosing between a dedicated VA or a VA team.
How To Hire The Best Dedicated Virtual Assistants Or VA Team For You
When it comes to finding the best dedicated virtual assistants or VA team for your business, you want to ensure that they are the right fit for your business needs. Here are some tips on how to do that:
Define What You Need Help With
The first step is to define what you need help with and the skills needed to accomplish it. These tasks can range from social media management, customer service, telemarketing, data entry, appointment setting, or administrative tasks. Knowing what you need help with will help you narrow down your search and find the right VA for you.
Search For Candidates
Once you have completed the first step, it's time to search for the virtual assistant or VA team that matches the skills you need. You can post about the opening on online job boards or VA communities or enlist the assistance of a virtual assistant company.
Having a clear description of the tasks and the required skills will help ensure that the virtual assistant you hire has the experience and expertise to do the tasks you need. You can find potential candidates through online job postings, social media, or networking sites like LinkedIn.
Screen Shortlisted Applicants
You can shortlist VA candidates from the pool of applications and then interview them. Interviewing applicants is a good way to know more about their experiences and whether or not they are a good fit for your company. Depending on the specialization, you can also ask shortlisted candidates to work on a short test task to examine their skills.
Make Your Decision And Create A Job Offer
Once you have screened and interviewed the candidates, it's time to decide. If you decide to go with a dedicated VA, you can make them an offer. If they accept, you can discuss the details of the working arrangement. Make sure to have backup assistants if it does not work out with your first choice.
Onboard Your Dedicated VA Or VA Team
Now, it's time to onboard your new VA or VA team. Onboarding includes providing them with the necessary tools and resources to do their job and training them on your company's processes and procedures.
It is important to align the expectations and standards on how their performance will be measured at this stage. Goal setting is beneficial to both the clients and the virtual assistants because they have a shared understanding of the work that needs to be done.
Evaluate Performance
Hiring and training virtual assistants is not a one-time thing. Regular evaluation should be done to recognize good work and correct performance that needs improvement. Performance evaluation helps maintain a high quality of work and continuous alignment between the client and the dedicated VA or VA team.
Partner With The Best Virtual Assistant Services Company
A dedicated VA or VA team can be a great asset to your business. They can help you with various tasks that will take your business to the next level. When choosing the best dedicated VA or VA team for your needs, you can partner with a virtual staffing solutions company to help take care of the complete sourcing and staffing process.
20four7VA is the best choice for companies that want to scale their business with cost-effective staffing solutions! When you choose 20four7VA, you get to enjoy:
Significant Cost-Savings
20four7VA provides cost-effective staffing solutions to help businesses like yours reach their full potential. In addition to labor cost savings, you will only start paying when your selected VA or VA team starts working for you. Client-VA matching is free!
Access To A Global Pool Of Pre-Vetted Virtual Assistants
VAs are English-proficient, college-educated, and undergo stringent interview and skills-assessment processes. You can be sure that you will be getting quality VAs.
Full HR Team Service
Aside from sourcing and staffing, 20four7VA also offers HR and payroll team services. You won't have to worry about scheduling VA payouts and implementing performance reviews.
In-House Training Team
20four7VA has an in-house training team that provides training modules to VAs to expand and improve their skills!
Dedicated Customer Service Support
Each 20four7VA client works with an Account Manager who oversees the client-VA pairing. With this service, you can expect quick feedback and resolution of your issues.
To help you with your search for a dedicated virtual assistant or VA team, talk to our Business Growth Specialists today!