Best Virtual Assistant Services + Frequently Asked Questions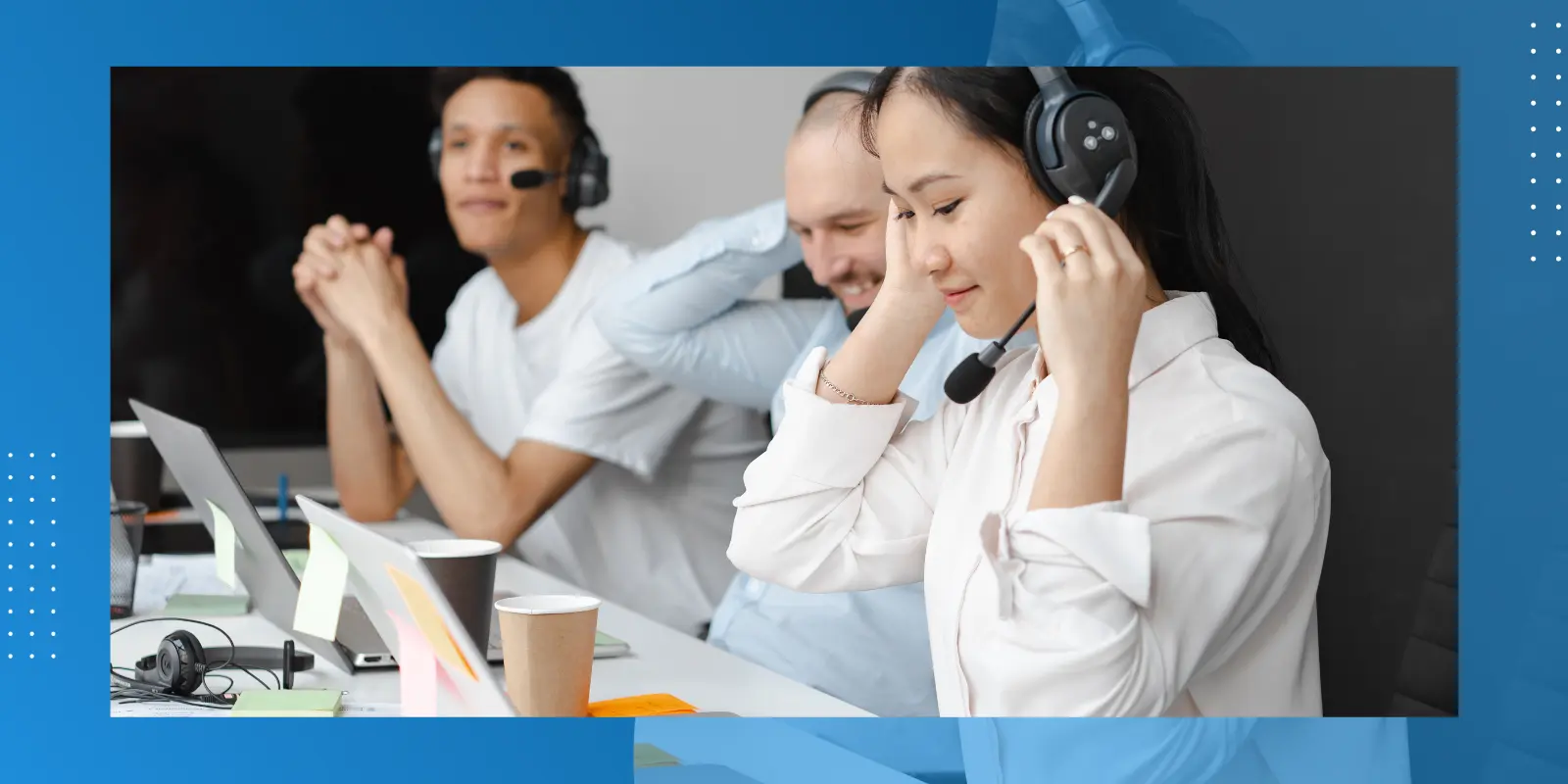 Are you familiar with the expression, "So much to do; so little time?"
Wearing too many hats and taking on even routine low-level tasks will certainly make you feel that way. The solution? Getting virtual assistant services.
Today's fast-paced world can make you feel the need to keep up by loading up your to-do list. But to truly make good use of your time, you need to be able to focus on your core responsibilities and delegate the rest to a skilled virtual assistant or VA.
Curious about what virtual assistant staffing is? Schedule a free consultation call with our Growth Specialists to learn more.
What are the benefits of virtual assistant services?
A virtual assistant (VA) is a professional who offers support to clients remotely. They help clients expand their teams and boost productivity without breaking the bank. Here are the top benefits of availing of virtual assistant services:
One clear benefit of hiring a virtual assistant is that you can clear up time for yourself. You can let go of tasks that don't need your immediate attention. And often, these tasks are time-hungry, like data entry and bookkeeping. A VA can take such tasks off your plate so you have more time for the more important things, from growing your business to focusing on your personal life.
"Burnout is real, and it can take a toll on your physical and mental health," says Cath Castro, our Senior HR & Recruitment Manager. The causes of burnout may vary, but one major factor is not seeking out help and taking on too much work. To help manage stress and keep burnout at bay, delegating is key.
Compared to hiring in-office staff, remote staffing is a more cost-effective alternative solution. Virtual assistants provide their services online using their own tools, mainly a laptop and a stable laptop connection. With remote staffing, clients typically don't need to worry about paying for anything beyond their VA's rates.
When you choose the right remote talents, you can boost productivity. You can hire the most suitable VA for the kind of tasks you need to delegate. And because they have the right skills and experience, you can confidently delegate tasks and increase your business' productivity. By assigning routine and time-consuming responsibilities to a capable virtual assistant, you can take back control of your schedule. This allows you to work on more high-value tasks while meeting your business' productivity goals.
Remote staffing offers better flexibility and scalability to solopreneurs and businesses who need an extra pair (or more) of hands. You can start with having a VA for a few hours a week. And as your business grows, you can either increase their hours or expand your VA team to meet your growing demands.
Most business owners know that some months are busier than others. To keep up with fluctuating demand, you can scale up and down your VA hours as needed. This way, you can be sure you're always getting the right amount of help without committing to hiring a full-time employee.
Access to global remote talent
VA staffing opens up potential clients to talent that they may not have access to when hiring globally. You can pick the most suitable virtual assistant from a larger talent pool. You don't need to worry about how close or far an applicant is to your office locations. All you need to mind is how well they can help you meet your business goals.
Variety of virtual assistant services
Here are some of the types of virtual assistant services in the market:
Technical or Specialist support
Industry-specific (eCommerce, Construction, Telehealth, Real Estate, etc.)
And other types of services that can be offered remotely
Learn more about the clear benefits of hiring virtual assistants. Book a free consultation call with our Growth Specialists today.
Best virtual assistant services
There's no one-size-fits-all solution when it comes to virtual assistant services. Different businesses have different staffing needs. Someone may just need help with one to two minor tasks a month, while another may need a virtual assistant to work with them full-time.
Simply finding the best virtual assistant services can take too much time and energy. Luckily, we've compiled the best virtual assistant service providers for your various needs.
Methodology
To help us decide, we took a look at the most popular virtual assistant service providers out there. Then, we choose the top provider per category based on the following standards:
All for-profit businesses want to keep the bottom lines healthy. And one way to do that is by managing costs. Pricing is a critical factor to consider when choosing a virtual assistant services provider (or any type of service!).
By considering the pricing, you can determine if the service fits within your budget and if it provides value for money. It is essential to assess the pricing options of different providers to compare and choose the one that aligns with your needs and financial capabilities.
In a highly competitive landscape, businesses value speed. Of course, you want quality service, but the wait should be as short as possible. This is why lead time or time to hire is a great indicator that separates an okay virtual assistant services provider from the best one.
Customers want a service provider they can trust. A good way to decide whether or not a VA services company is for you is by reviewing what other clients have to say. Client testimonials are social proof that a service provider really delivers on what they advertise.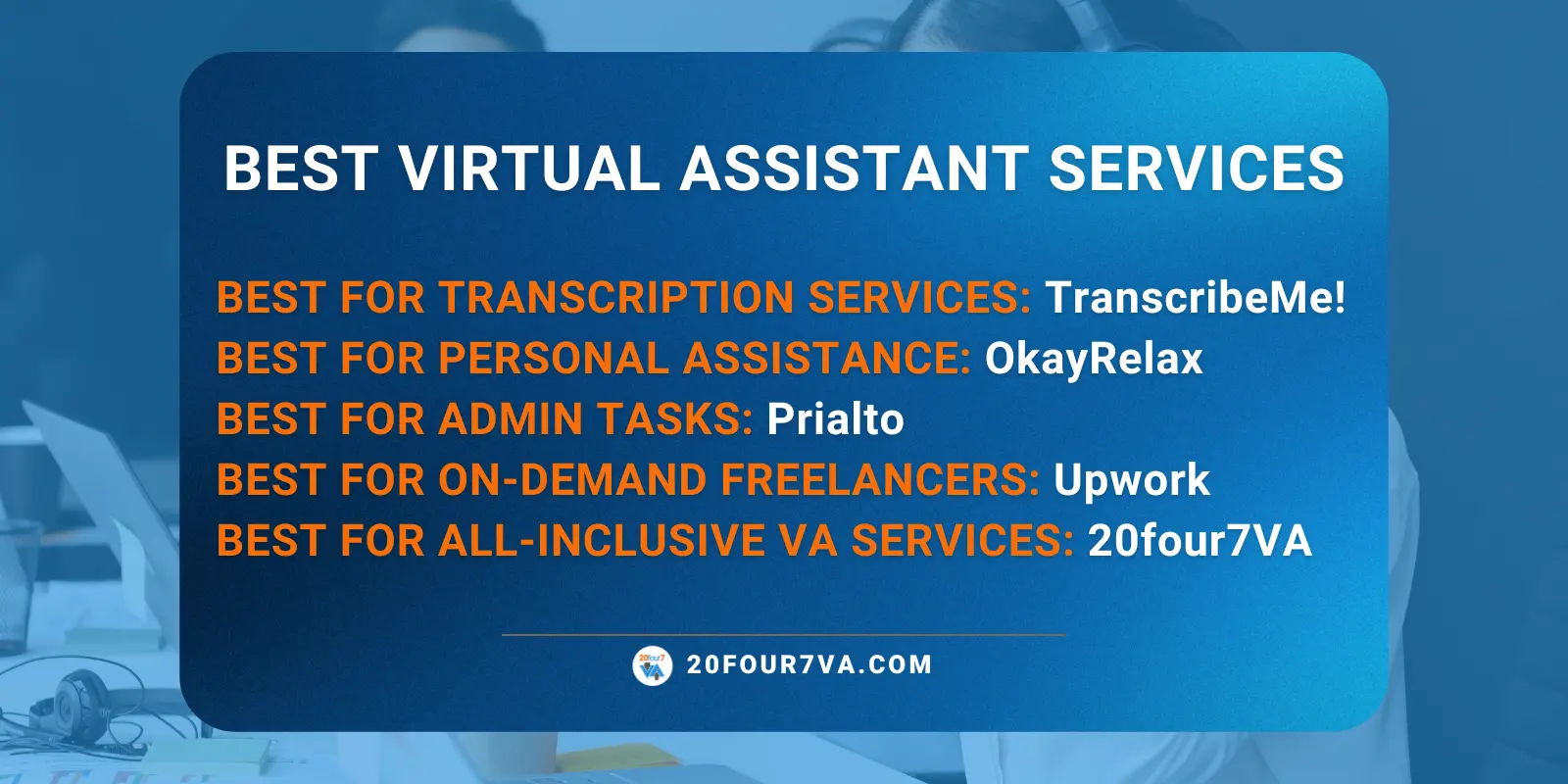 Best for transcription requirements: TranscribeMe!
If you need services along the lines of transcription, translation, and even AI training, TranscribeMe! is an excellent option. They consider themselves to be the gold standard in audio and video transcription. And their hundreds of clients worldwide seem to agree. Their industry solution includes transcription, translation, data annotation, and more.
Pricing:
Starts at $0.79 per minute or $47.40 per hour of audio or video
Pros:
Transparent rates
Services are available in multiple languages
99% accuracy for standard and verbatim service tiers
Cons:
Clients don't select transcriptionist or translator
No refunds for Machine Express service orders
No dedicated customer support officer
Best for personal assistance: OkayRelax
The Relief plan of OkayRelax is perfect for busy individuals who just need a little help to manage their to-do's. Whether you're a busy parent or a busy solopreneur, a virtual personal assistant (PA) can help you with simple PA tasks like making phone calls or booking your family's dinner reservation.
Pricing:
Starts at $29.95 per month, 3 hours worth of requests per month
Pros:
Flexible-cancel anytime
Proprietary, user-friendly dashboard for tasks
Excellent customer reviews (4.3 stars on Trustpilot)
Cons:
No dedicated account manager for the Relief plan
English-speaking VAs only
Not for more specialized tasks (e.g., data analysis, graphic design, etc.)
Best for admin tasks: Prialto
Prialto has over 12 years under its belt. Depending on your needs and team size, you can choose from their three simple pricing plans: Individual, Teams, and Enterprise. Aside from a fully-trained virtual assistant, Prialto will also assign an Engagement Manager to provide customer support. Prialto has helped businesses across more than eight industries check off both personal and business tasks like scheduling meetings and booking vacations.
Pricing:
Starts at $1450 per month for 55+ hours of monthly support
Pros:
Fully trained primary and backup VAs
Setup fee is waived with an annual contract
Excellent customer reviews (5 stars on clutch.co)
Cons:
Pre-determined work hours are weekdays, 9 AM-6 PM, per US and UK time zones.
Not for more technical VA skills like IT services
Best for on-demand freelancers: Upwork
Upwork is the only freelancing platform on this list, and for good reason. Thanks to the freelancing boom, this marketplace is filled with global talents with varying skills and experiences. It's now become a one-stop shop for on-demand tasks. Upwork can be one of the best affordable virtual assistant services platforms for clients, as long as they know how to screen freelancers effectively.
Clients can easily post a job or project and screen applicants by checking their profiles, which include their credentials and past projects they've worked on. Working with freelancing VAs is the most cost-effective for startups or solopreneurs who need help on one-off or seasonal projects.
Pricing:
Average rate of virtual assistants starts at $9.92 to $19.84 per hour
Pros:
Access to global freelancers from over 180 countries
Flexible – hourly and fixed-price contracts
Easy-to-navigate website
Cons:
No dedicated customer support
Both clients and freelancers need to be vigilant against scams
Clients need to handle the screening process
Best for all-inclusive virtual assistant services: 20four7VA
For those looking for the best virtual assistant company that marries both effectiveness and convenience, 20four7VA is the best choice. Our Client-VA pairing service is free, but we don't stop by just matching you with the most suitable VA. We help make the journey of working with a virtual assistant much smoother and more effective with our end-to-end solutions, including timekeeping, in-house training, and performance management.
Pricing:
Virtual assistants start at $5 per hour
Pros:
Competitive pricing scheme
End-to-end solutions
Dedicated Account Manager
Excellent client reviews (4.7 stars on Trustpilot)
Cons:
Not for one-off projects
Minimum 10 VA hours a week
Curious about 20four7VA's cost-effective staffing solutions? Claim your free, no-strings-attached discovery call.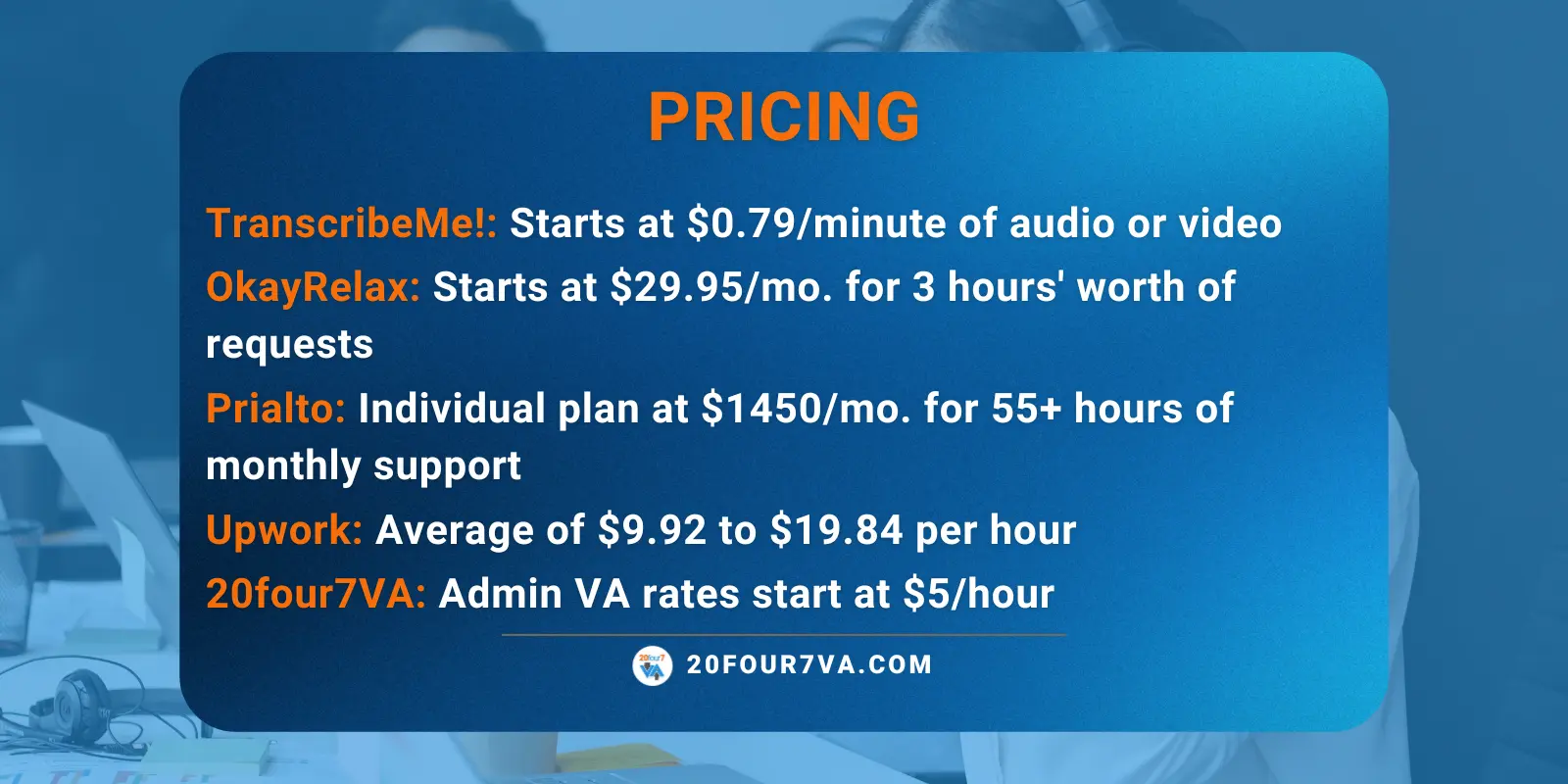 Frequently Asked Questions (FAQs)
How many tasks can my virtual assistant handle?
For options like TranscribeMe!, you get to choose one task or service per transaction. For the other solutions in this list, it depends on how much time each task takes to complete and how many hours your VA is working for you.
Assuming that the average time for an admin task is around 30 minutes and your VA works 10 hours a week, that means they can finish an estimated 20 tasks per week. Of course, the number will vary on the complexity of the assigned tasks.
How many hours does a virtual assistant work?
The beauty of getting virtual assistant services is that it's a more flexible staffing alternative. The number of hours your VA works every week will depend on your needs and the plan you've selected with your virtual assistant services provider.
What tools do I need to provide to my virtual assistant?
What's great for clients is that remote talents, whether virtual transcriptionists or virtual personal assistants, already have their own primary tools: a stable internet connection and a personal computer. All you need to securely extend is access to the software or apps they need to use while working as your virtual assistant.
What skills does a virtual assistant have?
The required technical skills depend on the tasks you will delegate to your virtual assistant. But transferable and soft skills are also a must. We believe these are the top skills every virtual assistant should have.
Does my assistant know how to use my tools and software?
Ideally, your VA should have an idea of how to use common computer programs like Microsoft Office and Google Workspace. However, if you have more specific tools and software, you need to train your VA on how to use them during their onboarding. An advantage of working with an end-to-end VA staffing company is that they can also assist with training and onboarding your VA so they can confidently navigate the tools your business uses.
"Hiring virtual assistants is a game-changer!" says 20four7VA President Catherine vanVonno. And that can be especially true when you work with a VA services provider that fits your needs. Hopefully, this carefully collated list will help you figure out what type of VA services you're looking for and finally experience the game-changing effects of virtual staffing.