15 Upwork Alternatives for Business Owners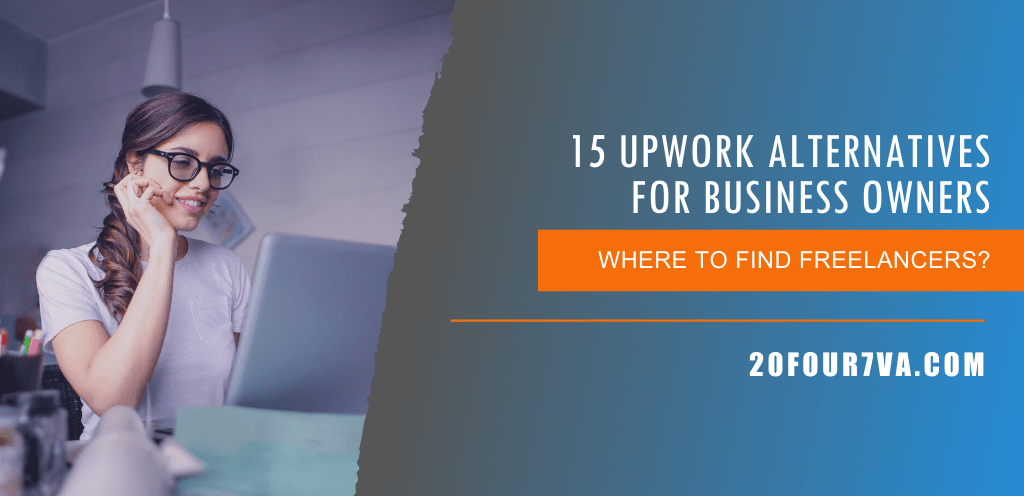 Working with a virtual staff comes with many benefits. It expands your talent pool, it makes your business accessible 24/7, and according to Harvard Business Review, it increases employee productivity. Considering how the current economic climate has pushed many business operations online, virtual assistance, and remote work in general, is arguably becoming the future of the workforce. Many business owners turn to popular remote staffing platforms such Upwork to find their virtual assistants (VAs). However, if you want to stay ahead, you may want to consider the less congested, Upwork alternative websites instead.
Why Business Owners Should Look Into Upwork Alternative Websites
Many years ago, Upwork was the go-to place of both freelancers and business owners seeking remote collaboration. Lately, the website appears to be declining in terms of popularity and influence. In fact, Upwork tanked in TrustPilot ratings with 70% bad reviews from both freelancers and business owners.
An article noted that many virtual assistants are leaving the platform. The tough competition for gigs, unpaid and underpaid projects, and unexpected account suspensions have led many virtual assistants to look into Upwork alternative for freelancers.
As for business owners, the steep fees of Upwork combined with the inconsistent VA quality make the website too risky to fully invest in. Entrepreneurs are required to shell out an additional processing fee of 3% per Upwork transaction on top of the freelancer's rate.
This arrangement isn't the best setup for start-up owners, solopreneurs, and small business owners who want to hire the most fitting candidate.
The good news is that Upwork isn't your only resource for remote staffing.
15 Upwork Alternative Platforms for Business Owners
Want to find a better work arrangement for you and your potential VA plus get access to a wider pool of qualified virtual assistants for creative, tech, marketing and other jobs?
Here are 15 Upwork alternatives for finding your virtual assistant:

Setting up and running one's business online sounds simple. But if you lack the training and skills for it, you'll end up with a lot of design, security, and technical issues. You're better off delegating the IT and tech aspect of your business to experts — many of whom can be found in Ask Lorem. The company prides itself in rigorously screening freelancers and claims to only accept 5% of applicants. Pricing for Ask Lorem IT support range from free (limited access) to $499/month.

Accounting is another gruelling, yet integral, part of running a business. From financial reporting to monthly bookkeeping and annual tax processing, crunching numbers can be a headache. Bean Ninjas is designed to help entrepreneurs balance their books. Apart from general bookkeeping, the platform can train clients to help them be more financially savvy. Bean Ninjas feature a no lock-in working agreement and a starting price of $259/annually for a wide range of services including quarterly expense management, financial reports preparation, and bank account reconciliation.

WordPress comes with built-in design and security tools. However, it's very risky to rely on these basic features. Take a look at these 5 reasons why small businesses need IT support. Outsource this crucial part of the business to skilled people who are properly trained for it. Codeable is a hub of experts for any project or issue related to WordPress. The platform offers short-term, recurring, and long-term services and has a 100% risk-free guarantee. Pricing varies and depends on the complexity, scope, and urgency of the project. Clients can get free estimates for many services such as custom WordPress development, design, plugin customization, and security.

Your brand's influence is only as good as your marketing tactics. Marketing is so complex and multi-faceted that it's best left in the hands of experts. You can find specialists in all things marketing in Credo for your PPC, SEO, Content, and Social Media needs. The platform claims to connect entrepreneurs with marketing partners who create designs with results in mind. Projects are priced according to the client's budget, needs, and goals.

Need a design done fast? Design Pickle aims to provide prompt service and deliver scalable results. The platform only has two service plans: Standard and Pro to simplify the vetting process. Big brands like Unilever and Poshmark have had projects delivered by Design Pickle. To help business owners realize ideas, Design Pickle offers unlimited requests and revisions for all projects.

If you're looking for an alternative to Upwork with US-based virtual assistants only, Fancy Hands is the way to go. The company can set you up with a remote American VA to take care of administrative tasks, research, and special projects. Fancy Hands can provide virtual assistance every day or even just once a week. Pricing starts at $29.99/month. While its main services are targeted for solopreneurs and small businesses, Fancy Hands also has a dedicated service for enterprise-level projects.

Especially designed for work-from-home moms, the aptly named Hire My Mom is a hub of creative, driven, and talented women. If you have a female target audience or want to work with a mommy blogger, Hire My Mom will help you find the best match. The platform aims to help small businesses grow by providing credible virtual services through an exclusively female workforce. Hire My Mom plans start at $14.99 for entrepreneurs who don't need full-term commitment.

Working with a remote staff can be challenging at first. If you have reservations about remote hiring, you need an outsourcing platform that can ease you into the transition. PerfectLancer allows entrepreneurs to only pay when they're 100% satisfied with the work output. With a 0% transaction fee and the ability to set the project budget, PerfectLancer can help you find the virtual service within your means.

Since its launch in 2014, Remotive has already helped thousands of companies from different industries. Business owners can post a job ad themselves and select candidates from specific regions and within a specific pay range. Job posting, hiring, and paying for services through Remotive are all done online with just a few clicks.
Like any other outsourcing platform, ServiceScape relieves entrepreneurs from non-core tasks to maximize their time. However, this alternative of Upwork comes with a unique perk: employers get 5-10% bonus for getting bulk virtual services. ServiceScape matches companies with remote writers, editors, translators, and graphic designers from all over the world.

With a proven track record and thousands of completed projects, Twago claims to be Europe's widest freelancing platform. Business owners are given two options to find a VA: either invite freelancers to bid on a project or publish an ad so freelancers can submit their own quotes. Twago is home to remote programmers, writers, app developers, web and graphic designers, and digital marketers.

The best virtual assistants convert your ideas to reality. For Workana, this is more a mission than an ideal. With more than a million freelancers in its workforce, Workana promises to get the job done well. The platform features a wide array of services including CSS, Android, and iOS development, writing and translation, digital marketing, UX and UI design, and e-commerce support.

Xplace has world-renowned brands like Google, eBay, Yahoo!, and Microsoft among its client base. With a solid track record such as this, Xplace attests its a hub of specialists. The platform aims to fast-track business growth by offering virtual assistant services in content writing, programming, photography, admin support, sales and marketing, and even legal services.
You Team is an outsourcing platform focusing on software development. The company has remote workers for hire from Eastern Europe and South America. Apart from providing software development services, You Team assigns a Customer Success Manager to each company to oversee virtual relations between client and VAs. The platform features flexible pricing, time zone match, and project quality checks.

20four7VA is created by business owners for business owners. This gives the outsourcing platform a unique stance in offering virtual staffing solutions. The company is a full-service agency in that all service packages include HR services, payroll, and IT. Hire administrative support or specialist VAs in content development, creative design, and digital marketing in a 14-day working trial until you find your best VA match.
Virtual assistance is key to growing, sustaining, and future-proofing your business. Find the best VA to get onboard your team by looking through these best Upwork alternative websites.
Recommended Reading: 30 Tasks You Should Outsource to a Shopify Virtual Assistant