60 Tasks to Outsource to a Social Media Virtual Assistant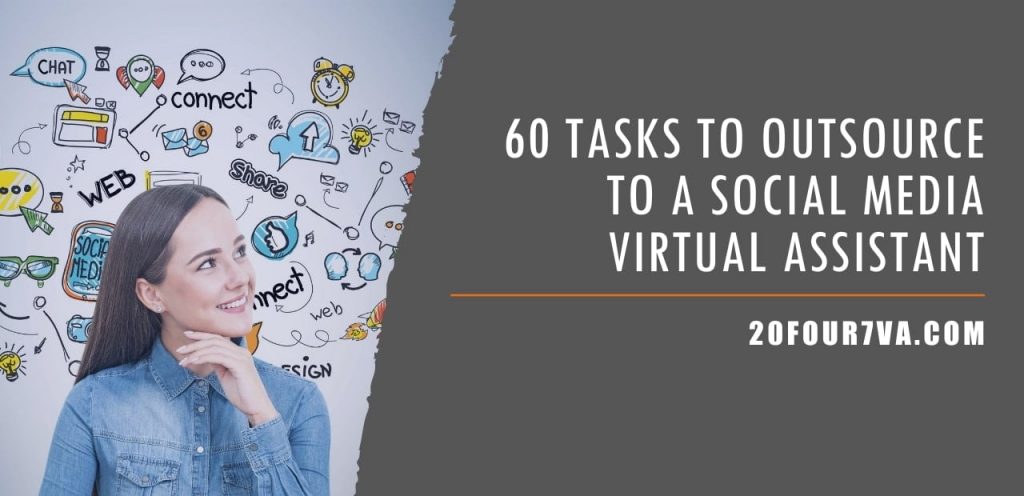 ---
Table of Contents
---
An entrepreneur should know how to adapt to the constantly changing world of business. Today, this means leveraging the extraordinary influence of social media on consumers. Because there are multiple social media networks available, business owners need help in maintaining their social media pages. To deal with this, you need a social media virtual assistant.
Social media influences people's lives in many ways. It's no longer just for reaching out to family and friends. These days, it also connects consumers to brands and businesses. To show the impact of social media, here are some facts about how different social platforms influence consumer behavior and purchase decision.
1. Instagram as a brand influencer
A study by Quintly discovered that Instagram has a higher engagement rate compared to other networks. When it comes to visual content and user-brand engagement, Instagram is the network of choice. In fact, people have used Instagram for product research by reading and watching reviews from influencers or fellow users.
2. Facebook posts as word-of-mouth recommendations
Word-of-mouth recommendations still work wonders for businesses. Instead of being shared in actual conversations, however, word-of-mouth recommendations are now seen on Facebook Check-ins, Likes, and Posts. According to Asian Journal of Business Research, people are now taking notice of products and brands that they see their family and friends use or support on Facebook. (Source)
3. Twitter as a sales driver
According to Digital Marketing Institute, 4 out of 10 users purchased a product after seeing it on Twitter. Additionally, a separate report from Twitter also said that 77% of its users feel more positive about a brand that replied to their Tweets. (Source)
These are just some of the many facts that show how consumers use social media for decision-making and shopping. However, these numbers sufficiently show the critical roles that platforms like Instagram, Facebook, and Twitter play in connecting brands to consumers.
Each social media platform has a dominant user demographic, so it's a good idea to consider that when creating your strategy. Just because one network has a larger user base doesn't mean that it's the strongest channel for your business. For instance, millennials and Gen Zers prefer Instagram to Facebook. If younger consumers are your target audience, then you should invest in Instagram over other platforms.
Managing various social channels also entails knowing the best times to post on different social networks as well as using the right image dimensions appropriate for each platform. Social media management can be tricky if you handle it all by yourself. Hiring a virtual assistant for social media should help you manage this otherwise impossible task.

60 Tasks You Can Outsource to a Social Media Virtual Assistant
So, how exactly can a VA help you capitalize on the power of social media? Here are 60 social media virtual assistant services that will boost your business: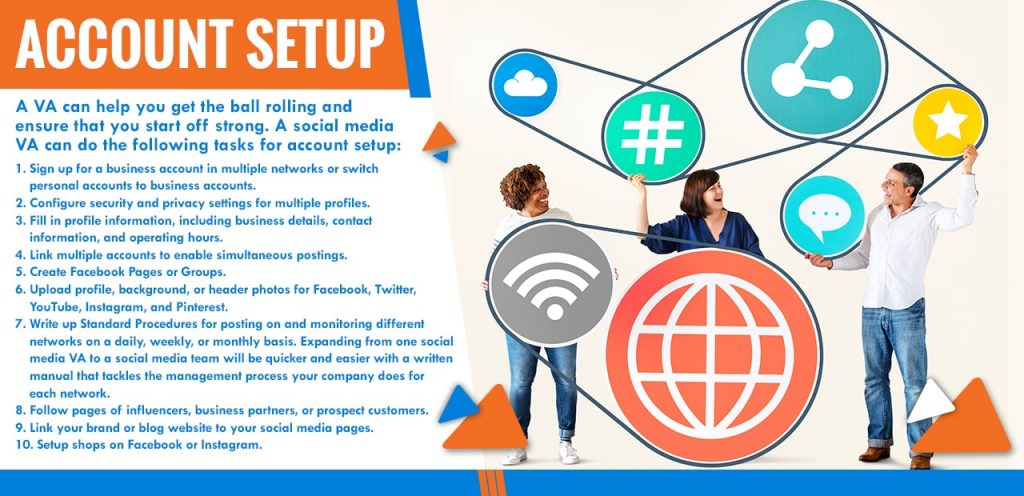 ---
Account Setup
A VA can help you get the ball rolling and ensure that you start off strong. Therefore, have a social media VA do the following tasks for account setup:
Sign up for a business account in multiple networks or switch personal accounts to business accounts.
Configure security and privacy settings for multiple profiles.
Fill in profile information, including business details, contact information, and operating hours.
Link multiple accounts to enable simultaneous postings.
Create Facebook Pages or Groups.
Upload profile, background, or header photos for Facebook, Twitter, YouTube, Instagram, and Pinterest.
Write up Standard Procedures for posting on and monitoring different networks on a daily, weekly, or monthly basis. Expanding from one social media VA to a social media team will be quicker and easier with a written manual that tackles the management process your company does for each network.
Follow pages of influencers, business partners, or prospect customers.
Link your brand or blog website to your social media pages.
Setup shops on Facebook or Instagram.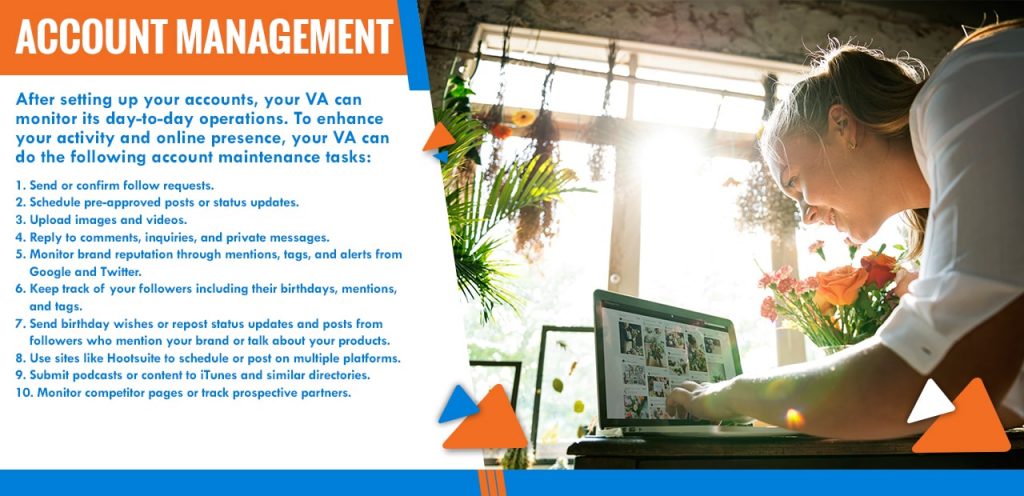 Account Management
After setting up your accounts, your VA can monitor its day-to-day operations. To enhance your activity and online presence, your VA can do the following account maintenance tasks:
Send or confirm follow requests.
Schedule pre-approved posts or status updates.
Upload images and videos.
Reply to comments, inquiries, and private messages.
Monitor brand reputation through mentions, tags, and alerts from Google and Twitter.
Keep track of your followers including their birthdays, mentions, and tags.
Send birthday wishes or repost status updates and posts from followers who mention your brand or talk about your products.
Use sites like Hootsuite to schedule or post on multiple platforms.
Submit podcasts or content to iTunes and similar directories.
Monitor competitor pages or track prospective partners.
---
Content Creation
To make your social pages more interesting, a social media VA can help you curate, proofread, and edit content that you can push on different channels. Here are basic content creation assignments for a VA:
Create About Us content for various platforms.
Write or proofread status updates on Facebook.
Create clever Tweets so you can grow your audience.
Write witty photo captions on various channels.
Create written descriptions on YouTube or other social media videos.
Create stories for Instagram, Facebook, or Messenger.
Setup and manage Rich Pins on Pinterest so you can keep content up-to-date.
Research keywords to create targeted and SEO-driven content.
Create a Content Calendar to plan postings on different channels.
Repurpose high-engagement social media and blog posts into different types of content. For example, Facebook posts with a high volume of Likes, Shares, and Comments can be turned into a YouTube Webinar series. An Instagram post with high engagement can be elaborated into an Infographic that can be shared on Facebook or your business blog.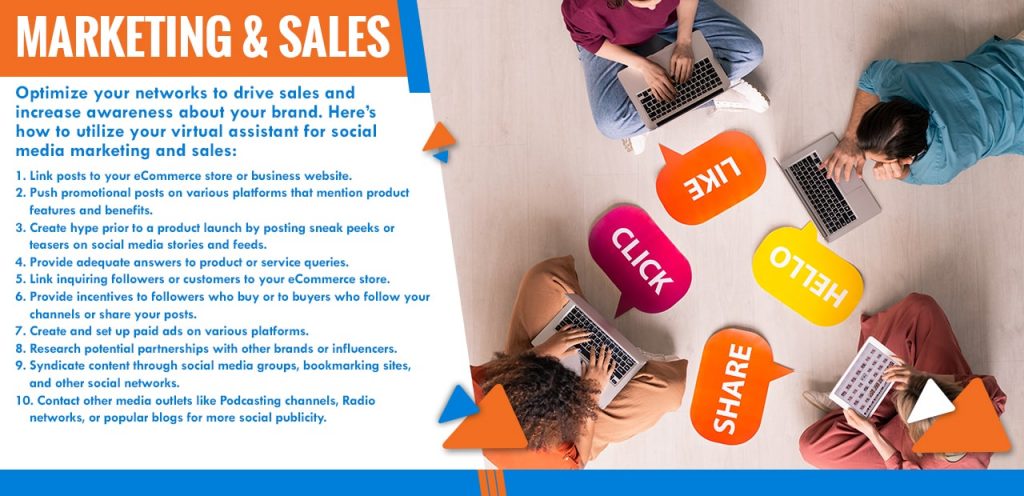 ---
Marketing and Sales
Optimize your networks to drive sales and increase awareness about your brand. Here's how to utilize your virtual assistant for social media marketing and sales:
Link posts to your eCommerce store or business website.
Push promotional posts on various platforms that mention product features and benefits.
Create hype prior to a product launch by posting sneak peeks or teasers on social media stories and feeds.
Provide adequate answers to product or service queries.
Link inquiring followers or customers to your eCommerce store.
Provide incentives to followers who buy or to buyers who follow your channels or share your posts.
Create and set up paid ads on various platforms.
Research potential partnerships with other brands or influencers.
Syndicate content through social media groups, bookmarking sites, and other social networks.
Contact other media outlets like Podcasting channels, Radio networks, or popular blogs for more social publicity.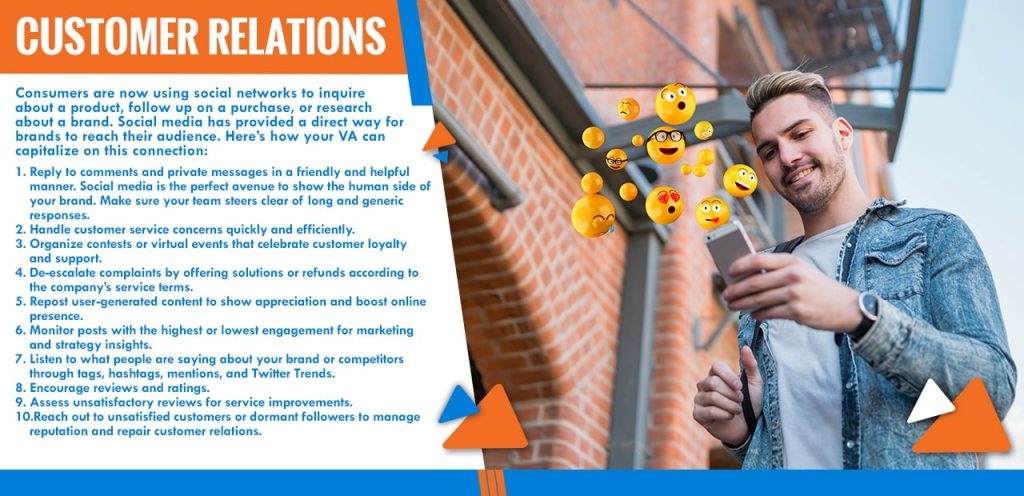 ---
Customer Relations
Consumers are now using social networks to inquire about a product, follow up on a purchase, or research about a brand. Social media has provided a direct way for brands to reach their audience. Here's how your VA can capitalize on this connection:
Reply to comments and private messages in a friendly and helpful manner. Social media is the perfect avenue to show the human side of your brand. Make sure your team steers clear of long and generic responses.
Handle customer service concerns quickly and efficiently.
Organize contests or virtual events that celebrate customer loyalty and support.
De-escalate complaints by offering solutions or refunds according to the company's service terms.
Repost user-generated content to show appreciation and boost online presence.
Monitor posts with the highest or lowest engagement for marketing and strategy insights.
Listen to what people are saying about your brand or competitors through tags, hashtags, mentions, and Twitter Trends.
Encourage reviews and ratings in an effort to improve brand trust.
Assess unsatisfactory reviews so as to facilitate service improvements.
Reach out to unsatisfied customers or dormant followers in order to manage reputation and repair customer relations.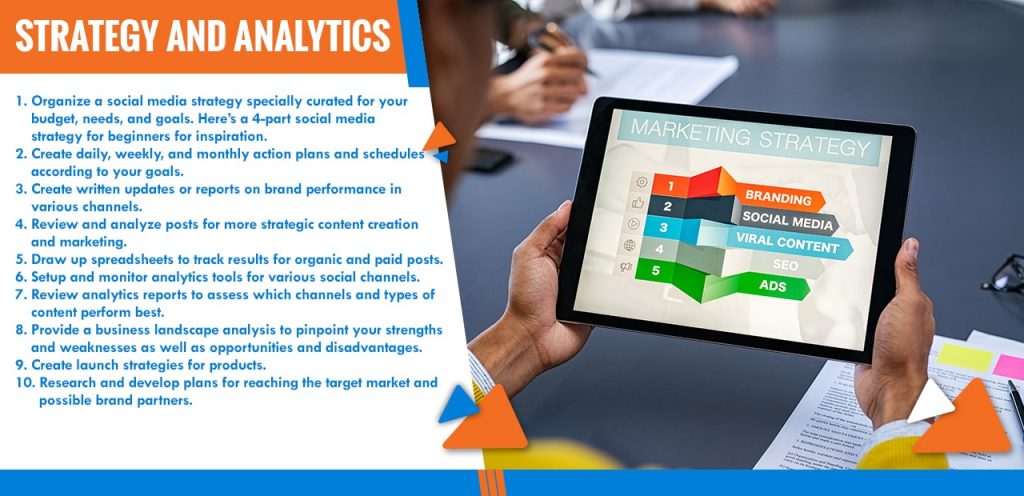 ---
Strategy and Analytics
Organize a social media strategy specially curated for your budget, needs, and goals. Here's a 4-part social media strategy for beginners for inspiration.
Create daily, weekly, and monthly action plans and schedules according to your goals.
Create written updates or reports on brand performance in various channels.
Review and analyze posts for more strategic content creation and marketing.
Draw up spreadsheets to track results for organic and paid posts.
Setup and monitor analytics tools for various social channels.
Review analytics reports to assess which channels and types of content perform best.
Provide a business landscape analysis to pinpoint your strengths and weaknesses as well as opportunities and disadvantages.
Create launch strategies for products, and implement them.
Research and develop plans for reaching the target market and possible brand partners.

Where to Hire a Social Media Virtual Assistant
This list of tasks to outsource to a social media virtual assistant is just a start, and you can develop it or add to it as you go along. To do that, however, you must first hire the best social media management virtual assistant.
20four7VA is a veteran virtual staffing agency, so they can find the most qualified VA for your business. When it comes to social media management, 20four7VA has specialist virtual assistants that have been pre-screened and trained for digital marketing tasks including social media work.
Social media created a direct and powerful link between business and consumers, so use it to your advantage by hiring a specialist social media virtual assistant.