A Definitive Guide to Hiring and Managing a Virtual Assistant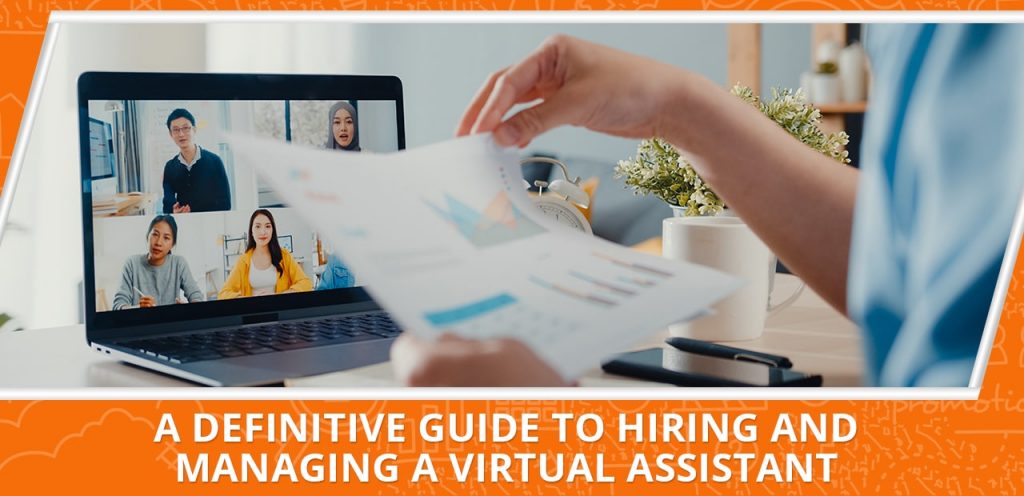 If you're an entrepreneur, there's a big chance that you've considered hiring a virtual assistant (VA) at some point in your business journey.
It's pretty common knowledge that as your business grows, the responsibilities and work also increase.
Some entrepreneurs say that they don't need additional help from qualified staff.
Yes, it's possible to juggle additional tasks while you run your business. But at some point, you may need to hire someone who can take on specific day-to-day duties so you can focus on scaling your business.
This is where VAs come into play.
Before we delve into the basics of hiring a virtual assistant, let's first define what a VA is.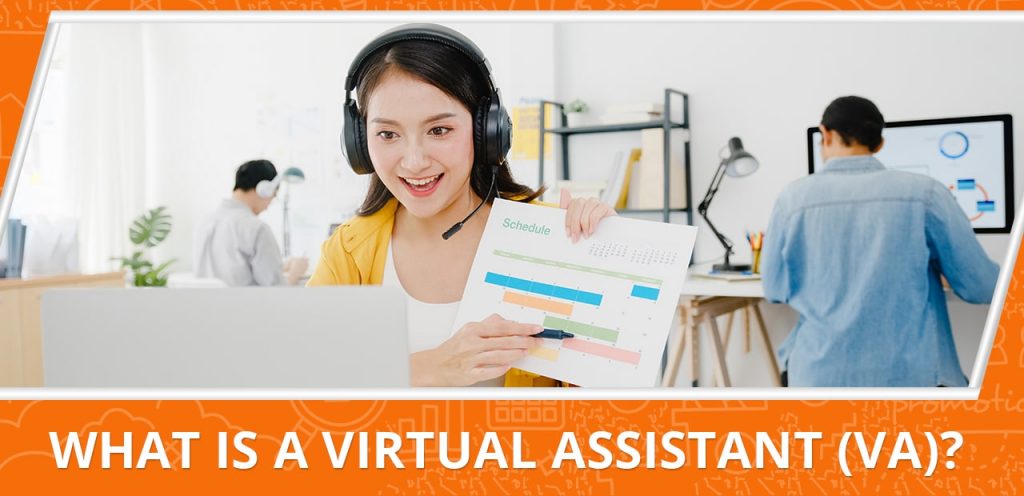 What is a virtual assistant (VA)?
A VA performs administrative tasks such as email management, customer service, and basic bookkeeping. VAs are similar to office assistants or executive secretaries — the only difference is that they work remotely.
While most VAs focus on clerical work, some have specialized skills such as web development, content writing, and social media management.
So it's no wonder that businesses and entrepreneurs invest in VAs instead of full-time office employees. Aside from having a wide variety of skills, VAs are more cost-efficient and scalable. You don't need to provide office equipment such as a desktop computer and a phone, or even stationery and other office supplies, because VAs already have these wherever they're located. And because VAs work remotely, you get to cut out operational costs such as office space rental and utility bills.
VAs are able to fulfill tasks efficiently despite not being in a traditional office setup. They're pretty much adept at using online tools such as video conferencing apps and calendar management software that help them do their job effectively. However, not all VAs have the same set of skills and abilities. Even though most virtual assistants know basic office systems or tools, each of them has a specific skill set that they specialize in.
Before even considering hiring a virtual assistant, you have to determine what type of services or work you need from a virtual assistant to get your business up and running.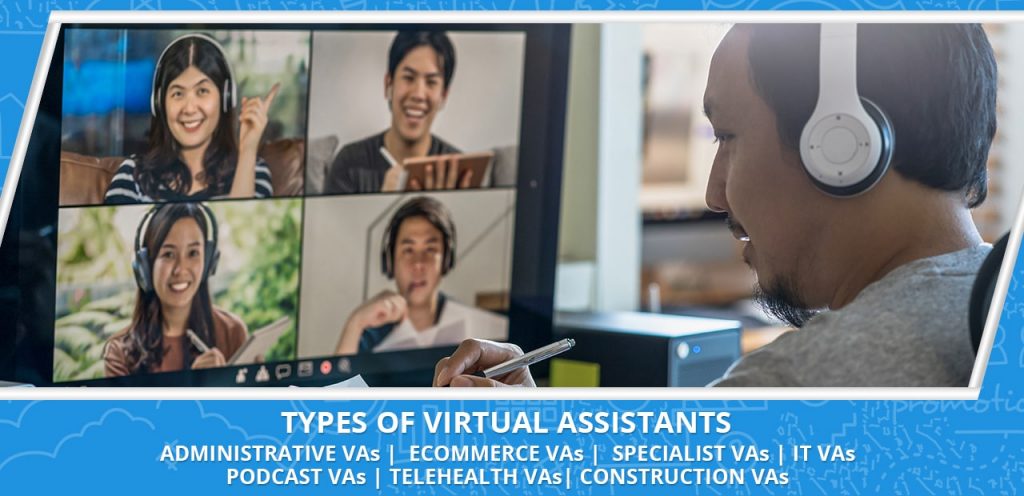 Types of virtual assistants
If you're considering hiring a virtual assistant, the first step is to identify the tasks you will delegate. Are they all admin tasks? Or is there a more specialized job such as search engine optimization that you need help with?
You wouldn't want to hire someone who isn't qualified for a specific job, would you?
To hire a suitable VA for you and your business, you need to know which type of VA will best fit your workforce needs.
Currently, there are numerous types of virtual assistants in the job market. Let's discuss the most in-demand ones:
1. Administrative VA
Administrative VAs, also known as General VAs, help you take care of clerical or administrative duties such as answering emails, file and record management, and basic customer support, among many other tasks.
They usually handle the day-to-day operations to help owners and entrepreneurs focus more on the essential aspects of running a company.
2. eCommerce VA
If you run an eCommerce business and have a lot of things on your plate, then you need to hire the services of an eCommerce VA.
eCommerce VAs have are knowledgeable in online selling platforms such as Amazon, eBay, Shopify, and Etsy. From creating product listings and addressing shipping concerns to order fulfillment and keyword research, an eCommerce VA can help you manage your online business efficiently and effectively.
3. Specialist VA
Specialist VAs perform specialized tasks that administrative VAs can't do.
These VAs can help you grow your business exponentially through marketing strategies and tactics such as brand management, graphic design, content writing, social media management, and website development.
4. IT (Information Technology) VA
IT VAs are skilled staff that can help you manage and run the technical side of your business, including, but not limited to, websites, apps, and internal and external software.
Information Technology  VAs can also help create mail systems, maintain data security and backups, handle the setup and management of servers and domains, set up and manage DOC and file structures, and handle and resolve IT support tickets.
5. Podcast VA
Running a podcast is a full-time job, and if you try to do it all by yourself, it can be overwhelming. Just the process of editing each podcast episode can take several days (or weeks) to complete.
Podcast VAs can take the load off your shoulders so that you can focus on more critical tasks, i.e., running the business side of things. Podcast VAs can perform a wide variety of administrative, technical, and creative functions, such as researching, guest outreach, uploading new episodes, creating intros and outros, and writing show notes.
6. Telehealth VA
Telehealth VAs are similar to Administrative VAs in that they also provide clerical duties such as customer support and file management. However, administrative VAs don't necessarily have adequate knowledge of healthcare-related responsibilities.
This is where Telehealth VAs come in handy.
If you're running a clinic, pharmacy, or diagnostic laboratory, telehealth VAs can help streamline processes by taking on tasks like digitizing health history forms and verifying patient insurance information. They can also prepare prescription forms and answer general patient questions or concerns.
7. Construction VA
If you're finding it hard to stay on top of your on-site duties because of never-ending paperwork and admin work, you can always hire the services of Construction VAs.
From handling customer invoices and preparing proposals to ordering construction materials and tracking payments, a Construction VA can help you manage your construction business so you can dedicate your time to managing projects.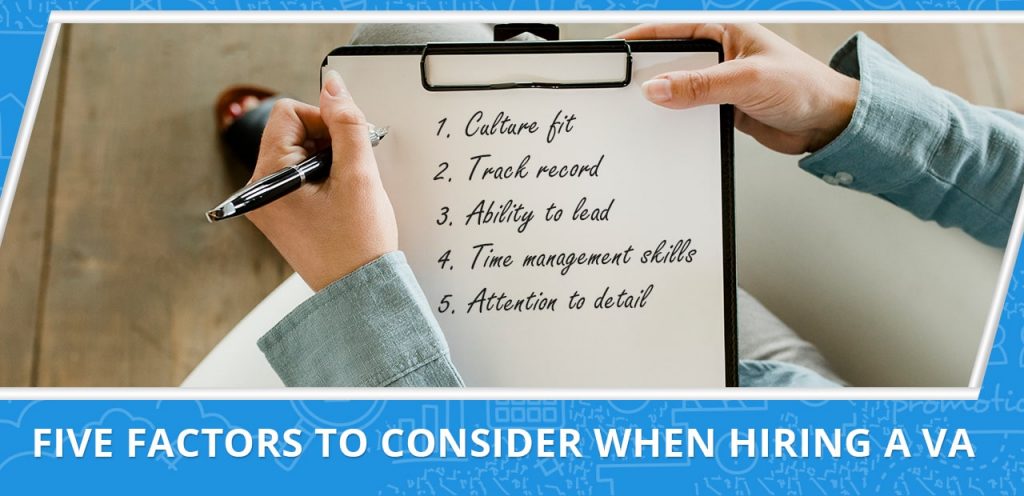 Five factors to consider when hiring a virtual assistant
You've run through your options and determined that you need to hire somebody to help with your business's day-to-day operations. But how do you select the right person for the job?
Do you hire a specific candidate because their interview goes well and they seem easy to work with? How do you choose among candidates who have similar skills and experiences? What should you look for when hiring someone for a remote position?
Before you decide to hire a virtual assistant, you need to first look at these five factors to ensure that everything goes well with your new VA and, ultimately, your business.
1. Culture fit
It's not just the work experience that matters. Sometimes, the key to successfully hiring a virtual assistant is how well they fit in your company culture.
Most of the time, you can determine if they are a good fit by asking the right questions during interviews.
For instance, are they someone who prefers to work in a group rather than being an individual contributor? Do they work at a quick pace or do they prefer to take their time?
Their answers to these specific questions often allow you to gauge if they seamlessly fit within your organization.
2. Track record
Never ever miss doing background and reference checks during the hiring process. It's even much better to liaise directly with the candidate's past employers so that you have access to previous performance feedback. Most likely, what is noted in past performance reviews reflects the potential candidate's work ethic and performance.
It may take a lot of time and effort, but at the end of the day, hiring a virtual assistant with a good track record will save you the hassle of finding out that you chose the wrong person and having to go back to square one. Remember that you will be entrusting private company or personal data with your VA, so hiring someone trustworthy is paramount.
If you'd rather skip the tediousness of running background checks and looking for past feedback on your applicants, hire through a remote staffing provider known for stringent vetting processes.
3. Ability to lead
As a business owner, it's not always possible for you to stay online and delegate tasks to your VA each day, so it's important to hire someone who has great leadership skills and has the ability to lead a project or a team in the future.
Let's face it. We don't hire employees just to get the job done. We also want to see them grow and develop into someone who can eventually lead and manage a team within your business.
4. Time management skills
In any organization, there are certain tasks that are deemed time-sensitive and crucial. It's best to hire someone who knows how to manage deadlines and prioritize workload in order to deliver positive and timely results without compromising quality.
5. Attention to detail
Sometimes, recruiters or employers fail to consider this important factor when hiring. VAs who pay attention to detail are often easy to teach and commit fewer errors because their focus is to provide high-quality output, whether it's in the form of email communication or something more complex like creating website code.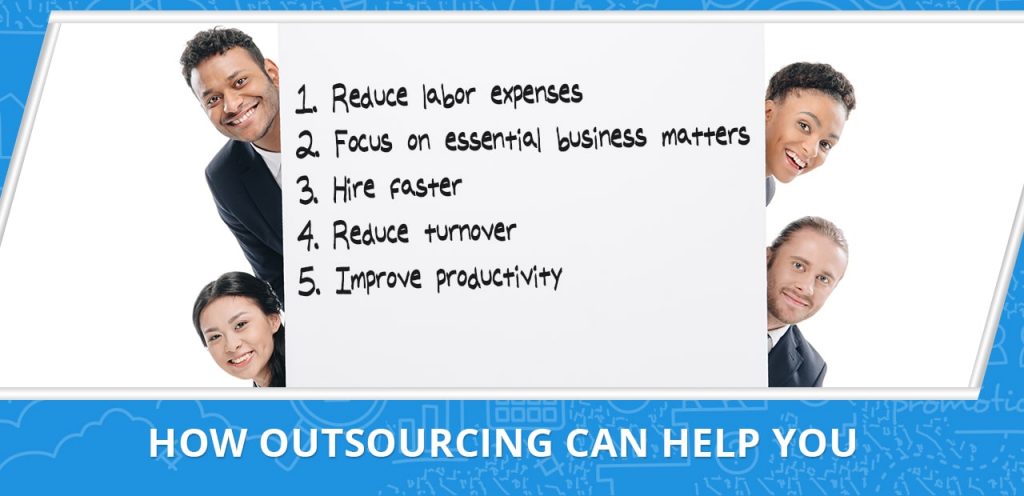 How outsourcing can help you
Now that you've read about what a virtual assistant can do for your company, let's take a look at how outsourcing tasks to remote professionals can help you manage daily business operations more efficiently.
While outsourcing certain admin or specialist tasks may seem like no more than an added expense, in reality, delegating work you don't really need to do yourself can be the key to your success. It certainly poses many benefits for your company, including improved ROI and an increase in sales, customers, and conversions.
Below are just some of the ways outsourcing can help your business growth skyrocket:
1. Reduce labor expenses
Training and hiring short-term employees can be very expensive compared to outsourcing tasks to a remote professional/s.
When you outsource, labor costs are converted to variable costs, which means that you only pay for the services you acquire. In that way, you can reallocate your funds to other important business expenses.
For instance, hiring a full-time web developer for a one-time project might seem a bit unnecessary. With outsourcing, however, you have the option to hire a web developer on a per-project basis or according to your present business needs.
Another great thing about outsourcing tasks to a skilled remote worker is you don't need to spend a substantial amount of money on equipment and training.
Outsourced professionals already have their own desktop/laptop and other equipment necessary to get the job done. They also have years of experience in their specific field, such as software development or search engine optimization. Additionally, if you hire from a virtual staff placement company, your VA will already be trained to perform the tasks you require and will be ready to work on day 1, saving you tons of time and money.
2. Focus on essential business matters
As an entrepreneur, you have your finger in every aspect of your business, which means that you'll inevitably find yourself with too much on your plate. To avoid this, you have to learn to step back. You need to learn to delegate so you can focus on the most important business functions, specifically those that only you can do.
In addition, there will be times when the tasks you need to do are ones that you're not particularly well-versed in.
Say, for example, web development. You might know a thing or two about how to develop a website for your business, but maybe you're not that confident in creating an effective and user-friendly website because you don't have the necessary skills or training.
The good news is, you can always outsource this to a virtual assistant who has the skills and knowledge necessary to complete this particular job.
Let your virtual assistant focus on that specific task so that at the same time, you can focus on core business functions.
3. Hire faster
If you think that hiring an outsourced employee takes more time than hiring in-house staff, think again.
In 2017, the Society for Human Resource Management published a report stating that the average time-to-fill a position is 42 days. Meanwhile, a virtual staffing provider can match you with a pre-vetted and qualified remote professional with the skills and experience your job opening requires in less than a week.
And because virtual assistants are pre-screened and pre-trained, you save even more time. Virtual assistant providers also typically assign a dedicated account manager to facilitate the onboarding process and to provide support, with the goal of making things as effortless as possible for you.
4. Reduce turnover
A high turnover rate will hurt your business. Not only does it disrupt your operations, but it also means you've wasted a lot of money on employees who ended up walking out the door.
Additionally, an employee who quits in the middle of a critical workweek can wreak havoc throughout an organization and leave you scrambling to get a replacement as quickly as possible.
However, when you outsource a specific function to a virtual assistant from a provider, you are assured of a replacement in the event that your virtual assistant becomes sick or otherwise unavailable. This ensures that your business will operate without interruptions whether or not your original VA is around.
5. Improve productivity
Simply put, when you outsource, you will see a rise in efficiency and productivity.
This goes back to the concept of delegating tasks that you don't specialize in instead of trying to learn how to do it yourself — or taking it on and getting subpar results.
When you outsource a specific set of tasks to qualified staff, you can focus more on income-generating aspects of the business and give your revenue a boost.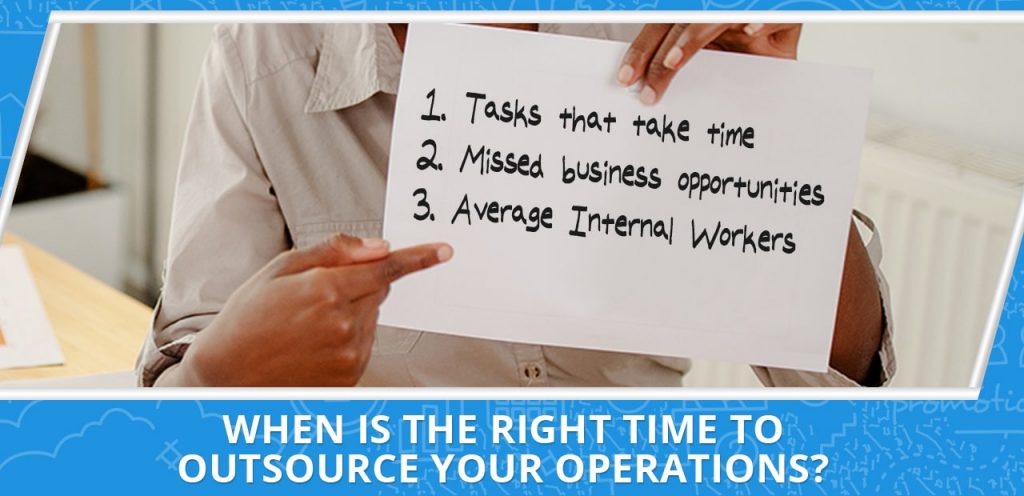 When is the right time to outsource your operations?
Before anything else, it's important to assess your business and determine whether it's time to outsource work to a virtual assistant and which aspects of your business operations can be outsourced. Here are some factors you should consider before outsourcing work to a virtual assistant:
1. Tasks that take time
When you find yourself swamped with so many tasks that you feel like you're no longer able to keep up with your day-to-day operations, then it's time to hire someone.
Because at the end of the day, you just can't do it all.
In order to focus on core business matters, you need to delegate mundane tasks and paperwork to someone who knows the job and can deliver efficiently and on time.
Additionally, if you feel like your time for non-work matters, such as family or leisure time, is being compromised, you have to find someone to take care of your most time-consuming tasks.
2. Missed business opportunities 
Small and other businesses sometimes miss business opportunities because they somehow hire full-time people who are inexperienced or don't have the necessary skills and knowledge on a certain task.
Outsourcing an experienced freelancer or independent contractor compared to hiring a newbie employee gives your business an advantage and also a bang for your buck.
So, if you think that your business cannot seem to take opportunities because of the labor performance and output quality, then outsourcing someone is one option.
3. Average internal workers
It is understandable to crave more success in the business, but as an entrepreneur, having someone who is skilled in a particular field is a great asset to your company.
If you think that there is a high risk of your business going down, then try outsourcing someone who is versatile and has jampacked knowledge and experiences to blast off your business and share what he got to the entire team.

How to pay your virtual assistant
Virtual assistant payment methods:
If you're considering hiring VAs but aren't sure how to pay them, here are some money transfer platforms to start with:
1. Wise (formerly TransferWise)
Globally used by large companies and freelancers. There is a small fee for transactions and all charges are broken down for transparency. Wise prides itself on not having any hidden fees.
2. PayPal
One of the most widely used payment platforms, particularly with freelancers and eCommerce business owners If you are outsourcing VAs internationally, then PayPal is perfect for you. It is very easy to navigate and transactions are all recorded in case you lose track of them. Just make sure that you choose the "Goods and services" option when you pay your VA so you can secure buyer's protection.
3. Bank transfer
This is the easiest way to pay your VA. All you have to do is get your virtual assistant's account number, bank name, account name, location, and phone number. Transactions can be done online, either through your bank's website or a mobile app.
Virtual assistant payment terms:
Paying your virtual assistant requires a mutual agreement between the employee and the employer. So, you better be negotiable and have your invoice prepared as always for tasks and payment accomplishment records.
Consider these payment terms for your virtual assistants:
1. Flat rate 
You pay your VA a fixed salary weekly, biweekly, or monthly. For example, the company would pay the VA $200 per month but he or she is required to work 8 hours per day and 40 hours per week (five days).
2. Per task or project
You and your virtual assistant set a fixed fee per task or for an entire project. Payment is dependent on the task or project's completion. If you go this route, you'll have to determine a schedule for deliverables or project completion. Should you pay before or after the task? Or, should you pay half before and another half after the task? These are the things that you will have to discuss before hiring a virtual assistant. For example, you can pay your VA seven cents for every word or agree on package deals like $300 for five tasks.
3. Per hour 
Here you pay the VA per hour that they spent accomplishing a task. To keep track of the time being spent on a task, the VA will use a time-tracking app or maintain a timesheet. In this payment scheme, invoices are paid after the tasks are completed and the timesheet is approved.
Business leaders share their tips on hiring a virtual assistant
We reached out to business leaders who have worked with or are currently working with outsourced remote professionals. Here, they provide tips for hiring a virtual assistant and the benefits of hiring one.
How to hire — and keep! — the best remote workers:
1. Provide benefits that workers actually want
"Providing benefits is one of the strategies to ensure that your job receives a lot of interest and that your employees stay with you for a long time. This could include above-average income, company vacations, flexible hours, and limitless vacation, among other things. The specific range of perks may depend on the type of your business. Companies that don't need physical meetings and can get by with only online video conferences and chats, for example, may not need to conduct business meetups."
-Adam Garcia, Founder of The Stock Dork
2. Have an enticing company culture
"Thriving business culture is what can entice a potential recruit to join your company. Businesses that put time and effort into developing a strong company culture frequently outperform those with a shaky or ambiguous one. Make sure to mention the company's vision, its commitment to humanitarian causes, and even its Friday happy hours in your job descriptions. All of these factors can aid your hiring process by attracting individuals that are a good fit for your firm from the beginning."
-Dusan Stanar, Founder and CEO of VSS Monitoring
3. Adopt the right hiring strategies
"An important tip for hiring remote employees is to adopt the right hiring strategies. The first interaction you have with a remote job application will serve as the start of your evaluation process. While this is true when evaluating on-site prospects, when interviewing a remote applicant, it's even more vital to pay attention to the following habits. Take a look at how quickly they reply to phone calls and emails. Do they communicate in writing and on the phone in a clear and effective manner? You may also need to do the actual interview through a video interview, and you should observe how well they use technology."
-Lacy Summers, Chief Marketing Officer of Crush the PM Exam
4.  Make sure you really need a VA 
"Yes, it sounds obvious, but you'd be surprised how many people hire a VA to do tasks they just don't like to do, while not actually needing someone to perform the tasks for them."
-Jesse David Thé, CEO of Tauria
Why hiring a virtual assistant can be the secret to your success:
1. Smart spending
"Hiring a virtual assistant can help you shore up your business bottom line. While the skills of an assistant cost something, they don't cost as much as the time spent doing mundane tasks, or the amount of money lost through wastage on a variety of 'experts'."
-Alina Clark, Co-Founder and Marketing Director of CocoDoc
2. Flexible staffing
"Another benefit of outsourcing is that it gives one's business more flexibility when resourcing. For example, if you happen to be going through busy times, you may need more support in certain areas. As such, you can easily hire a VA that has the particular set of skills you need to handle the tasks on a non-permanent basis."
-Eden Cheng, Founder of WeInvoice
3. Reduce risk
"Rather than recruiting new workers, hiring a virtual assistant can help you manage your workload without breaking the bank. If your firm grows and you want additional assistance, just engage another VA to support you through the transition."
-Michelle Devani, Founder of lovedevani