Virtual HR Manager the Missing Piece of a Remote Team Puzzle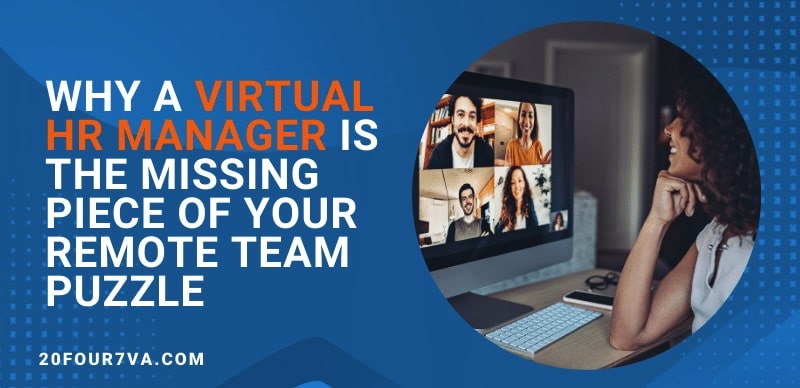 Companies continue embracing remote work and recruiting remote talent regardless of location. And as more employees join a company, new challenges may arise in terms of implementing HR processes and practices. Aside from implementing HR policies, some business leaders find it difficult to introduce remote employees to their company culture. It's understandable for these challenges to arise since taking on virtual talent is relatively new for most companies. This is why business owners must also consider adding another strategic piece to their remote puzzle: a virtual HR manager.
But before we get into what a virtual human resources manager is and why they are the missing piece, it's best to define who exactly they'll be managing.
WHAT IS A REMOTE TEAM?
It's a group of employees who work together even though they're not in the same physical location. Many businesses hire remote employees or virtual assistants (VAs) to help them with a wide variety of tasks from administrative to eCommerce and even telehealth services. Remote or VA teams get the work done by collaborating and communicating using various online tools and platforms.
Read our article on how to build a VA team or schedule a free, no-strings-attached consultation with our Growth Experts to learn more!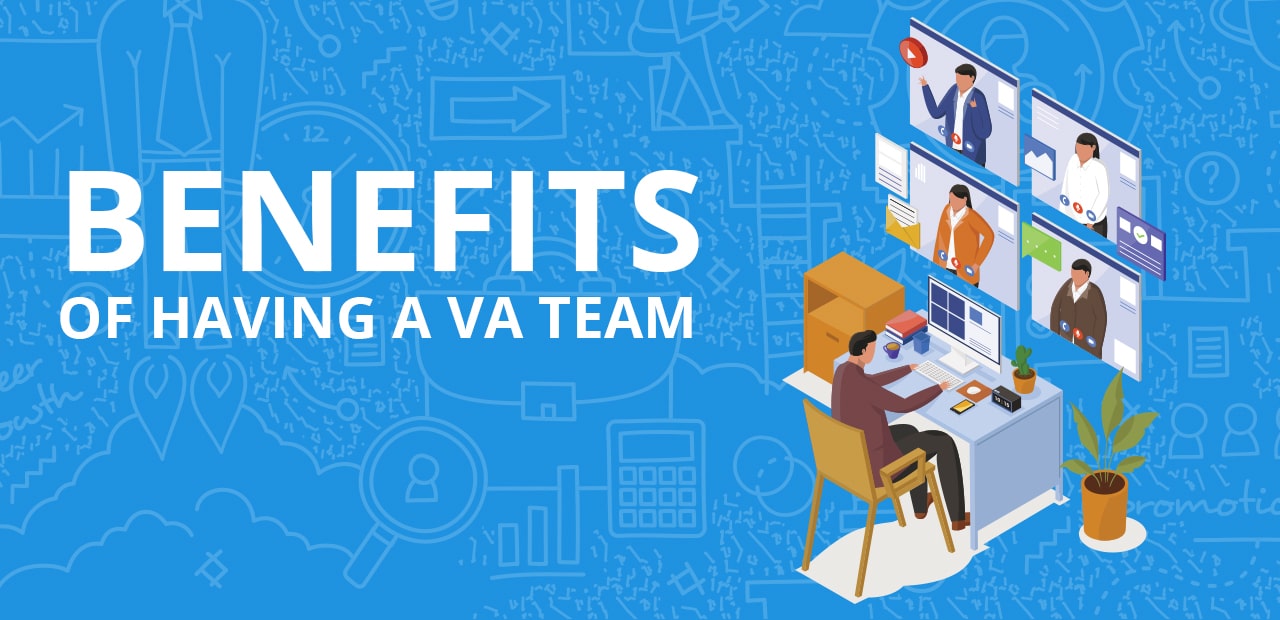 TOP 3 BENEFITS OF HAVING A VA TEAM
There are many reasons why hiring VAs can be beneficial for businesses like yours, including:
DIVERSE, GLOBAL TALENT POOL
You have access to a larger talent pool since you're not limited to hiring only those who live in your city. You have more wiggle room to find someone who fits your main criteria: a professional with the right work experience and necessary skills at the right hourly rate.
COST-EFFECTIVE PROFESSIONAL TALENT
Recruiting remote employees is more cost-effective than hiring in-office staff. Hiring VAs means you won't have to worry about additional office equipment, transportation allowances, and other related staff costs. They can help you get more jobs done without bloating labor and overhead costs.
SCALABLE STAFFING SOLUTIONS
Remote staffing solutions are relatively more scalable than hiring traditional office employees. You can easily add more VAs during busy seasons, especially when working with a remote staffing services company such as 20four7VA. VAs or remote employees can provide support on a wide range of tasks to help improve business operations and increase revenues. But to be more effective in their jobs, remote employees need the right guidance and training that an HR director or manager can provide.
Want more tips on how to manage a remote team? Visit the 20four7VA website or, better yet, contact us to schedule a free consultation!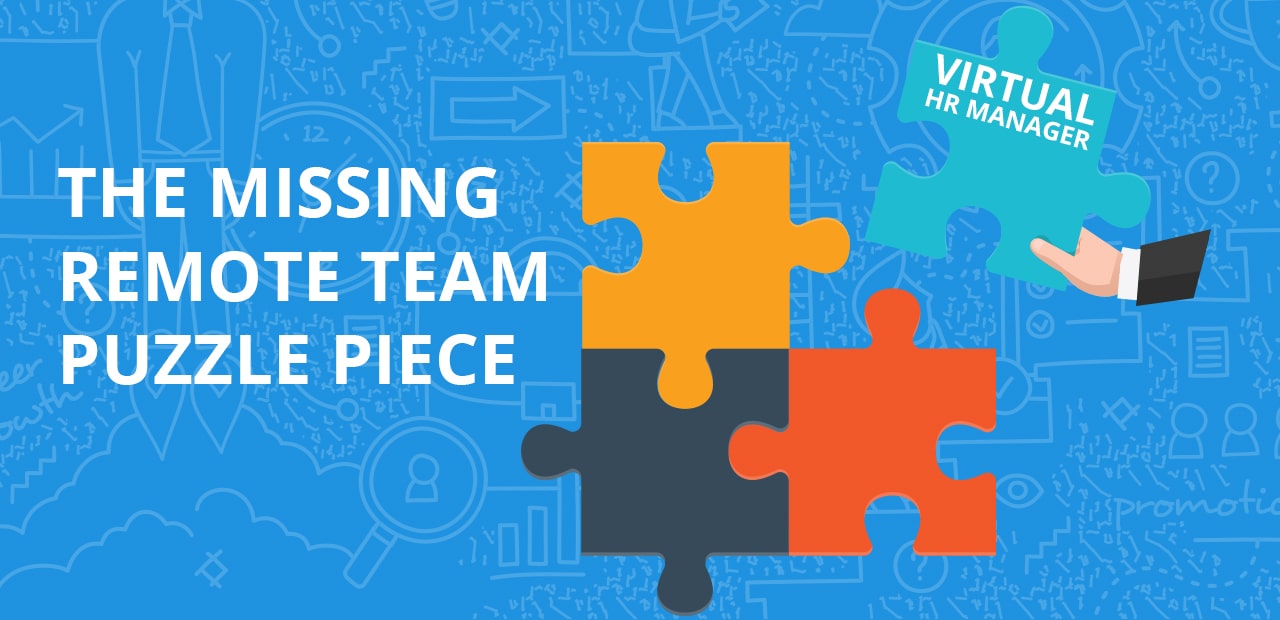 THE MISSING REMOTE TEAM PUZZLE PIECE: A VIRTUAL HR MANAGER
WHAT IS A VIRTUAL HR MANAGER?
Virtual HR managers are responsible for the same duties as traditional human resources practitioners but are specifically focused on managing remote employees. This includes onboarding new hires, handling performance reviews, managing employee benefits, and more. They act as the head of the remote team to ensure that the right HR systems and policies are in place for every remote employee.
Remote HR managers who have the right experience and training for the job can support business owners with the following:
Drafting of Job Descriptions
Posting and Monitoring of Job Ads on Relevant Career Platforms
Screening and Recruitment
Onboarding of New Hires
Training & Coaching Programs
Payroll and Time Tracking Support
Ensure Compliance with HR Policies
VA Management
Performance Management (KPI Setting, Performance Review, Performance Improvement Planning, etc.)
Develop Guidelines Specific for Remote Employee Management
And other HR processes.
Our partners, Luciana Aldana and the Argentine Association of Telework (ASAT) have authored a free eBook about the specific responsibilities a Head of Remote Work would have. The eBook is available for download in Spanish and English at asat.ar/HeadOfRemoteES and asat.ar/HeadOfRemoteENG.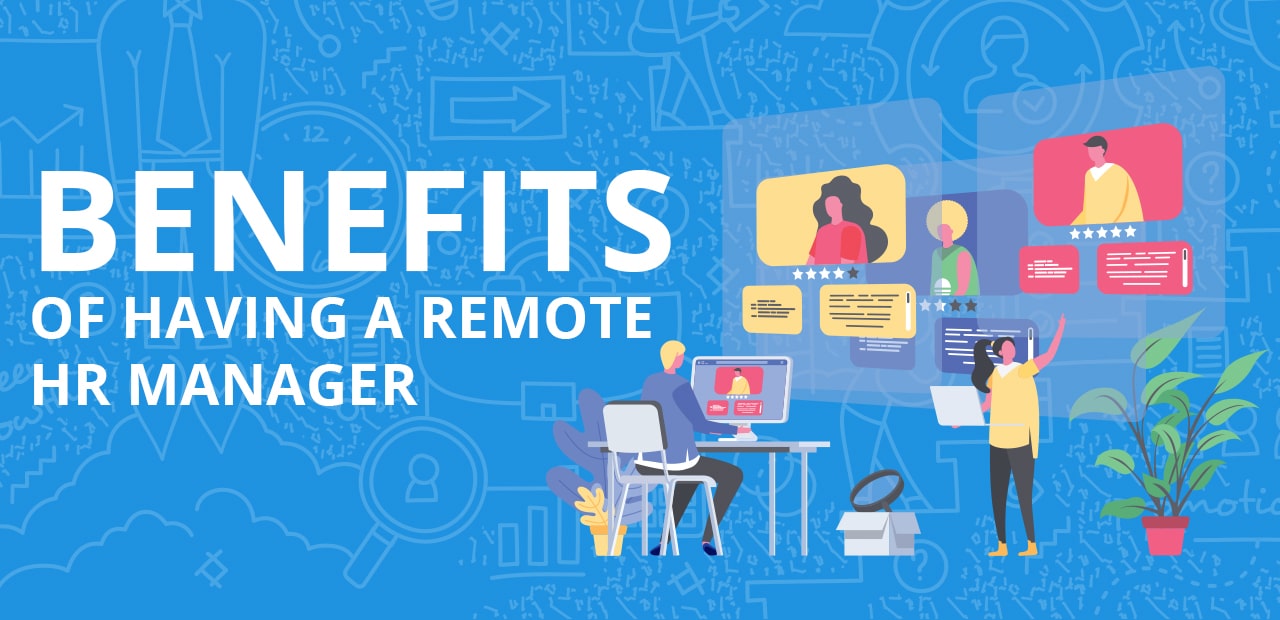 BENEFITS OF HAVING A REMOTE HR MANAGER
STAY COMPLIANT WITH HR RULES
Not all executives, department managers, and business owners are well-versed in HR activities. Aside from that, most business owners already have a lot on their plate, and employee management duties may take a backseat. A remote manager for HR can ensure remote employees aren't hired, onboarded then left to their own devices. They can handle the most simple HR tasks. They can answer questions from VAs about company policies or payroll clarifications. Remote HR managers are also updated about the latest labor regulations and best remote talent management practices. They can help make sure that your business remains not only compliant with the rules but also ahead of the curve when it comes to nurturing remote talent.
If you have an in-office HR team, the remote Human Resources manager can align with them to develop practices and systems that are more apt for remote workers but still aligned with company policies. They can help integrate remote workers with the rest of the organization and ensure the systems and technology are in place to promote seamless and productive collaboration between all workforce members, whether in-office or remote.
TAKE BACK TIME TO FOCUS ON MORE STRATEGIC DUTIES
If you're operating with a fully remote workforce, then you will need someone to help unload HR tasks off your plate. A remote HR manager can take over employee relations and implement HR policies so that you can focus on more strategic duties like product development or financial management.
HR duties like screening and training employees require a lot of time and undivided attention. If you're rushing something important such as an interview or a training session, this can negatively affect your employees' performance and development. So it's best to hire someone whose sole focus is to manage the entire remote employee lifecycle. They can take time-consuming duties from your plate while developing new processes that can improve employees' remote work experience. Having an HR consultant or manager means your employees get the necessary attention and guidance. At the same time, you gain valuable time that you can use to tackle leadership duties or simply have some personal time to reset and refocus.
KEEP VIRTUAL ASSISTANTS ENGAGED
Keeping company culture alive, even in a remote work setup, can be challenging for organizations. This can lead to employee disengagement or having remote talent feel like their achievements are not being seen by management. A decrease in employee engagement can negatively impact employee retention. Hiring someone who knows or can develop remote management best practices can significantly improve virtual employee relations. They can help keep remote talents engaged by providing human resources (HR) services that are tailor-fit for remote workers and highlighting the important part that the remote talents have in building a better and more successful organization.
HANDLE EMPLOYEE DEVELOPMENT DUTIES
HR must not only be focused on training and coaching in-office employees to become future leaders. With the adoption of remote work arrangements and alternative staffing options, business leaders must also consider the inclusion of remote employees when it comes to career advancement opportunities. This means extending training and job enrichment options to remote staff as well.
A remote manager for HR can help VAs do well in their current job and assist in developing training programs so they can be considered for career advancement opportunities as well. They can also provide assistance with coaching managers on how to manage a hybrid workforce and make sure each member is aligned and has equal access to tools and data that can help them excel at work. Here are some of the employee enrichment initiatives that remote HR managers can handle:
Performance Management
Leadership Training
Technical Skills Training
Essential Soft Skills Training
Mentorship Program
Manage Underperforming Employees
Rewards and Recognitions Program
Employee Feedback Program
And many more!
COST-EFFECTIVE, SCALABLE SOLUTION
Companies hire remote professionals because they're getting work done at a high level but at a fraction of the price of recruiting employees that work on site. The same goes for hiring virtual HR managers. They provide high-quality HR services without bloating your labor budget.
The benefits you get from getting a remote HR consultant or manager can outweigh the labor costs you'll be investing in. You're helping your remote workforce develop and feel more engaged, which are essential factors in keeping employee turnover rates low. You're delegating the HR duties to a professional so you can focus on your other leadership duties.
Want to know more about how remote staffing can help you save on labor costs? Schedule a free consultation with 20four7VA today! Our Growth Experts are ready to help you find the right staffing solutions for your business.
And as your business operations and requirement for remote talent grow, they can also provide support. They can help your virtual assistant team grow by taking over recruiting and onboarding duties. When your remote workforce grows, you may also want to hire another virtual HR consultant or expand your current HR manager's role to a virtual HR Director.
GETTING THE RIGHT VIRTUAL HR SERVICES FOR YOU
No matter your industry, you'll soon encounter a remote worker or a fully remote workforce. You've most likely observed that the professional world is now different from what it generally did from a couple of years ago. And change will continue to happen. As the professional landscape and workforce continue to evolve, so should your HR processes and initiatives. It's more than just compliance with rules, although that is important. It's also about making your organization truly diverse and inclusive. This is why you need a remote HR manager who can help you establish critical processes and guidelines for nurturing remote talent.
7 IMPORTANT QUALITIES VIRTUAL HR MANAGERS SHOULD HAVE
1. EXCELLENT COMMUNICATION AND INTERPERSONAL SKILLS
HR managers will have a lot of interaction with the different members of the organization. They will need to communicate with employees, supervisors, and other managers. They may also need to handle reporting HR insights to leadership. They will need professional and clear written and verbal communication skills for these situations. An HR manager must also have the right interpersonal skills to help manage various situations, including conflicts.
2. COMPUTER SKILLS
Familiarity with business intelligence tools can help make an HR practitioner's life easier. Many programs can make HR activities such as recruitment, resume analysis, payroll management, and analytics more efficient. Since most, if not all, of their work will be done online, remote HR managers must have the right computer skills to deliver excellent services to their clients.
3. EMOTIONAL INTELLIGENCE
Communication and computer skills are important for remote HR managers to perform well in their roles. But HR is more than just computing for payroll and onboarding new hires. The role requires interfacing with employees, often acting as the bridge between the employer and its workforce. To successfully do this, HR managers must rely on data or what's on paper and their emotional intelligence. Helping identify and understand an employee's emotions and challenges can be key in performance management and conflict resolution. Additionally, emotionally intelligent people practice empathy and display excellent social skills that allow them to improve the employee experience.
4. WILLINGNESS TO LEARN
Even when someone holds a managerial position and has had years of considerable experience, they should always be open to learning something new. Especially in a fast-paced workplace where new technology or programs pop up, a remote HR manager must not be afraid to be a student again and again.
The same way of thinking must be the same when it comes to dealing with a person or employee. There may be similarities between remote workers, but everyone is unique and can react differently to various triggers. An HR manager must not think that because almost all variables are the same, they already know the full situation before they even talk to the parties involved. They must have the mindset of always being open to learning new things about people and situations. This mindset allows for unbiased handling of seemingly familiar concerns and signals employees that their HR manager is genuinely listening.
5. QUICK TO ADAPT
The modern workplace is not yet finished evolving. Continuous change and development of new technology require every part of your organization should keep up, including, or maybe most importantly, HR. Knowing how to understand and act upon relevant data and trends in the job market can help an HR manager acquire the right remote talent before a competitor employer even gets a chance to see a candidate's profile.
Remote HR practitioners must also be quick on their feet when it comes to conflict resolution. They should be able to rely on their previous experiences and refer to company guidelines when handling sensitive issues in the digital workplace. A dynamic, fast-paced, and diverse workplace is a good sign that an organization is keeping up with a highly-competitive world. But this type of workplace can bring new challenges, so having an HR manager who can adapt quickly and think of creative solutions will surely benefit any organization.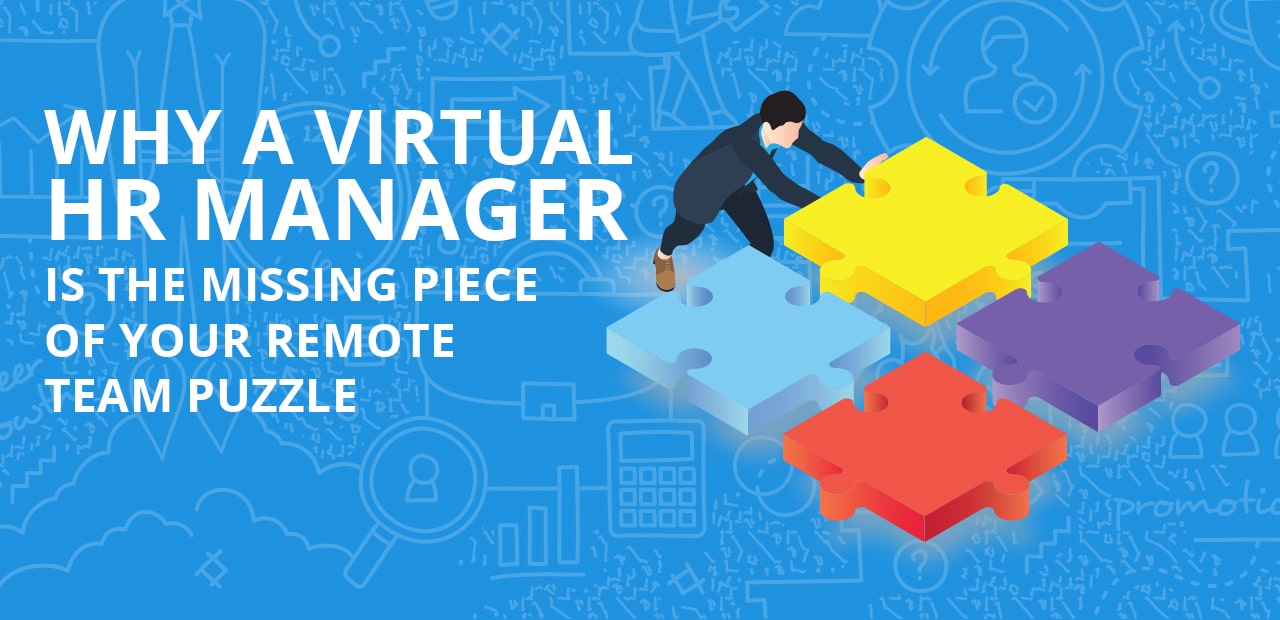 6. RELEVANT EXPERIENCE AS AN HR PRACTITIONER IN A REMOTE SETTING
A virtual HR consultant or manager with relevant work experience will be a great addition to your business. They can provide real-world insights and share the best practices they've learned from past jobs. A remote HR manager can take their experience and review your current work setup to identify gaps in your HR practices. Additionally, they can help formalize HR activities more tailored for a remote workforce rather than the traditional in-office work setup.
7. COMMITMENT TO DIVERSITY, EQUITY, AND INCLUSIVITY (DEI)
Employers committed to ensuring that diversity, equity, and inclusivity are present and thriving in their organization are more likely to recruit and retain great talent. A lot of job seekers research prospective employers before applying for a role. A DEI culture also helps with employee retention and drives better team collaboration and problem-solving. Additionally, working at a company with a strong DEI foundation makes current employees feel more engaged and respected.
Your remote HR head can help solidify your employer brand as an organization that values DEI and provides equal opportunity. They will most likely be the first point of contact a prospective candidate will have with your organization, so they must embody the same values that you prioritize.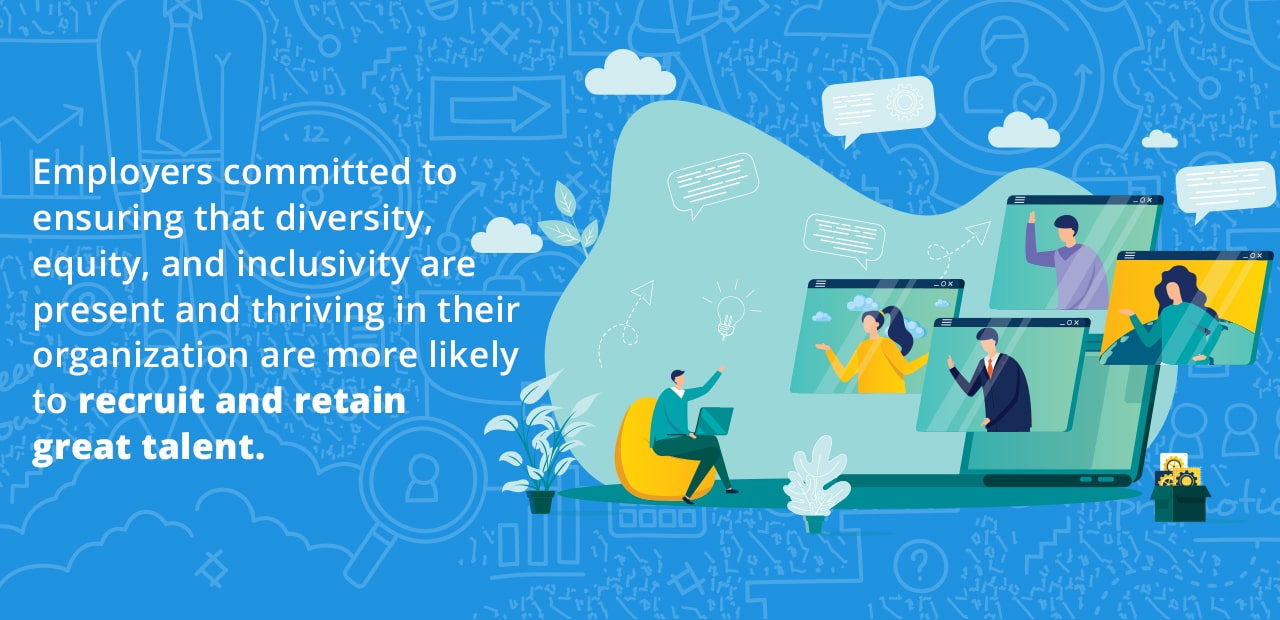 FIND YOUR REMOTE HR MANAGER WITH 20FOUR7VA
20four7VA is an Inc. 5000 company with over a decade of experience matching clients with the right VAs for their business needs. We provide top-notch end-to-end remote staffing services. By working with 20four7VA, growing businesses like yours can access a global talent pool with VAs specializing in various fields from ecommerce, IT, marketing, Telehealth, and, of course, HR.
Ready to find the missing piece of your remote workforce puzzle? Contact 20four7VA today, and we'll help you find the right Virtual Human Resources (HR) Manager you need.