VA Spotlight: Mariz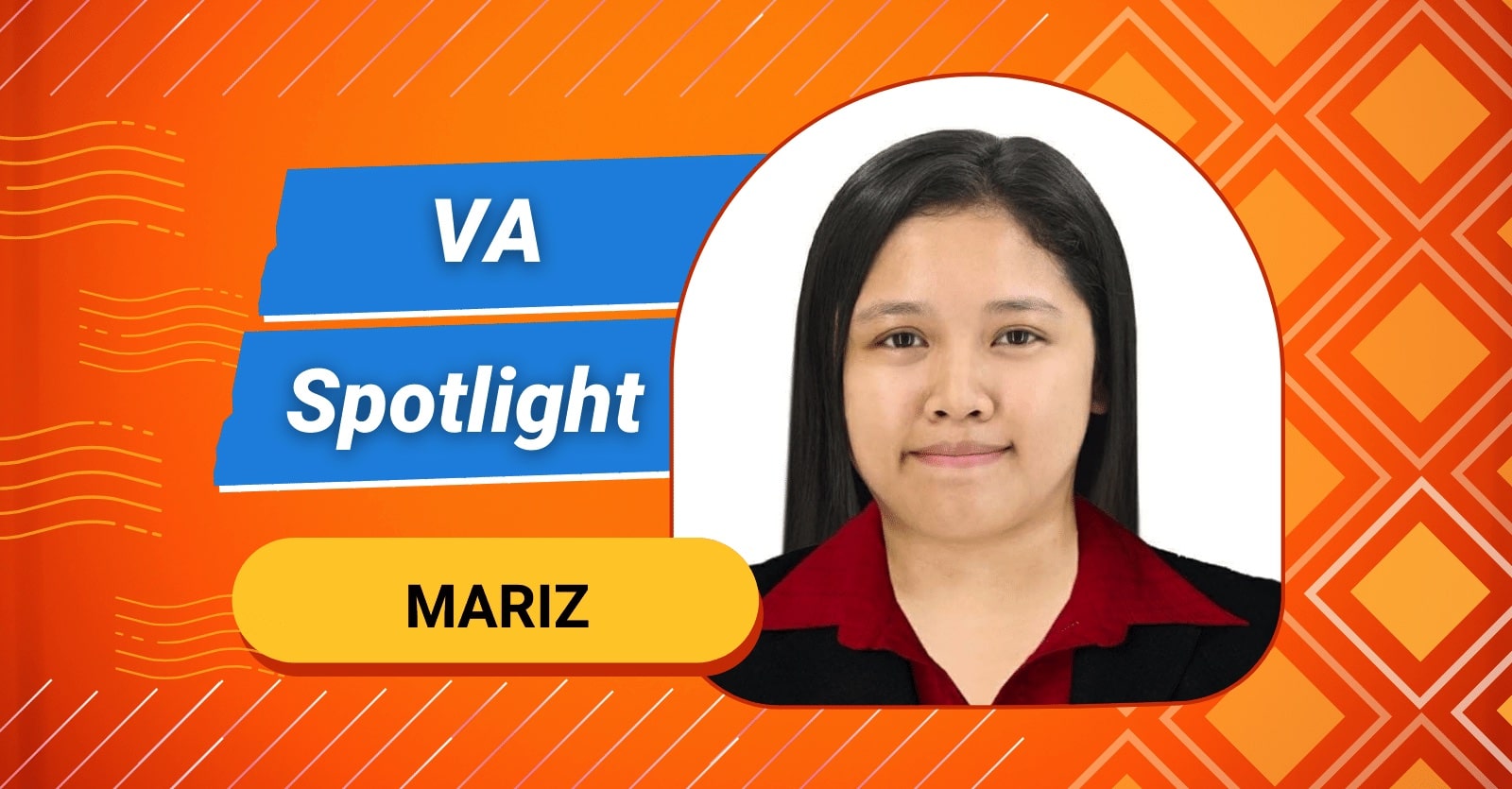 eCommerce virtual assistant (VA) Mariz won our Core Value – Respect award at last year's Thanksgiving Townhall. Mariz has been with her client, an Amazon seller, for over four years and speaks of their working relationship with such fondness and loyalty. We sat down with Mariz for an insightful chat about her experience with 20four7VA.
What made you decide to become a virtual assistant?
The biggest factor for me was no longer having to commute to work. Where I live, the traffic jams are really something. It took 2 hours to get from my home to where I work; sometimes, it took up to 4 hours. I lost so much time I could have spent with my family. And because I'd been working since I was 18, I'd been losing so much time to commuting for almost ten years.
And then a friend told me she'd been working with 20four7VA and working from home. I mean, who doesn't want to work from home, right? When I heard that, it was like a rainbow to me, like I could hear angels singing. [laughs]
20four7VA has been the biggest blessing for me. Sometimes I think about my friends who are still at my previous company—they're still commuting hours daily. When I think about it, I thank God because I don't have to do that anymore. I'm working from home, and I'm with my parents and siblings. I don't have to risk my family's health by going out and possibly getting exposed to COVID-19. I don't know what would have happened to me if I were still working on-site during this pandemic. So I'm really thankful for 20four7VA. It's been nothing but a blessing for me!
What was life like before you started working with 20four7VA?
I was a call center agent for almost ten years. So when I was invited to work with 20four7A, I didn't want to do voice calls anymore because I'd been with a voice account for so long. I said if I'm going to work from home, I don't want to answer phone calls. I'd rather be on a non-voice account. And that's what I got!
What is life like now that you've started working with 20four7VA?
After getting accepted and working with my client, I suddenly had all this free time to do things that I couldn't do when working with a non-remote company. Now I can cook meals for my family! Whenever I have a break, I can cook a quick meal or do some chores—all these things I couldn't do if I were sitting in traffic for 4 hours every day.
And then there's the relationship with the client. So far, I'm really happy with my client, and the other VAs I'm working with are very cooperative and very easy to talk to.
How is 20four7VA different from other remote work agencies or job boards you've tried?
I didn't know much about virtual assistant agencies, but I knew about online job marketplaces. I learned that with these marketplaces, you're the one who's going to negotiate with potential clients, you're the one who's going to invoice your client, you're the one who's going to do everything that 20four7VA is basically doing for me for free. So if I have to choose, well, why do it the hard way? I'd rather be given a client, focus on work, and then simply get my salary every week.
How has 20four7VA helped you grow?
I feel like I've developed my integrity. When you're working at home, there are a lot of distractions but you have to respect your client's time, of course, and focus on your work. You need to develop the discipline to do the work you're being paid for and respect your client.
Also, every time something needs to be improved, my Account Manager has been really helpful. Johan [our Customer Support Operations Manager] is proactive about clarifying things or smoothing things out when there's a hiccup. I feel so empowered by the support from the CSO Team and the VAs I'm working with, so I really would choose 20four7VA over other companies.
What are the top 3 benefits of working with 20four7VA?
Working remotely has given me the freedom to travel
Consistent and competitive salary paid out weekly
The sense of belonging to a family where you feel accepted and supported
What advice would you give to someone thinking of applying at 20four7VA?
Working with 20four7VA is an opportunity you should grab because when you work here, you're taken care of starting on Day 1. I can't express how helpful the Recruitment Team has been—they make sure you're taken care of during the application process and that you're matched with the client that's best for you. So grab the opportunity to work with 20four7VA. I promise you won't regret it!
What common qualities do you think VAs have or should have?
Adaptability
Integrity
Reliability
Describe 20four7VA in one sentence.
20four7VA feels like home to me.
Mariz is a gem, and we (and her client) are lucky to have her on our team! Thanks for taking the time to speak with us, Mariz!
Become a 20four7VA virtual assistant and experience the flexibility and freedom of working from home. Ready to kickstart your VA career? We have plenty of exciting open roles! Find your dream job here!
Follow our official Facebook page to get the latest news and updates.
---
Ready to start your VA career? Become a 20four7VA virtual assistant and enjoy the freedom of working in your own space at your own pace. Find your dream job here!
Want to be featured in your very own VA Spotlight post? I want to be featured!