VA Spotlight: Joji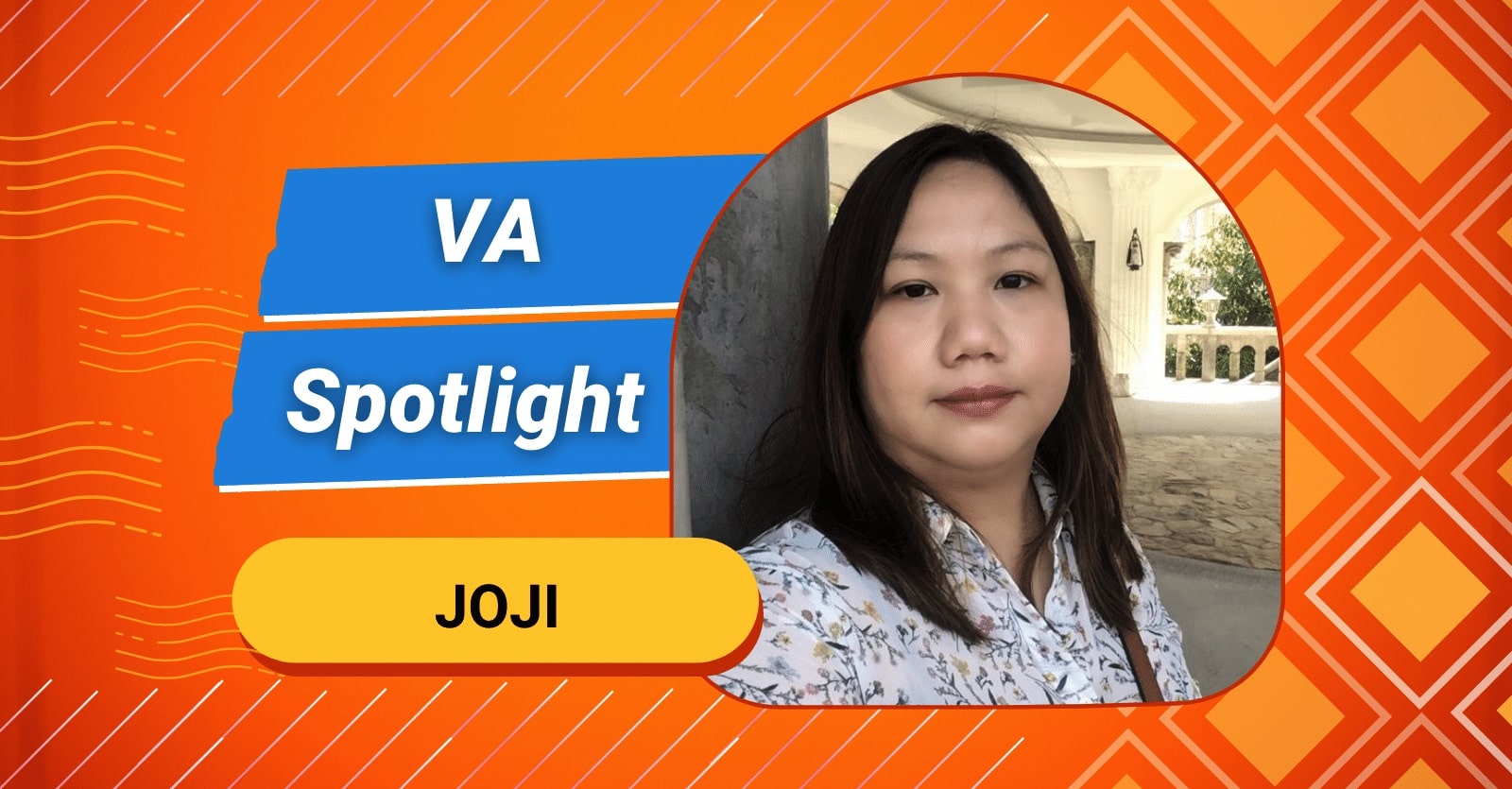 While talking to Joji for this feature, it quickly became apparent why she won the Commitment to Excellence award at our 2021 Thanksgiving Townhall. A proud mother of two with years of experience in various niches, Joji decided to dedicate herself to the construction and medical industries once she went remote. Joji is currently working with two 20four7VA clients who have nothing but praise for the hardworking virtual assistant (VA). With all this on her plate, Joji still had time to talk to us. This is what she had to say.
What made you decide to become a virtual assistant?
I decided to become a virtual assistant so I could take care of my kids and work at the same time. We've had a hard time finding reliable childcare for our children, and this is why I decided that a remote job would be the best option for me.
What was life like before you started working with 20four7VA?
Before 20four7VA, I worked as an online teacher, and every time there was a power outage, or whenever I had problems with my Internet connection, I would get a penalty. It felt really unfair because they would take a whole day out of your paycheck for something you have no control over.
So I decided to work as a VA. Luckily, my sister recommended 20four7VA, and here I am!
What is life like now that you've started working with 20four7VA?
I feel free! Even though sometimes I work long hours, I still feel free. I can take care of my kids and work at the same time… and from home!
One of my clients allows me to work flexible shifts, so as long as I take care of my tasks, it's all good. I can work any time. Sometimes it gets kind of stressful but it's "good stress." My clients are really kind. Of course, it also helps that 20four7VA has helped me grow. For instance, they teach all their VAs how to build and maintain good relationships with their clients.
How is 20four7VA different from other remote work agencies or job boards you've tried?
[She laughs.] Honestly, I haven't tried other companies because my sister was already working with 20four7VA when I started looking for remote work. But I've heard stories from people who have worked for other agencies, and they say that there are clients that don't pay on time. If you're a parent, timely payments is very important, so that was a big no-no for me.
My sister reassured me that 20four7VA pays on time, and I found that they really do! I've never experienced even one late payment here. There were one or two times that a client finished my contract, and my last payout came in within a few days. 20four7VA will not let you down.
How has 20four7VA helped you grow?
I've grown because of all the free training. As I've mentioned, this is my first virtual company, so I'm new to all this. At 20four7VA, I've received training in data management and Amazon accounts. I'm so glad that the company is giving these types of training for free to their VAs.
In addition, my supervisor is always there to guide and support me. If there's something I don't know how to do, she is there to mentor me or find expert help for me. Then there's an internal group chat where I can post questions and get answers from other VAs. Whenever there's something I need help with, I just reach out to my fellow VAs there and any VA who is online can reply. It's a great environment!
What are your top 3 benefits of working with 20four7VA?
Number one is the pay. Yes! [She laughs.] Number two is the training. And number three would be the great relationship with my clients.
What advice would you give to someone thinking of applying at 20four7VA?
I would tell them to apply now! Since the pandemic, it hasn't been easy to find a job. When you work at home, there are tons of opportunities and you can reduce your exposure because you don't have to commute to work and be around other people. You've got nothing to lose by giving 20four7VA a chance. They pay on time, they have great clients, and they have all these free training sessions!
What common qualities do you think 20four7VA's VAs have or should have?
I think number one should be a willingness to learn. If you're not willing to learn, then you won't be able to help your clients. Each client has unique needs. There might be two clients that belong to the same industry, but they'll still have different processes, goals, and pain points. There will come a time when they will ask you to do something that you might not be well-versed in. You have to be flexible, and you must always be open to learning.
Describe 20four7VA in one sentence.
20four7VA is amazing in many ways.
What are your goals for the future?
As a VA, I would like to learn more. I'm planning to take all the available free training. I think I've done a couple already, but I'm planning to do more to help my current and future clients. Of course, I want to grow. I just want to secure my kids' future; that makes me feel fulfilled.
What would you change about 20four7VA?
20four7VA is already doing a lot for me. There was one time that I got sick, and my team leader communicated this to my client, and my client gave me a paid sick leave even though they're not required to do that. So that's really good, and I felt taken care of.
We are so glad to have Joji on our team! Her drive to excel is inspiring and we love how she always has a smile to share.
Want to become a 20four7VA virtual assistant and take advantage of all the awesome benefits of working remotely? Learn more about working with 20four7VA and check out our open jobs here!
Follow our official Facebook page to get the latest news and updates.
---
Ready to start your VA career? Become a 20four7VA virtual assistant and enjoy the freedom of working in your own space at your own pace. Find your dream job here!
Want to be featured in your very own VA Spotlight post? I want to be featured!