VA Spotlight: Jeannilyn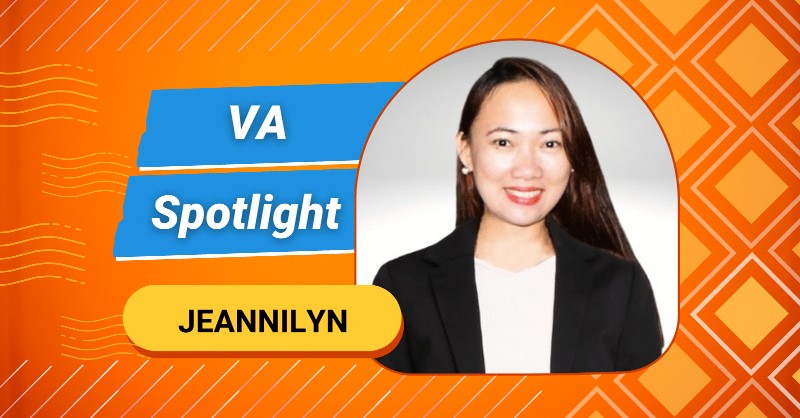 Marketing virtual assistant (VA) Jeannilyn, or "Jen," is a social media expert who has been with 20four7VA since 2020. She has worked with eCommerce entrepreneurs, coaches, and podcasters and has taken on tasks in social media management, social media marketing, email management, and podcast marketing. In 2021, she joined 20four7VA's Digital Marketing Team as a Social Media Specialist and has since managed all client-facing social platforms, including LinkedIn, Twitter, Pinterest, and YouTube.
Jen's hobbies include photography, traveling, and swimming. On her days off, she enjoys hiking along the beach or in the mountains. Let's hear more from Jen!
What made you decide to work as a virtual assistant?
I decided to work as a virtual assistant because I wanted to care for my kids while working from home. I've been working as a VA for almost 10 years, and I can say that I feel more fulfilled compared to when I was working in an office.
What difficulties did you experience in your work life before you joined 20four7VA?
I experienced working with clients who didn't pay me on time; some didn't pay me at all! I also experienced some challenges in finding the right clients. Occasionally, there would be communication issues with clients as they weren't always responsive to my questions.
Why did you choose 20four7VA over other agencies/online job marketplaces?
I joined 20four7VA at the start of the pandemic. Some businesses were closing, including those of my clients. This was when I decided to look for a reliable agency that could assist me in finding the right clients. I enrolled in some of the free training that 20four7VA offered, and they helped me improve my skills and expand my skill set. That's how I landed my job here. 🙂
How has 20four7VA helped you grow as a professional?
First, I've learned a lot from the people I work with here. Aside from that, the company culture motivates me to find equilibrium in everything that I do. Finally, I've become more confident in my skills because of the training provided by the company and the experiences I've had while working here.
What are the top 3 benefits of working with 20four7VA?
Work-life balance
On-time payment
Helpful and friendly workmates
What advice would you give someone who's thinking about applying at 20four7VA?
Being a VA and working "alone" is quite challenging. But working at 20four7VA will make your VA life easier because there are a lot of people who are willing to assist you. We have a very friendly community of VAs who are willing to answer your queries, especially when you're struggling with your tasks.
A healthy work environment makes a healthy and happy VA. On top of that, you won't have to worry about finding clients and sending invoices to them — the 20four7VA team will do all that for you.
Best of all, 20four7VA is led by a strong yet compassionate CEO with the heart of a mother. So take the leap today! I highly recommend you start your VA career here at 20four7VA.
What would you change about 20four7VA?
I honestly can't think of any.
What's one thing every VA can do to ensure a successful client-VA relationship?
As a VA, you must be confident, communicative, and honest. Ask your questions and share your opinions. Always give task updates to your clients. Don't overpromise.
What were some of the challenges you faced when you started working remotely?
Finding the right clients, waiting for delayed payments, and dealing with communication issues with my clients were the most common ones.
What are your top 3 remote work tips?
Take time to eat and exercise. Being healthy will help you be more productive. Always put YOU on top of your to-do list.
Remove work distractions. Stay focused. Turn off your TV. Play relaxing music in the background. Don't use your phone unless necessary.
Have a to-do list. Use a project management app like Asana, Trello, etc.
What are your goals for the next few years? How do you plan on reaching those goals?
I want to have my own business and travel more. I am working so hard now and saving money for my family, and I've started new investments. I'm looking for opportunities to grow and help others along the way.
How do you switch off from work?
I usually end my day with simple yoga stretching exercises. It helps me relax after a tiring day.
Thanks for taking the time to speak with us, Jen! 😊
---
Ready to start your VA career? Become a 20four7VA virtual assistant and enjoy the freedom of working in your own space at your own pace. Find your dream job here!
Want to be featured in your very own VA Spotlight post? I want to be featured!