16 Tasks You Can Assign to a Real Estate Virtual Assistant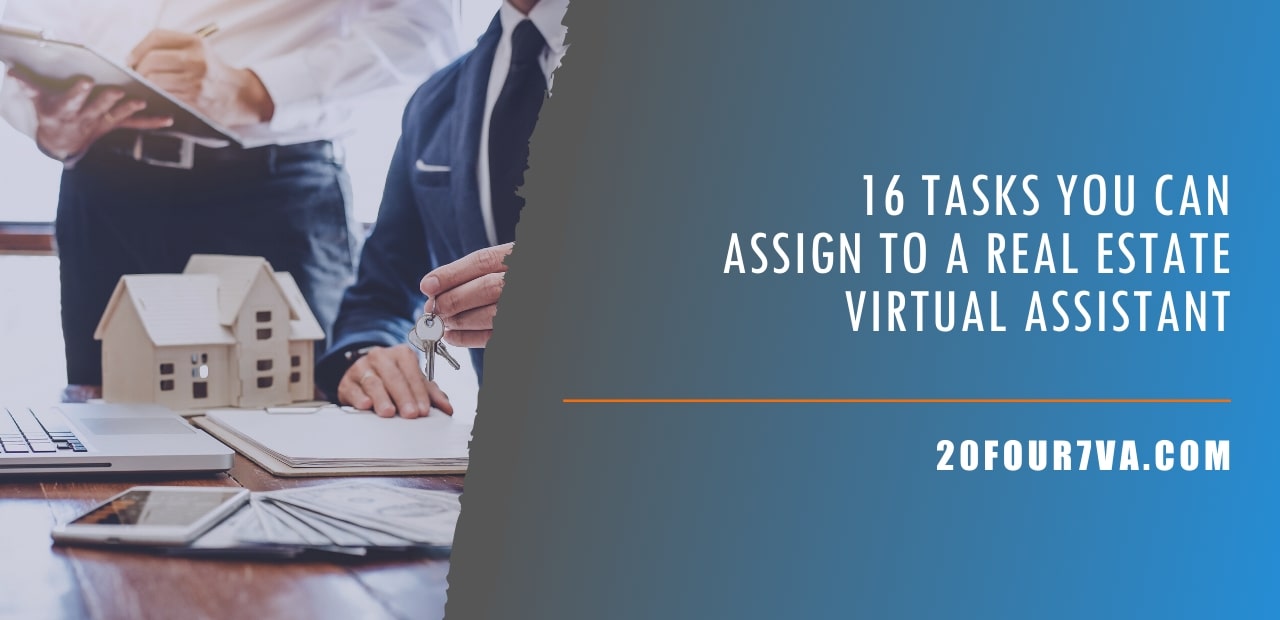 There are nearly 2 million realtors in the US today. Statistics indicate that the increase in home sales every year comes with the increase of realtors in the country. If you're in the real estate business, this means competition is getting tougher and tougher each year. The competition is exciting, but it can also be overwhelming if you handle everything yourself. You need someone who can make your daily work manageable and is versatile enough for an industry as competitive as real estate. This is the kind of support you can expect from a real estate virtual assistant (VA). 
Why It's Smarter To Hire a Real Estate Virtual Assistant 
Why do I need to hire a real estate virtual assistant and not an in-house employee? Wouldn't it be safer and more convenient to work with someone you can see face to face?
While traditional employment seems like the proper way to go, it's not always the right fit for every business. For one thing, you may not always have the workload to need a regular in-house employee. With a full-time employee, you might find yourself unnecessarily paying full hours and excessive overheads even when you don't have anything for them to do. On the other hand, real estate virtual assistant rates are usually paid on an hourly basis. This means that you only need to pay for the exact hours and projects that you need. 
For another, the needs and demands of the real estate market also shift with time. With millennials being the biggest home buyers today, traditional prospecting, networking, and marketing may no longer result in leads and sales. 
Lastly, virtual assistants, and remote work in general, are largely becoming the future of the workforce. VAs have helped big and small businesses grow or scale quickly but sustainably. This efficiency and credibility have spread into multiple sectors, including real estate. Here's a more comprehensive guide on why and how virtual staffing is becoming a more solid business solution. 
Of course, such efficiency and credibility can only be obtained from a reliable source. That is why you must also partner with a reliable staffing agency to find the best real estate virtual assistant in the market. Besides, staffing agencies usually take care of the hiring and recruitment process, payroll, training, and supervision of VAs. This leaves you free to focus on higher-impact tasks and onboarding your VA to your business. 
But, what does a real estate virtual assistant do exactly? 
What Tasks To Outsource To A Real Estate Virtual Assistant
Knowing the tasks you can delegate to a virtual assistant will help you fully appreciate why you need to hire one. It should highlight the areas you need help with the most as well as determine the specific skills you need to look for in a VA.
Check out these 16 tasks you can delegate to a real estate virtual assistant: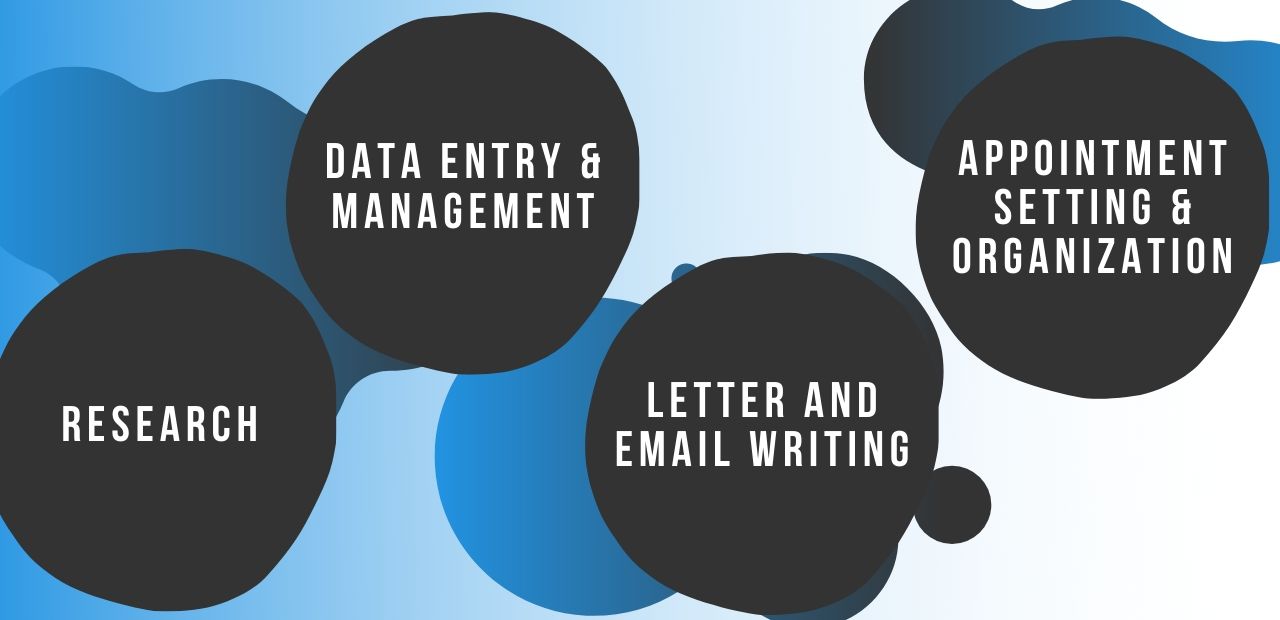 Research
Real estate is an industry that regularly changes and fluctuates with the economy. What's more, the complex work that leads to a sale requires massive fact-checking. From researching property ownership and deed type, to checking nearby establishments and comparing prices, real estate research can be tedious and time-consuming.
You need an assistant that knows the ins and outs of the industry. A virtual assistant for real estate agents would know the kind of information to look for as well as the proper resources to find them. 
Data Entry and Management
Extensive research work results in massive data. You're looking at handling different types of information, some of which have a sensitive nature, while some needs to be updated from time to time.
Data entry can take several painstaking hours of repetitive work that can leave you drained by the end of the day. When a virtual assistant takes data entry off your workload, you have more time for other more important tasks. What's more, handling and managing business information currently requires professional supervision lest you risk data compromise. When you work with a VA that knows how to manage data securely, you also safeguard your business and clients' information.
Letter and Email Writing
It's one thing to talk to clients face to face and another to sit down and put everything in writing. Many real estate professionals have a way with verbal communication but need help writing down what they want to say.
Like any type of business, real estate can require you to write letters and emails for different purposes. Luckily, you can rely on a real estate VA to compose letters and emails for you and trust that everything comes out as engaging and grammatically correct. They can also ensure that the details included in your letters and emails are up-to-date and well-researched. 
Appointment Setting and Organization
Setting up appointments with leads and clients is easy. You reach out by phone or email and arrange a date and place for meet up. However, doing the same task for multiple people at multiple times a day can leave you frantic and confused, especially if you have other responsibilities on your plate.
Delegating this task to a virtual assistant will make your life simpler. It's easier to avoid appointment conflicts with buyers and sellers when you have a real estate VA organize and set appointments for you.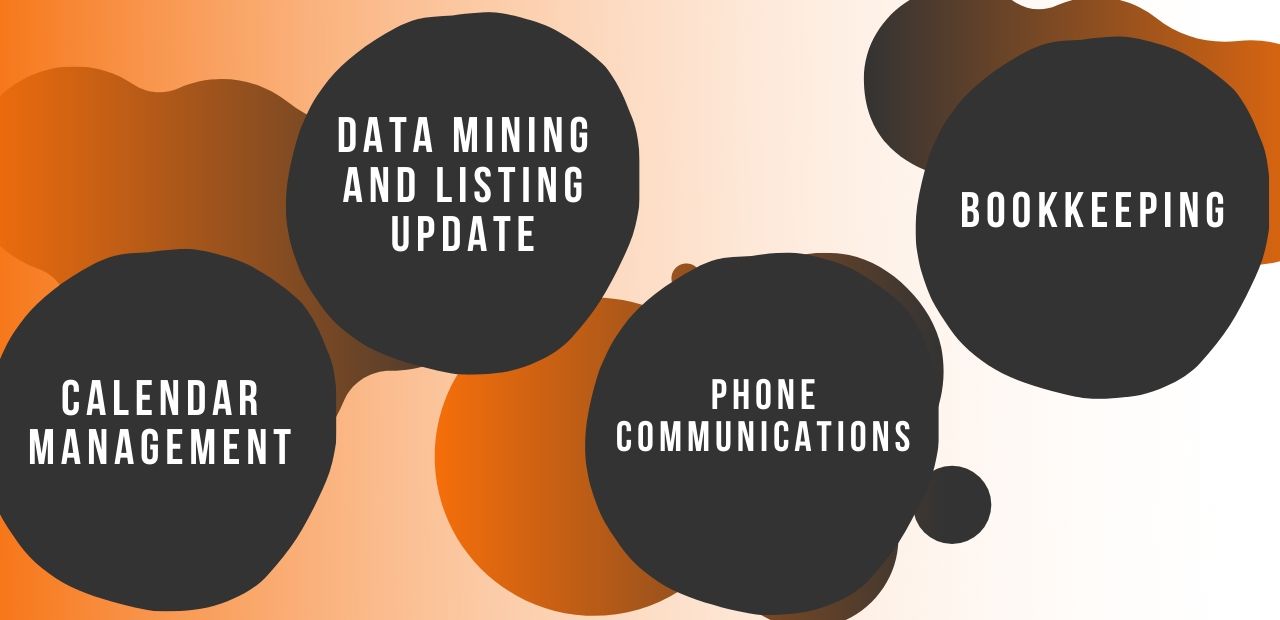 Calendar Management
Setting appointments and managing calendar go hand in hand. Apart from meeting up with clients, real estate professionals have other things on their agenda. Business conferences, a get-together with family and friends, and personal times-off — these things and more can quickly fill up your calendar. 
You need a real estate virtual personal assistant to organize and manage your daily and monthly schedule for you. Having a VA systematically pen appointments and tasks to your calendar ensures you don't miss any appointments and errands. More importantly, it ensures you don't bite off more than you can chew!
Data Mining and Listing Update
Real estate and spreadsheets are almost inextricable. First, you need to create a list of important data and ensure that the information you have at hand is updated. Then, you need to dig up information from time to time to ensure you don't overlook or miss important listings. 
Data mining and updating lists are tedious but when done right, both lead to a lucrative business. Outsource these tasks to your VA to ensure you always have important, up-to-date data at hand.
Phone Communications
Cold calling prospects. Answering calls from interested parties and current clients. Real estate work can come with a lot of inbound and outbound phone communications. You can easily miss leads and mismanage clients when you don't get on top of things.
Good thing a real estate VA can take care of both inbound and outbound phone communications. Veteran VAs have excellent verbal skills and a neutral accent, so your phone calls are handled professionally.
Bookkeeping
You need to keep track of the money that goes in and out of your business. You need to keep accounts up to date and ensure taxes are filed correctly and timely. Then, there's the duty of evaluating your financial health.
Bookkeeping is a task that requires a professional with proper training and experience. Luckily, it's also a task that doesn't require in-house work. Delegate this specialized responsibility to a VA to ensure your books are balanced and kept up to date.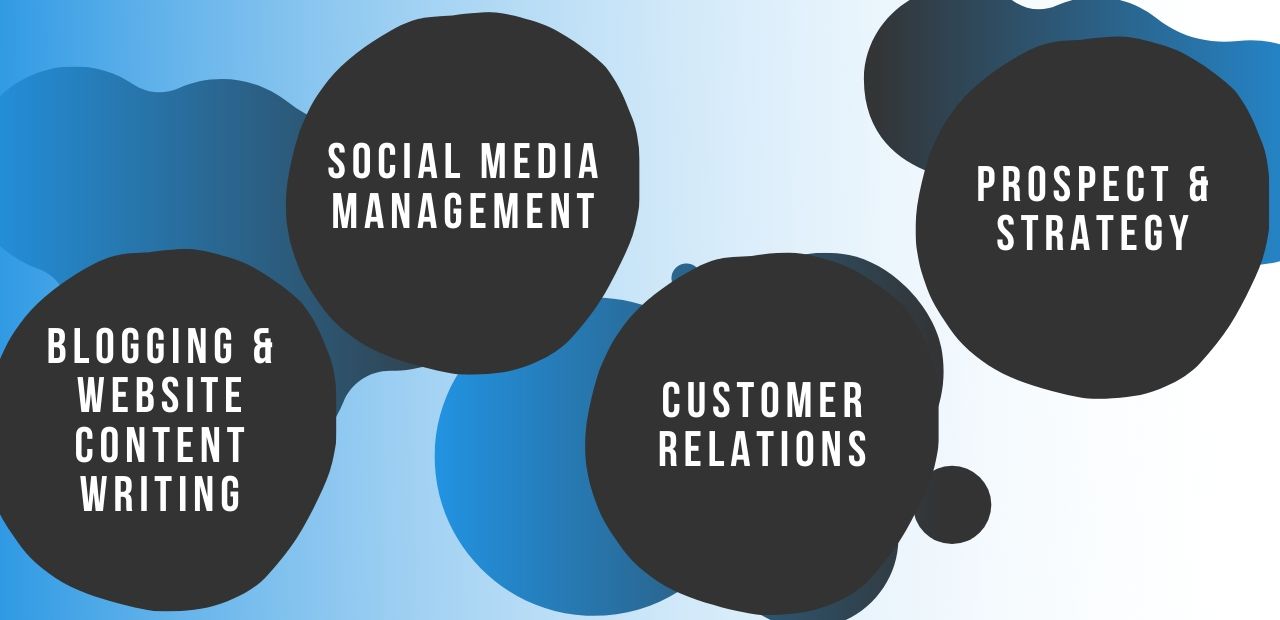 Blogging and Website Content Writing
Conducting business today is almost impossible without an online presence, making it imperative to have your own website or blog. It should contain everything from your contact details and successful projects to helpful and engaging articles. Apart from establishing your credibility in the field, it also helps in spreading the word about you.
Put together a list of topics that your VA can write about. As research experts, VAs would know what keywords to use to put your name on the map. They can write, proofread, and edit articles that readers can save or share with others. 
Social Media Management
Millennials are the biggest group of home buyers today and this generation is accustomed to having social media. In fact, millennials are using Facebook, Twitter, and Pinterest as a research engine and buying reference. Make sure that you are accessible on different social platforms to cater to prospects.
Because there are multiple social channels today, it's better to have your VA manage all networks for you. From answering queries to updating your business details and posting media, your VA can ensure you also have a strong presence in social channels. 
Customer Relations
Phone communications, email, social networks — there are multiple ways to reach service providers nowadays. Although this is undoubtedly convenient, it can also get overwhelming if you don't get on top of things. Take care of client relations in all channels available to you by having your VA handle customer service.
Many estate VAs have excellent customer service skills and training. They can make every step of the buying or selling process convenient for your clients.
Prospect and Strategy
Hosting websites and social media have their own set of analytic tools. Make the most of the reports you can pull up from these tools by having your VA analyze and strategize for you. 
Your VA can also help you with prospecting. That is, scouring the market and every real estate resource available to find sales opportunities for buyers and sellers alike. That way, you can focus on meeting and striking the best deals possible with clients.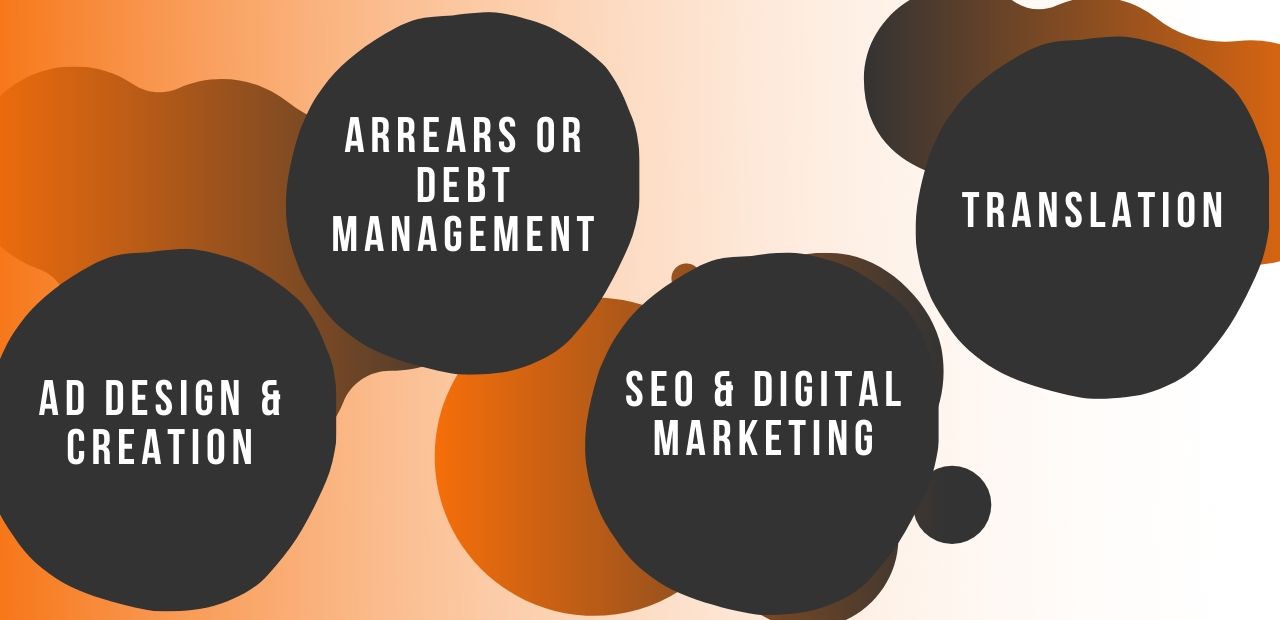 Ad Design and Creation
Designing and creating ads is inevitable for any type of business, including real estate. You need to find one that embodies your brand but also establishes a connection with the target audience. It takes skill, talent, and industry know-how — the very elements that a real estate VA can bring to the table. 
Have your VA design and create both print and digital ads to be posted and shared on your blog, website, social media, email, or event conferences. 
Arrears or Debt Management
Some clients would fall behind on payments for a horde of reasons. Although this can be sorted out by a phone call or email, the whole process can take days to resolve. Arrears management also entails database updates, documentation, and setting follow-up appointments or payment conditions. 
Take care of arrears and payment issues without letting it take a huge chunk of your time when you delegate it to a real estate VA. As customer service specialists, VAs can help make the whole process convenient for all parties involved.   
SEO and Digital Marketing
Creating a name for yourself is tough in an industry as competitive as real estate. Good thing there are now various ways of getting the word about your business. From blogging to social media to email, digital marketing channels have given newbies an equal footing with their bigger, established rivals. 
Get expert help from a real estate marketing virtual assistant so more people will know about you. With search engine optimization and digital marketing training, real estate marketing VAs can help you grow your enterprise.
Translation
The translation is often neglected by many businesses. When given proper attention, however, it can significantly expand any firm. Think about it: being a melting pot of different cultures, the US is home to multiple languages. From Spanish, Chinese, French, Filipino, and Korean, language translation can open your services to a wider market.
Work with a virtual translator to expand your network. Immigrants and speakers of different languages will prioritize you over others if your services don't come with communication barriers. 
Beat competitors, take care of your clients, and expand your real estate business. Accomplish all these and more by hiring a real estate virtual assistant today. 
Recommended Reading: 30 Tasks for Your Graphic Designer Virtual Assistant