Loan Processor Assistant
Provide better customer service to home buyers with a Loan Processor Virtual Assistant.
HIRE A LOAN PROCESSOR ASSISTANT
The loan process is long and tedious. It's made up of smaller tasks that require accuracy and meticulousness. Loans require a lot of documentation, regardless of the type of loan: from a loan for a new business to consumer loans or mortgage loans. Thankfully, a loan officer does not have to take on the loan process alone. They can hire a virtual loan processor assistant to share the load.
WHAT IS A LOAN PROCESSOR ASSISTANT?
A loan processor assistant is responsible for various tasks in the loan process. They may collect and review documentation, communicate with customers, schedule appointments, run credit reports, verify employment, and more. Loan processor assistants can help change the loan status from "loan application submitted" to "loan granted" smoother and faster.
WHY HIRE A VIRTUAL LOAN PROCESSOR ASSISTANT?
Hiring a virtual loan processor assistant comes with many benefits. It can help unload some time-consuming tasks from your loan officer, allowing them to take on a more leadership role. In short, your team can breeze through more documentation and help more borrowers with their loans.
INCREASE PRODUCTIVITY
An extra set of capable hands and eyes allows you to work on a high volume of loan applications without burning out. This also means that you'll be able to help more customers like new businesses or young families submitting mortgage loan applications for their future homes. Loan processors can see a big change in their productivity when they add a virtual loan assistant to their team.
COST-EFFICIENT
Imagine increasing your capacity to process loan applications without breaking the bank. This might seem like an unattainable dream, but a virtual loan officer assistant or mortgage loan processor assistant can help you accomplish it. Since a loan processor assistant will check the documentation and do their tasks virtually, you won't have to invest in office tools like laptops, workspace furniture, etc.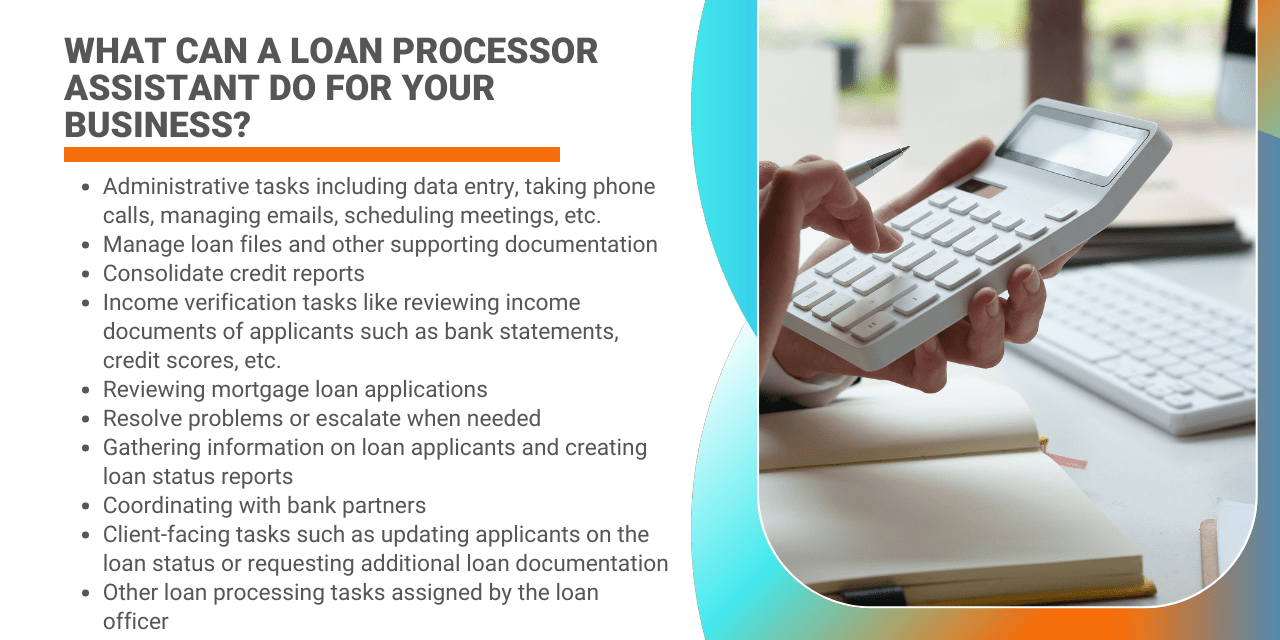 WHAT CAN A LOAN PROCESSOR ASSISTANT DO FOR YOUR BUSINESS?
From organizing loan files to reviewing remote mortgage loan applications to assessing income documents, an effective loan processor assistant can help ensure the smooth transaction of loans.
Administrative tasks including data entry, taking phone calls, managing emails, scheduling meetings, etc.

Manage loan files and other supporting documentation

Consolidate credit reports

Income verification tasks like reviewing income documents of applicants such as bank statements, credit scores, etc.

Reviewing mortgage loan applications

Resolve problems or escalate when needed

Gathering information on loan applicants and creating loan status reports

Coordinating with bank partners

Client-facing tasks such as updating applicants on the loan status or requesting additional loan documentation

Other loan processing tasks assigned by the loan officer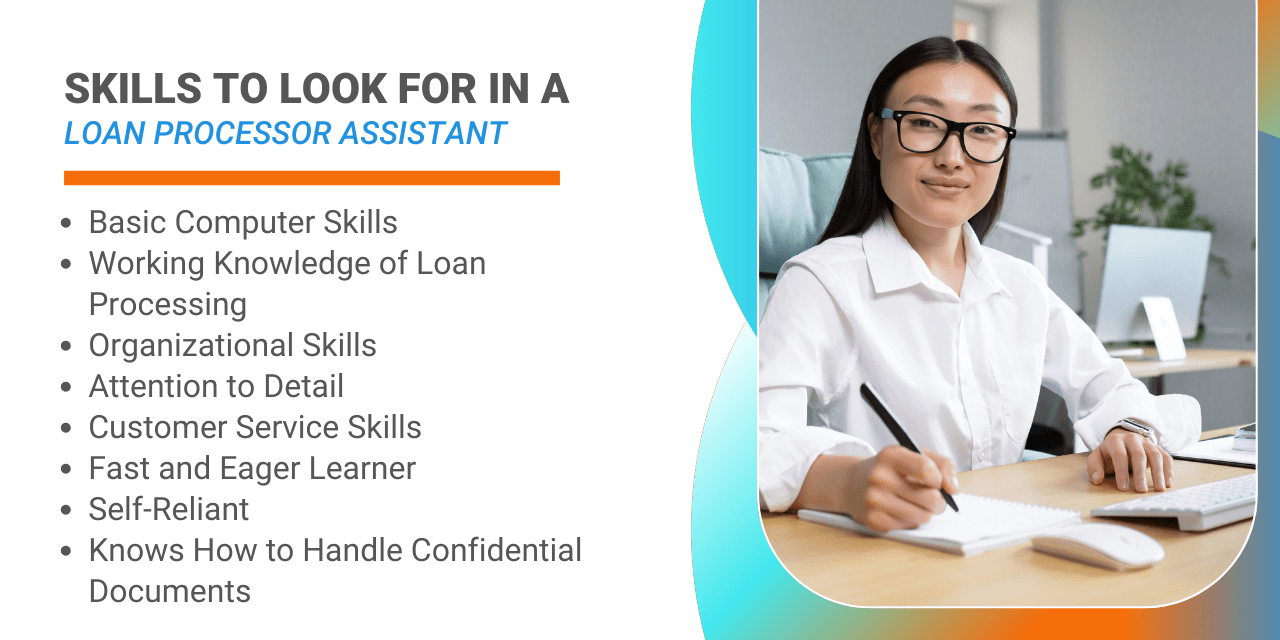 ESSENTIAL SKILLS TO LOOK FOR IN A LOAN PROCESSOR ASSISTANT
BASIC COMPUTER SKILLS
Since virtual loan processor assistants will be working remotely, they must have basic computer skills. Using spreadsheets can help when it's time to review income or credit reports. They'll also be cross-referencing a lot of virtual loan files, so loan processor assistants must be knowledgeable in working with cloud storage. You'll also need someone who knows how to use the necessary communication and tracking tools to do their job well, from discussing the loan process with their immediate superior, updating clients on their loans, coordinating with bank partners, and other tasks related to ensuring the process is running smoothly.
WORKING KNOWLEDGE OF LOAN PROCESSING
If possible, look for a remote talent with previous experience as an assistant loan processor or who has provided administrative support to a loan processing team. Someone with working knowledge of the loan application process can immediately impact your loan processing team. It will be easier to introduce your ways of working with them since they're already familiar with the basic terms and concepts that a loan officer usually uses.
ORGANIZATIONAL SKILLS
To ensure that files for loan applications are managed well, you'll need someone with excellent organizational skills. Each loan application comes with a lot of documentation, and if it's handled in a carefree manner, it can cause a lot of operational and customer concerns. Keeping things organized is crucial, especially when handling loans with a lot of documentation.
ATTENTION TO DETAIL
From ensuring that the borrower provides all necessary documents to validating submitted loan documents, meticulousness is required. A loan officer will greatly benefit from hiring someone with great attention to detail who can finish tasks promptly. Additionally, hiring someone meticulous can ensure that documents such as income statements and business documentation are properly verified. This helps increase the chances of the borrowers to have their loan applications approved.
CUSTOMER SERVICE SKILLS
Sometimes, a loan officer won't be able to do client-facing tasks such as updating customers on their new business loan applications, requesting additional loan documentation from borrowers, discussing interest rates, etc. Loan processor assistants must be ready and able to provide good customer service support.
FAST AND EAGER LEARNER
The ability to adapt and learn things quickly is a great strength for any remote worker. Even when the remote talent does not have previous experience with reviewing loan applications, they'll be able to easily catch up if they are attentive and open to training.
SELF-RELIANT
Since they won't be working closely (at least not in the literal sense) with their partner loan officer or other team members, they won't have many chances to ask a question and get instantaneous replies. They must be able to take notes when needed and know where the SOPs are stored, so they know where they can refer to if something is unclear.
KNOWS HOW TO HANDLE CONFIDENTIAL LOAN DOCUMENTS
Loans come with many documents, and almost all of these documents are highly confidential. A loan processor assistant plays an important role in ensuring that the process runs smoothly and the information of the clients, bank partners, and their employers. Clients put a lot of trust in your office when they submit loan applications, so it's best to hire a loan processor assistant to help keep that trust safe.
HOW TO HIRE A LOAN PROCESSOR ASSISTANT
The process of sourcing and hiring the right loan processor assistant can be long, especially if recruitment is not your forte. Below is a simplified checklist of the necessary steps you need to do when hiring a loan processor assistant:
Create a list of assignments that you will delegate to your virtual assistant. This will depend on your business needs.

List down the required hard and soft skills for the loan processor assistant job.

Decide on the hourly or daily pay rate. Hiring virtual talent is a cost-efficient staffing solution, but still, employers must set a cap to ensure they're not going over their budget.

Craft a job alert with the items you've listed in steps 1 to 3, along with the final date of application submission and your contact details.

Post the job alert on career platforms so job seekers can apply. Various career platforms cater to employers looking for remote talents.

Review or screen the applications and shortlist those you think are the best match for the requirements on the posted job alert.

Schedule a date and time for interviewing the candidates for the job.

Based on their application and how they fared in the interview, you'll be able to find a successful candidate. Make a job offer with important details such as the job description, salary rate, work hours, starting date, and more.

Once they've accepted the job offer, you can start onboarding and training your new loan processor assistant. Onboarding and training new team members are important to ensure they can do their job well. Make sure to equip them with essential knowledge such as specific ways of working your business and your policies on dealing with clients and bank partners.

Your new loan processor assistant is ready to help your business and clients!
LET 20FOUR7VA FIND THE RIGHT LOAN PROCESSOR ASSISTANT FOR YOU
If you want to quickly and securely hire a loan processor assistant, remote companies like 20four7VA can help. We have over a decade of experience helping clients find the right remote talent for their business.
Because of our vast network of remote talent and expansive experience in helping clients in various industries, we can promise that we can provide the best staffing solution for your business needs. If you're ready to find the right virtual loan processor assistant, schedule a free consultation with our Growth Experts today!
Ready to find a Loan Processor Virtual Assistant?