Real Estate ISA
Get more and better real estate leads with a virtual real estate inside sales agent (ISA).
To say that the past few years have been challenging for many businesses is an understatement. If you're in the real estate business, you might have felt a drop in real estate activity. However, there's reason for real estate agents to be hopeful. Real estate demand and activity are picking up, so it's the best time to capitalize on business opportunities. To get your real estate business going, you need to get things done and generate more leads. For this, hiring a virtual Real Estate ISA or Inside Sales Agent is crucial.
Read our latest article on How to Future-Proof Your Business for more helpful tips.
What is the Difference Between a Real Estate ISA and an Outside Real Estate Agent?
A real estate company can have outside real estate agents and inside sales agents. Both can contribute to the success of a real estate team. Outside real estate agents' work requires traveling and meeting existing and new clients face-to-face.
On the other hand, an inside sales agent does their work either in an office or remotely. They can help manage real estate leads. They can also work on building relationships with new and existing clients virtually. Their tasks can vary depending on your business needs. These include making phone calls to potential clients, creating a database of potential and existing customers, and many more.
Benefits of Hiring a Virtual Inside Sales Agent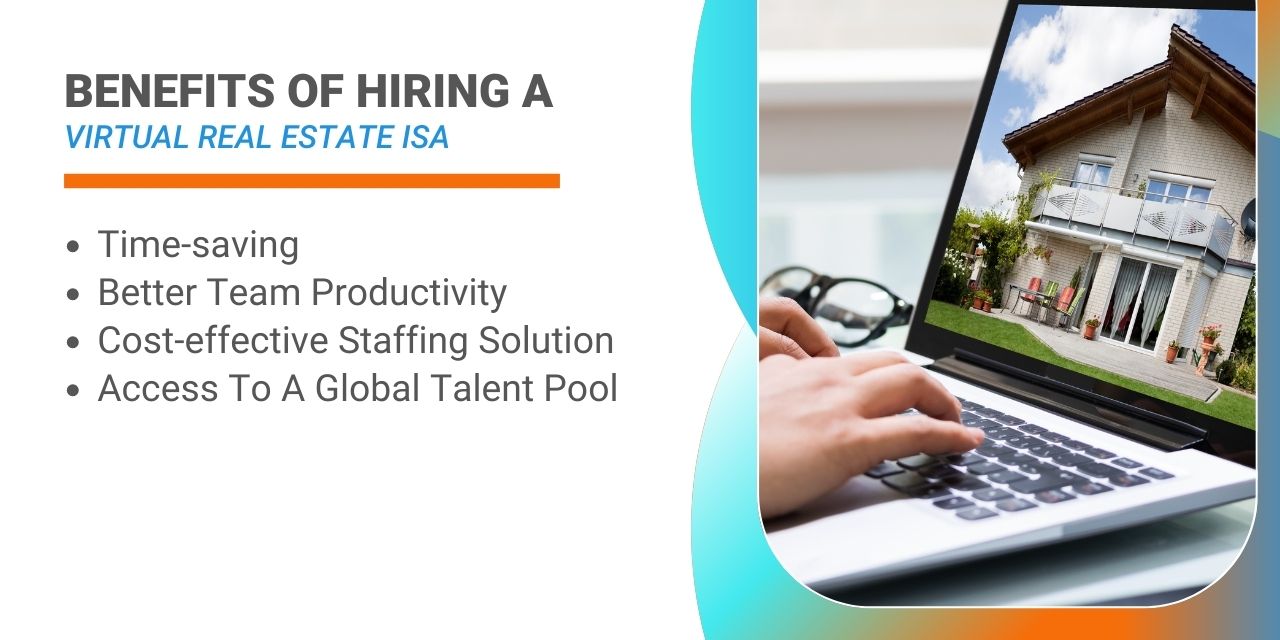 TIME-SAVING
With a virtual ISA, real estate business owners can delegate essential but time-consuming tasks. Activities like lead generation and lead qualification are important to your real estate business. But this doesn't mean that you have to spend your working hours on them. A dedicated ISA or virtual ISA team can take those tasks off your plate, so you have more time for:
conducting open houses or real estate showings,
closing deals,
studying real estate market trends,
reassessing your sales pipeline and sales process,
building relationships with existing customers,
managing and coaching your real estate team,
measuring performance through key metrics and rewarding top agents,
and other real estate team management functions.
With a virtual real estate ISA, companies can free up time that can redirect towards more money and value-adding activities.
BETTER TEAM PRODUCTIVITY
The time your real estate agent can save by letting go of tasks such as data entry of new leads or taking phone calls for simple inquiries can allow them to perform better. When they manage their freed-up time well, you'll see improvements across the board, such as better listing-to-meeting conversion rates, repeat business, and positive client feedback ratings.
Once your real estate team is freed up of necessary but time-consuming tasks, they can focus on turning real estate leads into closed deals.
COST-EFFECTIVE STAFFING SOLUTION
You may be wondering, why hire a virtual inside sales agent over an in-office one? The most simple answer is that hiring virtual assistants is a more cost-effective staffing solution than hiring a full-time employee locally. When you add up the costs of benefits, office space, equipment, and other overhead expenses, having a full-time in-office sales agent can be expensive.
With a virtual ISA, real estate agents can generate more revenue without overshooting your staffing budget. A virtual inside sales agent can do tasks like lead generation and nurturing leads from anywhere in the world. So all you need to consider is onboarding them well and paying their labor rates.
ACCESS TO A GLOBAL TALENT POOL
The traditional hiring process can take weeks or even months to complete, especially when searching for talent in a specific area. Choosing to hire virtually means you're providing opportunities to skilled real estate professionals worldwide. A bigger talent pool makes finding the dedicated ISA you need to improve conversion rates and overall business easier.
What to know more about how a virtual inside sales assistant can boost your business? Visit our blog or schedule a free consultation today!
What Tasks Can a Virtual Inside Sales Agent Do?
A virtual inside sales agent can accomplish all tasks that an in-office inside sales agent can do, from managing new leads to cold calling. The main difference is that they perform the job remotely and have much lower rates than an in-office ISA.
Here are some of the primary tasks that a dedicated ISA can help you with:
DATABASE MANAGEMENT
In real estate, your database is a collection of your current and past clients. A good way to think about it is as a comprehensive list of everyone you've ever worked with or could work with in the future.
A dedicated ISA can help you manage both your current clients and new leads lists. Doing so allows you to keep track of your client's information and identify where they are in the sales funnel. They will be in charge of the data entry of the following types of information:
Details of closed deals of your real estate agent team
Information from inbound leads
Updating contact details of past and new leads
All pertinent information about a new lead
And other relevant information
An organized database can ensure your company does not miss any business opportunities just because you're missing important details on a new lead or past clients.
LEAD GENERATION
Virtual real estate ISAs can help generate more real estate leads through different methods like:
Researching online leads
Handling inbound leads from phone calls or emails
Circle prospecting
Outbound prospecting
Exploring different lead sources
And many more
Expanding your leads database means you have more potential clients that can be screened and included in your sales pipeline.
SCREENING REAL ESTATE LEADS
Of course, lead management does not end with just generating real estate leads. A virtual inside sales agent can help "sanitize" your list of leads to help you decide which leads to prioritize.
To help your virtual inside sales agent or ISA team filter real estate leads, you must have lead qualification criteria with clear key metrics that real estate ISAs can use as reference. Standard guidelines ensure that new leads from lead generation activities are classified accordingly. This allows for better prioritization and an improved sales pipeline.
LEAD NURTURING
Nurturing leads is an important part of lead management. Efforts to get more leads may be put to waste if you don't have an inside sales agent that can do lead nurturing activities. Simple activities like reaching out to online leads and lead follow-up calls can help move new clients from the prospecting stage to the qualification stage and potentially to the commitment stage. These activities take time and effort, so having a virtual sales agent can be beneficial for nurturing both new and past clients.
Inside sales agents can make prospecting calls or follow-ups to keep leads warm. Additionally, they can work with artificial intelligence or new tools to improve lead nurturing, like automated and personalized promotional email marketing.
HANDLING CALLS
Making and taking phone calls can be done by a virtual inside sales agent on your behalf. These include:
Taking calls or inquiries from incoming leads
Warm and cold calling
Making outbound calls to activate old leads
Ensuring incoming leads are immediately contacted
Making lead follow-up calls
SET APPOINTMENTS
When your lead nurturing efforts like lead follow-up calls and email outreach start working, incoming leads will move to the proposal or consideration phase. This is when you should start scheduling appointments with a real estate agent to close the deal. A virtual inside sales agent can help you schedule meetings to turn new leads into new clients.
Essential Skills a Virtual Inside Sales Agent Should Possess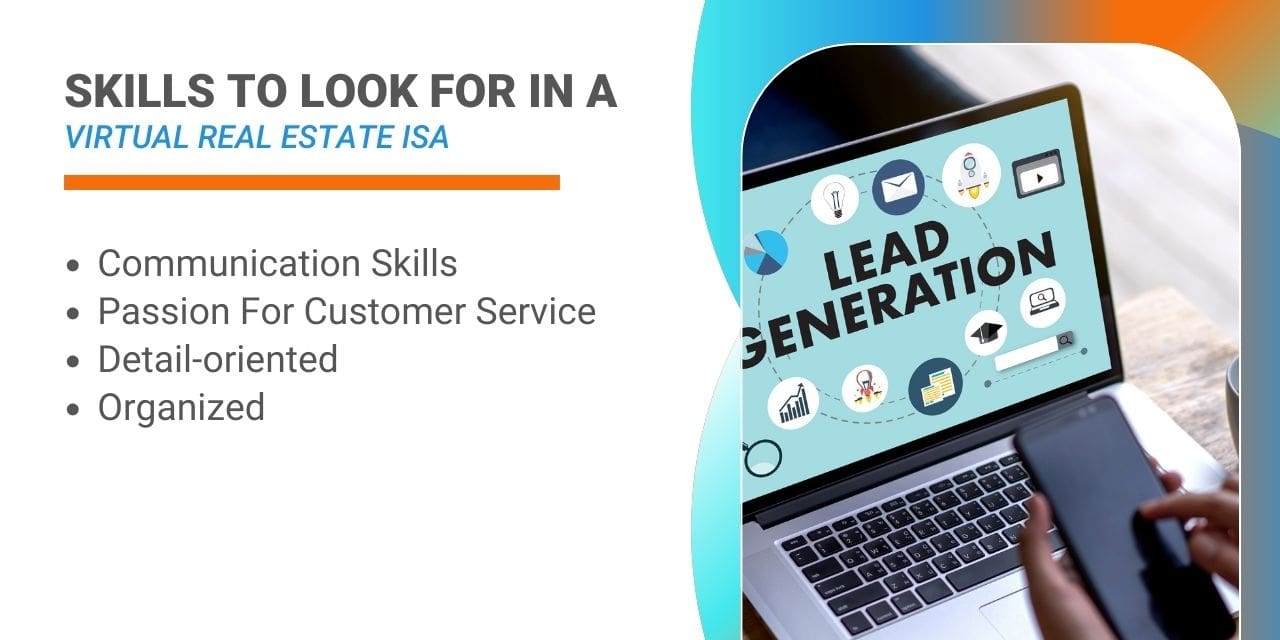 COMMUNICATION SKILLS
Real estate ISAs must have excellent communication skills. Not only will they be coordinating with the internal team, but they will also need to communicate with potential leads and clients. A good inside sales agent must communicate effectively through verbal and written methods.
PASSION FOR CUSTOMER SERVICE
It's likely that the first agent an incoming lead may come in contact with in your company is an inside sales agent. Thus, it's important to make a good first impression. Make sure to search for an inside sales agent that knows how to deal with customer queries and complaints. They must also be able to learn customer service and sales spiels to ensure they don't miss any important information.
DETAIL-ORIENTED
An effective inside sales agent should be detail-oriented. Starting with the lead generation phase, they should be able to get the right details and input them into your database management tool accurately. Any missteps or wrong information (example: wrong client contact information) can equate to a lost opportunity.
ORGANIZED
To handle the lead volume and filter leads successfully, an inside sales agent must possess good organizational skills. When real estate ISAs handle information in an organized manner, you're assured that you won't miss any business opportunities.
How to Hire and Manage a Virtual Real Estate ISA
Now that you've decided to hire a virtual inside sales agent, it's time to source quality candidates.
SOURCING AND RECRUITMENT
You can find quality candidates by posting a job on career websites. Once you've received the applications, you can shortlist and interview qualified candidates. Like lead screening, you can use the interview process to measure qualified candidates using key metrics like their work attitude, professional experience, and communication skills. After the interviews, make sure to conduct character or background checks. Only then should you extend a job offer to your selected inside sales agent candidate.
MANAGING A VIRTUAL REAL ESTATE ISA
If it's your first time working with virtual assistants, you may find it overwhelming at first. But there are free apps that can help you track the performance of your real estate ISAs regularly. Synchronous and asynchronous communication tools can help you make sure that you keep communication lines open for feedback, goal-setting, and alignment on activities.
Hiring a virtual inside sales agent can be a great solution for your real estate business. It can save you time and money while helping your real estate agents focus on closing deals.
However, finding quality candidates can take up much of your time and resources. Our suggestion? Work with a dedicated and experienced virtual staffing company like 20four7VA!
Here's what we offer in a nutshell:
COST-EFFICIENT STAFFING SOLUTIONS

You can enjoy up to 80% savings on labor costs!

FAST TURNAROUND TIME

We can find you the right virtual ISA in as fast as three days upon approval of the job description.

END-TO-END HR SERVICES

We offer HR services beyond sourcing and recruitment. These include VA management, payroll processing, and training.

TECHNICAL ASSISTANCE

Our IT Helpdesk is available to assist with any hardware or software concerns.

DEDICATED CLIENT SUPPORT

We have dedicated customer support experts to provide timely and dependable services.
Let us help you find the right ISA for your business. Schedule a free consultation with our Growth Experts today!
Ready to find a Virtual Real Estate ISA?