Virtual Transaction Coordinator
Hire a virtual transaction coordinator and see your business grow!
HIRE A VIRTUAL TRANSACTION COORDINATOR
The real estate industry is fast-paced and highly competitive. A seasoned real estate professional knows that success in this industry takes more than just excellent negotiation and salesmanship. It's not all open houses and signing contracts. Closing a sales deal does require more than just talking to clients and showing them around the property. It involves a lot of back-office real estate transactions, such as drafting a purchase agreement, gathering documentation for opening an escrow account, and other administrative tasks. So not only do real estate agents need lip service, but they also need to do the legwork AND paperwork. If you're a real estate company drowning in all these tasks, you'll do yourself a favor by hiring a virtual transaction coordinator.
WHAT IS A VIRTUAL TRANSACTION COORDINATOR?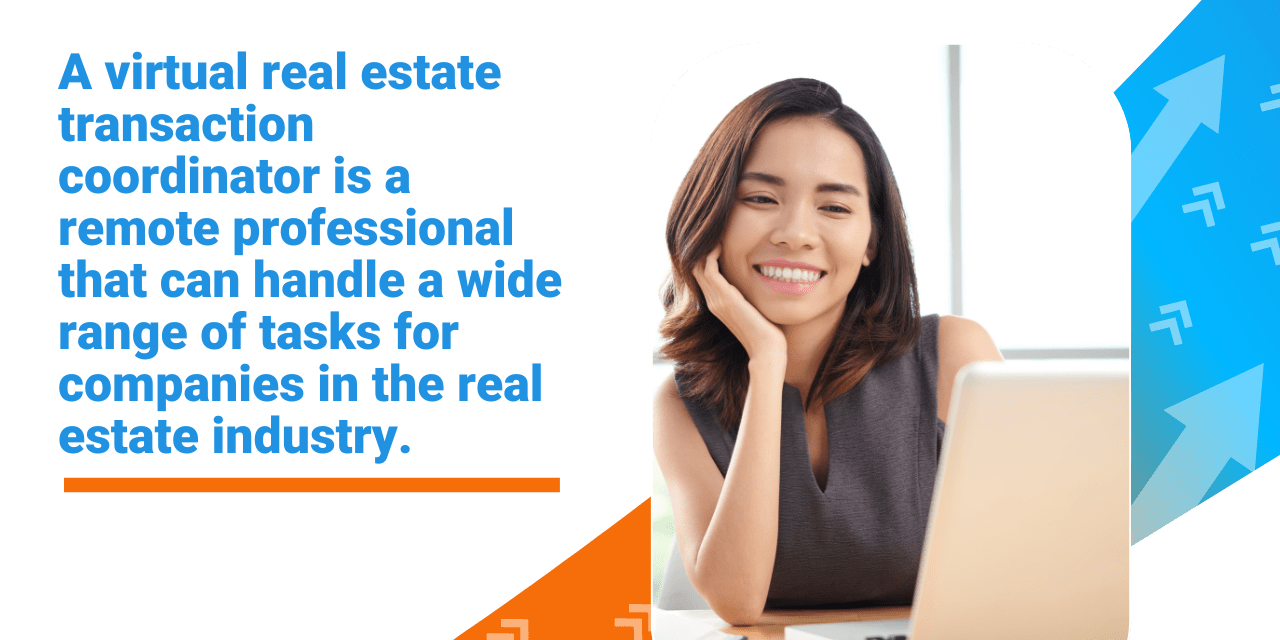 A virtual real estate transaction coordinator is a remote professional that can handle a wide range of tasks for companies in the real estate industry. They can work on basic administrative support or help with more real estate-specific transactions such as ensuring escrow, drafting a contract, and even real estate marketing.
KEY BENEFITS OF HIRING A VIRTUAL REAL ESTATE TRANSACTION COORDINATOR
Hiring a virtual transaction coordinator allows companies to focus on growing their real estate company without worrying about routine, time-consuming tasks.
INCREASED PRODUCTIVITY
Even when a sound transaction management system is in place, real estate agents will be happy to delegate back-office tasks to a real estate transaction coordinator. Doing so helps them free up more time to do more revenue-generating tasks such as conducting open house activities, negotiating with clients, and closing deals.
COST-EFFICIENT
A real estate business will experience its share of ups and downs. To help manage these low periods, you should save on costs when possible. Hiring transaction coordinators to work in your office can cost your company more than a higher salary expense. You'll also need to consider insurance, office equipment, and other in-office employee benefits. Working with virtual assistants means taking transaction management tasks off your plate while keeping your labor expenses low.
BETTER SALES PERFORMANCE
With a virtual assistant (VA) taking over transaction coordination duties and providing other administrative support, real estate agents now have more time to manage their sales pipeline and close more deals. This means better sales performance for your business.
TASKS YOU CAN DELEGATE TO A TRANSACTION COORDINATOR VIRTUAL ASSISTANT (VA)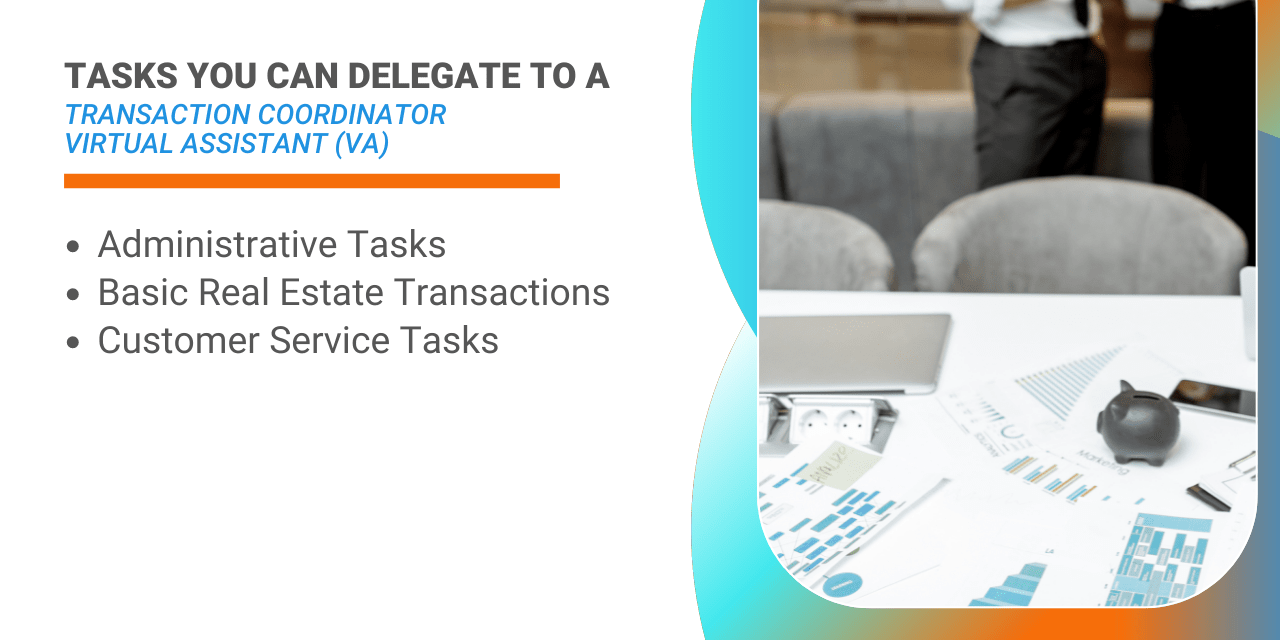 A real estate virtual assistant transaction coordinator can help you with various tasks, from schedule management to answering client calls.
ADMINISTRATIVE TASKS
A single real estate transaction can be made up of smaller administrative transactions. Hiring virtual assistants can help your team reach your targets on time. Here are some admin tasks that many agents can check off their to-do list with a transaction coordinator VA on the team:
Book travel arrangements

Manage the client database system

Schedule management

Internal reporting such as weekly summaries or monthly income reports

Updating property details or listings
BASIC REAL ESTATE TRANSACTIONS
Virtual assistants with experience in the real estate business can be a great asset to your team. You can focus on more deal-closing activities while your virtual assistant handles basic business transactions such as:
Working on the escrow process

Reaching out to escrow companies

Mortgage loan transaction coordination and documentation review

Documentation of appraisal processes

Drafting of a purchase agreement or contract

Making lender follow-ups
CUSTOMER SERVICE TASKS
Virtual transaction coordinators can help you improve your customer service performance, too. They can handle customer-facing tasks such as:
Detailing the escrow instructions to a client via a phone call or email

Fielding client calls

Replying to basic inquiries from clients and escalating to real estate agents when needed
SKILLS TO LOOK FOR IN A REAL ESTATE TRANSACTION COORDINATOR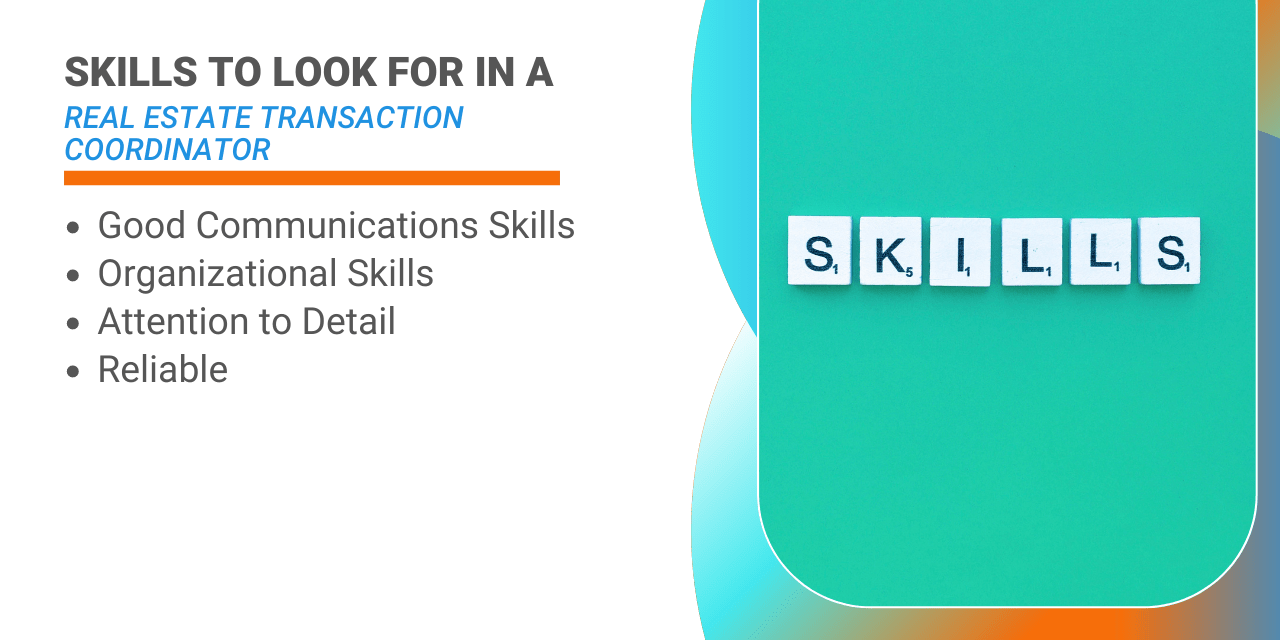 GOOD COMMUNICATION SKILLS
Look for a virtual transaction coordinator with good communication skills. Communicating clearly and efficiently allows for seamless coordination between different parties.
ORGANIZATIONAL SKILLS
A virtual transaction coordinator must have good organizational skills to become a great asset to your business. Not only will they need to manage your lead database, but they will also need to organize documents of varying levels of importance and confidentiality.
ATTENTION TO DETAIL
A lot of a virtual transaction coordinator's tasks will require them to be meticulous or thorough. They must do their due diligence in ensuring that each contract has the necessary signatures to proceed to the next step. Transaction coordinator VAs can also manage the agents' calendars to avoid scheduling conflicts. Having a VA with great attention to detail can save your business from headaches of rescheduling or rerouting incomplete documents.
RELIABLE
Real estate professionals will need someone reliable and can get the job done promptly. They need to be self-sufficient since micro-managing them is not an option. They'll be working remotely, so you need a VA that knows how to manage their workload and contribute to your business without close supervision.
HOW TO HIRE REAL ESTATE TRANSACTION COORDINATORS
CREATE A JOB ALERT
When you've decided to hire a real estate transaction coordinator, you can craft and post a job alert on various remote work websites.
SCREEN APPLICATIONS
The number of applications you'll need to screen will depend on the appeal of your job alert and the number of career websites you've posted on. Upon review, you can shortlist the applications that stand out to you and reach out to them to schedule candidate interviews.
INTERVIEW SHORTLISTED CANDIDATES
Interviewing candidates is a great way to get to know them and test their communication skills. You'll also be able to get a better idea if they are a good fit for your business or company culture.
CREATE A JOB OFFER
After interviewing a couple of candidates, you'll most likely be able to select one that fits your business needs. Craft a job offer that they can review and sign to show their acceptance of the job expectations and compensation.
START WORKING WITH THE YOUR NEW COORDINATOR VA
Once you and the VA prospect have agreed on the contract terms, you can start onboarding and training them. If you manage and train your VA well, they will be able to contribute to your business in a big way.
SAVE MORE TIME AND EFFORT BY WORKING WITH 20FOUR7VA
If you want to save yourself from the hassle and stress of conducting screening and recruitment on your own, then let 20four7VA help! We can help you find the right real estate transaction coordinator you need in 4 easy steps!
1. FILL OUT THE CONSULTATION FORM
The first step is simple. Just fill out the consultation form, so we can set up a call to get to know your company and staffing needs a bit more.
2. WE'LL SEARCH OUR VA POOL
We will search our database of vetted virtual assistants that match your requirements.
3. SCHEDULE INTERVIEW AND TEST TASKS
We'll coordinate with the shortlisted VAs to schedule interviews and test tasks. Both are important in measuring the candidate's ability and how they fit into your culture.
4. YOUR VA IS NOW READY TO WORK!
Once you've chosen a VA, we will set up your subscription. After which, your new VA can now be onboarded and start working!
Are you ready to take the lead in the real estate industry? Then contact 20four7VA today!
Ready to find a Virtual Transaction Coordinator?