Top Virtual Assistant Tools 101 (Part 7): Cybersecurity and Data Security System Tools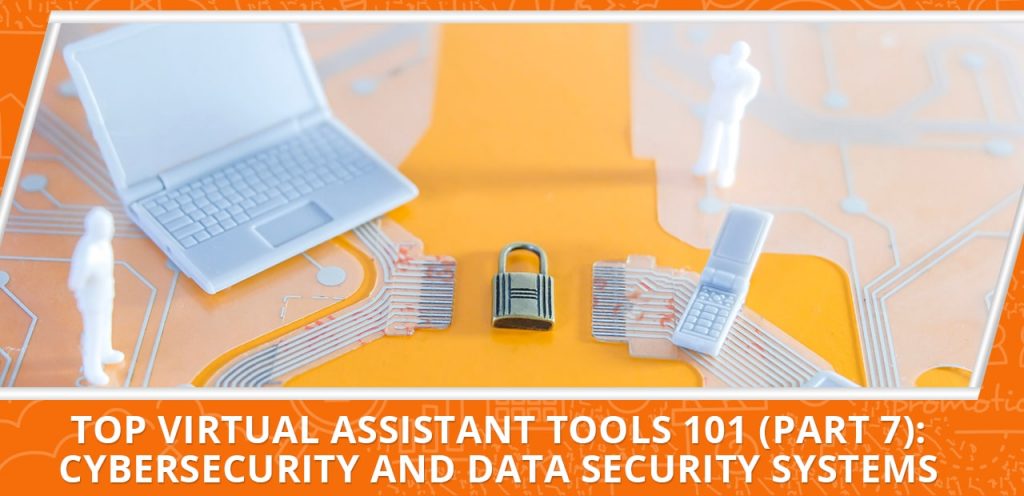 Having a virtual assistant (VA) can be life-changing. But working with anyone remotely does carry some risks, especially if you don't have data security system policies set up. For instance, data theft and business disruption caused by cyber threats can wipe out hard-won profits in an instant.
Thankfully, there are tools that can protect you from malicious code attacks, data breaches, and other threats to your business. Let's dive into the importance of cybersecurity and data security and look at the data security technologies that make remote or hybrid work safer for everyone.
Cybersecurity and data security, defined
What is cybersecurity?
Cybersecurity is a vital component of any business, regardless if you have a co-located, distributed, hybrid, or fully remote workforce. Cybercriminals can easily breach your computer network, devices, email accounts, or social media accounts. This can lead to a loss of revenue, clients, and valuable resources, as well as information leakage. Cybersecurity encompasses all the different ways you can protect your devices and networks from digital threats such as infiltration by hackers.
What is data security?
Data stored in computers and other devices must be protected against unauthorized access, modification, or corruption while it remains at rest (stored on devices) and in transit (being sent over a network). Data security refers to the measures taken to protect company information from loss, misuse, alteration, theft, or unauthorized access when used by employees or transmitted through networks.
Whether it's sensitive financial documents, customer records, or confidential business information, all of your data must be kept safe at all times. Sensitive data can be stolen by cybercriminals and used for various reasons, such as gaining access to bank accounts, credit card numbers, usernames, passwords, and even company positions or strategies. Data leaks or breaches could also put your enterprise at risk of getting hit with a lawsuit if customers' private data gets out into the wild. Distributed Denial of Service (DDOS) attacks can bring down servers, and viruses have the potential to wipe out hard drives.
If you're running a remote or hybrid team, any personal and business information you share online is vulnerable to malicious activity such as phishing attacks or man-in-the-middle attacks that could lead to identity theft, malware infections, ransomware, or worse.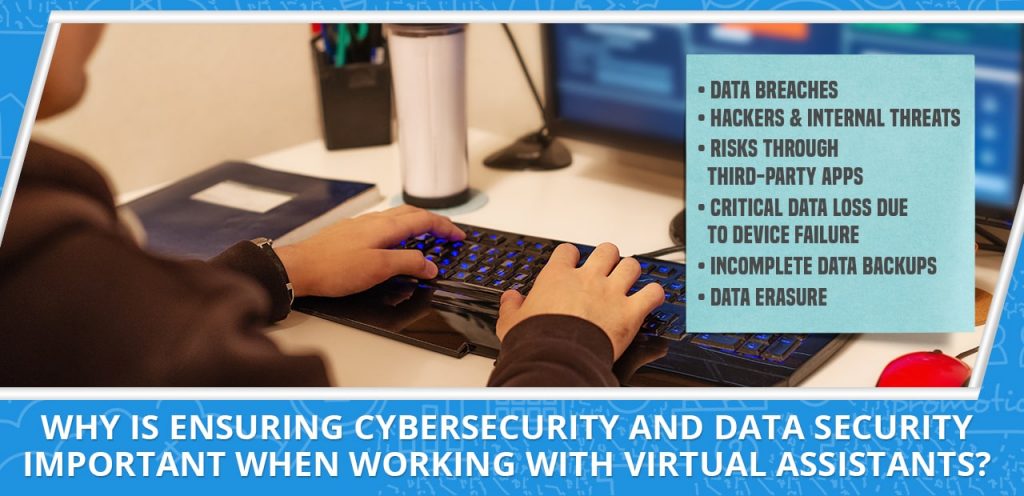 Why is ensuring cybersecurity and data security important when working with virtual assistants?
If you hire a VA, chances are they'll be handling sensitive data for your business. They may have access to files and emails that contain customer information, financial records, personally identifiable information, or even trade secrets. Anytime your VA accesses your data from an unsecured location, such as a coffee shop's free WiFi network, there's a chance that hackers could intercept your communications and pose a serious threat to your company's privacy and security.
The virtual office lifestyle offers unique opportunities for hackers to infiltrate your data and business operations. Hackers can gain access to private accounts, steal sensitive information, or enter malicious code into a work platform, causing chaos throughout your operations and potentially stealing millions in just minutes. If you work with offshore teammates, vendors, contractors, freelancers, or business associates based in another part of the world, there's a major risk of enterprise data breaches, phishing emails, and malicious code attacks.
Here's a breakdown of the many types of data security and cybersecurity issues a virtual assistant (or any remote worker) may experience:
Remote workers sometimes work on the go — in public places like a coffee shop, while traveling, or anywhere else they have a few minutes of downtime. This is convenient for many reasons, but it makes your business vulnerable to dangerous situations that could result in inadvertent data exposure. Devices may be stolen, someone may accidentally walk off with another person's laptop or smartphone, or other people might recover files your remote employee forgot about after leaving their office desktop unattended for too long.
Hackers and internal threats
Many hackers go after businesses with weak security practices. If you're working remotely without advanced data protection systems in place, you could be opening yourself up to potential attacks from individuals who want to steal information from your system and sell it to competitors or offer it on the black market.
To protect against this kind of security threat, look for data security system solutions that offer advanced data encryption and password protection. This way, unauthorized users can't access your most sensitive and personal data, even if they're working right alongside you in a virtual office environment.
Risks through third-party apps
Some remote workers transmit critical information over public networks; others rely on cloud storage platforms that could be vulnerable to attacks, including viruses and malware. These data storage apps may not be as secure as you think. Some hacker groups have already breached large cloud servers like Google Drive or Dropbox to steal personal data about their customers.
The risks are high when transferring data through public clouds — the iCloud celebrity photo leaks made this painfully clear. To protect against these security threats, use cybersecurity and data security technologies that connect to your online data and file storage platforms through private network connections. This way, all of your business files, financial data, and customer data are safe from thieves and malicious attackers.
Critical data loss due to device failure
Whether remote or not, any employee can experience data corruption or data loss caused by sudden hardware failure. Even a single mistake when backing up system information is enough to completely overwrite data or to lose everything you've worked so hard on. If a remote worker's device fails or doesn't work properly, it can be very difficult to retrieve your business data and get back to work quickly. Data security system tools protect your virtual office and allow you to recover lost files easily after a device failure.
Incomplete information due to manual backups
Manual data backups can be even riskier than cloud-based storage. Many people create their own strategies for backing up important files, but they don't always complete the process successfully. Some of these issues have included critical file corruption and loss, which are especially devastating for remote workers.
Accidentally erasing files and information you need is a problem that can affect everyone, including remote workers. Even if every worker in the office takes care with their devices, they may still lose important business data through accidental deletion or device errors like hard drive corruption. Data security system tools help recover erased data and avoid exposure of critical business files. Once the files have been recovered, the software can securely erase them from your system to prevent anyone else from recovering them.
Benefits of cybersecurity and data security system solutions for remote workers
Anyone who uses the internet faces cybersecurity risks. Fortunately, there are effective tools available specifically designed to help you minimize these threats.
The benefits of data security and cybersecurity software include:
Your business depends on maintaining its reputation and standing within your industry, which means avoiding any harmful data security issues. Cybersecurity software can help safeguard your information so you never experience a damaging breach or other loss that could hurt your brand.
Better privilege allocation and access management
As your business grows, you may work with more employees who need to access confidential files. Cybersecurity technology can give you greater control over what information they can access and how much they can do with it.
If your system fails or is damaged beyond repair, the consequences can be severe. Cybersecurity software ensures that your vital systems and information are safe from corruption or loss caused by hardware failure and other issues. This way, you're able to avoid downtime while enhancing the quality of remote work for your employees.
Some industries are required by law to encrypt their data or use other specific cybersecurity measures. However, many organizations overlook these requirements until they're found in violation of the rules and regulations that govern them. With the right data security system software for remote workers, you can avoid this issue by ensuring your systems are compliant before you run into problems with regulators.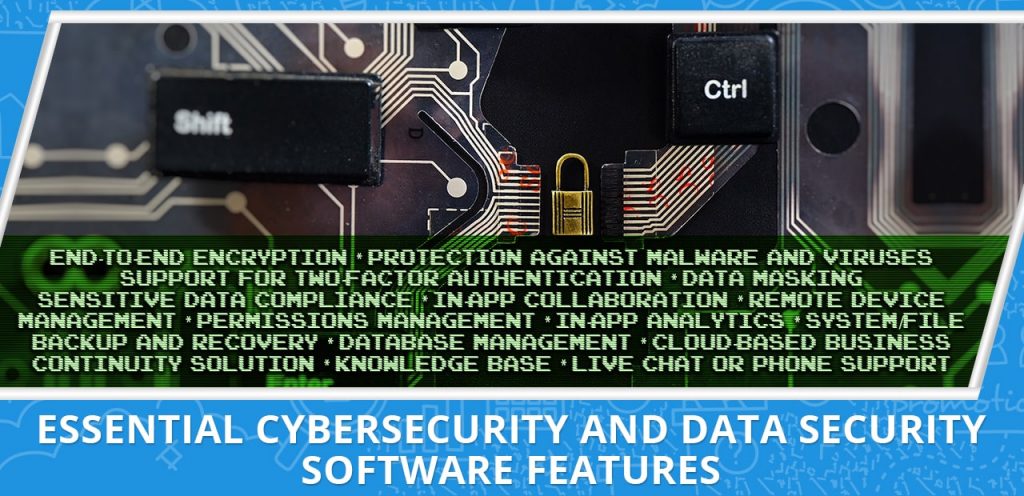 Essential cybersecurity and data security software features
The software you choose should provide advanced security features and maximize the benefits of remote work. Look for cybersecurity and data security solutions with the following features:
Encryption is one of the most critical aspects of cybersecurity and data security, especially for protecting confidential files from unauthorized access or leakage. It replaces sensitive information with codes that prevent prying eyes from viewing what's behind it, while decryption lets you access this information whenever necessary. These features are important for most businesses dealing with sensitive data, but they're especially important if your organization deals with financial information or keeps medical records.
Protection against malware and viruses
Malware and viruses can steal your data or cause serious damage to your system and files. Business-class cybersecurity software should offer full protection against these threats, giving you peace of mind that your remote workers can complete their tasks safely.
Support for two-factor authentication
Two-factor or multi-factor authentication involves using multiple forms of identification to verify your identity. This makes it harder for unauthorized users to gain access to your data or network.
Data masking prevents unauthorized users from viewing sensitive information by replacing it with something more innocuous. For example, you can use a service that replaces names or addresses in your emails with generic codes to prevent snooping or other cyber attacks.
Sensitive data compliance
If your business deals with sensitive data, it's essential for the software you use to meet regulatory compliance standards that are enforced in your industry or country. Some remote computer network management solutions have features designed to ensure the secure disposal of information when employees leave their organizations, while others keep track of data transfer protocols and other measures that protect security and privacy.
In-app collaboration tools
Some remote access tools are designed to protect information while allowing you to collaborate with a team. These features can include multiple levels of user access and the ability to manage who has which permissions for various types of files, directories, or other accounts.
Remote device management tools
Many software systems allow you to manage the hardware used by remote workers. This includes features that control what software is installed on each device, force updates or patches to be applied and keep tabs on which devices are active at any given time.
Ability to change permissions for individual accounts
It's critical to have the ability to restrict access and change permissions on a per-user basis so you can keep tabs on who has what kind of access at any given time. Similarly, it's helpful if you can control how people use this access by setting up expiration dates or other limits.
It's important to be able to track how employees are using your systems, which includes both basic usage statistics and more in-depth information on each user's actions. This enables you to identify security risks, improve team efficiency and adjust configurations as necessary.
Ability to backup and restore files
Even if you use the best security software, you may still have to deal with data breaches in the event that a storage device is lost or stolen. Data backup features let you recover everything from emails to employee profiles without having to reenter information, while system restoration can get your entire server up and running quickly in case of hardware failure.
Database management platforms
These systems can be used to manage storage devices, including both the hardware used to store files and the data itself. This includes features that allow you to monitor how much space is used on a device, which users are taking up the most space and how long each file is being stored. Many database management platforms also include backup and restoration features for safeguarding your data in case of an emergency.
Cloud-based business continuity solutions
Cybersecurity threats aren't always a one-time, complete incident. They can be ongoing, which means you need to have in place an offsite backup system that includes remote servers and other cloud-based resources. This enables you to recover critical business information quickly should your local system become inaccessible due to cyberattacks or data corruption.
The right cybersecurity solutions provide an online knowledge base where you can look up specific issues or threats to ensure you're addressing them in the right way.
Live chat or phone support
Cybersecurity and data security systems are highly technical software tools, so it's important for the companies that sell them to offer some type of customer service. Whether it uses online chat features or is available by phone at any time, this support helps you ensure that your team will receive the help they need when they need it.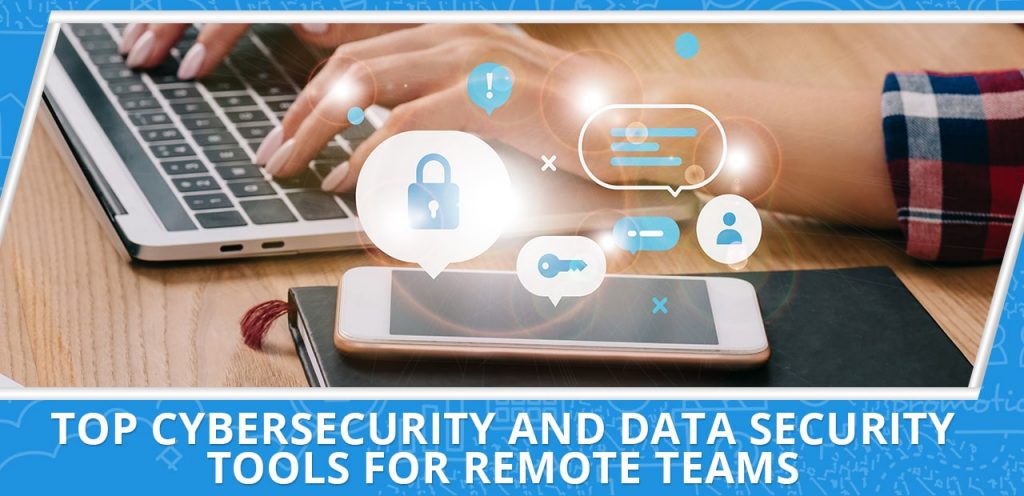 Top cybersecurity and data security system tools for remote teams
There's a staggering array of products available to protect you and your company from cybersecurity and data security threats. Many of these tools work directly with your existing storage devices, while others can monitor the usage of mobile devices or manage database access.
These are some of our picks for cybersecurity and data protection tools:
This platform safeguards files from unauthorized access and malicious tampering, gives you real-time visibility into database activity, and helps you create a custom security policy for your system. Data Center Security Suite includes McAfee's Vulnerability Manager for Databases, Database Activity Monitoring, and Virtual Patching for Databases.
This tool gives you comprehensive control over endpoint devices, including everything from servers to mobile devices. It also gives you continuous security monitoring, proactive threat management, and extensive reporting capabilities. Symantec Endpoint Protection includes intrusion prevention, anti-malware, and firewall features.
In addition to centrally managing and monitoring your platforms, apps, and data, this security suite can also detect new threats across the entire network. It provides a unified view of everything that's going on in your network, including alerts for suspicious activity that could indicate unauthorized access to sensitive files. Deep Security also has features designed specifically to help you maintain regulatory and compliance requirements.
This platform is one of the fastest and most comprehensive tools for monitoring all file activity and mitigating exfiltration risks and data exposure. Incydr is particularly useful for businesses with remote workers and those who want to protect their data from high-risk employees (e.g., "flight risk" employees and those who travel frequently) and departing employees. It also protects your intellectual property and sensitive files during mergers and acquisitions.
This tool provides continuous risk management that's scalable, flexible, and works across the leading browsers, operating systems, and apps. Powered by AWS (Amazon Web Services), it offers no-compromise enterprise data protection for a more efficient data security system. Digital Guardian is available as either a SaaS (Software as a Service) or managed service deployment.
Cybersecurity is a team effort
The impact of a cyberattack could cripple your business and damage your reputation. This is why employees in all areas of the organization need to practice cybersecurity and data security.
Apart from investing in cybersecurity and data protection technologies, you need to educate your team on how these threats impact them individually as well as the organization as a whole, especially if they use any kind of electronic device to help run your business. Having cybersecurity and data security strategies in place also helps you minimize the impact of an attack, should one occur. It can help your team get back on its feet quickly after an incident, which is critical for maintaining customer trust and brand reputation.
Ready to take your business operations to the next level? Skilled and pre-vetted virtual assistants can help you improve sales and efficiency, provide a better customer experience, and give you your valuable time back.