People of 20four7VA: Chin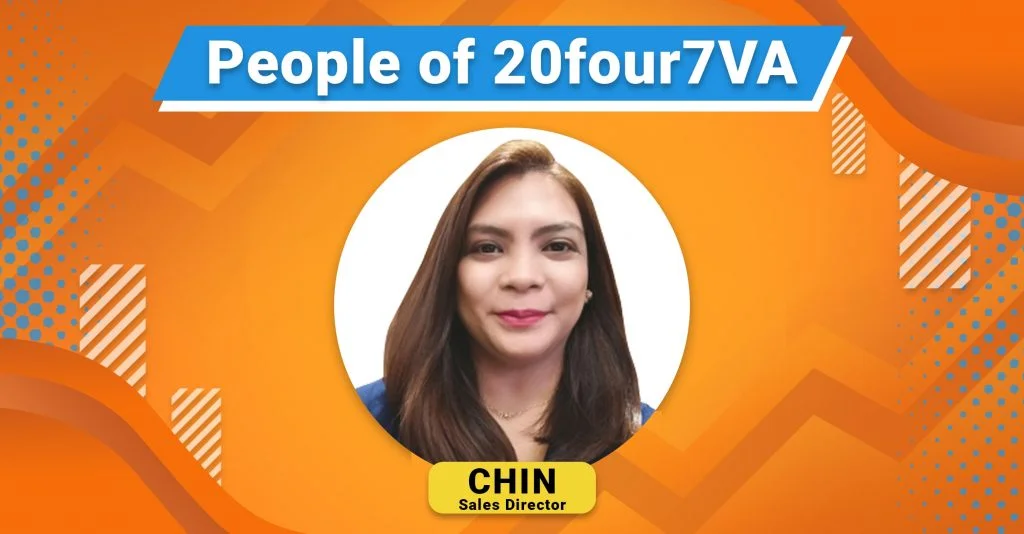 Welcome to the People of 20four7VA series! Every month, we chat with a member of the team and find out what they do at 20four7VA, what keeps them here, and how they make remote work work.
Meet Czarina Espiritu, our intrepid Sales Director who loves books, travel, and working out. Chin first joined the company as our Client Services Manager in 2018. She now manages a team of six client success and business development specialists and leads two of our most mission-critical teams.
What do you do at 20four7VA?
I oversee the Client Services and Business Development teams at 20four7VA. What this means is that much of my workday is spent interacting with potential and existing clients — finding out what their roadblocks are, helping match them to their ideal virtual assistants, and making sure we're helping them overcome their challenges and improve their productivity.
I also work on projects that aim to spread the word about 20four7VA so that more businesses can benefit from hiring a virtual assistant (VA).
What excites you about working with 20four7VA?
The fact that every day is different. And that we get to shape the path for improvements for everyone's benefit is an all-time high for me!
What's one thing that people should know about outsourcing/virtual staffing?
You need to put in the work.
One of the top benefits of outsourcing is that you can free up hundreds of hours a month and take control of your time — and life! But for this investment to pay off, you have to help your VA get settled in. Guide your VA as you would any in-house staff member.
What are your top 3 tips for successful outsourcing/virtual staffing?
1. Train. 2. Evaluate. 3. Adapt.
When you train your VA, keep in mind that everyone has a learning curve. You may have to try out different strategies, but this training will benefit everyone in the long run.
Evaluate. The first few days or weeks of working with your VA/s will give you a lot of insight into their working style and will show you the best way to manage them.
Adapt. It's a two-way street. The most successful client-VA relationships we've had involved a client who was willing to listen to what the VA needs, and a VA who was willing to ask, be trained, and put in the work.
1. Train.

2. Evaluate.

3. Adapt.
What's one thing that every VA/remote worker has to know?
Some people are still hesitant to make the switch from office-based to remote. I want people to know that working from home doesn't mean you won't be promoted, you won't get raises or bonuses, or your work won't be appreciated. Remote work is here to stay!
What are your top 3 remote work tips?
1. Set yourself up for success. Invest in your equipment, internet plan, backup systems, and professional development courses.
2. Get enough sleep! Having a good sleep routine will take you places, believe me!
3. Communicate, communicate, overcommunicate. Maybe you can't log in for the day, or you're about to go on vacation, or you need something from your client. Don't keep people guessing. Tell your client and teammates what you're working on and inform them if something's happening in your personal life that could disrupt your work. Ask questions instead of spending hours trying to figure something out on your own. Communicate and be proactive.
Thanks, Chin! 😊
Want to work with a company that will give you a pathway to growing your VA career? If the answer is yes, we'd love to work with you! Explore our open jobs or get in touch! We're always excited to find global remote talent like you!