Reasons to Work with a Certified Virtual Staffing Company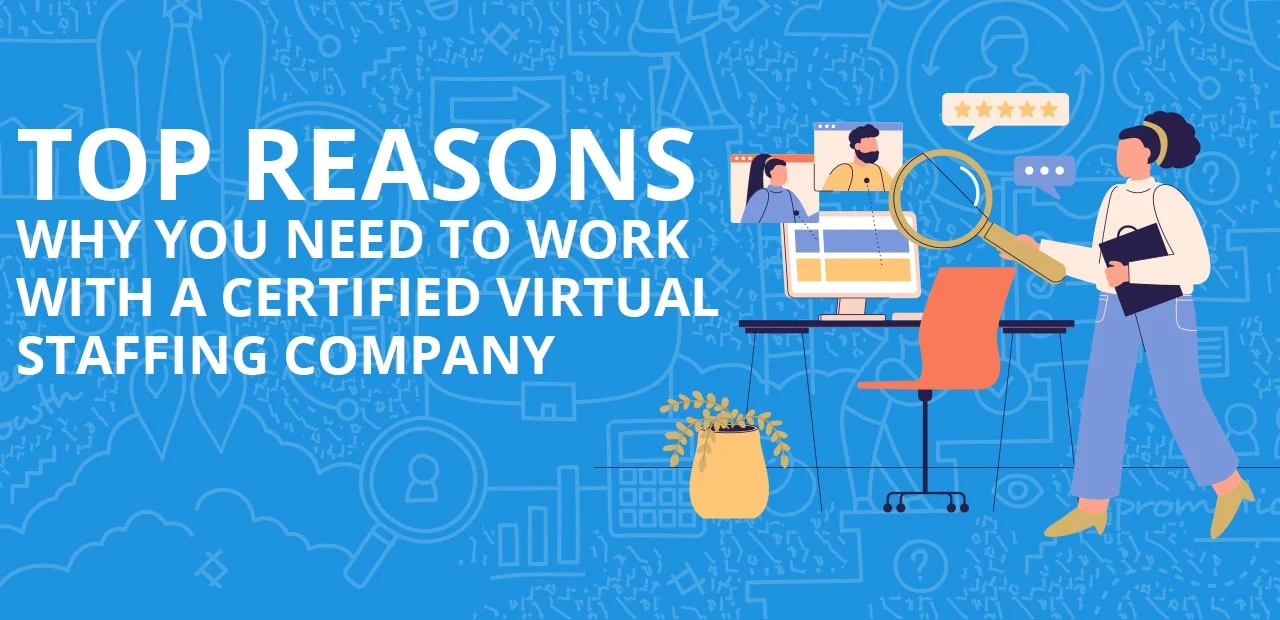 Thanks to high-speed internet and various online collaboration tools, working with a remote team is now easier than ever. Working with a fully distributed team of virtual assistants or remote talents offers companies flexibility and access to a global talent pool. And remote staffing is quickly becoming a go-to option for many companies. The advantages of virtual staffing are expansive, from cost savings to improved productivity.
Aside from the potential savings from hiring remote talent, there's also the added benefit of saving time and energy when working with remote staffing agencies. But not all remote staffing agencies are created equal. You need to be meticulous if you're a business owner looking to work with remote talent through a virtual staffing company. If not, your team may end up shelling out more resources than necessary. Finding a partner that values tax compliance, is reliable, and has a proven track record would be best.
Want to know more about the key benefits of working with a top-notch virtual staffing agency? Read our article on How VA Support Services Can Help Combat Inflation, or schedule a free consultation with our Growth Experts today!

YOUR VIRTUAL STAFFING AGENCY CHECKLIST
We've already mentioned that not all remote staffing agencies are the same. It's best to work with one that won't only bring you the virtual staffing solutions you need but is tax compliant and follows business regulations. When searching for a virtual staffing agency partner, you better stay on the safe side. To help you review your options, here are five essential items that should be on your checklist:
COMPLIANT WITH BUSINESS REGULATIONS
The global market can be competitive and fast-paced, so you may try to react quickly without thoroughly reviewing the pros and cons. The same can happen with getting remote staffing solutions. You may want to get the remote talent you need as soon as possible. But before jumping into a partnership with a virtual staffing agency, it's best to request basic information, such as:
Their company profile and history
Do they have the right documentation to operate as a remote staffing agency?
What type of documents can they present for your tax filing process?
A compliant agency should have no qualms about sharing these details with a potential qualified client.
TRIED AND TESTED STAFFING SOLUTIONS
One of the best ways to verify if a remote staffing agency will make a great partner is to see what their current client base says about them. A legitimate virtual staffing company with excellent client reviews will publish such reviews on relevant platforms, including their website, LinkedIn profiles, and other social media channels.
Visit our website to read feedback from 20four7VA clients. You can also schedule a free consultation to learn more about our solutions!
TOP-NOTCH GLOBAL TALENT POOL
Whether you need an Administrative VA or a seasoned Telehealth virtual assistant, your virtual staffing agency partner should be able to screen and endorse the right talent for you. The right virtual agency will have access to a pool of pre-vetted remote professionals with the skills and qualities matching your business needs.
CERTIFIED BY VARIOUS INDUSTRY EXPERTS
A little research can go a long way when ensuring you're getting the right virtual staffing partner for your business. Those who have the expertise you need are usually recognized by established institutions. You can easily cross-check the information published on an agency's website with that of the certifying body.
While this may not be a dealbreaker for most, it can certainly be a red flag. The more stable remote staffing agencies won't ask for upfront fees from a prospective client. Clients are only billed when a virtual assistant starts working for them.
Looking for a remote staffing agency that meets your standards? Visit the 20four7VA website or schedule a free consultation with us today!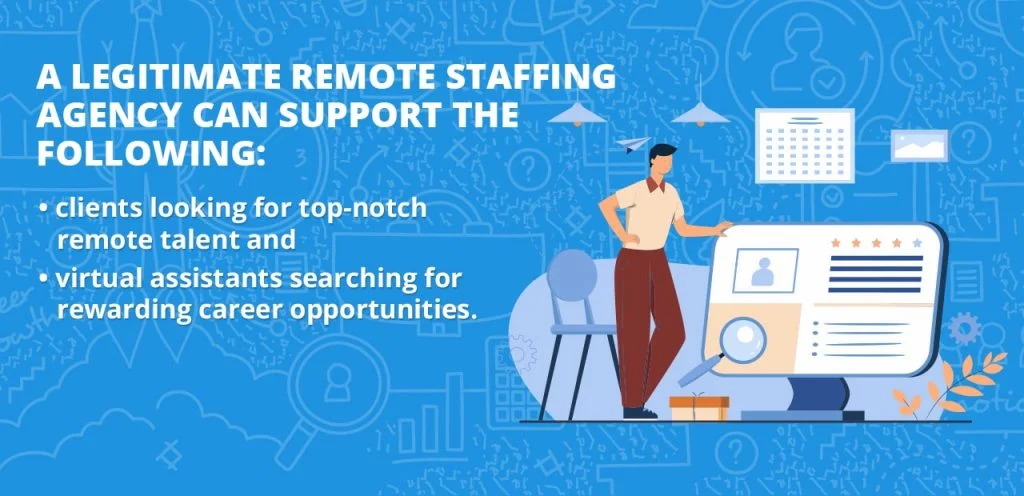 BENEFITS OF WORKING WITH A LEGITIMATE AND CERTIFIED REMOTE STAFFING AGENCY
A legitimate remote staffing agency can support the following:
clients looking for top-notch remote talent and
virtual assistants searching for rewarding career opportunities.
FOR THE CLIENTS
When you have a choice between a reputable remote staffing company with a proven track record and one that is not, it's better to choose the former. Here are some of the reasons why:
AVOID SCAMS
A tried-and-tested remote staffing company does not only offer convenience but security as well. Scams are prevalent in a lot of industries, including virtual staffing. If not careful with their vendor selection process, clients can experience the opposite of what remote staffing should be able to help with, such as better productivity, higher revenue, and improved business operations. Instead, they could end up experiencing financial and operational issues.
HASSLE-FREE SERVICES
One of the many benefits of working with a virtual staffing company is saving valuable time and energy with the screening and recruitment process. An exceptionally competent company can offer end-to-end services, including HR services and IT Helpdesk support. Access to such services means you work with top-notch remote talent in the most cost-effective and convenient way. Your virtual staffing partner can cover the back-end processes so you can focus on your core responsibilities and grow your business.
ACCESS TO A GLOBAL TALENT POOL
An experienced remote staffing company can offer access to a large pool of remote talent across the world. They will screen and endorse shortlisted virtual assistant (VA) candidates that match your requirements for the best client-VA match. And if you have particular requirements, the right remote staffing agency can help you find the suitable VA through their broad reach and various platforms.
Moreover, they have measures to ensure that clients will not be scammed, "ghosted," or simply left hanging by a remote talent after getting their first pay. An experienced agency will have security measures to keep unwanted situations like that from happening. And if a VA becomes suddenly unavailable to work for various reasons, such an agency will be able to provide apt replacement VAs.
COST-EFFECTIVE STAFFING SOLUTIONS
It's not a secret that working with remote talent has potential cost-saving benefits. But that may not always be the case if you're working with an inexperienced virtual staffing agency. A qualified and established remote staffing company can offer comprehensive services at highly competitive prices. On top of matching you with a suitable VA, they can also handle back-end support from payroll processing to VA management and IT Helpdesk, saving you more time and money.
STAY COMPLIANT
Working with an experienced and reputable company does not only mean you get to experience top-notch services but stay compliant as well. They can provide the necessary documentation for your tax compliance practices. Such companies are also aware of the various requirements that clients need based on previous experiences. Having previous experience with important rules means you won't have much trouble requesting essential documents for your filing.
Get more Virtual Staffing 101 tips by visiting our website or scheduling a free consultation with our Growth Experts. Let us help you find the right staffing solutions for your business!
FOR THE VIRTUAL ASSISTANT
A remote staffing agency you can trust is one that also keeps the well-being of virtual assistants or remote talents in mind. They provide industry-leading services to clients while providing rewarding remote careers to virtual assistants.
SECURITY
Remote professionals are also potential targets of scams. They can be approached by an entity posing as a client, work for them for a few weeks, and then leave the VA hanging without paying them. There are also fake agencies that may promise high-paying roles but will require the VA to pay a placement fee prior to assignment. These agencies will then keep the VA's hard-earned money and remain unreachable.
GAIN STABILITY
You may have heard stories about freelance remote workers who were left hanging by clients mid-project or weren't paid on time, if not at all. A virtual staffing company can provide the stability that freelancing may lack. They make sure that remote work works for both parties (businesses and virtual assistants). VAs don't have to worry about computing hours and invoicing. Their partner staffing agency will handle all that, so they can focus on their work.
ACCESS TO TRAINING AND DEVELOPMENT
In order to provide the best remote staffing solutions, top-notch talent should be discovered and nurtured. Experienced virtual staffing agencies offer training and performance development support for virtual assistants. These programs help the VAs to upskill or learn new skills, allowing them to develop and grow as remote professionals. This will help them do well in their current virtual assistant roles and become qualified for other remote career opportunities as well.
LEGITIMATE CAREER OPPORTUNITIES
On top of screening and recruiting the right VAs, an experienced remote staffing agency have excellent lead generation and nurturing strategies. They will only reach out and provide solutions to legitimate clients. This allows them to only connect such highly-skilled remote talent to businesses that offer legitimate career opportunities.

20FOUR7VA: YOUR TRUSTED REMOTE STAFFING AGENCY
LICENSED AND INSURED
In our efforts to protect the company, clients, and virtual assistants, 20four7VA is licensed and insured in the State of Maryland, USA. We make sure to meet the requirements needed to operate in the virtual staffing industry legally and securely. Our license and insurance are vital factors that make us a stable and trusted business partner. 20four7VA clients will have the peace of mind that they're working with a remote staffing agency that meets industry and regulatory standards.
WE HELP YOU STAY COMPLIANT
20four7VA is a certified remote staffing agency that offers businesses around the world access to top-notch virtual assistants and other virtual services. We have a large pool of global talent that can help your business reach greater heights. Moreover, we are compliant with relevant industry regulations and standards.
FORM W-9
The W-9 form is an IRS (Internal Revenue Service) document used to collect information from US and non-US citizens for tax purposes. 20four7VA provides clients with the W-9 form, which includes the company tax identification number and other essential information that clients may use for their own tax documentation and filing.
FORM W-8 BEN
Foreign individuals and entities use the W-8 BEN as a certification of their non-residency for US tax purposes. 20four7VA regularly updates each virtual assistant's W-8 BEN form, including their country of residence, citizenship, and status as an individual contractor. The regular update of such information means 20four7VA clients don't have to worry about any issues with processing their taxes.
TAX COMPLIANCE EDUCATION FOR VIRTUAL ASSISTANTS
20four7VA also empowers virtual assistants to become tax compliant by conducting tax compliance webinars and tutorials. Through these efforts, VAs are informed on how to file taxes correctly as remote professionals. Doing so will help them obtain the proper documentation for various purposes, from credit cards and personal loans to travel visa applications.
CERTIFIED AND AWARDED BY ESTABLISHED INSTITUTIONS
20four7VA has received various awards and recognition from top institutions. These are the fruits of our continuous efforts to stay true to our vision: to reinvent how businesses build their workforce and how workers build their careers.
Inc. is an American publication founded in 1979. The magazine is dedicated to helping entrepreneurs grow their businesses. And every year, Inc. releases Inc. 5000, its list of the fastest-growing, privately-held companies. This 2022, 20four7VA made the list by posting a three-year revenue growth of 158%. This award could only be possible through great dedication from the 20four7VA team to provide excellent solutions for clients and virtual assistants.
CERTIFIED WOMEN'S BUSINESS ENTERPRISE
20four7VA is proudly female-owned. This is why receiving a national certification from the Women's Business Enterprise National Council (WBENC) is something we take seriously. We are a remote staffing agency that values diversity and inclusivity in the virtual workplace. Through this certification, we have better opportunities to partner with companies with the same values and business mindset.
2021 BBB TORCH AWARDS FOR ETHICS FINALISTS
Becoming a finalist of Better Business Bureau (BBB) of Greater Maryland's 2021 Torch Awards for Ethics is a great honor for 20four7VA. It is also a stamp of approval that shows the company's integrity and commitment to ethical business practices.
DIVERSE CLIENT BASE
Aside from having a global talent pool of skilled remote professionals, 20four7VA also has a highly diverse client base. 20four7VA has helped clients from across six continents and various industries. Our varied client portfolio and high customer satisfaction ratings help make a case for why 20four7VA is the right choice for you. We have the experience and expertise to craft the best remote staffing solutions for any business, including yours.
To know more about why 20four7VA is the right remote staffing agency for your business, visit the 20four7VA website today! Or better yet, book your free consultation with our Growth Experts to learn more.
GET TOP-NOTCH STAFFING SOLUTIONS WITH 20FOUR7VA
Now that you know what you should have in your remote staffing agency checklist, it's easy to see how 20four7VA ticks all the boxes. We provide cost-effective remote staffing solutions while protecting the interests of your business. Plus, we make finding a suitable VA or remote talent much more convenient and quick for you.
THE 20FOUR7VA END-TO-END SERVICES
We provide end-to-end services to help make remote work work for you. We offer:
Access to a vast talent pool of remote professionals
Virtual Assistant recruitment and screening
Free client-VA matching services
Quick turnaround time (as fast as 72 business hours)
In-house training
Dedicated account manager for client support and VA management
Access to our time tracking and screen monitoring software
IT Helpdesk for hardware or software-related concerns
HR support services (payroll services, performance management, etc.)
And much more!

FIND THE RIGHT 20FOUR7VA VIRTUAL ASSISTANT IN FOUR EASY STEPS

STEP 1: CONSULTATION WITH THE 20FOUR7VA GROWTH EXPERTS
Fill out the consultation form to schedule a call with our Growth Experts. This call is an essential first step to help us understand your needs and requirements better.
STEP 2: SCREENING OF CANDIDATES
We will search our Virtual Assistant database for candidates that fit your business needs. This is based on the information provided during the consultation and the approved job description.
STEP 3: INTERVIEW OF SHORTLISTED CANDIDATES
We will set up candidate interviews to help you make the final VA selection. For relevant roles, we can also assist with administering a test task. This 30-minute or less test task is a great way to see how candidates will fare in the role they're applying for.
STEP 4: VA SELECTION AND PLAN SETUP
After you've selected your VA from the candidates, we will set up your plan. Your virtual assistant can now start working with you!
Want more information on how to make remote staffing work for you and your business? Visit the 20four7VA website or book a free consultation with our Growth Experts today!