20four7VA Named Finalist in BBB's Torch Awards for Ethics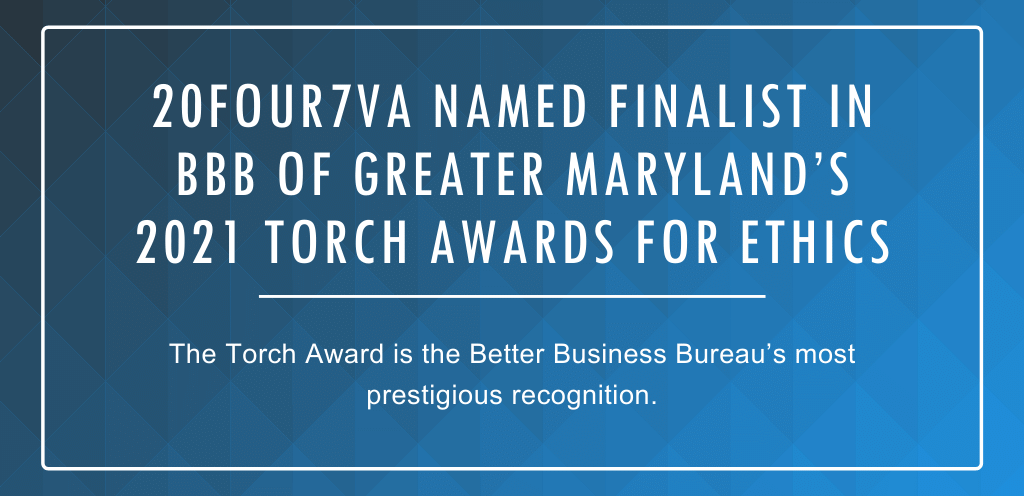 20four7VA was announced as a finalist at the Better Business Bureau of Greater Maryland's 2021 Torch Awards for Ethics. The Torch Award honors businesses that practice integrity and ethical business practices, and show outstanding customer service, culture, and community outreach.
The awards were presented at the BBB's Signature Event on Tuesday, September 21.
"Being chosen as a finalist for this year's Torch Awards is an extraordinary honor," said president and CEO Catherine vanVonno.
"We're incredibly proud to be recognized for our dedication to integrity and ethics. Integrity is one of our core company values, and we work hard to earn the trust of everyone we work with. And as our company has grown, we've measured our success by how we serve our clients and VAs, who to us are family. Congratulations to the finalists and winners of the 2021 BBB Torch Awards!"
The Torch Award for Ethics is the BBB's most prestigious recognition.
"As a remote staffing agency that emphasizes long-term placement, positive relationships are key for 20four7VA," said Angie Barnett, president and CEO of BBB of Greater Maryland.
"By prioritizing quality partnerships, they enable their clients and employees to pursue their goals. Their business clients can leverage innovative technologies at affordable prices while their team of assistants receive training, career development opportunities, and job flexibility."
Applicants to the Torch Awards must be able to demonstrate how their organization's practices exceed the BBB's standards for ethics. Winners and finalists were determined by a panel of judges consisting of BBB board members and previous Torch Awards winners.