How to Write a Personal Assistant Resume [with Examples]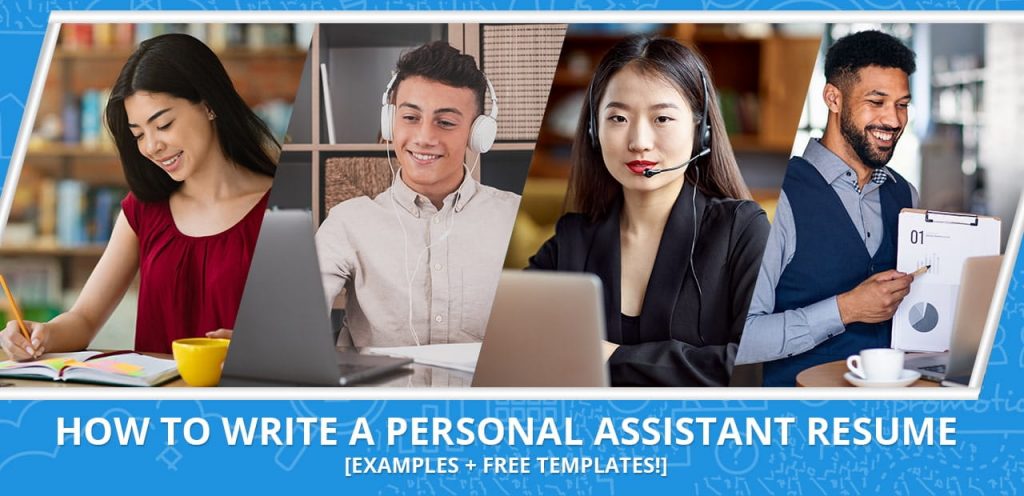 A personal assistant (PA) is an invaluable employee who works for a particular individual; usually for upper management including managers, team leaders, and business owners. The role of a personal assistant is extremely valuable as they take on various administrative tasks and other personal duties directly handed down to them. Applying as a personal assistant is competitive and that is why you need to showcase your skills and experience in a well-written resume.
What is a Personal Assistant Resume?
A personal assistant resume is a key document that provides a summary of a person's education, training, work history, credentials, skills, and accomplishments. It is an essential formal paperwork that most employers require from applicants and its contents can make or break a future employer's hiring decisions. Summarizing all your experience and expertise in one or two pages is challenging as keeping it too long may overwhelm the hiring manager and making it too short will disinterest them. That is why it is important to know what to include in a resume to make it memorable and get you one step closer to an interview as a personal assistant.
What Should the Contents of a Personal Assistant Resume Include?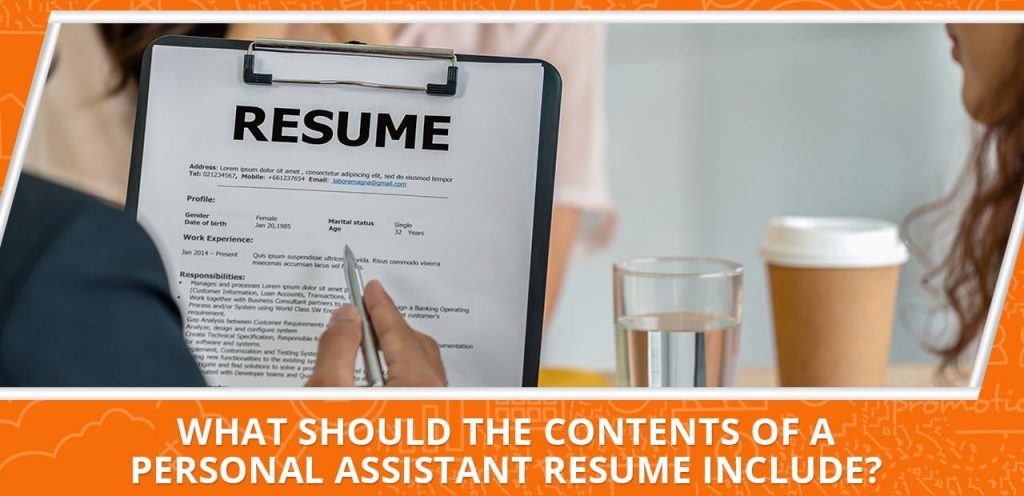 There are four formats for writing a resume: chronological, functional, combination, and targeted. Chronological refers to the exact order of your career's history and it emphasizes your latest work experience. A functional resume is a format that focuses on abilities and experiences under a certain skill and is typically used for job seekers hoping for a career change.
A combination resume features both chronological and functional formats. This is typically used by job seekers with a steady work record, and it highlights the credentials that best match the job opening. And finally, a targeted resume is customized for a specific job position where it focuses on the skills and experience relevant to the job.
These types of resume formats have their own guidelines and using them will depend on your work background and experience. For entry-level workers with no experience, a one-page resume may be ideal. Those with several years of experience may create two to three-page resumes to include relevant professional achievements.
Regardless of if you are experienced or not, here are the most important items to include on your personal assistant resume:
1. Name with Contact Information – Your personal assistant resume should highlight your name including an email address. The most common format for a email address is your first name + surname + domain. You do not want to use an unprofessional-sounding email address as it is unbefitting of the image you want to portray to a future employer.
You can opt to include a phone number if the job is within the country or state, otherwise, it is optional along with your street address. Many employers nowadays contact candidates via email or proceed to popular telecommunication instant messaging tools like Skype or Zoom.
2. Objective + Summary Statement – An objective statement expresses the purpose of your application through your resume. When companies are mass hiring for multiple positions, it is challenging to sort out through hundreds, if not thousands or resumes that they receive daily. Therefore, putting a short description of the type of job you are applying will certainly help increase your chances of getting an interview.
A summary statement may be optional, but it can help highlight your skills and qualifications. Some hiring managers may not have the time to read through a lot of resumes and they may prefer resumes with a summary statement.
3. Employment History (Previous Jobs) – Your employment track record should be in a chronological order with the most recent one at the top of the list. List down the job titles, dates, company names, and highlight responsibilities you did for each job. A tip is to put accomplishments as well. If you have no prior job experience, you can include relevant internships in the past.
4. Skills (Technical and Soft) – Skills are one of the most important things to highlight in a resume considering that they are what hiring managers focus on the most. This section should highlight your best key technical and soft skills. Depending on the job you are applying for, always list the most relevant skill first and the experiences you have that are essential for the job.
Technical skills include proficiency in using software or technology. For personal assistants, this may include word processing, spreadsheets, and other various tools. Soft skills are desirable and essential traits that may include problem-solving, communication, time management, critical thinking, and organization.
5. Education – This is the part where you list your educational accomplishments. Include a list of your degrees and the name of schools in reverse-chronological order. You can add a description of your course for emphasis or to highlight if you are a fresh graduate. Include any honors or awards that you have received.
6. Additional Sections (Optional) – This is an optional section to fluff up your resume and useful for those without work experience. You can add hobbies, interests, and other additional activities that may have garnered you awards, certificates, or licenses. If you speak more than one language, you can include that too.
Tips for Writing a Polished Personal Assistant Resume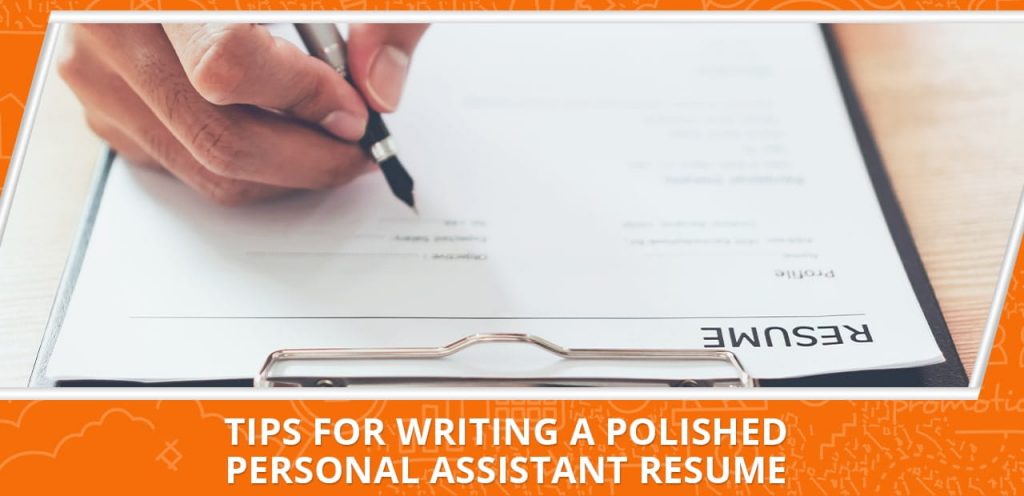 Now that you know various resume styles and the basic information you need to put in it, you need to polish your document. A well-written resume is the key to a successful job application after all and being detail-oriented will definitely be noted if you want to apply as a personal assistant. Here are some tips to craft a polished resume.
1. Keep it Reverse Chronological
Although this tip has been mentioned multiple times above, it cannot be emphasized enough. As said before, hiring managers or employers simply do not have the time to thoroughly browse all the resumes they get. This order is the best way to let your resume be noticed without wasting anyone's time. Managers usually sort through resumes multiple times and the best way to not get cut is to provide the information they need the first thing when they read yours.
2. Use a Simple Format
Good formatting is easy to the eyes and having a balanced amount of white space in your resume is the way to go. Simply put, resumes with distracting pictures and different fonts and colors would be hard to read. Remember that you are applying for a job that looks for certain qualifications and skills, so a simple layout with no frills is the best way to become shortlisted for an interview or even a job offer. Stop worrying about whether you should use more photos and designs or whether to use creative fonts because your impressive achievements should be enough.
3. Look and Use the Keywords in the Job Postings
Unless you have already created a resume before, starting to write one can be intimidating and challenging. One of the ways to start is to look through the job postings once again to study the keywords used and their descriptions. For one, it lets hiring managers know that you paid attention and have the relevant skills for their requirements or qualifications.
Those relevant keywords may also help your resume get detected by applicant tracking systems (ATS), a useful program used by some companies to automatically sift through hundreds and thousands of applications. Reiterate the terms that apply to you as an applicant to increase the likelihood of passing the first level.
4. Keep it Concise (One or Two Pages Will Do!)
The best way to deliver an impact is to make your resume as concise and clear as possible and this applies to those with years of experience. It is not always ideal to include all the details of all your previous employment history. Trim the fat by only including the most relevant skills and experience and removing any redundancy.
5. Review and Grammar Check
There is nothing more off-putting than a stray typo or two. Aside from making sure that the resume is the right length and easy to look at, it needs to be reviewed and edited multiple times to check for any typos, weird grammar, or any missing information.
The right language can also help. There is nothing wrong with using pre-made resume templates, but yours may end up the same with countless other applicants. Use strong action words or active language to describe your previous roles and job descriptions. To give an example, for projects you have led before, consider using the words organized, programmed, oversaw, or spearheaded instead.
6. Always Follow Instructions
There are some companies that have their own formats for sending job applications. Some may prefer a more concise format, while others may require a cover letter on top of a resume. Whatever it is, make sure to follow any instructions. A well-written personal assistant resume made to impress a hiring manager or employer may be the key to getting a job, but all the hard work into making one will not matter if it is discarded for not following instructions.
7. Customize Your Resume for Each Job Application
This is related to the point above and while there is nothing wrong with sending multiple copies of your resume for different job applications, the prevalence of using applicant tracking systems may hurt your chances of being shortlisted. Customizing your resume may be a lot of hard work, but it is critical if you want to apply to that dream personal assistant job. Fortunately, customizing your resume nowadays is simpler because of word processing software.
Sample Personal Assistant Resume Templates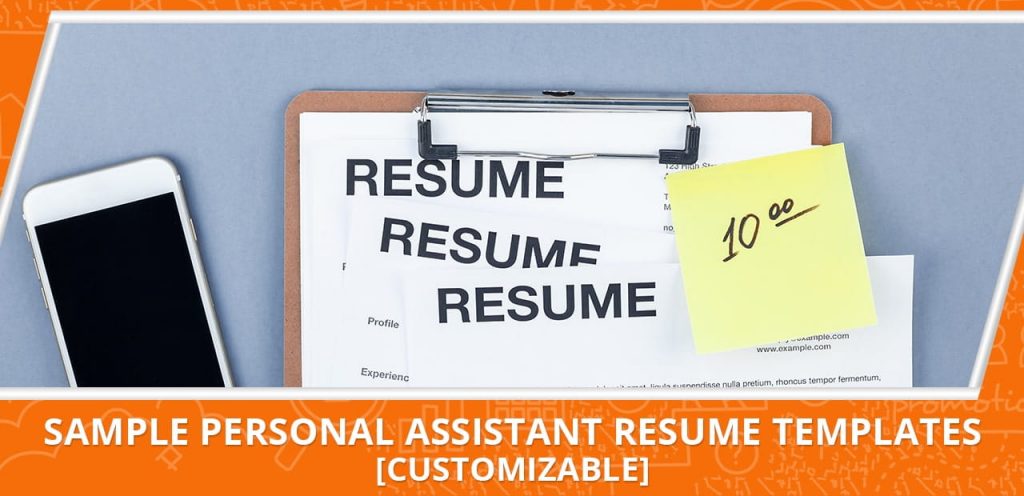 NAME HERE
City, State, Zip Code, (455) 554-5555
name@youremailaddress.com
Linkedin URL/Website link
---
PERSONAL ASSISTANT
---
Career Objective
Write a short introduction highlighting years of experience and primary duties relevant to the personal assistant job posting. Add a sentence or two about what your resume is for.
Work History
Personal Assistant to NameofBoss of [NameofCompany]
Month 20XX – Month 20XX
Put your responsibilities here
Highlight the most important duties of your previous position
Add more as needed
Administrative Assistant, [NameofCompany]
Month 20XX – Month XX
Again, write a short description of your duties in your previous job
Remember to use strong action words
Add more as needed
Core Proficiencies
Skill 1
Skill 2
Skill 3
Skill 4
Skill 5
Skill 6
Education
Bachelor of Arts in English
Your University
Put Educational Achievements (if any)
Courses (If you have taken any relevant courses, write them here)
Administrative Assistant Course (20XX)
Name of Organization
Certificates (If you have any relevant certificates, write them here)
Certified Administrative Professional (Month/Date)
Name of Organization
Sample Personal Assistant Resume Examples
Cindy Craig
Suncity, NY 1234, (455) 554-5555
cindyccraig@myemailaddress.com
Linkedin URL/Website link
---
PERSONAL ASSISTANT
---
Career Objective
Motivated administrative professional with three years of experience in navigating complex time-sensitive tasks and completing them in an organized and timely manner. Experienced in managing employees and seeking to utilize my skills and expertise to executives looking to focus on growth and achieving company goals.
Professional Experience
Executive Personal Assistant to Maxwell Black of ThatCompanyIWorkedFor
June 2018 – July 2020
Typed, organized, and filed reports and correspondence for the CEO
Organized and coordinated team meetings, as well as filed minutes
Oversaw 3 junior office assistants
Monitored office supplies and replenished stock
Maintained confidentiality and discretion when dealing with sensitive information
Administrative Assistant, Company X
January 2017 – May 2018
Provided administrative support to the finance and managerial departments
Coordinated and scheduled staff meetings, wrote minutes, and assisted them as needed
Proofread documents and managed the filing system
Answered phone calls and directing them to the right staff/departments
Core Proficiencies
Verbal and Written Communication
Document Preparation
Administrative Support
Computer Skills
Clerical Duties
Client Relations
Administrative Support
Time Management
Organization
Education
Bachelor of Arts in English
Name of University
Dean's List
Sample Personal Assistant Resume with No Experience
Bruce Wellington
City, State, Zip Code
Home: 000-000-000 | Cell: 000-000-000
brucewellington.com
---
ENTRY-LEVEL PERSONAL ASSISTANT
---
Administrative support professional with proficiency using relevant computer software programs. Enjoys learning and problem solving in a fast-paced environment. Motivated and ready to provide effective client support including undertaking daily operational and administrative functions.
Office Skills
Records Management
Office Management
Database Administration
Spreadsheets/Reporting
Appointments Scheduling
Computer Skills
MS Word and Excel
PowerPoint
Internet, Email, and Social Media
Education
Highschool Diploma
SomeSchool, State, Year
Achievements
GPA: 4
SAT: 1789
Honors and Awards
Debate Club (Captain)
Outstanding Achievement in English
Extracurricular Activities
Youth Help Group (Volunteer)
The Old Folks Home (Volunteer)
How to Follow Up After Submitting Your Resume
Applying for a job can mean waiting for a response for a few days to a few weeks. Other companies may send a standard rejection email when they feel you are not qualified enough, but sometimes, employers or hiring managers may not respond at all. The waiting game can be tough, but you can send a follow-up after submitting your resume, but make sure to wait for a couple of weeks before doing so.
Contrary to what people believe, following up makes you look good to employers because they like potential workers who are enthusiastic about working for them. However, following up too soon or too much may have the opposite effect.
Follow Up By Email
The easiest way to conduct a follow-up is through email. This is convenient for the hiring team as they can reply at their earliest convenience. When sending the email, be sure to include important details such as your name and the position applied.
Follow-Up Email Sample
Subject: Personal Assistant – John Smith
Dear Mr./Ms. Hiring Manager's Name,
I would like to follow up on the letter of application and resume that I submitted earlier this month for the personal assistant position. I am eager to know if there is any update about my application.
I am very interested to work for [Insert Company Name] and joining the team. With my education, resourcefulness, and creativity, I believe I can provide the support and assistance that the company needs.
Please let me know if you need further details about my application. You can reach me through this email or through my number, 000-0000-0000. Thank you so much for your time and I hope to hear from you soon!
Kind Regards,
John Smith
Linkedin Profile Link
Follow Up by Phone
In some cases, a follow up may be done through a phone call. However, with this method, you need to abide by certain etiquettes by ensuring that you call at a convenient time. Always call during business hours, preferably later in the day when there are fewer meetings.
If you get in contact with the hiring manager, remember to be brief and concisely explain what you are calling for. If you get an answering machine, briefly state the reason for the call, and provide your name and the position you applied for. When the call is nearing its end, do not forget to say thank you and reiterate that you can be reached through email or by phone.