Top Virtual Assistant Skills to Look for in 2023 and Beyond
The business landscape is continuously evolving. Whether the change is due to a company's initiative or external factors, there's no denying that change is constant. Part of this is exploring alternative staffing solutions and work arrangements, such as hiring remote workers. But not all remote workers are made equal. You need to find one with the right virtual assistant skills to help you move your business forward.
WHAT ARE VIRTUAL ASSISTANTS?
A virtual assistant or VA is a remote worker who provides services to companies and entrepreneurs. Virtual assistant tasks can be administrative, technical, or creative, varying from digital marketing to social media marketing or graphic design to customer service. VAs are usually independent contractors who work for one or multiple clients simultaneously.
TOP 5 BENEFITS OF HIRING VIRTUAL ASSISTANTS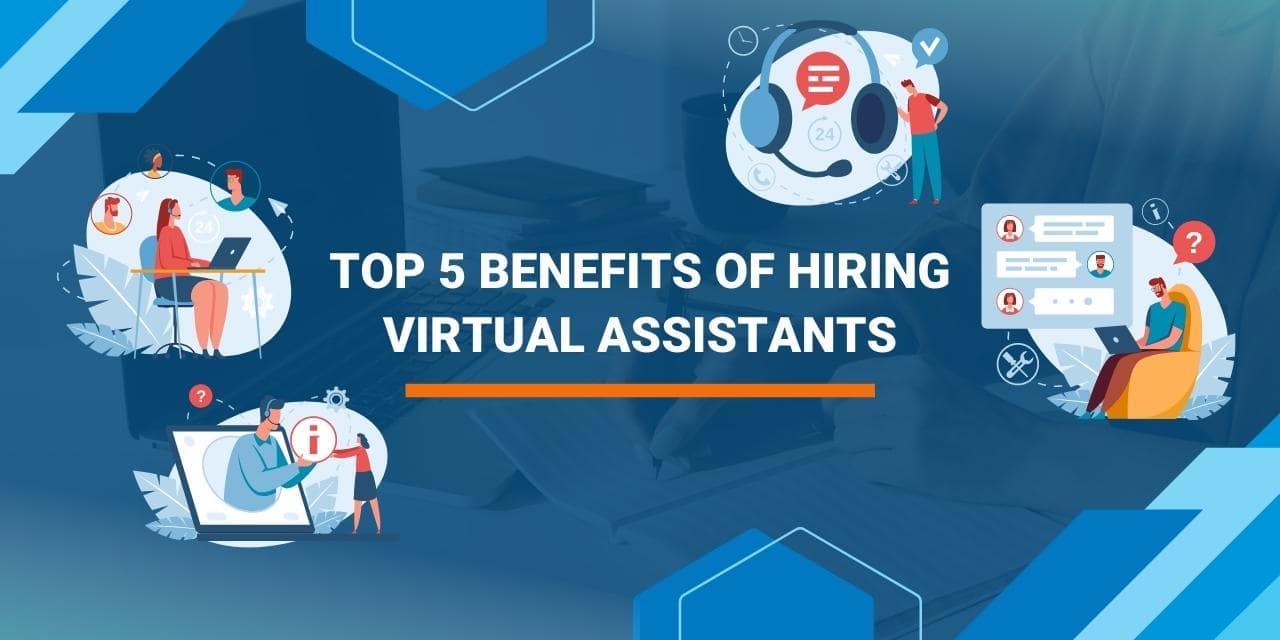 FREE UP TIME FOR YOURSELF

The most common reason why business owners and entrepreneurs hire VAs is to free up time for themselves. Time is a precious commodity; with running a business, there are only so many hours in the day. While one can argue that every single part of the business is important, not all of it needs your singular attention. You can delegate important but time-consuming tasks to someone with the right virtual assistant skills.

BOOST PRODUCTIVITY

Assuming you hired a VA with the right virtual assistant skills, you now have more time on your hands. You can then redirect your attention to the tasks that truly need your attention. This allows you to work smarter and boost the overall company's productivity. If you have more time and energy for your executive responsibilities, you'll be able to manage your company better and bring in more money in the process.

GET DIVERSE, TOP TALENT FROM ACROSS THE GLOBE

Virtual assistants have the in-demand skills that companies may need. Choosing to hire a virtual assistant means you're not limiting yourself to the local talent pool. You'll have access to other professionals with the right virtual personal assistant skills regardless of location, age, or gender. While it does not directly impact your bottom line, having a diverse group allows you to learn about other cultures and markets. Who knows? Maybe you might even learn some useful phrases for when you travel.

SAVE MORE MONEY WITHOUT SACRIFICING YOUR GROWTH

Virtual staffing solutions are more cost-efficient than hiring an in-office worker, which makes it perfect for small business owners who need more team members to grow. Hiring virtual assistants means you don't have to worry about office space, equipment, or other related costs. You only need to focus on finding the right remote worker with the best virtual assistant skills for your business needs.

FUTURE PROOF YOUR BUSINESS

Global shifts in the past few years have forced many businesses to reevaluate how they operate. Some have even closed their physical doors for good. Additionally, many online businesses have been gaining traction thanks to the continuous accessibility of the internet and the convenience of online purchases. Regardless of the industry, it's apparent that those who survive and thrive are the ones who know how to adapt quickly and learn from past mistakes to secure their future.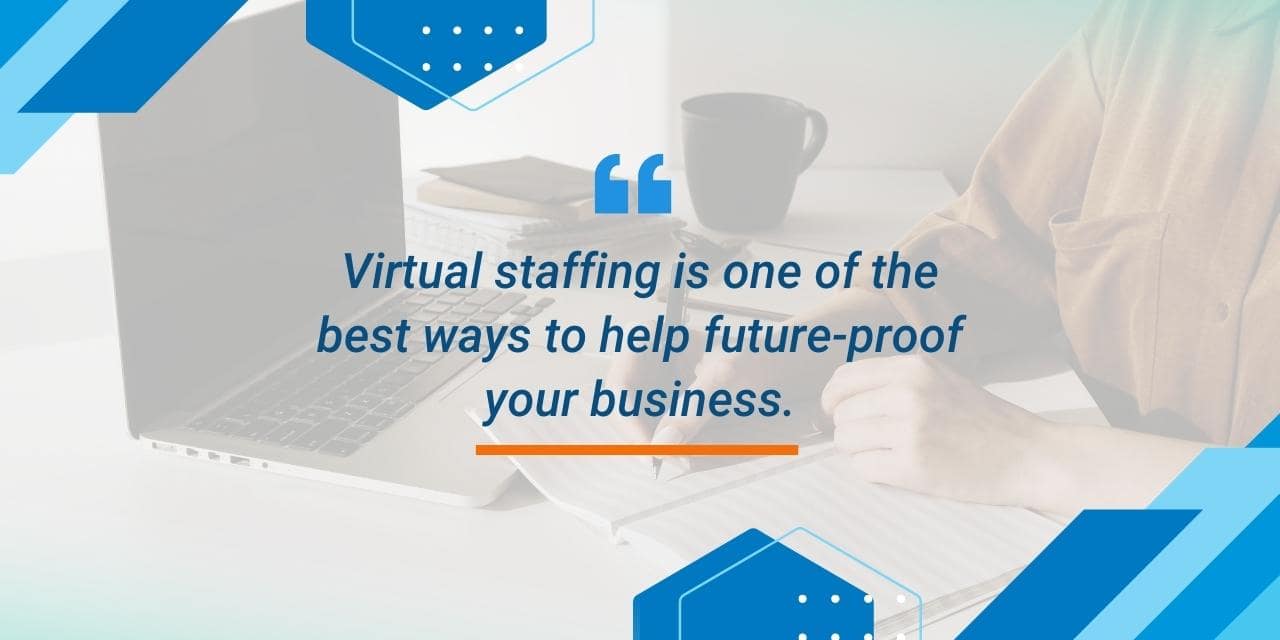 Virtual staffing is one of the best ways to help future-proof your business. Working with a distributed team somehow forces you to shift the "cloud" as a shared workspace. Doing so allows team members to access files and collaborate in real-time, even if there are instances wherein reporting physically to the office is not an option.
Making a case for hiring a virtual assistant is easy. Even the perceived virtual staffing challenges have simple workarounds. When done right, working with a virtual assistant is convenient and effective.
Want to know more about the benefits of hiring a virtual assistant? Schedule a free consultation with 20four7VA today!
MORE THAN JUST TAKING PHONE CALLS: WHAT VIRTUAL ASSISTANTS CAN DO FOR YOUR BUSINESS
If you're picturing a personal assistant who takes your calls and brings in your daily reports when you enter the office, then you need to set your expectations a bit higher. A virtual assistant can handle your calls and send you your morning reports virtually. But they can also do a lot more than that.
data entry

calendar management

scheduling appointments

email management

booking travel and restaurant reservations

basic bookkeeping

other administrative assistant tasks
Want to know how a calendar management VA can help you boost your productivity? Read our blog or talk to our Growth Experts today!
CUSTOMER SERVICE
answering queries of existing or potential clients

handling complaints from customers

crafting customer handling spiels

administering customer feedback surveys

consolidating customer feedback

and more
developing a digital marketing strategy

planning your social media calendar

SEO

setting up and managing your social media accounts

monitoring of Facebook groups and relevant platforms

email marketing and email automation

management of ad spend

post-performance reviews of campaigns and other efforts

handling of online inquiries and concerns

crafting of collaterals like marketing emails and newsletters

and many more
CREATIVE DESIGN
graphic design of business logo and other branding collaterals

making aesthetically pleasing, on-brand internal and external presentations

video editing for online posting or organizational announcements

and other creative design-related tasks
ECOMMERCE OR ONLINE STORE MANAGEMENT
order fulfillment

product listing creation

customer follow-ups

inventory management

returns processing

and more
IT SERVICES
website design and development

software development

cybersecurity services

app integration

and many other IT-related services
BUSINESS DEVELOPMENT
lead generation

lead management

warm and cold calling

database management

competitive research

and other leads or revenue-generating tasks
Do you have more specific tasks in mind? Let us know! Sign up for a free consultation with our Growth Experts to discuss your business needs.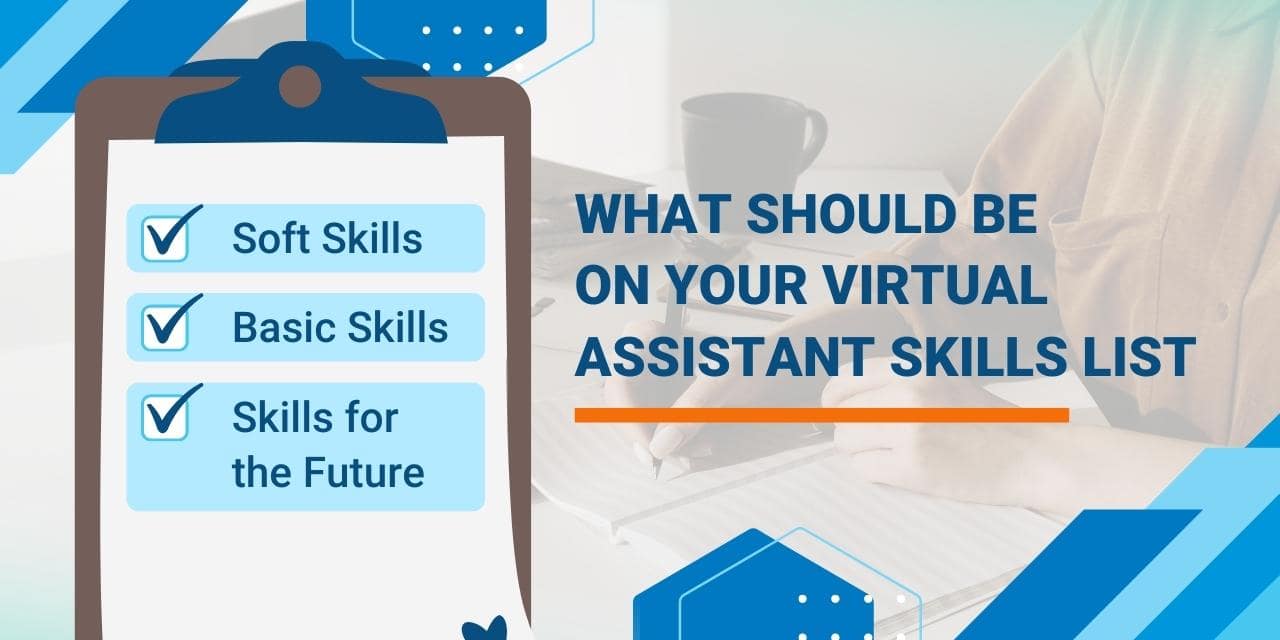 WHAT SHOULD BE ON YOUR VIRTUAL ASSISTANT SKILLS LIST
THE FOUNDATION: SOFT SKILLS FOR VIRTUAL ASSISTANTS
The most important skills needed to be a virtual assistant might not be what you expect. A good virtual assistant must possess these top skills that may be difficult to measure. But with a thorough screening process, you'll manage to find the VA with the following soft skills:
EXCELLENT COMMUNICATION SKILLS
To do their jobs well, VAs need to communicate effectively. Remote work requires open and clear lines of communication. A VA must also know how to properly use both asynchronous and synchronous communication tools to stay aligned with the client and allow seamless collaboration.
TIME MANAGEMENT
Deceptively "easy" tasks such as data entry can be time-consuming. If you include that plus other possible assignments, a virtual assistant without time management skills may become overwhelmed.
WILLINGNESS TO LEARN
You need someone willing to learn. Whether upgrading an existing skill or learning a new one, a virtual assistant must be open to learning to make the training stick.
RESPONSIBLE & SELF-SUFFICIENT
Self-motivation is something a virtual assistant should know how to do. Without an immediate superior that's physically around to supervise them, they must be responsible enough to complete tasks and send updates. Additionally, they must be able to troubleshoot minor issues by looking back on past training materials or doing some online research.
You may wonder, why are soft skills at the top of the list? The answer is simple: teaching a technical skill is easier than changing someone's behavior or attitude. Virtual assistant training and coaching can help VAs improve in areas where they need more guidance, but they must be motivated enough to learn.
Do you need help finding a virtual assistant with the right soft skills? Read our VS101 piece on VA Sourcing and Hiring, or sign up for a free consultation!
THE ESSENTIALS: BASIC VIRTUAL ASSISTANT SKILLS
What skills do you need to be a virtual assistant? The skills listed below are what you should expect from any type of VA. These essential skills should be your non-negotiables.
COMPUTER PROFICIENCY
Aside from an internet connection, a virtual assistant's most important hardware is their computer or laptop. This is their digital workplace where they can communicate with clients and complete their tasks: data entry, email management, and digital marketing. A virtual assistant must have at least basic computer skills to administer their services to their client.
WRITING SKILLS
Possessing solid writing skills is a must for every virtual assistant. While virtual meetings are a part of remote work, most virtual assistant communication will be via email and messaging apps. Nobody expects all VAs to be the next Hemingway or Jane Austen, but they must be able to write in a professional tone and avoid basic grammatical errors. They must also be able to know the balance between keeping things short and easy to comprehend.
REPORT CREATION
Virtual assistants must know how to conduct online research or collect data from other reports. While data collection is important, VAs should also know how to translate the information into visual and actionable reports. They must know how to use programs like MS PowerPoint or Google Slides as visual aids for the client. Aside from creating presentation decks, VAs should be able to create spreadsheets for simple reports like budget usage and even their weekly productivity reports.
FOR THE PRESENT AND THE FUTURE: TOP SKILLS TO LOOK FOR
ANALYTICS
Digital developments give companies access to valuable data points about their customers and the global market. This access to information is important in creating data-driven strategies. VAs who know how to use analytics tools such as Google Analytics, Power BI, and other tools can become a great help.
VAs skilled in analytics can help you understand your website traffic, social media engagement, and email marketing campaign results. With their help, you can fine-tune your strategies to get better results.
ARTIFICIAL INTELLIGENCE
Artificial intelligence (AI) application in businesses is still in its early stages. However, there are already several ways VAs can make use of AI to improve their services and even content. VAs with knowledge of artificial intelligence and the right skills to maximize it can help businesses become more productive.
INFORMATION TECHNOLOGY (IT) SKILLS
Aside from the internet and computer skills, every virtual assistant should also have basic IT skills. This includes being able to troubleshoot minor issues either by looking back on past training materials or doing some online research. VAs must know how to do a basic checkup of their equipment to ensure everything is in working order.
VAs with more advanced IT skills can help companies improve their platforms. For example, they can help user experience by fixing bugs and addressing page loading speed issues on the company website. Aside from platform improvement, IT-savvy VAs can also help businesses with software and app integration.
FAST LEARNER & ADAPTABLE
This is related to the foundational soft skill, willingness to learn. Someone willing to learn and can do it quickly adds to a company's ability to be flexible and weather different challenges. Hiring an adaptable, fast learner should be a part of any company's future-proofing strategy.
Want to learn more about future-proofing your business? Visit the 20four7VA blog or schedule a free consultation with our growth experts!
GRAPHIC DESIGN / PHOTO AND VIDEO EDITING
We are living in a world where content is king. Aside from written articles, branding, infographics, and even videos are now used to capture attention and deliver messages. This is where a VA's graphic design skills come in handy. With the help of a VA, companies can save on costs by having someone in-house create their visuals instead of hiring a separate agency.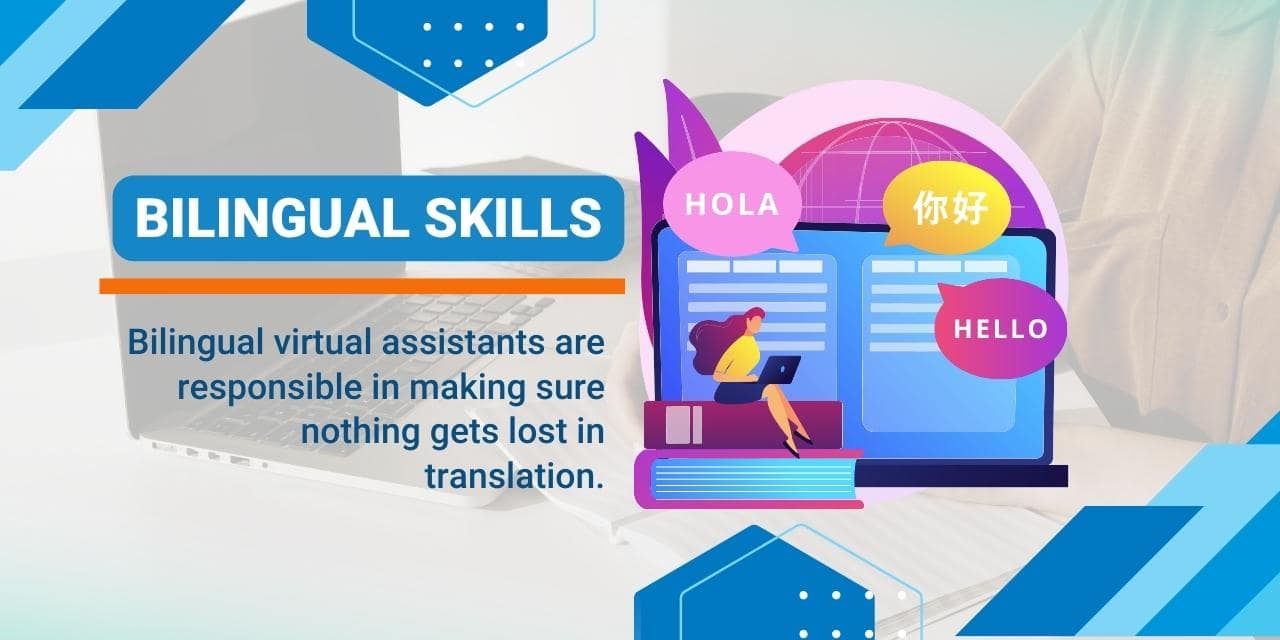 BILINGUAL SKILLS
If part of your business strategy is to enter new markets or countries, it will help to work with a bilingual or multilingual virtual assistant. Hiring one can help localize marketing and sales efforts, ensuring nothing gets lost in translation. Thanks to remote work, companies have access to bilingual VAs worldwide. This makes it easier for them to hire the talent they need to expand to new territories.
Have a particular virtual assistant skill in mind? Sign up for a free consultation with our Growth Experts. We'd be happy to discuss your business needs!
FINDING A VIRTUAL ASSISTANT WITH THE RIGHT SKILLS
As a business owner, you're already handling many responsibilities, making recruiting the right virtual assistant overwhelming. Working with a virtual assistant business with a proven track record can help you save time, effort, and money.
BENEFITS OF WORKING WITH A VIRTUAL ASSISTANT BUSINESS LIKE 20FOUR7VA
EXPERIENCED VIRTUAL STAFFING COMPANY

We have a decade of experience finding the right virtual assistants for our diverse client base and take pride in embodying our company values in all client and VA interactions. 20four7VA has the know-how on the best remote work practices to help make remote work for you.

COST-EFFECTIVE STAFFING SOLUTION

Virtual staffing services are a cost-effective way to get talent without overshooting your budget. You only pay for the hours worked without worrying about bloated overhead costs. We can help you take this further. Based on our consultation, we can tailor fit your needs further with the option to scale up or down.

DEDICATED CLIENT SUPPORT

20four7VA's clients are assigned a dedicated customer support officer. This ensures that you always have someone to help you with any questions or concerns that you may have. When working with 20four7VA, you can rely on getting a satisfying customer experience.

FAST TURNAROUND

At 20four7VA, we don't take time for granted. We value our clients' time and work to get the job done as soon as possible. We can search our existing pool of virtual assistants to find the right VA for the job. If you are looking for a virtual assistant with more specific skills, you can discuss your requirements with 20four7VA's growth experts.

FULL-SERVICE VIRTUAL ASSISTANT STAFFING COMPANY

We offer our end-to-end virtual staffing services to make virtual staffing a convenient experience for clients. We don't just stop at finding you the right virtual assistant. We offer the complete package:
VA Application Screening

Scheduling of Candidate Interviews

Administering or Test Tasks

Candidate Vetting or Background Checks

VA System Checks (Must meet the minimum internet speed and laptop or computer requirements)

Onboarding

In-house Training

Virtual Assistant Management

Weekly Payroll Processing

Performance Review
Finding a virtual assistant that's the right fit for you means finding one with the skills and attitude aligned with your needs. To know more about how we've helped our clients meet their goals, check out our website's client reviews section.
If you're ready to find a virtual assistant that's the best match for you, then it's time to schedule a free consultation with our Growth Experts!