How to Write a Virtual Assistant Cover Letter [Examples + Free Templates!]
Are cover letters necessary to apply as a virtual assistant? Contrary to popular belief that this practice is outdated, you will be surprised at how many employers prefer having it on top of your resume and application letter. The process of applying for a position at an organization takes several steps, and while it is open for every one qualified, taking the time to submit a well-written cover letter will help you stand out from the rest.

What is a virtual assistant cover letter?
A cover letter is usually a one-page document that allows you to introduce yourself and elaborate on your job qualifications in a more personal way. While most traditional workplaces accept it, individuals who work online or virtual assistants also write cover letters to be considered for a position. A well-written cover letter is concise and briefly touches on information from your resume, especially including career experience and achievements.
When writing a cover letter, it is always best to personalize its contents depending on the job requirements and of the company. That is to say that it is advised to customize cover letters as best as you can when applying for multiple organizations.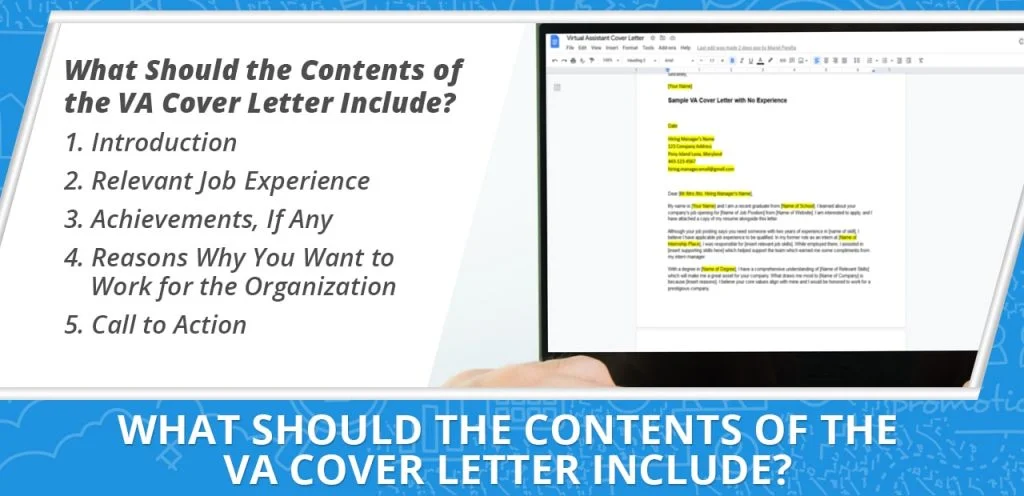 What should the contents of the VA cover letter include?
Assuming that you have the contents of your resume updated with all relevant work experience and other information in there, you can now get started on writing your virtual assistant cover letter. If you have never written one before, it can be overwhelming, or you might go ahead and write a three-page cover letter to highlight all your skills in the most detailed way possible. However, always remember to keep your cover letter a one-pager only.
So, what should you write in your cover letter? While it is tempting to put your whole career and life into a single page, it is best to curate and highlight the best stories from it. It gives the reader a more concise and clear idea of who you are as a future employee, what you can do, and the value you can bring to the organization.
To get a better idea of what to put, read the job description and note the needed qualifications. Include any application instructions and review all that is needed and take the steps needed to follow the instructions.
Start the letter with an introduction, complete with your name and intention. Briefly mention specific relevant job experience and the solutions you came up with for past job challenges. And most of all, include the reasons why you want to work for the organization.
Then, conclude it with a call to action, such as including your contact information like an email or a cellphone number where you can be reached. Your cover letter should convince the reader that you are a qualified candidate and, ultimately, the right person for the job.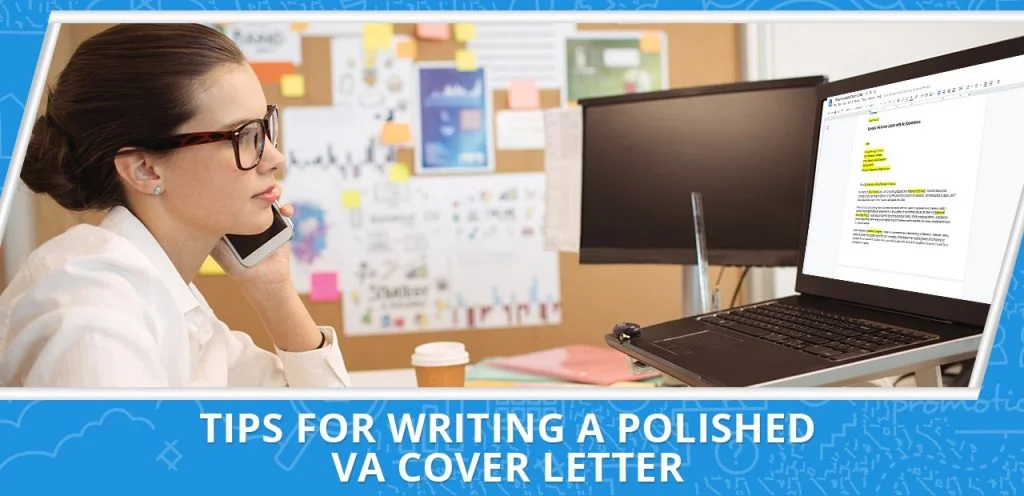 Tips for writing a polished virtual assistant cover letter
How do you make one sheet of paper stand out from the rest? This is a crucial turning point as a cover letter may be the only thing hindering hiring managers and employers from reading your well-crafted resume. It can be frustrating to work so hard on making a masterpiece out of your resume and have it end up in a pile or leave on unread because the cover letter was not interesting enough. Here are some tips to help you out:
Follow instructions.
Many job descriptions have instructions on how to apply for the job. Read the instructions carefully and follow them. Sometimes, following the instructions to the letter is a test to see how you handle little details. Although not following all the detailed instructions may not fully disqualify a candidate, the hiring manager or employer may take note that the ability to follow directions may not be your strongest suit.
Save your resume and cover letter in PDF.
Using this file format will preserve the format of your resume and cover letter. You don't want your hard work to go to waste when it looks untidy and misarranged because the reader is not using the same program as you. And the worst thing that could happen is that they might not be able to open the file at all. PDF is a universal file format, and exporting your application materials in a PDF document will save you a lot of trouble in the long run.
Check the file names.
Even if you have the best virtual assistant cover letter or resume, there is a chance that your application may be lost in the shuffle if you name it simple as "Resume" or "Cover Letter." You may only have one of those files on your computer, but hiring managers and employers who are screening hundreds of applicants may have the same files over and over again. To distinguish yours from the rest, properly label the file names of your resume or cover letter with your first and last name.
Don't reuse resume details.
An impressive cover letter should do more than state what is already written in your resume. First off, draw more attention to the specific skills and experience to highlight yourself as an ideal candidate. Mention relevant skills to support them. Explain briefly but clearly why you would be the right person for the job. Impress the reader that you have done your research on the organization by mentioning its mission, vision, and values by relating it to your own.
All about keywords.
For big organizations that hire several to hundreds of people, they may be using resume software that looks for keywords that match skills, qualifications, and experiences. Use the same keywords and phrases from the job description to help the software qualify you.
Be transparent.
Study your resume and look for things that may prompt hiring managers to do a double-take. Take action by preemptively explaining the cause and outcome of the issues. If, for example, you have two years where you were unemployed, explain the gap as briefly and honestly as you can and reiterate how you have managed to keep up with the skills needed in your career.
Review and proofread.
Once you have crafted your resume and cover letter, always take the time to review and proofread everything more than once. You might have missed a word or a typo in there. If writing is not your best skill, have a friend review it for you or use a grammar check tool or app to help you out.
When is a portfolio needed?
All the time. Even if the job post did not mention it. A professional portfolio showcases a collection of your best work from past employers. It is proof of your competence and skills. If you have relevant certifications that will be helpful for the virtual assistant job post that you want, you may want to include them. Some job positions require a portfolio, while others do not, but since you want to work online as a virtual assistant, it is a necessity. Hiring managers or employers themselves will want something that they can see, and from there, they can decide if you have the right qualifications and skills needed for the job.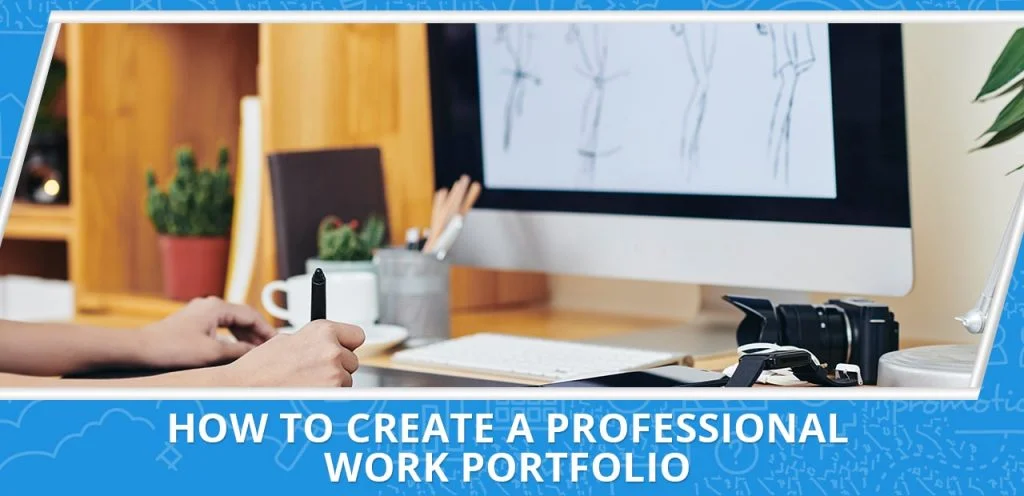 How to create a professional work portfolio
If you have experience but have never created a professional portfolio before, here are some tips to help you build one. Gather the most important information and examples that are relevant to the job you want to apply for. It may contain proof of licenses, certifications, degrees, letters of recommendation, references, testimonials, and reviews.
You can also include work samples to show your skills.
If you only have minor experience, buff up your portfolio with an about me section, a written list of skills, biographical information, and awards and accomplishments from school, if any.
Make your portfolio visually appealing by adding relevant pictures and infographics.
This is important for visual roles such as web designer, graphic designer, and creative director positions. It is best to stick to a uniform design aesthetic that goes well with your career. Take note of your portfolio's colors and patterns, which should aim to make the most important information stand out.
Create a digital master copy of your work portfolio and create a copy so you can customize it for specific job applications. Fortunately, there are plenty of tools and software you can utilize to create an online work portfolio. You should be able to easily change the contents according to the requirements in the job description.
For virtual assistant careers involving working online such as digital marketing or SEO, consider making an online portfolio. It is beneficial for these careers to have an established online presence. Having the ability to network and link to others is the most convenient way to show that you are what you say you are in your resume. Furthermore, this online portfolio could open opportunities down the road as future potential employers may be looking for new hires, and your online portfolio would pop up and interest them.
What if I have little to no work experience?
Everyone starts at some point in their careers. Others are fresh from school and recently graduated, some are looking for a career change, and others may not have the required number of years of experience. Whatever the case is, it should not hinder you from applying for a job knowing that you have what it takes. It should not stop you from writing your application materials as well.
Approach this mindset within justifiable reasons.
For example, if an organization is looking for a candidate with eight to ten years of experience and you only have two, it is best to move on and find other job positions to apply for. However, if a job listing only cites two to three years of experience, and you have one to one and a half, you have a chance to qualify.
Make up for the experience by providing proof of any applicable experience in the past, no matter how minute.
For example, if you have encountered this type of work as an intern, you can include it in your resume and cover letter. Another thing you should do is make a case for why you are valuable and what you can do with your skill sets. However, that means you will be answering specific questions regarding the job, so be prepared for that.
If you know someone already working in the company, it will help your lack of experience if they vouch for you. Employee referral helps prove your case.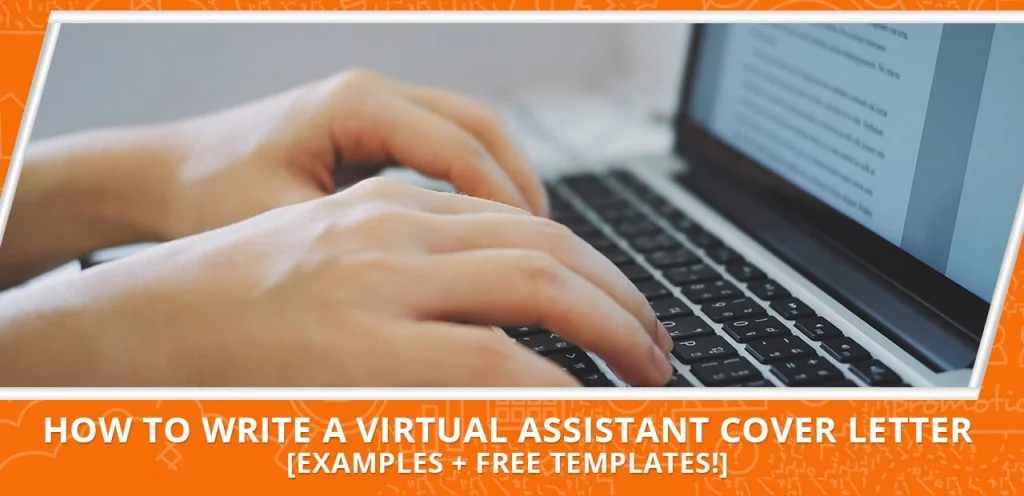 Sample virtual assistant cover letters
There is no need to be nervous about writing a virtual assistant cover letter, especially if you have never written one before. Below are samples and templates that you can reference for your own.
Sample virtual assistant cover letter template (You can customize this!)
Date

Hiring Manager's Name
123 Company Address
Pony Island Lane, Maryland
443-123-4567
hiring.manager.email@gmail.com

Dear [Mr./Mrs./Ms. Hiring Manager's Name],

My name is [Your Name], and I am writing to express my interest in [Job Position] that I saw listed on [Name of Website]. I have more than 2 years of experience in [Insert Skills Here] and I am confident that my expertise is in line with the responsibilities listed in your job advertisement.

[Discuss accomplishments, stories, and other characteristics or traits that made you stand out in your previous workplace. Attach certifications and other proof along with the resume to further prove your point. Consider using a bulleted list for important information.]

Please find my resume, portfolio, and other credentials attached to this email for more information. Please feel free to contact me at 122-334-567 anytime during the day. I look forward to hearing from you. Thank you for your consideration.

Sincerely,
[Your Name]
Virtual assistant cover letter example: Digital Marketer VA
Date

Hiring Manager's Name
123 Company Address
Pony Island Lane, Maryland
443-123-4567
hiring.manager.email@gmail.com

Dear [Mr./Mrs./Ms. Hiring Manager's Name],

As a long-time admirer of your company, I was excited to see an opening for the Digital Marketing position on [name of website]. This is an excellent opportunity for me to showcase my skills and all the things I have learned in all my years of experience.

I have worked in digital marketing and business advertising for over five years. Together with my team, I spearheaded a project that challenged my creativity which led me to come up with innovative solutions. With the limited budget of only $5,000, we were able to create campaigns that received over a million impressions and thousands of conversions that made our clients happy.

Highlights of my qualification include:

1st qualification

2nd qualification

3rd qualification

4th qualification

With my eagerness for continuous learning, I am confident that I am the right fit for your organization. With my enthusiasm for the dynamic field of digital marketing, I do my best to keep updated with the latest trends and best practices.

I would be delighted to have the opportunity to work with talented professionals at [Name of Company]. If you are interested to know more about my skills and qualifications, you can contact me by email or through Skype. I look forward to hearing from you. Thank you very much.

Sincerely,
[Your Name]
Sample virtual assistant cover letter (VA with no experience)
Date

Hiring Manager's Name
123 Company Address
Pony Island Lane, Maryland
443-123-4567
hiring.manager.email@gmail.com

Dear [Mr./Mrs./Ms. Hiring Manager's Name],

My name is [Your Name] and I am a recent graduate from [Name of School]. I learned about your company's job opening for [Name of Job Position] from [Name of Website]. I am interested to apply, and I have attached a copy of my resume alongside this letter.

Although your job posting says you need someone with two years of experience in [name of skill], I believe I have applicable job experience to be qualified. In my former role as an intern at [Name of Internship Place], I was responsible for [insert relevant job skills]. While employed there, I assisted in [insert supporting skills here] which helped support the team which earned me some compliments from my intern manager.

With a degree in [Name of Degree], I have a comprehensive understanding of [Name of Relevant Skills] which will make me a great asset for your company. What draws me most to [Name of Company] is because [Insert reasons]. I believe your core values align with mine and I would be honored to work for a prestigious company.

I can be reached anytime via email at [exampleemail@example.com] or by phone, 895-678-9989. Thank you for your time and consideration. I look forward to hearing from you soon.

Sincerely,
[Your Name]
Takeaway
Remember that there is no one-size-fits-all virtual assistant cover letter for jobs out there. The purpose of adding a cover letter is to demonstrate your eagerness to be a part of the organization. While a well-written resume and cover letter will open doors, it is up to you to make use of the opportunities that have been presented to you.