Catherine vanVonno Talks Business Growth on The Wealthy Equation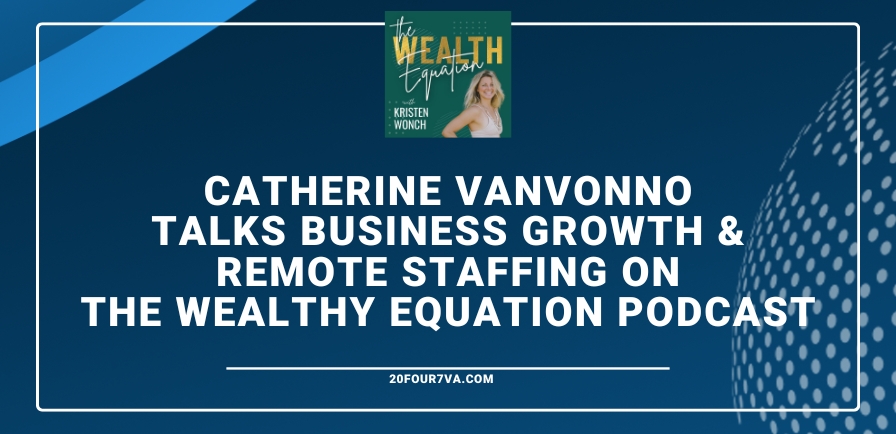 20four7VA President and CEO Catherine vanVonno appeared as a guest on the May 13th episode of The Wealthy Equation. The podcast is hosted by finance coach and Women's Money Mastery founder Kristen Wonch.
In the episode "Expert Hiring Secrets with Catherine vanVonno," Catherine and Kristen covered a broad range of topics, including how Catherine made the leap from a high-level corporate job to president and CEO of an Inc. 5000 company. She shares how the perfect combination of dedication, a strong support system, and solid teamwork helped turn 20four7VA into the trusted remote staffing company it is today.
20four7VA'S Beginnings and Ongoing Success
During the show, Catherine talked about how she started 20four7VA, a remote staffing agency helping businesses grow with outsourced remote talent and a concierge-style staffing solution. She also shared her own tried-and-tested tips on how the company became one of the fastest-growing outsourced staffing providers worldwide.
In the episode, Catherine shares the inside scoop on:
How to cultivate a positive company culture while working with a fully-distributed team
The importance of feedback and clear communication channels
The systems you need to onboard well and set your team up for success
The biggest mistakes entrepreneurs make in terms of talent acquisition and people management
Listen to the full episode here.
About The Wealthy Equation
The Wealthy Equation podcast shares valuable insights on building wealth. Host Kristen Wonch invites business leaders to share their stories about the road to financial freedom and growth. From practical tips to mindset shifts, listeners will get unfiltered access to what it really takes to build wealth.
About Kristen Wonch
Aside from hosting The Wealthy Equation, Kristen Wonch is also an experienced finance coach. She helps women on their journey to financial freedom through the Women's Money Mastery or WMM. Kristen's WMM program is a 6-month step-by-step guide to building wealth simply and successfully.
Learn more about Kristen Wonch and the Women's Money Mastery program.
Are you ready to take your business to new heights? Do you want to streamline your operations, boost productivity, and maximize growth? Book a quick discovery call that can revolutionize your business.