Why Hire a Virtual Assistant from the Philippines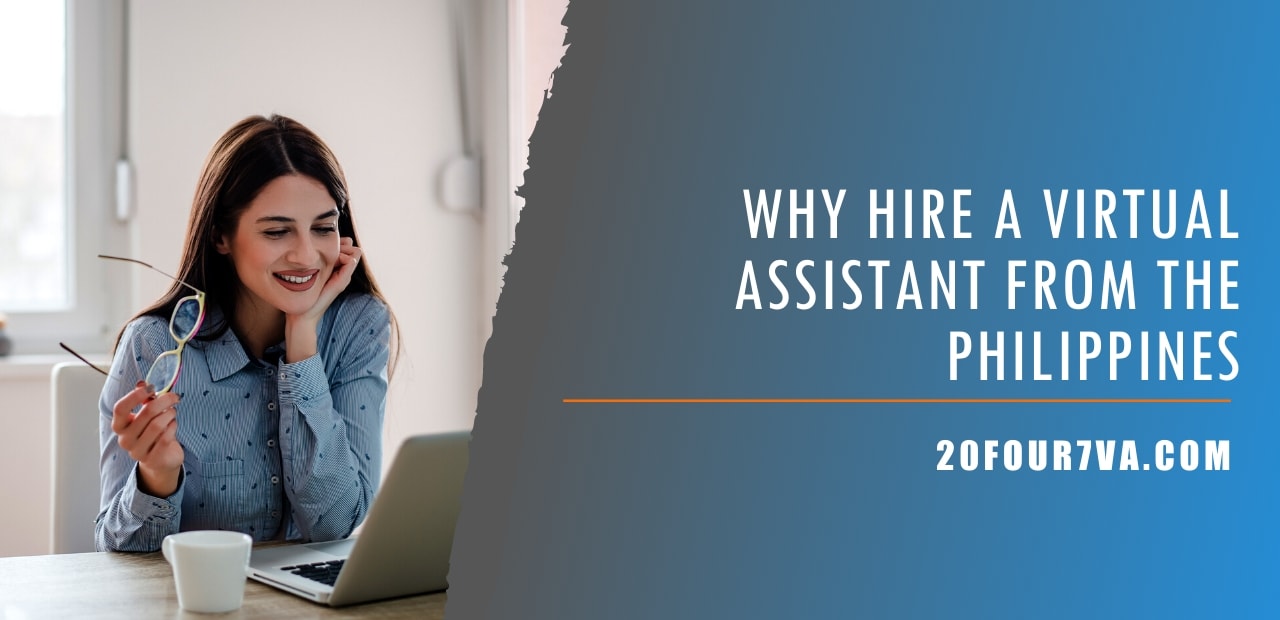 The subject of virtual assistants as key players in the future of the workforce has been discussed in many websites and forums. Today, virtual assistance is no longer just a breakthrough — it's an essential staffing solution. At the forefront of the digital workforce are Philippine-based virtual assistants (VAs). Here's what you need to know about hiring a virtual assistant in the Philippines.
Where to Hire a Virtual Assistant: Philippines as a Top Choice
Of the many remote workers scattered all over the world, why should you consider hiring a virtual assistant from Philippines?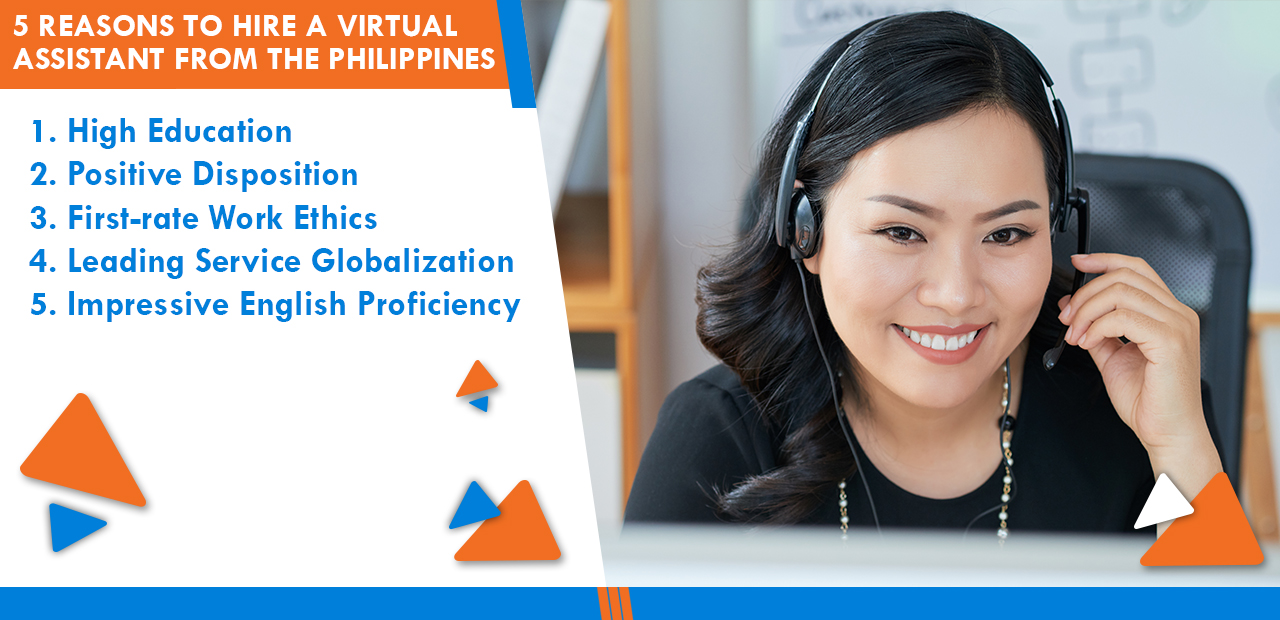 Here are 5 reasons to start:
Impressive English Proficiency

Although the Philippines is a developing country, the Filipino people are advanced when it comes to English proficiency. In fact, with a score of 60.14, the Philippines is 2nd in Asia and 20th in the world in terms of English proficiency. For international employers, this means that communication, a common problem in remote collaboration, is easier when you hire Filipino VAs.
Leading Service Globalization
Many international companies have been outsourcing several business processes to the Philippines for years. This opened thousands of jobs to Filipinos and made the Philippines one of the leaders in virtual staffing innovation. As a result, Filipinos have developed the skills to work and excel in different industries such as technology and business strategy.
High Education
Many Filipinos are university or college-educated. Majority of the subjects in school are also taught in English, so Filipinos learn the language early in life. This combination of high education and English language proficiency make Filipino remote workers a top labour force for companies all over the world.
First-rate Work Ethics
There are roughly 2.2 million overseas Filipino workers. Filipinos don't mind going beyond their comfort zone for work. In fact, they are inclined to please clients and be great at what they do. Such first-rate work ethics cannot be taught, but it comes naturally among Filipinos.
Positive Disposition
Work culture is key to a successful and harmonious relationship between clients and VAs. As an employer, you must go beyond a person's skill set and look into their disposition towards work and life in general. Culturally, Filipinos are known to be an optimistic and loyal bunch. If you find these traits important, then you can expect a productive and harmonious working relationship with a Filipino virtual assistant.
How to Hire a Virtual Assistant: Philippines Top Resources
There are two ways to hire a virtual assistant from the Philippines:
Direct Hiring
This is a straightforward and more traditional way of recruitment. You can directly hire a freelancer by posting on your own website and social channels and on job boards or job sites. Some popular job boards like Indeed have a Philippine-based platform where you can find Filipino talent or be found by Filipino virtual assistants.
Staffing Companies
As more and more employers seek out Filipino VAs, the number of overseas and local staffing companies also increase. Unlike indirect recruitment, you can expect support and guidance in the hiring and recruitment process when you work with a staffing company. Staffing companies also take care of payroll, training, and employee management. This comprehensive support helps employers ease into remote collaboration if it's their first time working with a VA.
Of course, every company has different goals and needs. This infographic can help you determine which virtual staffing solution will work better for you.
Tasks You Can Outsource to a Virtual Assistant from the Philippines
Many people seem to think that VAs are only good for admin or customer service work, but that's far from accurate. Technology has made it possible for remote workers to accomplish a wide range of tasks. Because of this, more virtual assistants are now able to provide a variety of services to clients worldwide.
In general, virtual assistants belong to three big umbrellas: administrative virtual assistants, eBusiness virtual assistants, and specialist virtual assistants. There are smaller classifications of virtual assistants, but most VAs usually belong to one or more of the big three mentioned above.
Here are some examples of what virtual assistants from each umbrella classification can do:

Administrative Virtual Assistants
Administrative virtual assistants, or admin VAs, typically do tasks that are similar to what an office admin assistant would do. They can help boost productivity by taking care of repetitive tasks. These are the types of tasks that are important in running a business but don't necessarily need to be done by the business owner or the managers.
Tasks that you can assign to an admin VA include:
Answering calls, emails, and messages

Scheduling appointments and managing calendars

Providing customer support

Doing sales calls

Finding leads for your business

Creating process documents

Managing projects and tracking KPIs

Doing research

Managing files, records, and databases

eBusiness Virtual Assistants
eBusiness pertains to any type of business that is mainly conducted online. eCommerce, podcasting, and telehealth businesses are some popular examples of eBusinesses. eBusiness VAs are usually trained to deal with specific tools, software, and methodologies relevant to doing business online.
Tasks you can assign to an eBusiness VA include:
Managing your Amazon seller account

Overseeing your eBay seller account

Taking care of your online store or other online marketplace accounts

Keeping track of your product inventory and orders

Handling shipping, refunds, and returns

Uploading and updating product listings

Answering questions from customers

Helping with pre- and post-production tasks for podcasts

Providing admin support

Creating content and graphics for websites and social media

Digitizing health history forms for clinics and health facilities

Providing technical support

Assisting with digital marketing

Specialist Virtual Assistants
As the name suggests, specialist VAs specialize in certain tasks such as content writing, SEO, graphic design, and video production. These VAs might have college degrees relevant to their specialization. They might also have received sufficient training or work experience related to their field. A large percentage of specialist VAs usually work in areas related to digital marketing, design, and software development.
Tasks you can assign to a specialist VA include:
Content writing and copywriting

Editing and proofreading

Search engine optimization (SEO)

Paid advertising (search ads, display ads, etc.)

Social media advertising

Graphic design

Video production and editing

Web design

Web development

App and software development

Social media management

Email marketing

Public relations
There are also some virtual assistants who have an assortment of skills. This makes them fit to belong to any of the three main classifications above but choose to focus on a certain niche. For instance, the construction and real estate industries are big virtual assistant markets. Some VAs choose to train themselves in certain tools and software that are specific to their chosen niche.
Ready to get your business going and growing? Hire a virtual assistant in the Philippines today.