The 17 Biggest Offshore Outsourcing Blunders To Avoid (2023)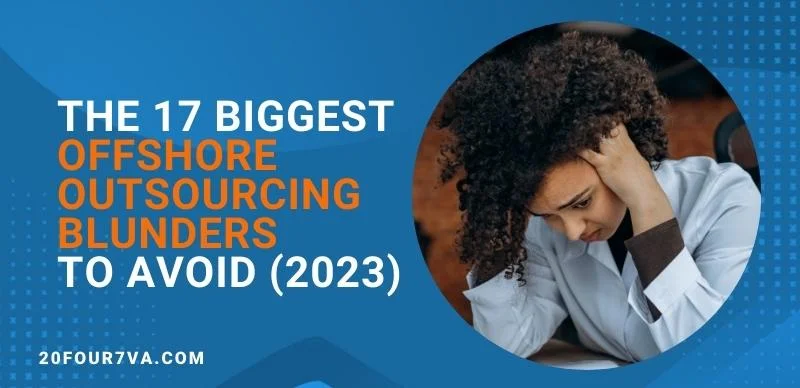 You don't have to be a Fortune 500 company with an international presence to benefit from offshore outsourcing. Whether you're just starting and need some help growing your business, or you're looking to take it global, there are plenty of benefits for small businesses too.
Offshore outsourcing enables entrepreneurs across industries — from manufacturing and retailing to hospitality and healthcare — the opportunity for continued growth without sacrificing quality control.
However, there are steps that should be taken before signing on the dotted line and handing over your company's keys to an offshore partner.
With any business contract, there's always the potential for hiccups. But this is especially true when dealing with time zone differences, foreign laws, and language and cultural barriers.
If you're looking at establishing a relationship with an offshore service provider and want to avoid some common pitfalls, we've got your back. Today, we're identifying the 17 biggest offshore outsourcing mistakes entrepreneurs make and what you can do to avoid them.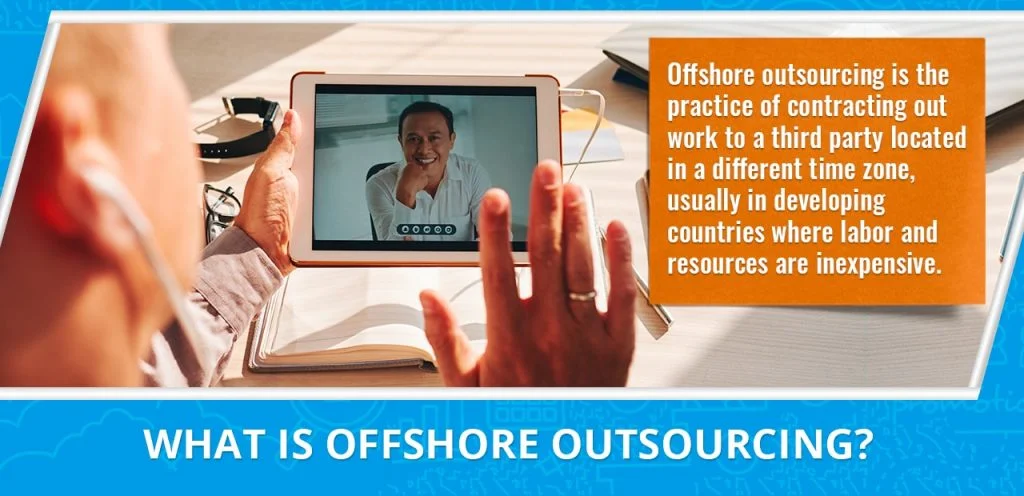 What is offshore outsourcing?
The terms outsourcing and offshoring are often used interchangeably, but they're two different things. You're probably already familiar with outsourcing, which is the practice of hiring an outside company or individual to complete specific tasks for you. Many companies outsource tasks such as accounting or software development to an external organization instead of hiring professionals to do them in-house.
On the other hand, offshore outsourcing means giving work to a third-party company in another country, typically one that's not in the same continent or time zone as you. One example would be an Australian company outsourcing web development to a company in India. Offshore outsourcing usually involves offloading tasks to a country with lower labor costs.
In contrast, nearshore outsourcing refers to the practice of contracting services to a country that's in the same time zone. For example, a small business in the United States outsourcing its eCommerce tasks to Costa Rica.
There are many advantages to investing in overseas outsourcing relationships, including cost savings, improved business operations, round-the-clock customer service, and greater access to skilled labor. Let's take a closer look at what businesses get out of working with an offshore partner.
What are the benefits of offshore business process outsourcing?
The main benefit of offshore outsourcing is the ability to find qualified talent while reducing operational costs. For example, an American company looking to outsource its customer service department might hire a service provider in the Philippines that charges five times less than it would cost to hire domestically.
Knowledge process outsourcing is especially beneficial for small businesses and startups without the capital or human resources to meet demand. Entrepreneurs can then lower their operating costs and focus more on growing their business and less on trying to manage every aspect themselves.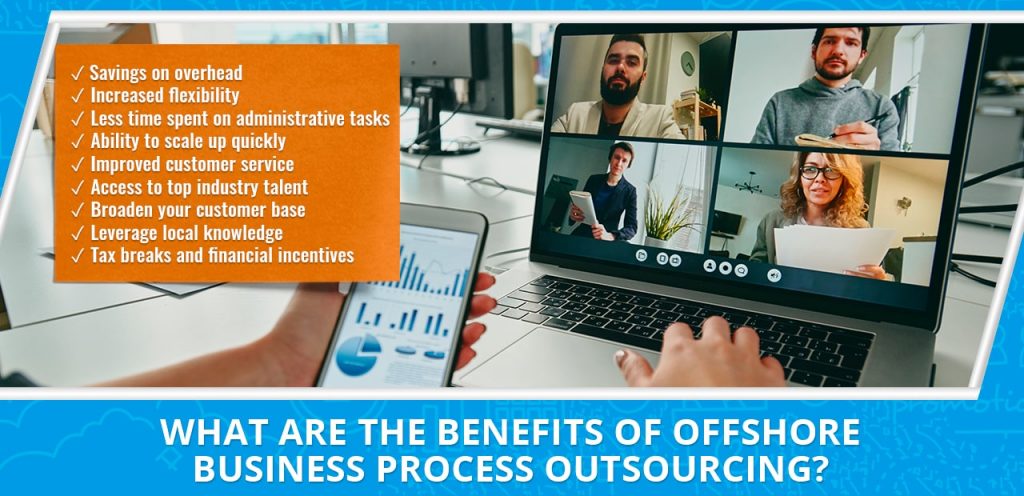 Offshore outsourcing also provides entrepreneurs access to the expertise they may not have locally. For instance, if your company needs assistance with software development but isn't staffed for such tasks, you can consider hiring skilled professionals from developing countries with proficiency in those tasks instead of hiring someone locally. India, for instance, is well-known for being the top choice for outsourcing web development services.
Here's a rundown of some of the biggest benefits of offshore outsourcing:
Savings on overhead, which can be reinvested back into growing your business further
Increased flexibility with customizing services for your business model
Less time spent on administrative tasks that do not directly contribute to revenue generation
Ability to scale up quickly when needed by hiring additional contractors or hiring full-time if expansion calls for it
Improved customer service by being able to provide 24/7 support efficiently
Access to top industry talent at a lower cost
Opportunity to broaden your customer base to other countries
Hiring talent in an overseas location allows you to leverage local knowledge of that market, which gives you a leg up on the competition
Ability to save money by availing of tax breaks and financial incentives in countries where business process outsourcing is a major economic pillar
Now that we've got our definitions straightened out and our benefits identified, let's discuss some common blunders entrepreneurs make when outsourcing offshore.
17 offshore outsourcing mistakes entrepreneurs make
With all of the benefits that come from offshore outsourcing, you're probably thinking about hiring a contractor, vendor, or full-time worker as soon as possible. However, it's important to remember that before you outsource anything in your business, you should first make sure that you're doing so for the right reasons and that you're prepared to work with an offshore partner.
Here are 17 things you want to steer clear of when establishing an outsourcing relationship with a third-party entity in another country:
1. Not checking if you're compliant with local laws
When outsourcing offshore, making sure you're compliant with the country's laws is an absolute must.
For example, if your company needs a data entry worker and you opt for an Indian company that promises lower prices compared to their competition only to find out later on that they can't provide services because of legal restrictions involving data transfer between India and the U.S., you would not only be out of luck but out of a lot of money as well.
In addition, make sure you're not breaking any labor laws when you outsource. You don't want to be stuck paying hefty fines or face penalties for unfair labor practices.
2. Not including the right safeguards in your contract
Contracts serve as legally binding documents that outline the responsibilities of both parties involved in an outsourcing task, so they're vital when setting up an offshore team. When starting an outsourcing relationship, you should always include provisions such as:
A timeline of work milestones and deliverables
Rates, payment methods, and payment schedules
How to measure and report results
How the relationship will end (termination)
Safeguards like these are essential when establishing an offshore outsourcing agreement. Without them, you could be in for a rude awakening when your contractor or vendor doesn't deliver according to expectations or when you need to bring the relationship to an end.
3. Not being clear about expectations from the start
If you want to establish a long-term relationship with an offshore outsourcing company, one where you will be happy with the results, it's critical to have open communication and discuss all aspects of what your contract entails before making any commitments.
This means you'll need to clearly define your needs and expectations, as well as what type of results and services your company requires and how long it will take to achieve them.
4. Hiring from an offshore outsourcing company without checking their reputation
Always check references or do your due diligence on potential vendors. Carefully vet all outsourcing offers before making a final decision on whether to do business with them or not. This means researching the organization's track record to see if they have satisfied clients and whether or not they've been involved in any lawsuits.
You should also check references or contact former clients of potential vendors or offshore outsourcing companies. By talking to other businesses that have outsourced services to the company you're considering, you can get a feel for their service quality and reliability.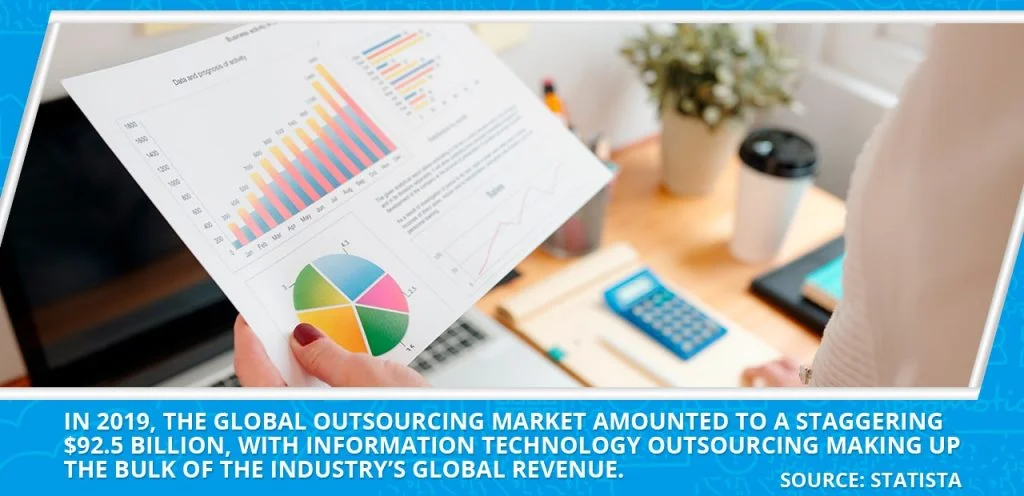 5. Failing to provide adequate documentation and instructions to your outsourced team
As with most employees, it's important for remote workers to get familiar with the company they're working for. Each time you hire an outsourced worker or virtual assistant, provide them with access to all relevant documents and information so they can catch up on what's happening in the office and gain the organizational knowledge necessary for collaboration and productivity.
6. Not outsourcing core business or highly technical tasks like software development services
Many entrepreneurs underestimate what an offshore team can do for their business. Outsourced workers can do more than admin tasks like data entry, email management, and appointment scheduling. In fact, many of the biggest companies outsource their customer support, accounting, information technology, and marketing tasks to professionals in the Philippines, India, and other Asian countries.
7. Ignoring the language and cultural barrier
If your company outsources tasks to workers in another country, it's important to be aware of cultural differences, including holidays, customs, and nuances in language. For example, western countries tend to be very direct with their communication, while eastern cultures are more indirect and believe that being too direct can cause offense. This is something you'll have to keep in mind and be respectful of as you work with people from other cultures.
8. Failing to set up a good virtual or hybrid company culture
Company culture can make or break your business. Aspiring entrepreneurs who want their outsourced team to share their passion for the project they're working on should make sure that they have a strong internal culture in place before they hire offshore. Setting up policies about communication, collaboration, work schedules, due dates, and downtime will help ensure great results for your whole team.
9. Being unprepared to work with an offshore outsourcing entity
Before you get started with outsourcing, make sure your team, systems, and processes are set up for remote collaboration.
Take some time to build up your internal infrastructure to support a third-party entity doing work for you. If possible, invest in new technology that will help streamline each aspect of your business before contracting out services or products that an external provider can complete in a more cost-effective manner.
10. Not protecting yourself from security risks and intellectual property theft
There are always security risks when you allow third-party access to sensitive company information. Data security tools and non-disclosure agreements are a must when working with outsourced workers. Most knowledge process outsourcing providers will sign an NDA to ensure your information remains secure and private.
11. Not having clear milestones
Milestones provide checkpoints to measure work against expectations, which is why they are so important when outsourcing tasks. When you create milestones, clarify details well before work begins to avoid confusion and wasted time.
By assessing the results from each milestone, you can see where things went wrong and how much trouble a task might have been in.
12. Not understanding what parts of your business operations you should outsource
Outsourcing is a great way to free up company resources that you can use for other, more productive duties. However, the truth is that not every aspect of your business will benefit from being outsourced. To make sure you're not wasting time and money by hiring workers to do something that should remain in-house, have a clear understanding of how each part of your business works.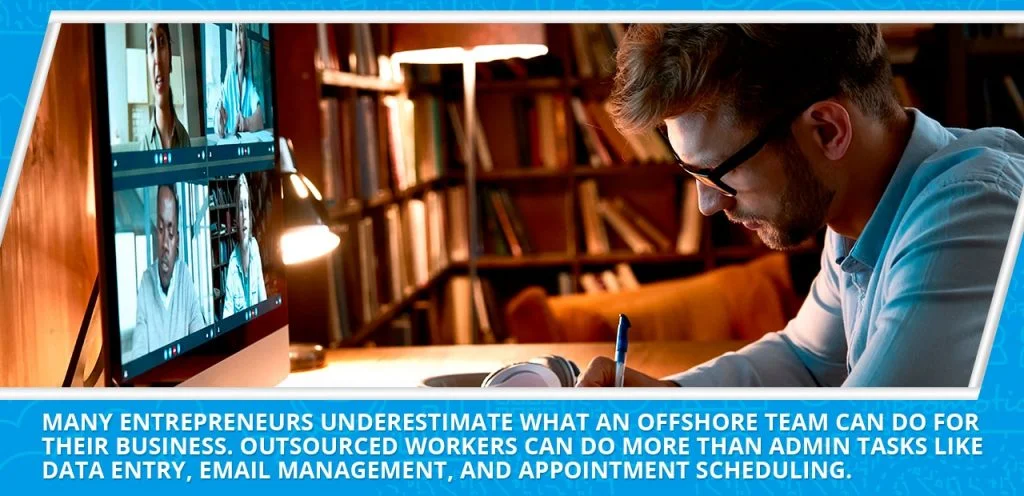 13. Not having a contingency plan in place
When outsourcing work, it's important to have a plan B (and C and D and so on) in place just in case things don't go as expected. If you're not ready to deal with major issues, your business could be dragged down and left unable to meet its goals or obligations.
14. Lacking transparency
Transparency plays a big role in outsourcing, especially when it comes to your provider sharing information about their work with you. But this is a two-way street. When you don't share information about your business needs, this can lead to miscommunication and wasted time and money.
By sharing your goals, challenges, problems, and ideas up-front, you make it clear to your outsourced team what they will be helping you accomplish so they can fully understand the importance of their work.
15. Not being prepared to take a hands-on role when necessary
Outsourcing gives you the freedom to take back time previously lost to mundane tasks or projects better left in more capable hands. But this doesn't mean that there will never be a time when you may need to lend a hand or provide input. Even with the best service providers, you'll still have to take an active role, if only to make sure that things are progressing the way you need them to.
16. Not understanding how to monitor and measure success
Many people think of outsourcing as an easy way to move the needle without doing the work themselves. But unless you understand what your provider needs from you and how you can measure their success, this will not be something that works out in your favor.
When you clearly state what you expect from your provider and put together measurable goals for them to meet, you will have a better understanding of how successful they are likely to be.
17. Not having regular meetings
Regularly scheduled check-ins let you monitor progress and adjust course if necessary, which is why they're so important when you outsource some of your business processes. Scheduling regular meetings allows you to communicate current priorities and future deadlines before it's too late to make changes.
Is offshore outsourcing the right move for you?
Outsourcing offshore is a great way to save time and reduce costs for your business. But it can be risky if you don't consider all the details before contracting out work. To avoid making these mistakes, keep in mind that working with a reliable company is more important than finding the lowest price. After all, quality of service should always come first.
Discover what outsourcing can do for your business! Get in touch for a FREE Business Growth Session today.