What's The Difference Between Outsourcing and Offshoring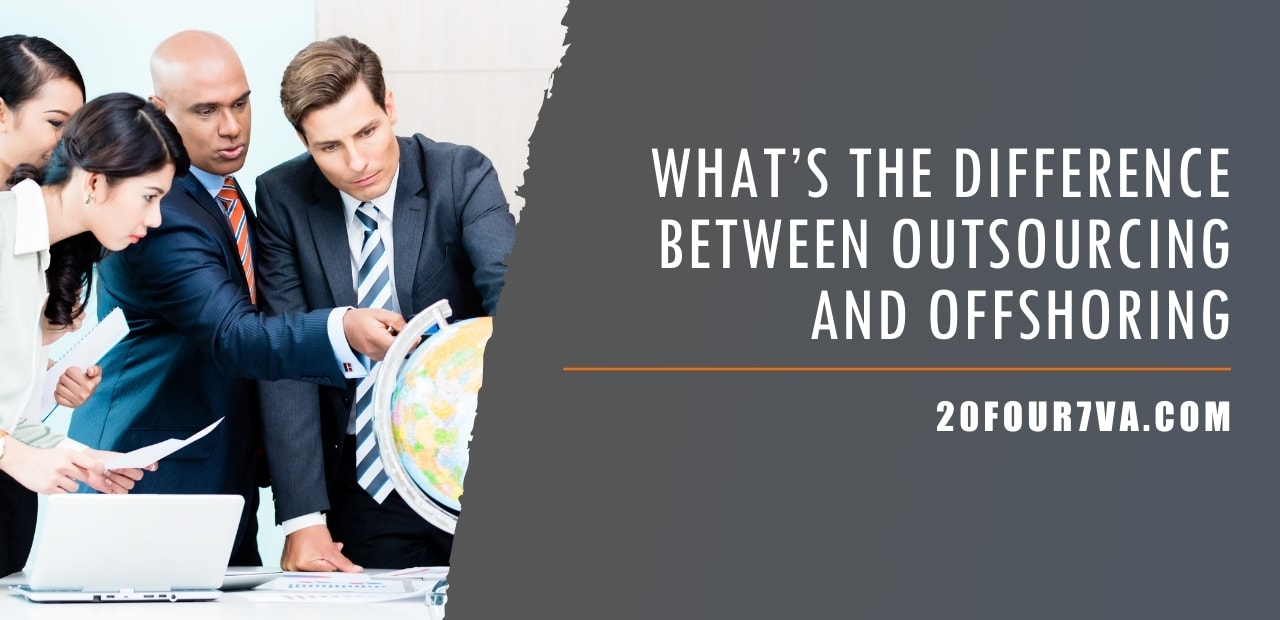 Businesses across the globe are slowly readjusting to the new industry and economic trends brought by the modern workplace. Now more than ever, people have come to realize the importance of remote work and digital business operations. As you chart a new course for your company, it's crucial to start with understanding the key differences between outsourcing and offshoring. Knowing the differences between outsourcing and offshoring, both principal terms in virtual working and management, will help you pivot into the right digital direction.

What is the Difference Between Outsourcing and Offshoring?
One quick search on remote working or collaboration will pull up articles and studies that mention outsourcing and offshoring. Although the words are interchangeably used at times, there's a basic distinction between these two business models.
Basic Difference
Outsourcing is the process of delegating a business task or activity to an external party or organization. These external parties are therefore not employed by the company that hires their services. They are independent contractors or freelancers that provide services or perform a function.
Offshoring, on the other hand, is the process of relocating an office or operation to another country. Unlike outsourcing, offshoring entails hiring, training, and managing employees albeit located internationally.
Suffice it to say that a business can outsource locally and internationally. Offshoring, however, can only be done and considered as such by extending a business process to a foreign location.
Of course, the difference between these two business models runs beyond the geographical extent. To recognize their distinctiveness further, it's best to look at outsourcing and offshoring in terms of their main purpose as well as their respective benefits and drawbacks.
Main Purpose
Outsourcing processes to a third-party is often done by businesses to increase productivity while reducing operational costs. Just have a look at these 5 business expenses you can reduce by outsourcing to a virtual assistant.
Businesses often outsource low-impact tasks such as data entry and admin duties. By spinning these activities off to external parties, the company will have more time and resources to redirect to its core competencies. These days, however, outsourcing specialized tasks such as graphic design, content writing, digital marketing, software development, and more is becoming more prevalent.
TIP: You can outsource a business process by directly hiring a remote assistant or working with a staffing company such as 20four7VA to help you find one. Check out this infographic that outlines the key distinction between direct hiring and partnering with a staffing company.
Outsourcing has become a popular solution for solopreneurs and startups that juggle with the mounting work of building a business from the ground up. For example, a solopreneur with no blogging skill can outsource content writing to a virtual assistant to help them gain an online presence. An eCommerce owner can hire a sales agent to help process increased orders from seasonal sales.
Although it is outsourcing that is sought for short-term projects and by small businesses, its popularity extends to big brands. Apple, for instance, is one global brand known for outsourcing its manufacturing work to China. AT&T is another established company that outsources its customer and IT services to the Philippines.
Offshoring is a business move made by companies to reduce sourcing and labor costs. Companies often relocate their manufacturing work to foreign locations with cheaper raw materials, labor fees, and upkeep. By moving one's operations to developing countries, a company can churn out more products and take advantage of more competitive pricing.
Although ethical dilemmas have clouded offshoring in the past years, globalization has helped resolve most of these issues. What's more, several companies have already proven how offshoring can be an upstanding business solution.
Canva is a popular platform for digital design that has expanded its operations to the Philippines. According to the graphic design brand, 99% of its expansive template library is designed by Filipino artists.
General Electric (GE) is a global brand known for offshoring its research and IT operations to India. Although its foreign site has lower upkeep, the company spared no expense in equipping its research and development center with cutting-edge technology.
Outsourcing Benefits and Drawbacks
Benefits
Outsourcing gives businesses appropriate and quality support on terms that won't bleed their funds dry. Here are its top benefits:
Cost-effectiveness. Real estate, equipment, and utilities are among the top expenses that businesses no longer have to worry about when they outsource to remote workers. This is a huge help to reduce operational costs especially when a company is still building a clientele and have yet to find a regular income stream.
Scalability. A virtual staff is a staff that can conveniently grow with you. Need someone to help you with general admin and e-commerce tasks? Hire a personal virtual assistant. Need a specialist VA to grow your brand through content and digital marketing? Build your marketing team of specialist VAs.
Full-service Support. VAs recruited from a staffing agency usually come with full-service support including Human Resource, Training, and Accounting. You don't need to worry about working out the payroll, supervision, or training of your assistant when you have another team handling these for you.
Drawbacks
Getting the full picture of what it's like to outsource should help you set realistic expectations. Here are common drawbacks of outsourcing:
Limited management. VAs are independent contractors and are therefore independent of the regulations or sanctions that apply to your in-house employees. Most of them also have their work processes and would expect to work around their schedule.
No guarantee of commitment. As independent workers, VAs are free to work with as many clients as they can handle. So, if you prefer someone to focus only on your brand, you need to clarify this from the get-go.
Decreased quality control. You may be working with an independent party but their output will still be a reflection of your brand. Keeping an eye on someone's work quality may be a bit more of a challenge if they are working remotely and not an employee of your company. Here are 6 tools to help you manage a remote team .

Offshoring Benefits and Drawbacks
Benefits
Offshoring has increasingly become popular over the years. Why do companies choose to work with overseas teams? Here are a few reasons why:
Full Control. Offshoring leaves you full control over employment management and business operations. You get to call the shots over how a task is done, when people report for work, and standard work procedures.
Expansive Talent. You get higher possibilities of recruiting qualified and talented people if you expand your network to other locations. India, for instance, is rife with engineering and IT specialists if you need web development and technical support. The Philippines has a high English proficiency should you need a team to manage your customer support and content development.
Reduced Labor Costs. Cost-cutting is no doubt the primary reason that many companies offshore. With lower real estate, labor fees, and cost of living in other countries, businesses are able to maximize their capital, while still affording top-notch talent.
Drawbacks
It can be tricky to navigate and manage operations that you can't physically supervise. Here are the usual drawbacks of offshoring:
Security Risks. Protecting your intellectual property will be more difficult when working with offshore teams. Some countries may have different or lesser IP rights and regulations. This can result in loopholes that may put a company's intellectual property at risk.
Cultural Difference. Cultural differences can play a major role in the dynamics of your team. Expect contrasting ways of doing tasks, communication challenges, and different ways of approaching conflict or issues when working with offshore teams. That is why overseas teams usually go through cultural and communications training from the get-go. This will help bridge cultural gaps, especially if you'll have your team working directly with your customers.
Incoordination. Working with people in different time zones can be complicated. Unlike outsourcing that can come with a full-service agency, you're responsible to recruit, train, and manage your employees. Businesses should expect possible collaboration issues and even delays in meeting timelines.
Final Thoughts
Do you need help accomplishing short-term or seasonal projects? Don't have the budget or proper workload to require a full office and operations? Outsourcing will ease the day-to-day operations of your business while growing your brand.
Need to expand your network while retaining full-scale control over your employees? Offshoring will help you reduce business costs, so you can optimize your funds and stick to your own workflow and processes.
Knowing the key difference of outsourcing and offshoring as well as their respective purposes, benefits, and drawbacks will help you decide which arrangement will work best for your current needs and goals.
While the pandemic has halted and redirected businesses to unprecedented routes, it has highlighted the profound significance of remote working and collaboration.
Both outsourcing and offshoring have empowered economies while uniting people beyond cultural and geographical differences. From small and independent businesses to big, household brand names, thousands of products have been put to life in one way or another through both business models.