What's Really the Best Time to Post on Social Media?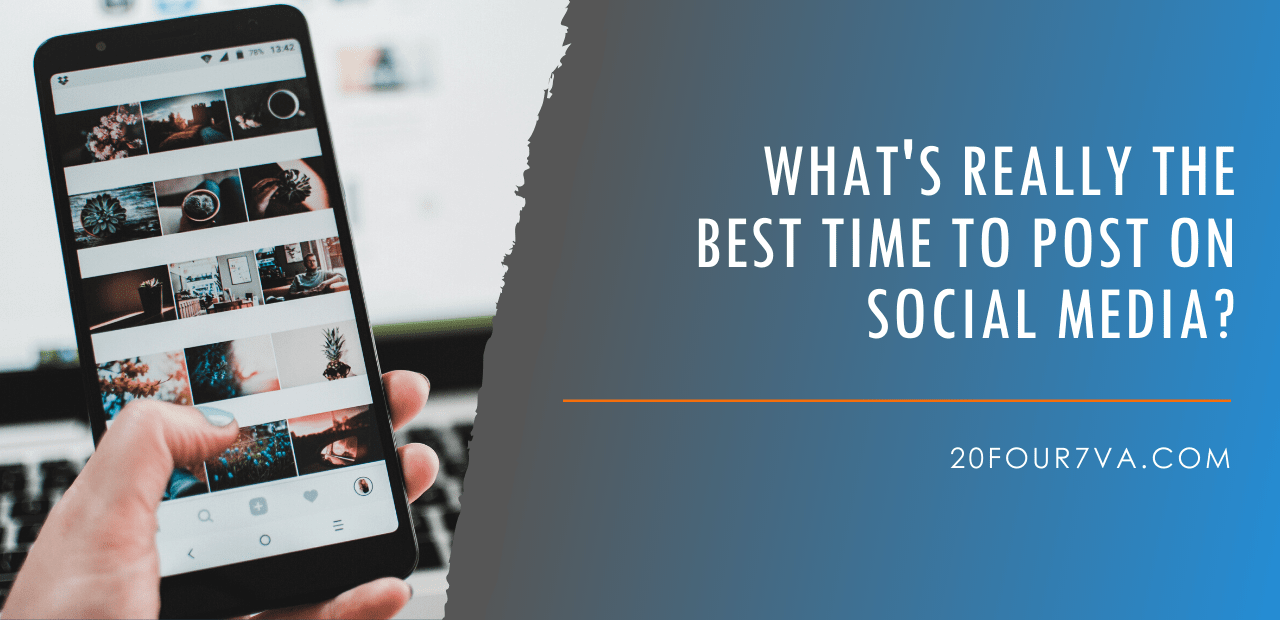 Is timing everything for social media? Maybe not. The content of your posts might still be the most important factor when it comes to determining audience engagement. However, the importance of timing when it comes to social media engagement is still undeniable. So, what is the best time to post on social media?
Over the past few years, the social media landscape has become unquestionably overcrowded. There are now way too many influencers, brands, regular users, and spammers posting all sorts of content every single day. Everyone's social media feeds have become ridiculously saturated with posts of various types. Because of this, more and more people are considering a social media detox.
For brands and companies, this means that competing for the audience's attention on social media is becoming more difficult. Today, creating high-quality posts is not enough to get your message across. When you publish these posts also dictates how well they do.
Timing is essential for maximum exposure on social networks. Even if you implement as many social media marketing tips for small businesses as you can, timing is still crucial. Now, it's not just about what you say, when you say it also matters. To help your quality content reach your target audience, you need to study the best time to post on social media.
Different platforms, different findings for the best time to post on social media
When determining the best days to post on social media or the hours that will give you maximum engagement, consider what platform you're posting on.
Reminder: Different platforms have different audiences. It only follows that the best day and time to post on one network will differ from the best day and time to post on another. Also, different sources will present various findings based on the variables that affected their study or survey. For brevity, only one source will be used for each social network.
For this article, we will talk about the best time to post on five of the most popular social media networks today: Facebook, Instagram, Twitter, LinkedIn, and Pinterest.
Best Time To Post On Facebook
Source: Buffer

According to popular social media management software, Buffer, the best time to post on FB is between 1 PM and 3 PM.
Their research also revealed that Thursdays and Fridays are excellent days for reaching peak engagement rates on Facebook because engagement on those days is 18% higher than engagement on the other days of the week.
Tips about finding the best time for YOU
In their article about the best time to post on Facebook for likes and engagement, Buffer also noted that others who conducted their own research had different findings. Hubspot corroborated their findings of 1 PM to 3 PM on Thursdays and Fridays being the best posting schedule on Facebook, but TrackMaven noted that 8 PM on Thursdays is actually the prime posting time on FB. CoSchedule, on the other hand, said that 1 PM to 4 PM at the end of the week is perfect for Facebook posts, but Buzzsumo said that short, off-peak posts work better for engagement.
To know what works best, experiment with the different posting times mentioned above and use Facebook Insights to monitor engagement. On Facebook Insights, you'll learn when most of your fans are online. This could help you see if your fans' online activity peaks at any given day or time.
You can also check the engagement rate of your posts on Facebook using Facebook Insights. Each post you share on your page has its reach and engagement tracked automatically by Facebook, so it will be easy for you to see patterns and correlations with your most liked posts and their posting times.
Best Time To Post On Instagram
Source: Hubspot

According to Hubspot, the best day and time to post on Instagram, in general, is between 2 PM and 3 PM on Thursdays.
Other excellent times to post on Instagram, according to Hubspot, are 5 AM, 11 AM, and 4 PM on Thursdays.
The industry can affect the best posting times for Instagram
Hubspot's study delved deeper into the variables that affected posting time effectiveness by looking at variances per industry.
According to them, technology companies get the best engagement when they post at 10 AM on Wednesdays, even though Thursday is still their best day. The best times for B2C companies, on the other hand, are 11 AM and 1 PM on Saturdays. For educational organizations, it's 8 PM on Monday, and for healthcare companies, it's at 1 PM on Tuesday. Non-profit organizations, meanwhile, have many different 'best times' for posting, but they get consistently good engagement when they post between 12 PM and 5 PM on weekdays.
Like Facebook, Instagram also offers business accounts insight into the performance of their posts. It's also advisable to look into your Instagram Insights to better figure out what works for you and your target audience.
Best Time To Post On Twitter
Source: The Balance SMB

According to The Balance SMB, in general, the best time to tweet is between 1 PM and 3 PM from Mondays to Thursdays. They noted that there are no specific peak times during these hours, but tweets published during this time reached the highest click-through rates (CTR) on average.
Other important statistics about tweet effectivity
Aside from noting an optimum tweet posting time, The Balance SMB also released a couple of important statistics that affected the effectiveness of a tweet in terms of engagement rate. One of their most important findings is that tweets with images are the most effective.
According to them, tweets that included photos had 41% more retweets and 36% more click-throughs. They are also 48% more likely to be marked as favorite compared to text-only tweets. This could be due to the limited character count for tweets. By including images in your tweets, you get your message across more effectively, and your audience is more likely to engage with your tweet.
Best Time To Post On Linkedin
Source: Hootsuite

Hootsuite's research generated very specific times about the most effective social posting schedules. According to Hootsuite, the best times to post on LinkedIn are 7:45 AM, 10:45 AM, 12:45 PM, and 5:45 PM. The best day for posting for B2B brands is Wednesday. On the other hand, the best days for B2C brands are Monday and Wednesday.
The LinkedIn audience
Since LinkedIn is a social platform for professionals, the audience you will reach on the platform is more targeted. Hootsuite noted that 45% of LinkedIn users are actually in upper management. This makes it perfect for reaching key decision-makers — an excellent choice for B2B marketing.
Best Time To Post On Pinterest
Source: CoSchedule

According to the CoSchedule blog, the best time to post on Pinterest is 8 PM to 11 PM with peak time at 9 PM. As for the best days for posting, it seems that Fridays and Saturdays are when Pinterest posts get the best engagement.
CoSchedule reasons out that since Pinterest is the perfect platform for DIY projects, weekends are the perfect days to post content on the platform.
Is Pinterest still relevant?
Pinterest is a highly niche-dependent platform, so whether it's relevant for you depends highly on your niche and target audience. If you want to reach people who are mostly looking for crafts and similar projects, posting on Pinterest can still give you a great ROI. This is also because the competition on this social platform isn't as stiff as the competition on Instagram or Facebook. This means that your Pinterest content can reach audiences that might just skip or ignore your content on other platforms.
Of course, while Pinterest can still be useful to you, it's better to use it just as a supplement to your other social channels because the number of users on Pinterest isn't as high as other platforms.
Some Last Reminders for Social Media Posting
Remember, the 'best times' mentioned above should just serve as your guideline when it comes to scheduling your social media posts. There are many factors that can affect social media posting times, so proceed with caution.
To achieve maximum engagement with your posts, see if there's a relationship between your posting times and engagement rate. Doing your own tests can help you really take the pulse of your specific audience and assist with determining when to schedule your posts to achieve peak engagement and exposure.
Need assistance with conducting tests with your social media posts? A social media VA can help you out! Aside from creating and scheduling posts, a social media virtual assistant can also help you experiment with posting schedules and monitor engagement. With their help, you can optimize your social posts efficiently and adjust your social media strategy quickly to reflect your findings.
If you think you're ready to find a social media virtual assistant, we'd be happy to help. Schedule a free consultation call with us and let's talk about your virtual assistant needs.
Recommended Reading: 3 Proven Business Growth Strategies You Can Start Doing Today