6 Ways to Use Canva to Make Your Social Media Presence Stand Out
If you are planning to leverage social media to promote your brand or help increase its website ranking in Google, there's a big chance that all your competitors are doing the same thing. This makes it even more difficult for your business' social media profiles to get views, likes, shares, or retweets. However, this doesn't mean that there's no way to make your social media presence stand out.
One way to make your brand more noticeable on social media is by publishing content with eye-catching visuals. Now, this might be a difficult task without the help of a graphic designer virtual assistant. Fortunately, there are tons of online graphic creation tools like Canva that you can use to create stunning visuals for your social media profiles. Here are some ideas on how to use Canva effectively:
Headers or Cover Photos
It's common practice to change the cover photos of your social media accounts from time to time. It could be because you want to divert the attention of your audience to the campaign that you are running or simply because the season calls for it (Christmas, Halloween, etc.). Canva has ready-made layouts that you can use to design Facebook cover photos, Google+ and Twitter headers, and even Youtube channel art. They follow the recommended sizes for their respective social media channels, so there's no need to worry if what you're creating is going to fit or not.
Branded Images
Publishing unique and creative content plays a vital role in social media management, but it is not the only thing that you should focus on. You also have to make sure that your audience will recognize and remember your brand. Canva can help you create branded images simply by incorporating your logo, colors, fonts, or even your website's url in the design.  
Photo Collage
One of the easiest things to create in Canva is a photo collage. Just upload the photos that you want to include in the image and voila! You're pretty much done. You can also include texts and other elements in the design such as icons, symbols, etc. This type of content is perfect for sharing photos from company events, products, pictures of satisfied customers, and many more.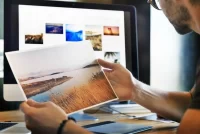 Blog Post Images
Images that are included in your blog post are almost as important as the content itself. They help give more emphasis on what you are trying to say and give the readers some sort of break visually. Canva can assist you in making these images by providing you a wide selection of templates to choose from.
Infographics
Infographics make it easier for your audience to digest loads of information in a very short period of time. It's suitable for presenting data about the products and services that you are offering. Canva has a ton of images, icons, and other elements that you can use in designing your own infographic.
Facebook Ads
Facebook implements a very strict set of rules when it comes to ads. Canva can ensure that the ads you are creating comply to these requirements such as the recommended sizes.
What about you? How will you use Canva to make your business' social media profiles stand out?  
Next: 5 Ways To Crafting A Beautiful Instagram Feed
20Four7VA recognizes the challenge of effectively managing an online business – and we are very eager to help. Our company specializes in eCommerce VIRTUAL STAFFING SOLUTIONS, providing customizable and scalable solutions to small, medium, and large enterprise business owners so they can focus on growing their business.
Ready to have access to incredible people with incredible skills in the most-effective way? Contact us today!