Social Media Marketing for Construction Companies: Why It Matters and Our Top Tips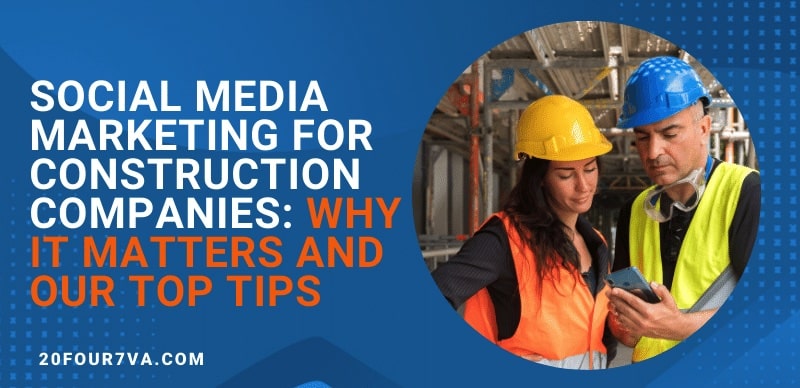 When we think of social media marketing, we may immediately envision posts about the latest tech gadgets or fashion OOTDs. And let's face it: we don't see yellow hard hats and neon vests being the next big thing in fashion anytime soon. But having said that, social media platforms have space for a lot more than fashion and tech brands. Social media is increasingly important for every business, including those in the construction industry. Learn more about social media marketing for construction companies and how it can be the key to unlocking your company's success.
5 BENEFITS OF SOCIAL MEDIA MARKETING FOR A CONSTRUCTION COMPANY
Most construction companies tend to shy away from online marketing.  They opt for the more traditional, tried-and-tested advertising strategies like cold calling, newspaper ads, billboards, and even local TV spots. But if you want your construction business to reach more potential customers, you should be visible where your target audience is: online.
BUILD YOUR BRAND
Owners of construction companies may think that brand building and marketing have no place in their strategy. But it's difficult to overlook the fact that brand building is essential for any business, especially those that want to set themselves apart from their competitors. There are heaps of construction companies that potential clients can choose to work with. It's important to get a competitive edge when you can.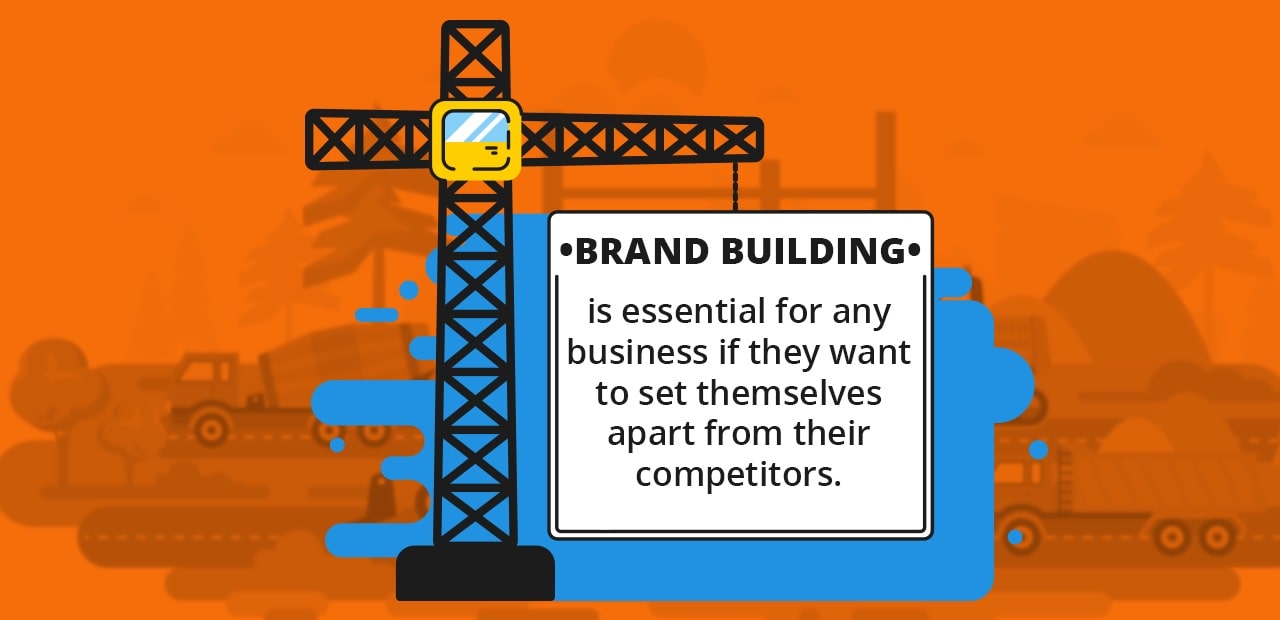 Using social media marketing to build your brand is more than just putting your name and logo on your Facebook page. It's making sure the personality of your construction company shines through in your every digital marketing move, whether it's an Instagram reel or a blog post. When your brand promise is clear, it helps increase brand recall and potentially attract new clients.
MORE EXPOSURE FOR YOUR CONSTRUCTION BUSINESS
According to Statista, there are 3.96 billion (2022) social media users worldwide, and that number is projected to reach an estimated 4.41 billion by 2025. Just think of the pairs of eyes that can be on your construction business if you're on these social media channels.
BETTER CUSTOMER SERVICE
The internet is the go-to place for information. Customers rarely make purchases without looking up products or services on Google, Facebook, Instagram, or other social media platforms.
Social media allows construction companies to engage with their target market and current clients. Through social media, you can quickly address customer concerns, which helps improve customer satisfaction. Potential customers who see that you're responsive on social media can become new clients. In addition, by being responsive on social media, you're building trust and credibility for your construction company.
DIGITAL WORD-OF-MOUTH MARKETING
In the past, word-of-mouth marketing happened when a satisfied customer told their friends and family about their experience with a company. Seeing that seal of approval or recommendation from someone you trust can be a deciding factor in making a purchase. This remains a very powerful marketing tool for businesses. And thanks to the internet, word-of-mouth marketing is now more amplified, as customers are likely to post about their experiences on social media or leave online reviews.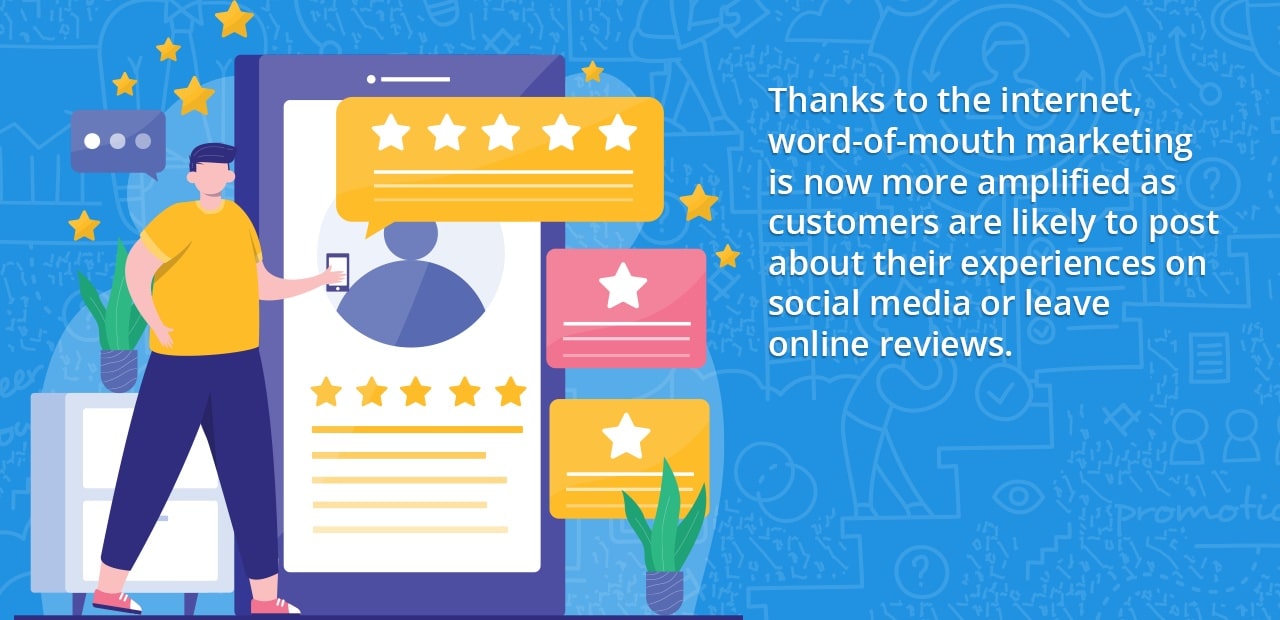 Positive customer reviews can help increase your construction company's exposure and attract new leads. On the other hand, you can also address negative reviews in a timely manner to ensure damage control and keep customers happy.
KEEP UP TO DATE WITH CONSTRUCTION INDUSTRY TRENDS
It's important to maintain an online presence and keep your finger on the pulse of industry news. Doing so can help you stay up-to-date with the latest construction trends. You can use this valuable information to improve your construction company's practices or simply share relevant content with your followers.
Want to learn more about how social media marketing can help your construction company? Schedule a free consultation with our Business Growth Experts today!
SOCIAL MEDIA MARKETING FOR CONTRACTORS: TOP PLATFORMS
The most relevant social media channel for your construction business will depend on your area and the demographics of your target audience. However, these are the best social media platforms based on the reach and diversity of users:
Facebook is one of the most popular social media platforms, and it's a great place to start if you're new to social media marketing. You can use Facebook to post updates about your construction company, share photos and videos, run ads, join relevant Facebook groups, etc.
Instagram is a great platform to showcase your construction company's work. Use hashtags, geotags, and relevant keywords to ensure your content can be found by potential clients searching for contractors in your area. You can also explore and be more creative with Instagram by using trending filters or reels.
LinkedIn is a professional networking site that can be used to connect with other industry professionals and potential clients. You can use LinkedIn to share articles, post updates, join relevant groups, or even attend virtual industry events. You can close deals for big commercial projects for retail spaces or offices when used correctly.
A video format is a great way to show off your construction company's work. For example, you can create a timelapse content of a construction project from start to finish or create a virtual tour of your finished construction projects.
YouTube isn't just for creating a "moving portfolio" of your construction company. You can also use it to create relevant content that can set your business apart from other construction companies. You can post how-to videos for small projects, decoration tips, and even client testimonials.
TikTok is generally seen as a Gen Z social media platform, but it's difficult to ignore its over one billion users. Like Instagram, TikTok allows you to showcase your projects in creative short-form videos. It may not be for everyone, but it's a good idea to include this platform in your social media marketing strategy. Who knows? Your construction company's post can be the next viral sensation.
While this is technically not a social media platform, your website should always be updated. Your social media marketing strategy should be integrated with your website management. Doing so creates consistent brand communications across different touchpoints and solidifies your brand's identity in the eyes of your target audience.
If you need website development or IT services, book a free Growth Call with 20four7VA today!
7 SIMPLE TIPS FOR SOCIAL MEDIA MARKETING FOR CONSTRUCTION COMPANIES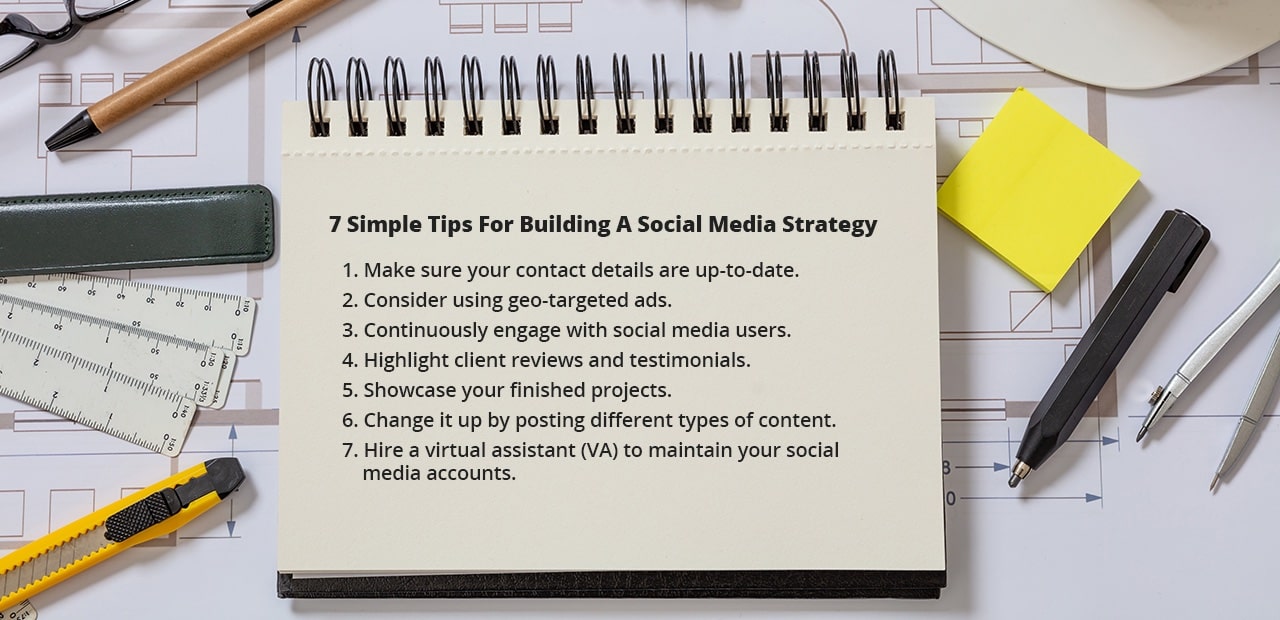 1. MAKE SURE YOUR CONTACT DETAILS ARE UP-TO-DATE
This is the most basic rule for maintaining your social media presence. This may seem like a no-brainer, but you'll be surprised at how many construction companies forget to update their contact details on their website and social media platforms. Make sure your phone number, email address, and physical address are updated and easy to find.
2. CONSIDER USING GEO-TARGETED ADS
Imagine how many construction companies there are in your district or city. The competition may be fiercer and closer than you could ever imagine. Investing in paid social media advertising can help bring more awareness and more clients to your construction company. Different social media platforms offer various paid advertising services that allow you to set your ad budget, select your targeted audience, and choose your preferred call to action, like a "Call Now" button or redirecting leads to your appointment booking page.
Online ads are also measurable, meaning you can see which social media marketing efforts are worth your ad spend and which ones you can improve on or do away with.
3. ENGAGE WITH USERS
The beauty of social media marketing for construction companies (compared to traditional marketing efforts like TV ads or billboards) is that you get to have a conversation with your audience. You can gain insights into their preferences, usual queries, and things they look for in a construction company. You can even create an FAQs (Frequently Asked Question) page to make finding the information they need even easier.
4. HIGHLIGHT CLIENT REVIEWS AND TESTIMONIALS
Potential clients will most likely search for reviews and testimonials of your construction company before they even consider working with you. Posting reviews and testimonials from your past clients on your social media profiles or website helps build trust and confidence in potential clients. It's also a good way for leads to see if you have experience in their preferred look and feel for their construction project.
5. SHOWCASE YOUR FINISHED CONSTRUCTION PROJECTS
The construction industry is very visual. Social media platforms are perfect for sharing your company's portfolio. A word of caution: make sure that the photos and videos you share are of high quality. You wouldn't want to show off your work in poor lighting or shaky camerawork. Another tip: when you post photos, make sure you're sharing the finer details to show that your construction company gets the job done and done well.
6. POST DIFFERENT TYPES OF SOCIAL MEDIA CONTENT FOR YOUR CONSTRUCTION COMPANY
This may seem counterproductive, but social media marketing for construction companies shouldn't always be about "selling" your services. If you want to stay relevant, it's important to mix up your posts. Here are examples of different and interesting content you can highlight on social media:
Photos and videos of the job site:
There are many options for photos and videos—from behind-the-scenes footage and construction project time-lapse videos to finished project reveals.
Relatable or witty memes:
A little bit of humor goes a long way on social media. You can even create memes relevant to your construction company or the industry in general.
If you have data-driven content, such as the average cost of a home renovation project or the most durable construction materials, create an infographic. Infographics allow people to digest data easier. They're also nicer to look at than walls of text and are easier to share.
Ask your past clients to post photos or videos of their experience working with your construction company. Be sure to get their permission and make it shareable by providing hashtags you would like them to use.
It's important to share your connection with the community. You can post about how you participated in a local fundraising event or donated your services for a good cause.
This can be in video or article format. Genuine feedback from actual clients is more compelling than any marketing copy drafted by a business. Testimonials give potential clients a clearer picture of what it will be like to work with you on their construction project.
You can follow the currently trending ones on Instagram or come up with your own style. Consider giving a quick update on your current construction project, showing DIY tips and hacks, or sharing your latest design inspiration with your audience.
If you can include this in your social marketing budget, social media contests with prizes like small discounts or giveaways are always effective at building a list of followers.
From blog articles to eBooks, make sure all your content—be it on your website, your social media pages, or your ads—is well-written, informative, and relevant to your target audience.
7. HIRE A VIRTUAL ASSISTANT TO STAY UPDATED ON ALL SOCIAL MEDIA PLATFORMS
Digital marketing may seem like a daunting, time-consuming project, but a solid social media strategy can help set you apart from competing construction companies. While there are construction professionals who can hold their own when posting on their personal social media profiles, it may be difficult for some to oversee the operations of their construction business while managing the business's social media accounts. If this is true for you, it's time to hire a social media virtual assistant.
Need a construction virtual assistant for your social media marketing efforts? Book a FREE consultation with our Business Growth Experts today!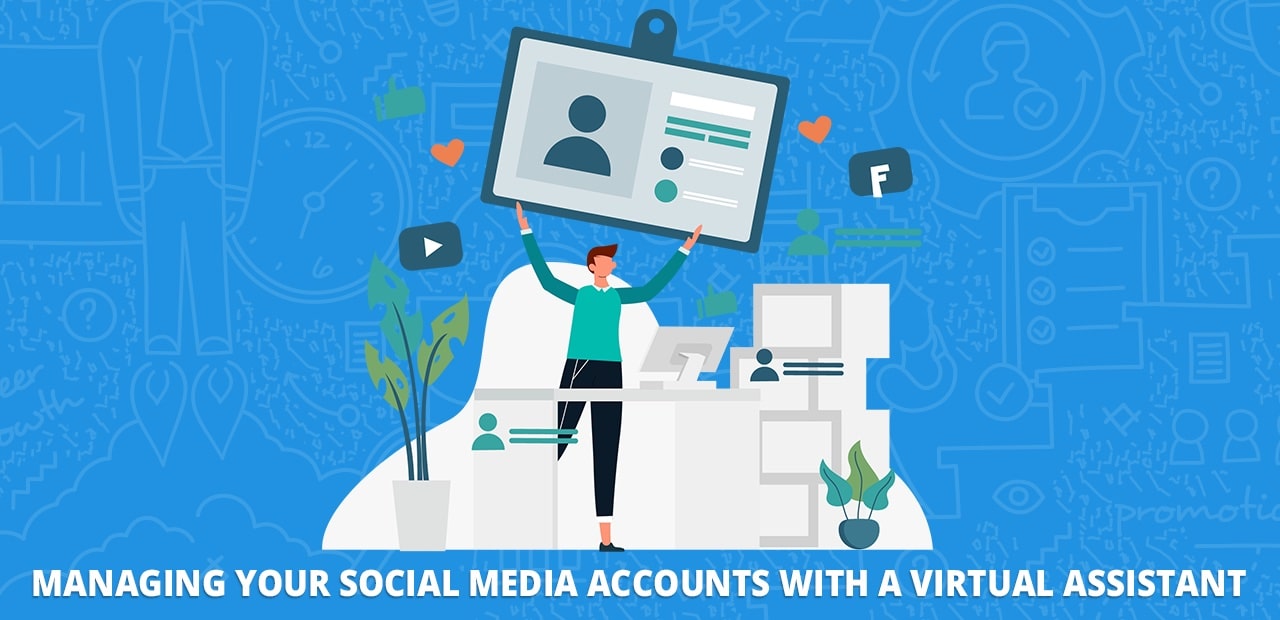 MANAGING YOUR SOCIAL MEDIA ACCOUNTS WITH A CONSTRUCTION VIRTUAL ASSISTANT
A virtual assistant (VA) can help you with the following tasks so you can focus on the essential operations of your construction company.
CREATE SOCIAL MEDIA POSTS
Your VA can help you with the creation of social media posts. This includes writing copy, sourcing or creating images (e.g., using stock photos, taking photos, or designing graphics), and creating audio clips or videos.
It's important to post regularly to keep the attention of your social media audience. While it may seem like an easy task to manage, it's important to have a posting schedule once your social media marketing content has been created and approved. Your VA can help you schedule posts ahead, so you don't have to worry about missing a post. They can also help you determine the best time to post when your target users are most active.
MONITOR SOCIAL MEDIA ACCOUNTS
Your VA can help you monitor all the social media profiles connected to your construction company. This includes replying to comments, private messages, and reviews. They can also help you track any social media mentions (both good and bad), so you can address them accordingly.
SOCIAL MEDIA MARKETING ANALYSIS
Thanks to the advancements on these social platforms, you can now measure your social media marketing efforts. Your VA can provide regular reports on the performance of your activity on every social media platform. This includes insights on post engagement, profile visits, and click-through rates. These reports can help you determine what's working well and what needs improvement.
DEVELOP CONTENT IDEAS FOR THE CONSTRUCTION NICHE
A social media marketing VA can help you develop content ideas that resonate with your target customers. They can also help you implement creative ways to share this content, so it stands out from the rest. If you need help with creating infographics and other digital assets, you can also consider hiring a graphic designer VA to craft engaging content for your business.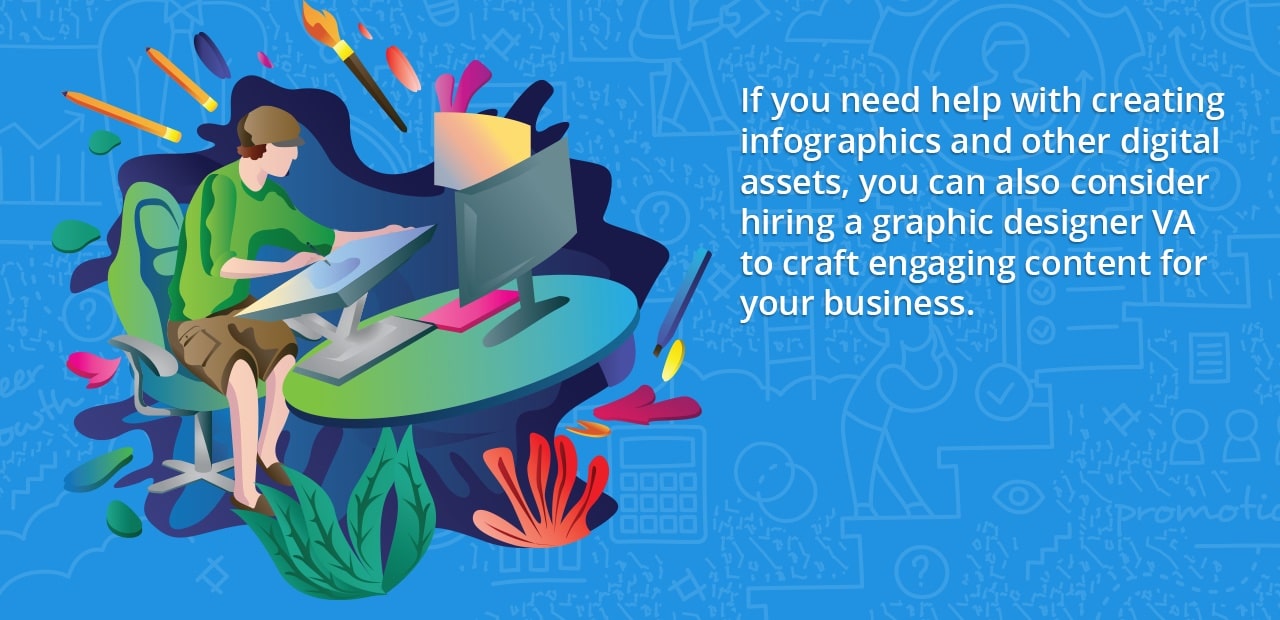 RELEVANT CONSTRUCTION CONTENT FOR SEARCH ENGINE OPTIMIZATION
Ranking high on search engines gives you an advantage over other construction companies. Whether your target customer is searching for "construction companies in my area" or "best drywall contractors in my city," you should aim to be at the top of the search results page. An experienced digital marketing VA can help you develop a social media marketing strategy that will improve your site's ranking. Effective social media marketing for construction companies usually involves many tasks, from optimizing your website on your target keywords to simply updating your Google Business profile.
GENERATE LEADS FROM SOCIAL MEDIA INQUIRIES AND ONLINE RESEARCH
A social media marketing VA can help you generate leads from social media inquiries and online research. They can do this by monitoring your social media accounts for relevant conversations. They can also connect with potential customers and provide them with the information they need to choose your construction company.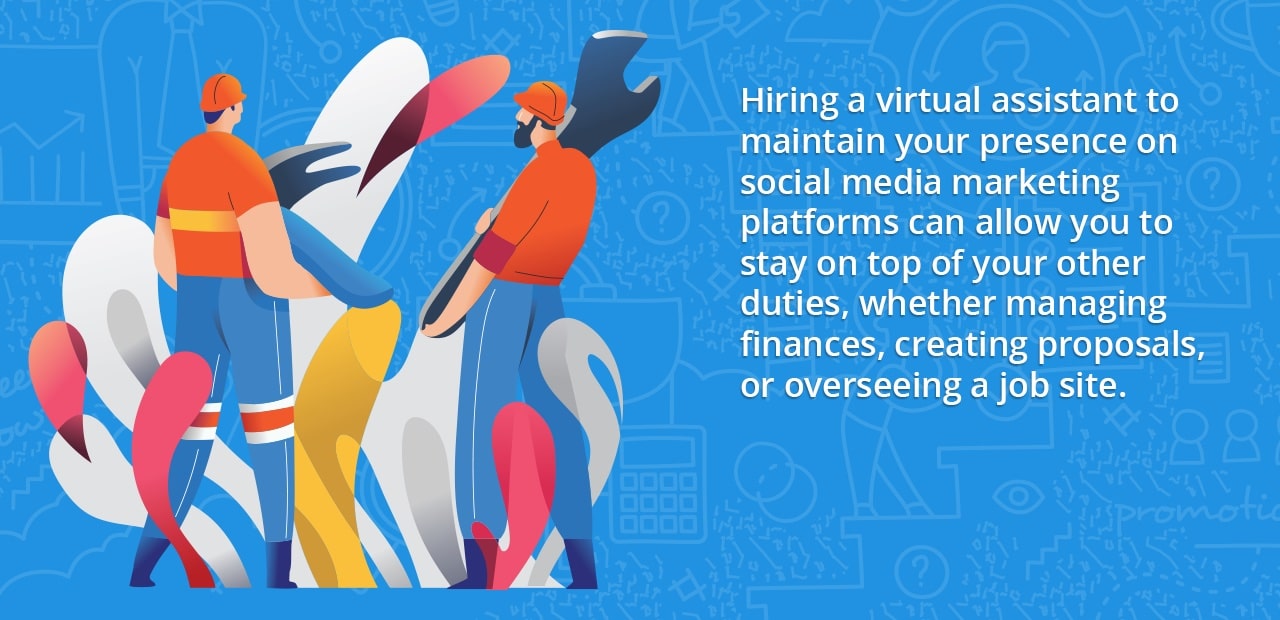 Hiring a virtual assistant to maintain your presence on social media marketing platforms allows you to stay on top of your other duties. Whether it's managing finances, creating proposals, or overseeing a job site, you'll have more time for the tasks that require your particular set of skills and experience. Not only can a VA help you set your business apart from other construction companies, but they can also assist you with finding new customers.
If you need a virtual assistant with experience in social media marketing for construction companies, get in touch with 20four7VA and claim your FREE business growth session today! We can help you find, hire, and manage the best VA for your construction business needs.