15 Mistakes Entrepreneurs Make when they Hire a Virtual Assistant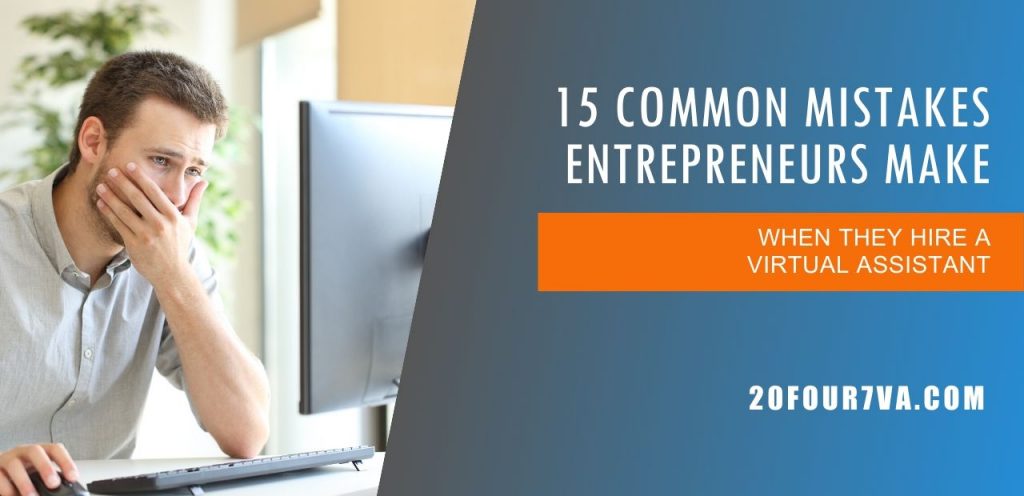 Now that the world is better connected than ever, business owners no longer have to limit themselves to one location when looking for qualified talent. As a result, virtual assistant (VA) businesses have been booming worldwide.
Hiring a virtual assistant can transform your business and take it to new heights, but it is not without its challenges. For many entrepreneurs, hiring and managing a remote worker is an entirely new experience and requires developing new skill sets.
If you're contemplating whether or not to hire a VA, it's useful to take a look at (and learn from) some of the critical errors that other entrepreneurs have made when hiring remote staff.
These are the 15 mistakes people often make when they hire a virtual assistant online (and how to avoid making the same mistakes).
15 common mistakes people make when hiring a VA
Failing to thoroughly vet the VA. Screening an applicant isn't as simple as asking a couple of questions and requiring a referral or two. You may be tempted to speed up this stage of the hiring process. But if you do, you leave your business (and yourself) vulnerable.This is especially true when you hire a virtual assistant to work on parts of the business that directly affect your income. Before you hire a virtual personal assistant, conduct a thorough interview with the applicant and take the time to verify his or her information.Tip: Instead of spending your time looking through freelance marketplaces, hire a VA from a virtual assistant service that pre-screens applicants for you.
Not being prepared to work with a remote worker. If you've never managed a remote worker, you may be surprised to find that it's completely different from working with someone who's just in the next cubicle. Before you hire a VA, make sure that a remote set-up will suit your schedule, your activities, and your existing team's processes. Ask others about their experience with VAs, do some research, and prepare the tools and systems you will need to manage someone long-distance.
Hiring a VA to do just one task. Virtual assistants are multi-talented individuals who have the skills to take your business to the next level — if you give them the chance.Instead of hiring a VA to do a single task, hire one to fill a role. Then give your new hire the space to learn the ropes and take over the responsibilities associated with that role. This will help reduce your workload, leading to significant time gains on your part.
Hiring a VA to do too many tasks. While taking responsibility for a handful of projects will help a VA grow in their role, having to deal with too many tasks can lead to burnout. This is especially true if you expect your VA to take on unrelated tasks. Remember that just like any professional, VAs specialize in different areas of work. Taking a laundry list of tasks and expecting a single VA to do them all (and do them well) is unrealistic. If you need a new website, for instance, hire a copywriter VA to write the content but don't expect this VA to do the coding and the graphic design as well.
Not being clear about the scope of the VA's work. Before you hire a virtual assistant, be very clear about the work you need to outsource and the schedule you expect your new hire to keep. Craft a job description that clearly defines all of the VA's tasks and responsibilities. Will you need your VA to participate in meetings or provide an end-of-day report? Is it a long-term role or a project-based gig? Set your VA up for success by being transparent about your needs and expectations.
Not setting clear goals. When it comes to your business objectives, make sure you and your VA see eye-to-eye. Don't assume that you can hire someone and then leave him to figure out how to achieve your intended goal. Be as specific as you can. Well-communicated goals and clear guidelines will help you avoid headaches and wasted time.
Not having SOPs and documented processes. When you work with a virtual assistant, the absence of face-to-face contact means that every process must be documented. This eliminates the constant back-and-forth on project details and makes communication more efficient. Without well-established processes and standard operating procedures, delegating work to your remote staff and expecting timely outcomes can be tricky.
Failing to use project management tools. Working with remote teams requires clear communications, convenient file sharing, and quick and easy project tracking. Aside from email and Skype or Zoom, you'll also need a project management tool like Asana, Trello, or Basecamp. These apps help you delegate tasks and keep track of all the different projects your team is working on.
Not knowing your business inside and out. Some entrepreneurs expect their VAs to figure out how a business should work when they themselves don't understand all its moving parts. Before you hire a VA, remember that you can't effectively delegate a process until you have perfected it on your own. And if you don't understand what you're outsourcing, you won't be able to properly evaluate the outcome.
Hiring too many VAs too soon. When entrepreneurs start reaping the benefits of hiring a virtual assistant, they often get excited about the many possibilities having a whole team of VAs can offer. They add more and more VAs to their staff. Then they get overwhelmed by the responsibility of managing a remote team and start letting people go. Before you begin hiring your second or third VA, make sure you're ready for the challenges of running a remote team. Pace yourself. Start with just one (or two) VAs. Once you've gotten the hang of working with a virtual assistant, you can then start hiring more.
 Not training your VA. Virtual assistants come armed with years of experience in their particular field of work; however, they still need hands-on training and instruction until they get used to your company's process. Hiring people and expecting them to know what to do without taking the time to get them off to a good start is a recipe for failure. Make sure you have a solid onboarding process before you hire a VA.Tip: Skip this step by hiring a pre-trained VA.
Assuming that you can leave your VA to fend for himself. Some entrepreneurs tend to micromanage, negating the time savings that hiring a VA should have afforded them. On the flip side, some entrepreneurs expect their VA to take a project from A-Z all on their own — and are usually disappointed with the results. Clearly, there's a balance to be struck. You shouldn't micromanage, but you shouldn't expect to "set it and forget it" either. You have to give your VA some freedom, but you also have to check in from time to time and provide feedback. Otherwise, your VA will be at a loss as to how to best support your business.
Failing to consider cultural differences. Virtual assistants who live outside the US, the UK, Canada, or Australia are usually college-educated and able to converse well in English. However, that doesn't mean that there won't be any miscommunication between you and your VA. Cultural differences may result in differing expectations in terms of the level of supervision required or the sense of urgency attached to specific tasks. Some VAs may avoid speaking up because they want to avoid conflict. Or they may be too shy to ask questions or ask for help when they need it. You can avoid issues by being open to learning more about your VA's culture, getting to know your VA, and developing relationships with your entire team.
Failing to have a backup plan. You have to have a Plan B in case things go awry. If, for instance, something on your website has to be fixed ASAP but your web developer VA has a family emergency, you'll be left in a precarious situation. Make sure you have a solid backup plan for worst-case scenarios and for business continuity.Tip: Hire a virtual assistant from a provider that guarantees a replacement VA in case yours becomes unavailable.

Seeing your VA as just another line item in the budget. If you look at your virtual assistant and see only how much this person is costing you, you're off to a bad start. Yes, the cost of hiring a VA must be factored into the budget. But more importantly, you should think of your VA as an investment. This person will take the administrative tasks off your plate so you can focus on the strategic work required to grow your business. Nurture this investment and it will pay off handsomely in the future.
Hiring an assistant online for the first time is exciting, but there will definitely be a learning curve. Fortunately, when done right, hiring a virtual assistant will save you time and money and drastically improve your life and your business.
Be realistic about your expectations, be willing to invest time to onboard your new hire, and go into it with an open mind. If you do, you definitely won't regret it.
Want to avoid the common pitfalls when you hire a virtual assistant? 20four7VA is a full-service virtual staffing solutions provider that does all the work for you. From finding a VA with the skills you need to screening, training, onboarding, and monitoring your VA, we've got it covered.
Schedule a FREE consultation call with one of our experts to learn more.
Recommended Reading: How to Hire a Virtual Assistant