10 Tips for a Virtual Marketing Assistant During COVID-19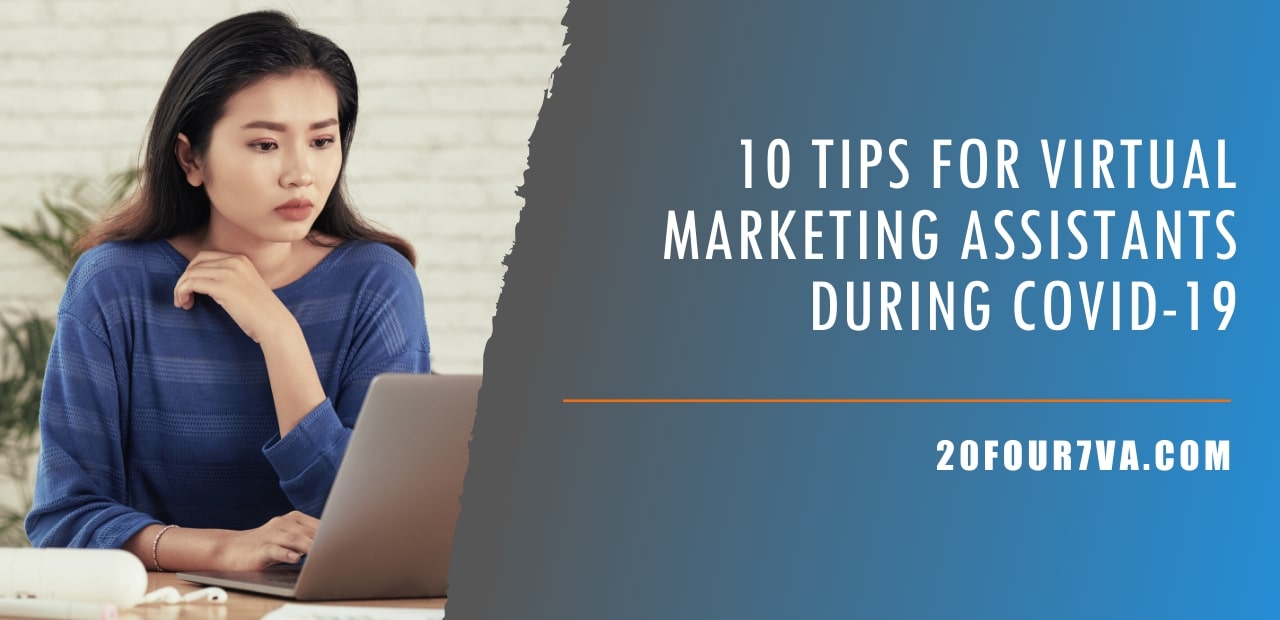 "Congrats, you survived the Boston Marathon", read the subject line of the email from Adidas to the Boston marathon runners. Under ordinary circumstances, this greeting sounds harmless and even good-natured. But because the brand sent out the email in 2013 in the wake of the Boston bombing that killed and hurt a number of people, Adidas received terrible backlash for its lack of sensitivity.
Marketing is more than just captivating words and beautiful graphics — it's also about impeccable timing. In fact, timing can make or break a campaign as evidenced in the Adidas fiasco. In the midst of COVID-19, companies are in a trickier situation when it comes to marketing and communications. An otherwise innocent slogan or campaign can quickly be construed as malicious or opportunistic when done incorrectly.
If you're a marketing assistant, it's time to step up your game and learn what marketing means in the face of a global economic downturn. If you're an entrepreneur, it's time to hire a virtual assistant for marketing to promote your business effectively and economically.
What is a virtual marketing assistant? Is it really a good idea to hire one now?
A virtual marketing assistant is a remote worker who is trained and experienced in marketing. Although it seems counter-intuitive to hire people when the unemployment rate is on the rise, the benefits of expert virtual help far outweighs its cost. Check out these 5 business expenses you can reduce by hiring a virtual assistant.
Marketing in The Time of Corona: 10 Tips to Remember

Review scheduled content and edit accordingly.


Thanks to tools like Hootsuite, you can now upload content in advance and schedule its date of publication. But as the coronavirus plunged the world in a health and economic scare, you need to quickly review the posts that you have had lined up. Make sure you publish your response about the crisis and remove content that sounds out of touch with what people are experiencing now.

Fine-tune your language and visual content.


Proofread your published and upcoming content. Are there posts that sound inappropriate and can be construed as harmful? For example, remove visuals that show or depict touching or staying outdoors. As for language, avoid figurative statements like "working hand in hand" or colloquial statements such as "going viral".

Do not take advantage of the crisis.


There is nothing more off-putting than companies that capitalize on crises. Consumers today have easy access to information and communication. They can see right through businesses that try to make money out of people's worry, and will not be afraid to call you out for it. Instead, stick to your mission of helping your target customers with your services.

Find your unique way to help.


An online marketing virtual assistant has a strong suit of virtual tools that make the remote business work. This is the time to leverage this knowledge and use it to help others. Perhaps you can set up a webinar that teaches people how to adjust to working from home. Maybe you can create visuals that tell the audience what they can do to stay healthy during the quarantine. Check out how other businesses are coping with COVID-19 for inspiration.

Stay positive but informed.


Staying positive amidst the pandemic doesn't mean disregarding the gravity of the situation. You can post motivational campaigns and still encourage people to take proper safety precautions when going outdoors. Encourage people to find good things out of the ordinary. For example, a sit-down restaurant or a local cafe can make a social media poll and ask which dish or beverage their customers miss the most. Then, they can share the recipe of the most voted item through a video tutorial. That way, people can whip up their own versions at home while looking forward to enjoying it on-site after lockdowns are lifted.


Re-evaluate your SEO efforts.


SEO is a branch of marketing that when done right, allows consumers to know a brand in their own terms. As the pandemic is going on, this may mean putting your current KPIs on hold and replacing them with more relevant ones. This may mean letting go of the list of keywords you've put together and instead of creating content that will help, educate, and inspire people.

Be more personable than business-like.


It's as good a time as any to close the gap between brand and consumers. Work with your customer service team to avoid sending generic spiels to customers. The same should be true to your social media and blog posts. Put the "rules" of SEO aside and remember that ultimately, Google prioritizes content that offers the best answer to people's problems. So, prioritize creating content for search intent over individual keywords.

Invest in experienced-based content.


People's fear of missing out has been capitalized by many businesses and for good reason. A report shows that 60% of millennials reactively buy something within a day because of FOMO. However, the fear of missing out goes beyond getting the latest gadgets. More than half of the millennial market also fear to miss the latest news, events, or status update. This is the time to invest in content that not just informs or entertains, but also creates the best experience, albeit virtually. This is a chance to integrate your marketing virtual assistant services with brand influencers and content writers.

Work on your future messaging.


During the 2008 recession, many brands rallied people together by spreading messages of hope and optimism. American journalist Bob Garfield notes, "There is always a bull market for optimism when there is a bear market for everything else". The same philosophy can be applied to your messaging. What solutions and operations have you pivoted online? How do you ensure the safety and health of your partners? Using your company vision, mission, and values, let your partners, employees, and customers know your stance during the pandemic.

Highlight your solutions.


Take this time as an opportunity to develop your customer retention efforts. For B2B companies, this may mean learning the struggles of your clients and helping them stay afloat. For B2C brands, this may mean offering delivery discounts or contactless transactions.
The pandemic calls for advanced and responsible virtual marketing assistant services. Use these 10 tips to promote your brand, inspire your customers, and help your community cope with the pandemic.
Recommended Reading: 12 Things to Know Before You Hire a Telemarketer