How COVID-19 is Shaping Online Business Operation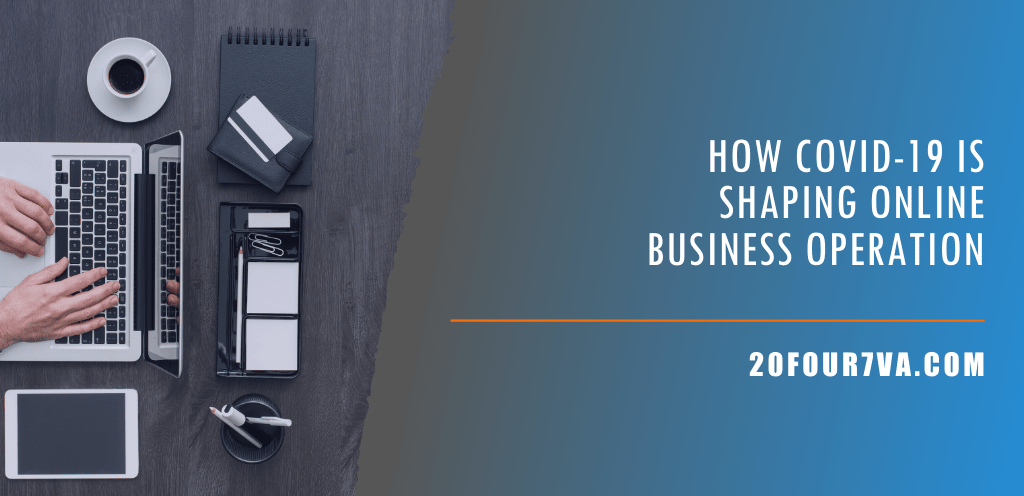 Although it initially started as a global health issue, the COVID-19 pandemic has quickly become a cause for major economic concern. In these unprecedented times, business owners are faced with a unique responsibility: the need to secure their lives as well as their livelihoods.
For the next few weeks or months, the decisions and actions that you make will determine your and your family's future, cut off or secure your employees' source of income, and support your customers or leave them high and dry. Now more than ever, you need to be flexible by learning how to operate business in COVID-19 stricken world.
How Businesses are Coping with COVID-19
Governments and the health science community are faced with unprecedented challenges to stop the spread of the virus and to safeguard lives. As millions of people file for unemployment, business owners are at the forefront when it comes to safeguarding livelihoods.
So, how do you continue business operations when only a handful of brick-and-mortar establishments are permitted to stay open? Learn from the companies that have quickly and creatively found ways to cope with the pandemic, not the least of which is by shifting to online business operation.
Some businesses may need to do a major overhaul in their day-to-day operations, while others just need to tweak or add new sources of support. Whichever way you move your business online, a full-service virtual staffing solution can ease the transition for you. While you can collaborate with some of your in-house employees by working from home, you will need virtual assistants (VAs) to reinforce your online business operations.
Of course, transitioning to online operations doesn't stop with hiring a virtual staff and setting online tools in place. You need to establish a new normal way of doing business.
While every business has unique circumstances, you can pick up tips and lessons from companies that have adapted, even thrived, in the current economic climate.
Here are 7 ways to keep your business going amidst COVID-19 and the companies that exemplify them.
Keep your customers engaged and interested
For brick-and-mortar establishments like sit-down restaurants, staying open is next to impossible. But LA restaurant Olivetta found a way to take care of both their business and their customers by shifting to curbside order pick-ups. Through their social platforms, Olivetta akso shared recipes of their comfort-based food and tips for meal preparation. With limited time for grocery shopping and supplies quickly flying off the shelves, comfort food keeps many people uplifted. Knowing how to prepare meals ahead of time helps busy parents manage time, portion food, and keep their family healthy.

Another business doing a similar approach is Alfred Coffee which offers three ways for customers to order online. The coffee shop also ensures the safety of both crew and customers through contactless payment and a pick-ups only policy. According to CEO Josh Zad, the pandemic has made interpersonal connections more apparent. As the company aims to bring people together, it hopes to continue doing so virtually through a memorable digital presence. The coffee company also uses social platforms to teach customers how to make versions of their Alfred Coffee favorites at home.
Want to establish a stronger digital presence for your company too? Here's why you need a digital marketing team and how to build one.
Offer little perks and conveniences to uplift customers
When uncertainty and fear grip people everywhere, small perks and little conveniences go a long way. Pizza chain Papa John's lets customers send their loved ones customized eGift cards where they can enclose personal messages. The company features Papa Track, where customers can keep tabs of their order from baking to delivery. Papa John's customers also get 25% off their order when sharing their #PizzaMood GIF in their social channels.

Another pizza company that rose to the occasion is Domino's through custom drop-offs. In addition to contactless payment, custom drop-offs lets customers pick their preferred drop-off location. Customers can pick up orders at their front door, porch, or wherever is the most comfortable site to maintain social distancing.
Let people know how you are responding to the pandemic
Not publishing a corporate message regarding the pandemic can be seen as negligent. You don't want your company to look out of touch from reality or plain apathetic. Send out an email to your customers, share your new operating hours or procedures in your social media pages, and post updates on your website or blog. Cupcake company Baked by Melissa updated its homepage to let customers know it still offers safe and fresh delivery nationwide.

Of course, a company's COVID-19 response need not be limited to business operations. In addition to its corporate email detailing delivery time frames, wedding apparel brand The Dessy Group pledged to donate protective gear to health workers. The company set up a GoFundMe where customers can pitch in to the cause.
Rework your marketing efforts
According to a WordStream report, COVID-19 has deeply influenced Google ads in more than 20 industries. Here are some notable findings from the report:
There is a 14% drop in retail search ads conversion rates
Google conversion rates decline by 21% on average
Google search ad impressions go down by 7% below average
Mobile traffic decreased by 24% in March
With normal shopping and internet browsing behavior going out the window, it's only fitting to rework your marketing plan.
Easy Tiger Goods, a concept store that sells home decor items and paper products struck the balance between social relevance and creative marketing. Using Instagram, the brand posts beautiful product photos with witty captions. The posts also give people ideas on how to stay occupied or how to adjust to working from home using Easy Tiger Goods products. Like many others, the company closed its physical stores temporarily and only functions online now. However, Easy Tiger Goods offers free shipping when customers use its very timely code strongertogether.

Transform your business model
Chinese beauty brand Lin Qingxuan was one of the many businesses first hit by the economic impact of COVID-19. The company was forced to close nearly half of its storefronts and they experienced a 90% sales drop around Chinese New Year. However, tough times also force entrepreneurs to think outside the box — or their business model. Lin Qingxuan redeployed hundreds of their in-store beauty advisors online. The beauty advisors live-stream product recommendation sessions in e-commerce channels and offer personalized customer service through DingTalk and WeChat.
Events company Yaymaker also pivoted its business model to adapt with the times. Specializing in organizing social functions and activities, the company has turned its in-person events into virtual experiences. Yaymaker now has a streaming platform where participants can do various activities ranging from private parties to corporate events where companies touch base with their team. Parents can also use Yaymaker to provide educational and entertaining activities for kids.
Introduce interactive experiences online
With people being required to isolate, the desire for social activities grows stronger by the day. Help your customers cope with self-isolation by creating social experiences online. Fitness studio YMCA now hosts online fitness classes to help people stay active and healthy while at home.

Although their storefronts have closed, apparel brand The Livery Shop is still open online and offers customers a virtual showroom. Through their Instagram Stories, the brand posts multiple outfit ideas to recreate the experience of trying on clothes in store. This also helps online shoppers to make quicker purchase decisions.
Support your employees
Your company is as strong as the team working behind it. To continuously support your employees, know the different provisions given to retailers and small business owners in response to the pandemic. Apart from financial assistance, the Small Business Administration also offers guidance on how to maintain health safety in the workplace.
Momentum Worldwide, a branding agency, shows support to its employees by giving them access to nutrition, fitness, and mindfulness resources. When Chicago-based cocktail bar Lost Lake was forced to lay off employees, the company persisted to find other ways to support their staff. The company set up a GoFundMe account to virtually tip baristas and crew. In return, Lost Lake sends donors bi-weekly newsletters containing tips on how to make cocktails at home, recipes from the bar's own menu, crossword games, and other activities.
As an entrepreneur, you have skills that are innate and skills that you pick up along the way. Ultimately, it's the latter that would help your company survive when things get tough. Keep these companies' initiatives and creative solutions in so that you too can learn how to operate business online in COVID-19 times. Need additional input? Use this COVID-19 guidance for business.