12 Things to Know Before You Hire a Telemarketer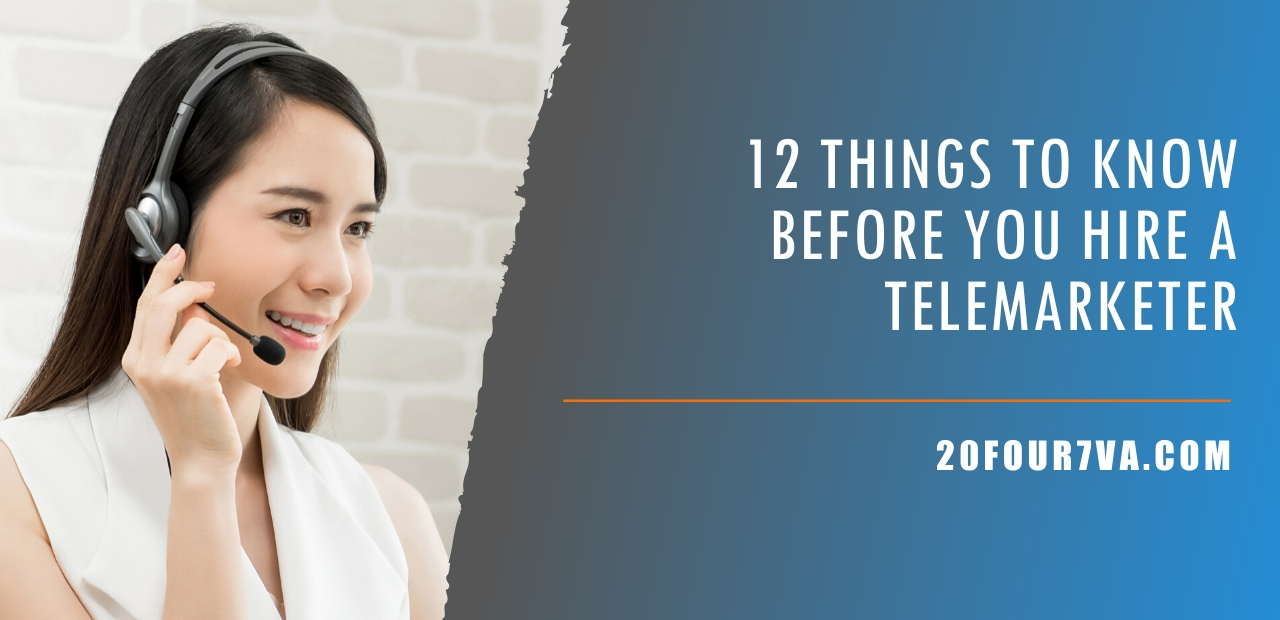 Telemarketing is one of the oldest techniques in the marketing book. Before social media, chatbots, or email campaigns, businesses have been ringing people up to promote their brand or services. Though telemarketing has earned a bad rap over the years, it's still thriving today. 
Why? Because it works — at least when you hire a telemarketer specialist to do it. 
The difference between cold calls that work and ones that don't is simple: having a professional to do it. 
Just like any other branch of marketing, telemarketing is a move to increase your sales or introduce more people to your business. As such, it's important to understand why exactly you need to hire a professional telemarketer, how you should do it, and what you can do to make this practice work for your business.
When you view telemarketing as objectively as possible, you're better positioned to leverage it to promote and grow your brand. 
To help you in this regard, have a look at the 12 things you need to know before you hire a telemarketer:
4 Reasons Why You Need a Professional Telemarketer
Ringing up customers to promote your brand and services sound easy enough. So, why should you go through the motions of hiring and working with a professional to do it?
Here are 4 reasons why it's worth investing in a telemarketing specialist: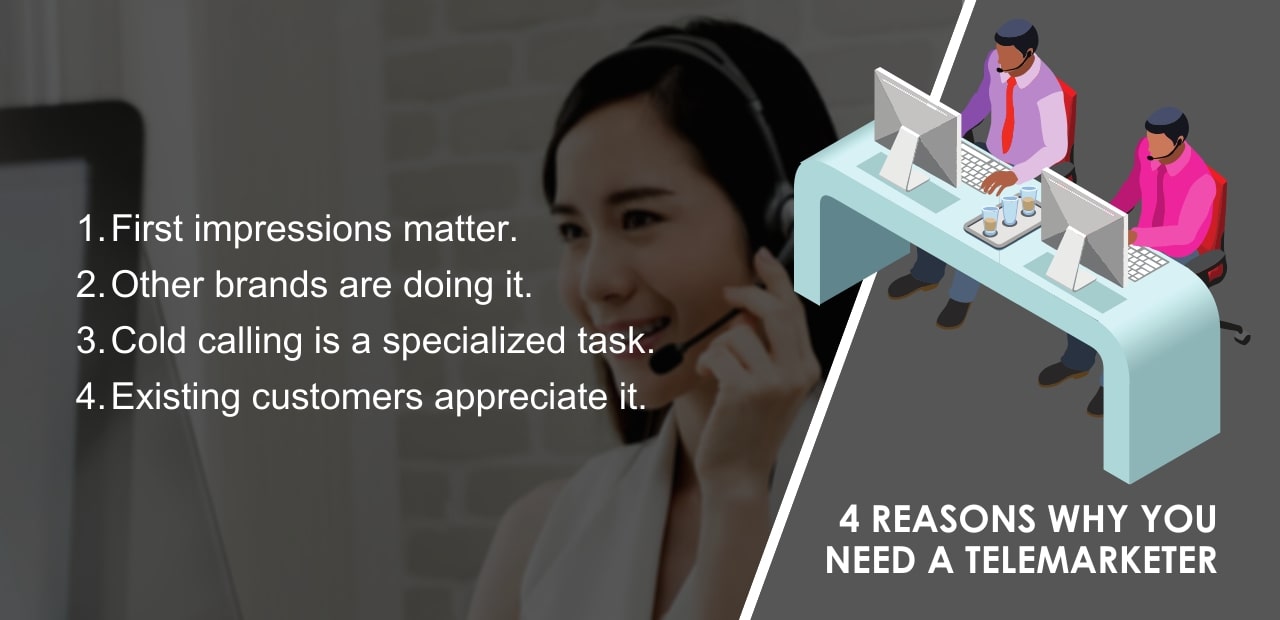 3 Ways to Hire a Telemarketer
It's easy to see why it's worth knowing how to hire a telemarketer when you know what's at stake. Here are 3 ways you can source a telemarketing specialist: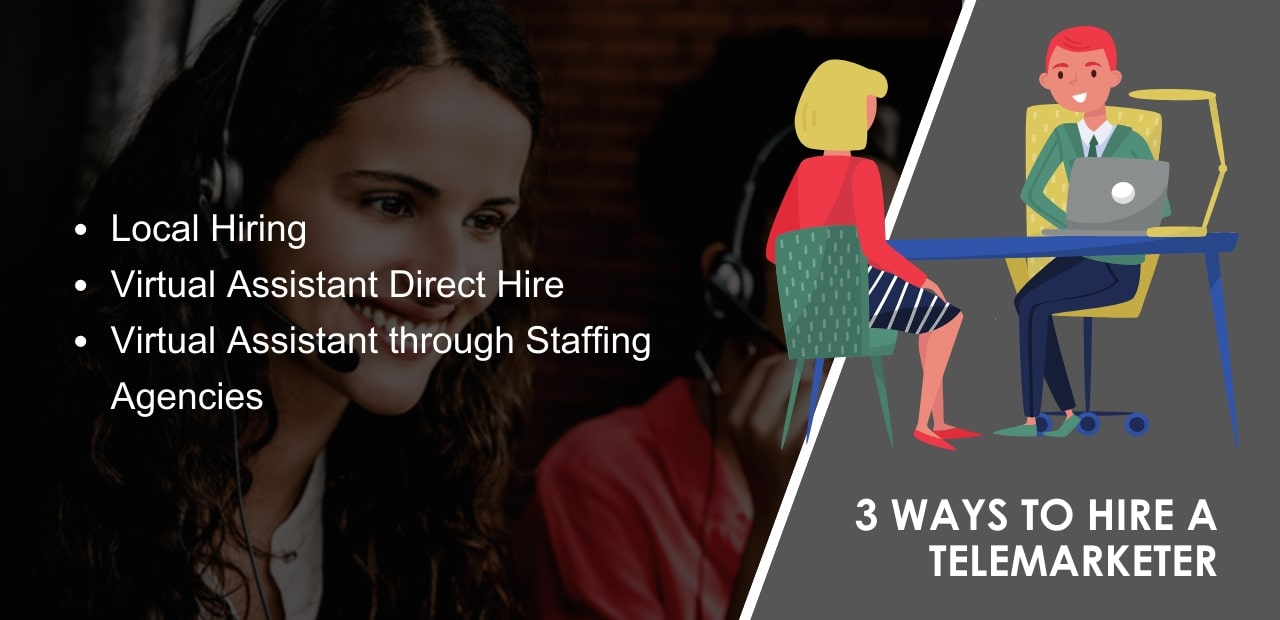 Local Hiring.

As a traditional form of employment, hiring people close to one's establishment is the first thing that a business may consider when looking for a telemarketer. With local hiring, you can

hire a telemarketer

in person and work with them in your office. While communication and collaboration are much easier and simpler, local hiring comes with a hefty price tag.



For one thing, you need to invest time and money for onboarding. Though you can hire experienced telemarketers, you still need to spend time and resources for product-specific training. You also need to cover their payroll, insurance, and other employee benefits. As your team expands, overheads such as rent or utilities will also increase. 
Virtual Assistance Direct Hire.

Another option to solve your telemarketing needs is to

hire telemarketers online

. You can create a job post on your website or virtual assistant sourcing platforms to get direct applications.



With direct hire virtual assistance, you can garner the many benefits of remote working such as accessing a global talent pool and saving on rent and utilities. However, you would still need to be hands-on with hiring, training, onboarding, paying, and supervising your VA.
Virtual Assistance through Staffing Agencies.

Another way to source a

telemarketing virtual assistant

is through a

staffing agency

. Staffing agencies are the bridge that connects a business and a VA to make remote collaboration faster, easier, and more secure.



For instance, it is a staffing agency's responsibility to prescreen applicants before hooking them up with employers. Other employment aspects are taken care by the staffing agency also include training, VA management, and payroll. There are many agencies and virtual staffing platforms that businesses can choose from. Find one that suits your needs, budget, and goals

here

.
5 Tips on Effective Telemarketing
Marketing is multifaceted and you need to invest in all its components to see returns. 
A good email campaign comes with a captivating headline. An effective social media post includes engaging visuals. Cold calling also requires a strategy to generate results. 
Make sure your telemarketer VA has the proper practices and resources for the job. Here are 5 tips on how to hire a good telemarketer and work with one: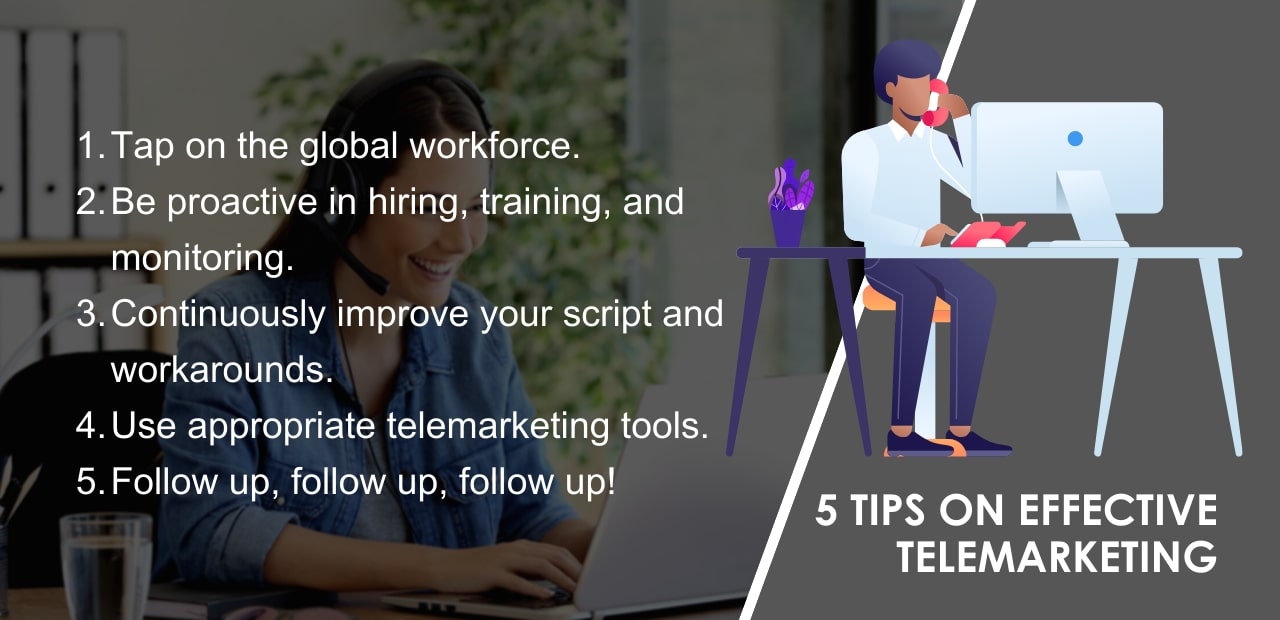 Tap on the Global Workforce.

While local hiring has many benefits, it also comes with a number of restrictions, not the least of which is a limited talent pool. You have a better chance of finding a good telemarketer when you look in an expansive talent source. By outsourcing telemarketing to a virtual assistant, you can work with people who have more experience, qualifications, and remote work know-how.



Another benefit of working with a VA is that it expands your business accessibility. VAs can work off-hours to call or follow up leads. Having this option is especially helpful if you are dealing with more workload from seasonal sales or gearing up for market expansion.


A global staff also means a chance to work with multilingual and multicultural employees. If some of your target customers' first language isn't English, they would find it more helpful and comfortable to talk with a telemarketer that speaks their mother tongue. 

Be Proactive in Hiring, Training, and Monitoring VAs.

While you can delegate recruitment, training, and VA management to a staffing agency, it pays to be proactive in these processes.



During recruitment, select a VA that reflects your company's core values to go with their communication skills. Make sure that your VA also knows the frequently raised concerns of customers and your ways of handling them. Monitor calls to assess the performance of your VA. This way, you can help your VA become an extension of your business rather than a third-party caller. 
Continuously Improve Your Script and Workarounds.

Another reason to closely monitor calls is to see opportunities for improvement. How can you tweak your spiels to get better results? What questions frequently come up and how can you resolve them?




Realize that effective telemarketing doesn't necessarily mean hard selling. Cold calls are still successful if it makes a prospect leave their contact details or sign up to an event or promotion. Once you understand this, you may find better ways to use and handle the cold calling. VAs can also build better connections with a prospect if they don't always go in for the hard sell. 

Use the Most Appropriate Telemarketing Tools.

Your VA only has a few minutes to win over a prospect. Make sure the call goes as smoothly as possible by using quality telemarketing software.



Select one that suits your budget and needs. Among the popular tools is ICTBroadcast that starts at $199/month and packed with features, and CrankWheel that is hailed as Best Ease of Use software for 2020. Check out and compare user-rated telemarketing software

here

. 

Follow up, follow up, follow up!

The average sales agent only makes

two attempts

to contact a customer. If calls go to voicemail, make sure your telemarketing VA leaves a message or call back as promptly as possible. According to

Harvard Business Review

, companies that followed up on prospects within an hour were 7 times likelier to establish a better customer connection than those that waited longer. 



Successful telemarketing doesn't end with a single call. In fact, it doesn't have to end with a call

per se

. Telemarketers can also follow up and nurture leads by contacting them through email or direct message in social media. The important thing is to raise brand awareness and give people as many options as possible to connect with your business. 
It takes a skilled telemarketer virtual assistant to transform a cold call into a meaningful conversation. Hire one with 20four7VA today.
Recommended Reading: 50 Remote Work Tools to Help You Through the Pandemic