20four7VA is a 2023 Torch Awards for Ethics Winner
We're excited to announce that 20four7VA has been honored as one of the winners of the 2023 Torch Awards for Ethics by the Better Business Bureau (BBB) of Greater Maryland. This recognition underscores our commitment to embodying ethical business practices in the outsourcing industry.
The BBB Torch Awards has been recognizing businesses that promote ethical business practices since 1998. This year, it's shining a spotlight on five local businesses that prioritize trust and ethics in their operations.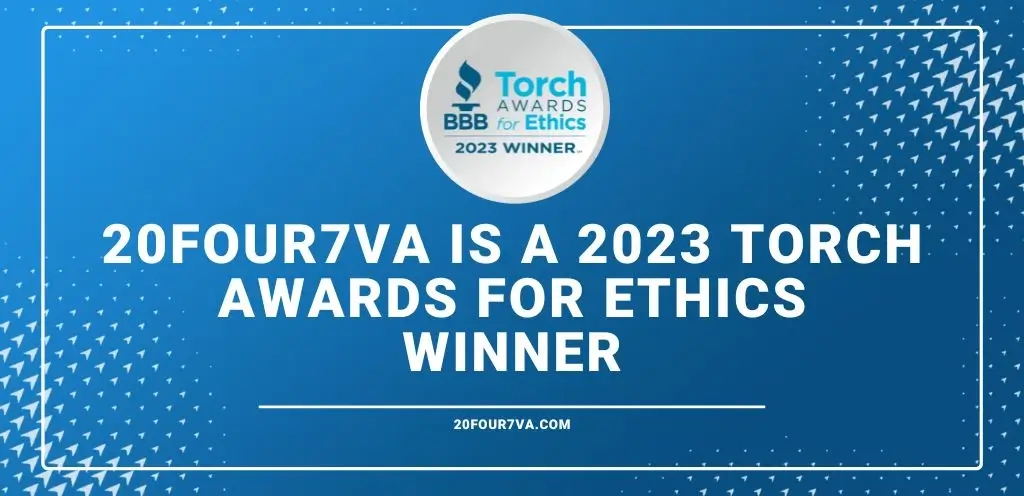 Our journey to becoming a Torch Award winner
From being finalists for the Torch Awards for Ethics in 2021 to becoming a winner in 2023, our journey toward this accolade was paved by our continuing efforts to promote ethical business practices in the offshore outsourcing industry. This recognition reinforces our commitment to maintaining the highest levels of honesty, transparency, and integrity in every aspect of our work.
Catherine vanVonno, President and CEO of 20four7VA, expressed her gratitude, saying, "We are honored and humbled to be named one of the winners of the 2023 Torch Awards for Ethics. We have consistently strived to deliver ethical, high-quality virtual assistant services to our clients while fostering a culture of integrity within our organization. We aim to embed ethical practices as an intrinsic part of our operations, and this achievement is a testament to the dedication exhibited by our entire team in upholding ethical values and principles."
BBB Fall 2023 Signature Event
To celebrate this recognition, 20four7VA will be at the BBB of Greater Maryland's Fall 2023 Signature Event, featuring the 2023 Torch Awards for Ethics winners. This event promises to be a gathering of the region's top business leaders and ethical organizations, providing a platform to celebrate and showcase the values that set the Torch Awards winners apart in the world of business. Discover further details about the Signature Event here.
We look forward to continuing our commitment to ethical excellence in serving our clients and the industry as a whole. Thank you for being a part of our journey.