20four7VA Makes the Inc. 5000 2022 List
Inc. Magazine just unveiled its annual list of the 5000 Fastest-Growing Private Companies in America, and 20four7VA is rank No. 3336!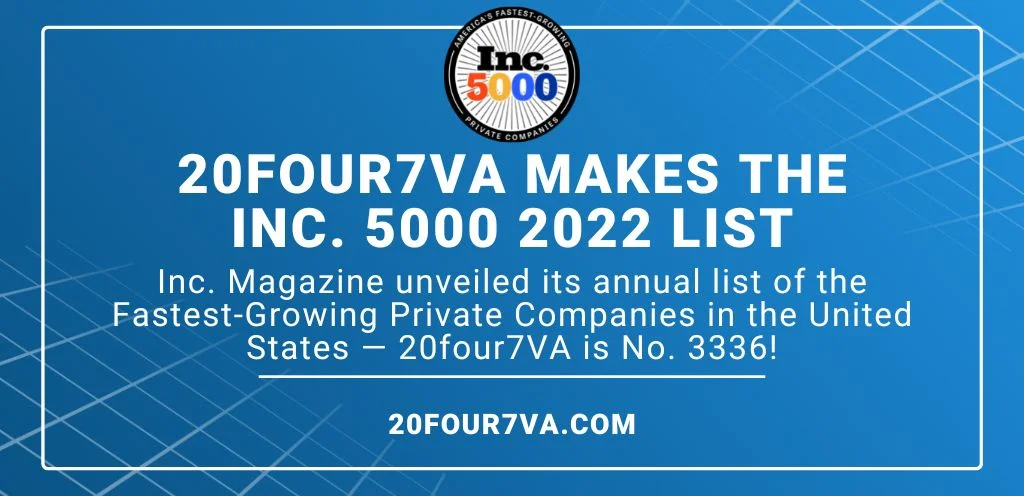 20four7VA just achieved another major milestone this year by making the Inc. 5000 list for the first time! With a three-year revenue growth of 158%, 20four7VA ranked no. 3336 among America's fastest-growing companies in 2022.
WHAT IS THE INC. 5000 LIST?
Inc. is an American magazine dedicated to helping privately-held companies grow. The company shares insightful references for business owners and managers covering topics from small business ideas to inspirational advice. Aside from these valuable resources, Inc. annually releases a list of the fastest-growing private companies in the United States based on overall revenue growth over a three-year period: the Inc. 5000 list.
The list celebrates entrepreneurial excellence across all industries in the United States. Making the Inc. 5000 list is already a huge milestone, but one can also consider it a jumping point to make an even bigger splash in years to come.
20FOUR7VA'S INAUGURAL INC. 5000 LIST APPEARANCE
20four7VA has been steadily growing by providing top-notch virtual staffing solutions to businesses worldwide. And now, the company can include the title "an Inc. 5000 company." to its growing list of milestones.
Catherine vanVonno, President & CEO of 20four7VA, is the first to remark that this award wouldn't be possible without the continued trust and support of the 20four7VA staff, its virtual assistants (VAs), and its clients:
"Getting a spot on the Inc. 5000 list is a culmination of everyone's dedication. It's also a great sign that shows we're growing and going in the right direction." She adds, "this recognition encourages us and enables us to deliver even better results in the future."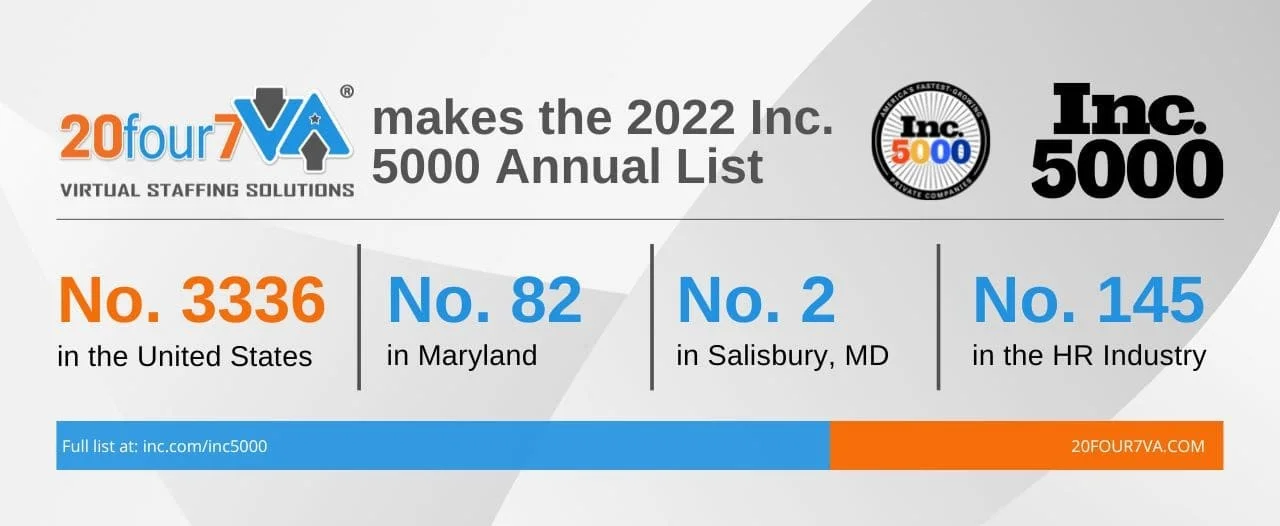 20four7VA is honored to be included in the Inc. 5000 list for 2022 and believes that this achievement is a validation of the hard work of everyone in the company and the value that the company's services provide to its clients and virtual assistants.
Ranking no. 3336 on the 2022 Inc. 5000 list is another wonderful addition to the company's achievements for the past year, which include becoming a finalist for Better Business Bureau® of Greater Maryland's 2021 Torch Awards for Ethics and being certified as a Women's Business Enterprise by the Women's Business Enterprise Council Greater DMV.
The company is proud and grateful for its team's support and the clients' trust. Without these, getting on the Inc. 5000 list would not be possible. The company is also excited for more opportunities to provide industry-leading virtual staffing solutions to SMEs and meaningful remote careers to virtual assistants from across the globe.
"Growth is a major focus for 20four7VA, and our team worked hard to lay a foundation that would support rapid scalability," said vanVonno. "We are constantly striving to find new and innovative staffing solutions for our clients while also bringing rewarding career opportunities to our global talent community. I am grateful to have such a passionate and dedicated team by my side as we continue to grow our company."
Click here to read Inc. Magazine's official announcement and see the full list.